CultBooking – A worthy successor and alternative for Booking Suite (Booking.com) WebDirect BookingButton
Updated 27 Aug 2020 (PR) / Last update 07 Oct 2020 (BA)
For many in the hospitality industry, the news that Booking Suite would be closing shop was a shock. Many tried to find out why this widely used and beloved booking engine was being discontinued but found no definite answers. We have heard that many experienced Hoteliers see this as just one more bad news in a bad year, simple as that. 
But there is hope.
In life in general, there seldom is a good time – or the 'right time' to do anything. But, if there ever was a good time to switch to a new booking engine, that time is now.
In a good year during high season, the idea of switching everything out sounds big and stressful! A probable cause for all kinds of awful problems. Maybe all bookings would wash out of the system mysteriously? Double bookings and no shows? Angry guests and confused Hotel staff? Surely, it sounds like a nightmare!
How about, we help alleviate that stress and offer you the most simple and effective way for a new perspective by comparing your beloved Booking Suite with CultBooking Booking engine?
After you have evaluated the pros and cons you can try our demo for CultBooking. No need for an awkward video conference with some sales representative or a myriad of questionnaires. 
Just go and check it out here at your own leisure! by simply inserting your email and clicking on continue: https://admin.cultbooking.com/register
We are certain that you will enjoy learning about CultBooking reservation system capabilities and the amazing features we have on display and those currently being developed by our teams.
A nice proposition? Correct, but you might still think, not now. This is not the right time. Perhaps make the switch when business is better? No stress! We give you a 90-day free trial with no hidden clauses or any kind of commitments. We honestly just want you to be able to find out for yourself how easily CultBooking can help you fill that void you think nothing but BookingSuite can fill. 
When the 90 days free trial period has ended you can sign up for our subscription-based models. You can even opt for the one free of charge while the epidemic gets sorted out. Here is the link with the pricing: https://www.cultbooking.com/en/pricing/ Before you know it, you can return to welcoming happy guests from around the globe.
Now let's dive in and answer your questions.
Longterm users of the Booking Suite usually ask, why put a new button on their homepage at all? The simple answer is in how today's prospective guests behave as site users. A large proportion of global web traffic now takes place on platforms and sites that have a standardized visual appearance. Anyone surfing Facebook for example, always knows where she or he is at any given moment, as the corporate identity of Facebook is difficult to confuse with. The blue and white colour scheme gives customers a familiar feeling when they move around the Facebook site, an effect that is largely due to the company's standardized CI(Common interface)
A similar effect can be achieved with the use of a standardized booking button – A button that customers know, that they understand and know where that click leads them.
With the end of the Booking Suite era, there is a void in the market for Booking Buttons. It evens out the playing field for newcomers looking for opportunities in the industry. Without question, CultBooking is a serious alternative to the services of Booking Suite, and is already in the running as a worthy successor to Booking Suite. Due to a good design, fast handling, and a high degree of changeability, the button of CultBooking really leaves all possibilities open. Help us help you by offering a system that meets your demands when it comes to bookings filled with possibilities and new ways for you to be ready that day when the borders open and your guests return.
30 November 2020 end date for booking button of BookingSuite
As you might already know, BookingSuite and it's booking button, booking engine services. More precisely its division BookingSuite, announced that it would discontinue some of its services on 30 November 2020. The two most important discontinued services are BookingButton and WebDirect. Booking.com is stopping those services because the company wants to concentrate on its primary business, help hotels bring travelers from around the w
Let's look at it, one more time, BookingSuite and it's booking button and booking engine services. More precisely its division BookingSuite, announced that it would discontinue some of its services on 30 November 2020. The two most important discontinued services are BookingButton and WebDirect. Booking.com is stopping those services because the company has decided to focus all its resources on its primary business which is to play matchmaker with Hotels and prospective guests around the world. When there is a match, we take over. So we thank Booking.com for leaving the rest of the spectrum to be taken care of by the specialists.
Here is the official message from the website of Booking.com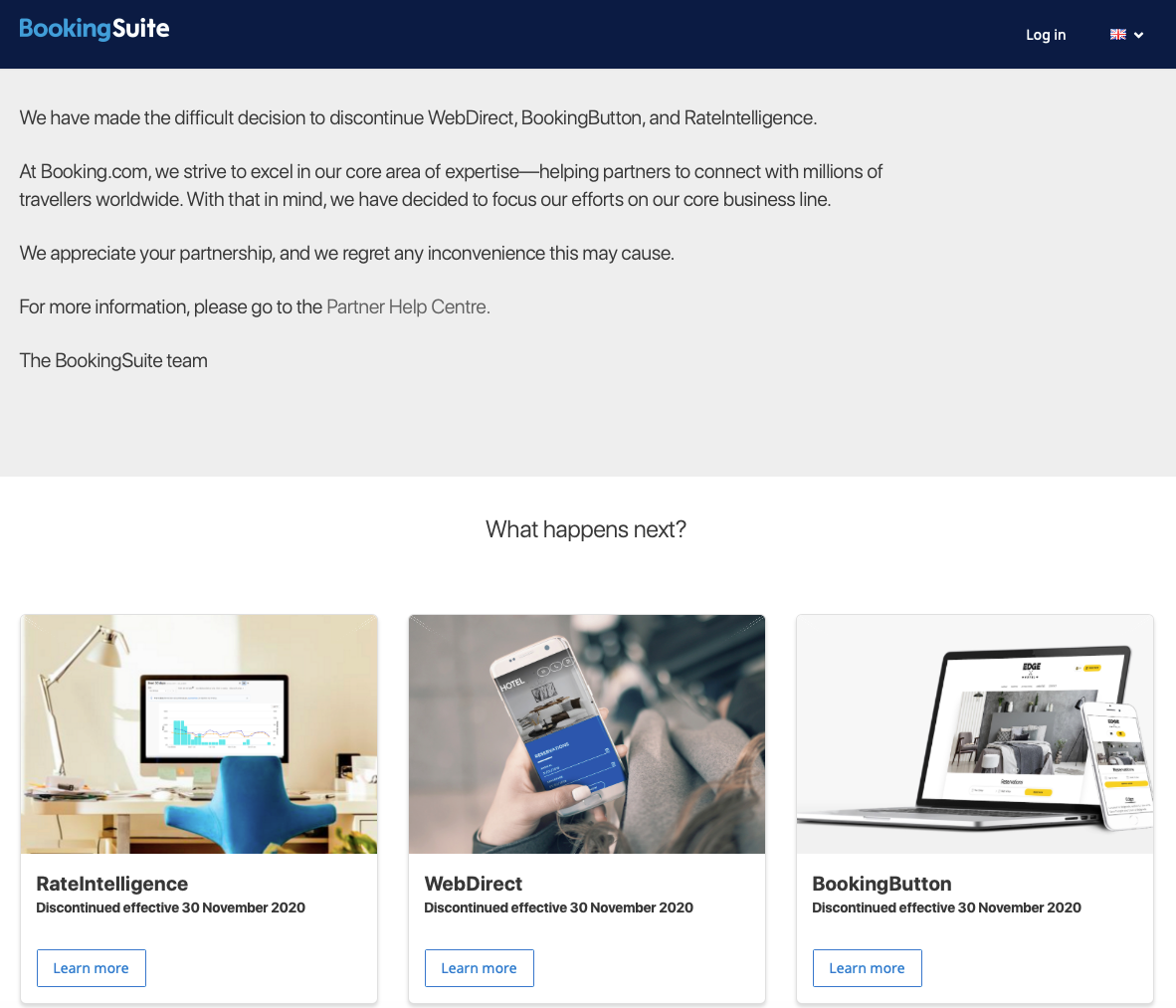 Also here is a nice FAQ page with more information:
https://support.bookingbutton.booking.com/hc/en-gb
It's happening and it does not like seem that they are gonna change their mind last-minute
So there is not that much time left, the countdown has already started. Now is the perfect timing to start with the set-up of the new booking engine and website reservations system, as you will need to upload pictures, insert room descriptions, adjust prices, customize color, etc.
Booking Buttons
Let's clarify and define a little bit before the comparison so we are all on the same page when it comes to the technical terms.
CultBooking and BookingSuite are two independent Hotel booking engines. The BookingButton is basically a fancy graphic button for a clever 'behind the scenes'  sometimes referred to as WebDirect. 
These nice little buttons are strategically placed on Hotel websites which encourages prospective guests and other users to click on them so they can book directly. It's familiar, it's simple.
So all that investment that went into your website is returning thanks to the button, because now, your website has transformed into your own booking channel in addition to being, of course, a marketing tool. An online booking software available non-stop. Potential guests can book a room whenever they want irrespective of the time of the day.
Let's highlight the main benefits:
An online booking software available non-stop 24/7. Potential guests can book a room whenever they want irrespective of the time of the day.
The hotel booking system makes hotel staff more efficient, as it automates the reservation process in one place. It eliminates the need for loads of phone calls and tons of e-mails.
Bookings and reservations are confirmed immediately, with no need to wait. All systems and channels are in automatic sync with your hotel registry (hotel software).
After all these cozy years with BookingSuite, you will be getting the same thing, of course, the two are different. But if it helps, imagine that to replace your beloved booking engine you will getting the best of both worlds. As a bonus, your Hotel will digitally migrate to a better world without it ever noticing.
We hope that at the end of the comparison it will be clear to you why we why hundreds of Hoteliers and their staff have chosen CultBooking as the best hotel booking engine.
Our real-life Hotels and their websites for reference.
For BookingSuite (Booking.com) WebDirect we have selected Simbol Rooms from Ljubljana: https://www.simbolhostel.com/en-us 
BookingSuite is well represented on their website. When pressing the 'Book now' button, a quick search option will pop up with a check-in and check-out calendar and the number of guests.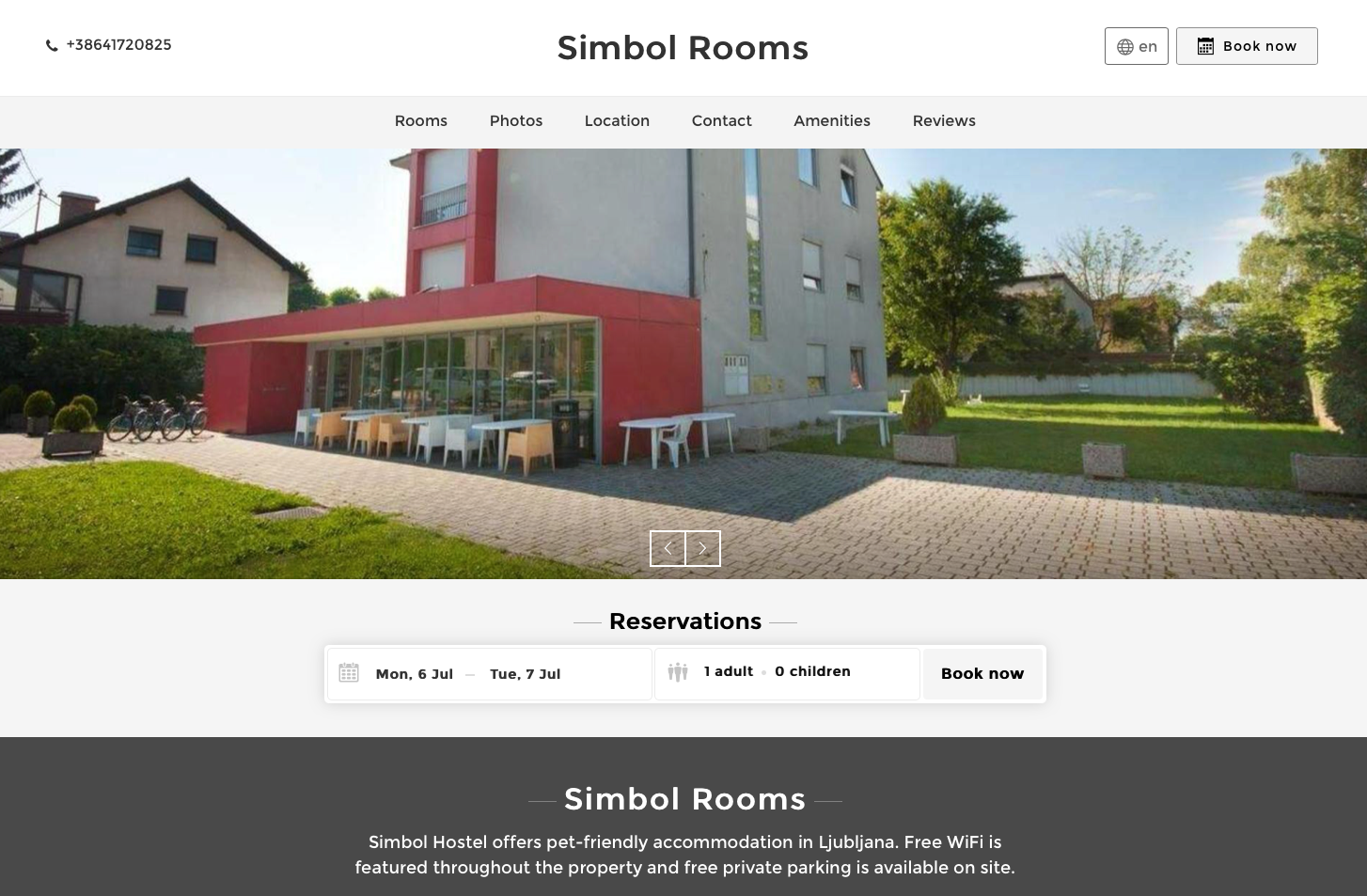 For CultBooking we selected the Bergmann Boarding House. Here is the Booking ULR link: (click here)
You should see the 'Book now' and 'Check availability' buttons are there and easy to find and click. Developer of this hotel has done a great job in displaying in an easy way the CultBooking – Best Booking Engine.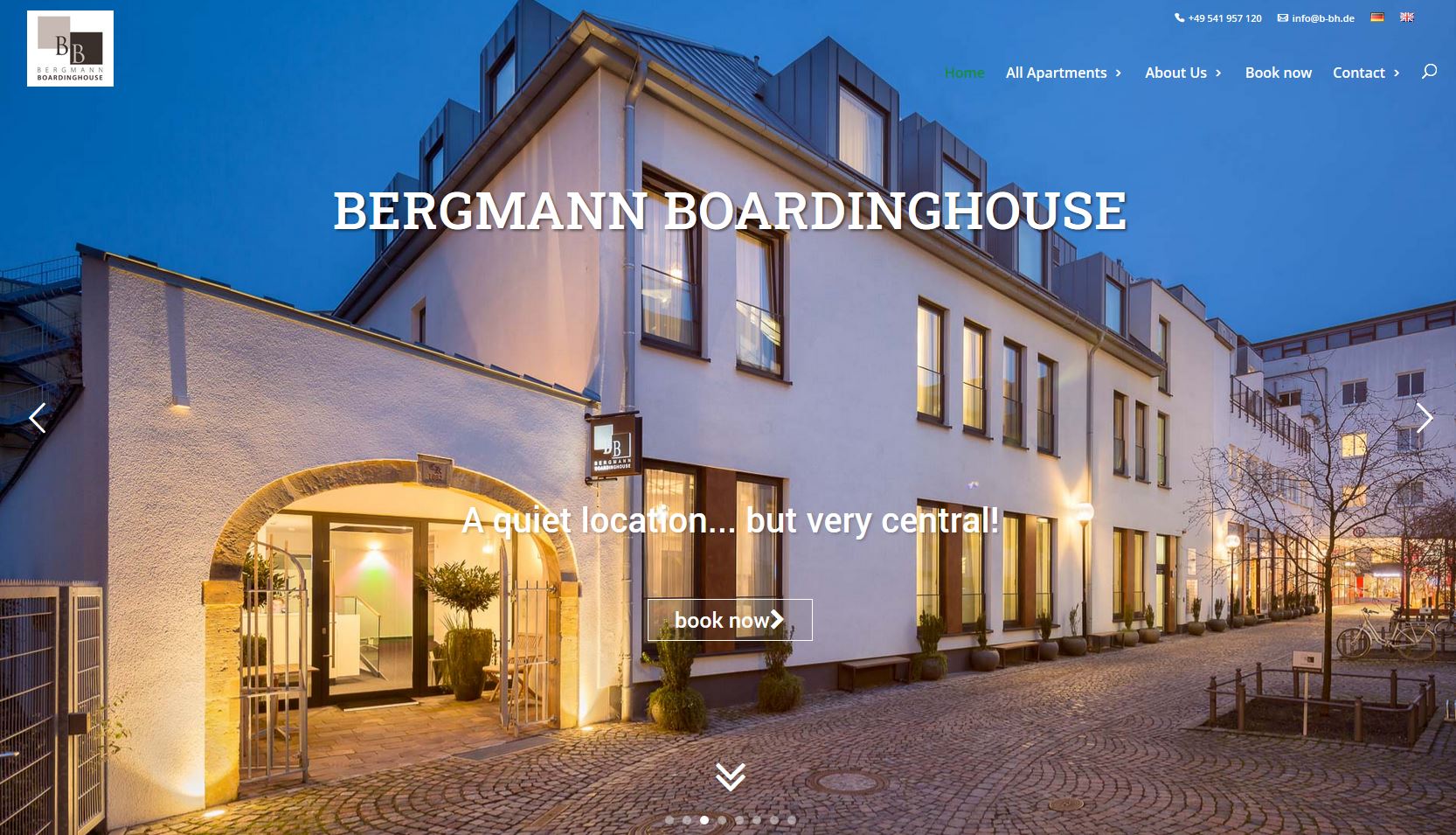 Here is a table with a comparison of 1:1 between BookingSuite and CultBooking, reservations software, and booking engine.
BookingSuite(Booking.com)
WebDirect BookingButton
CultBooking
BookingButton
1. Free demo
2. Free trial
3. Promo code
4. Smart calendar
5. Multi-languages
6. Multi-currency
Under
development
7. Multiple rooms booking
8. Discount based on occupancy
n/a
9. Children prices
10. Individual links
11. Payment processing
12. Extra services
13. Live chat
14. Mobile optimized
15. Channel managers & PMS, connected
16. Social Media integrations
17. Pricing
10%
commission
29 EUR
p.m
1. Free demo
As mentioned before, CultBooking offers a demo version of the booking software, directly accessible on the CultBooking website. Try out the booking button and see the engine's main features and functions for yourself.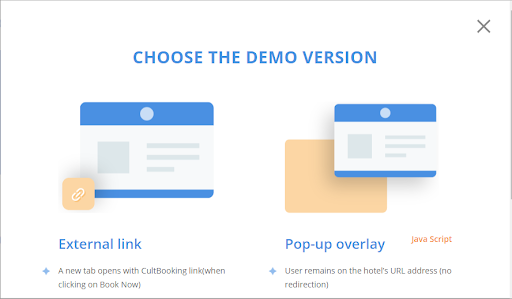 Not that it matters much right now,but on BookingSuite (Booking.com) it is not possible to have a free demo directly on the main website and never has been. Inside the admin panel, there is a possibility to check the technology, but soon this feature will disappear as WebDirect and BookingButton will cease to exist.
2. Free trial
CultBooking provides besides the free demo, 90 days free trial of the booking engine technology without costs or obligations. Just that you see the benefits of direct bookings and the super powers of CultBooking.
Booking.com with BookingSuite does not offer such an option, as all bookings earned them a commission. Bygones are bygone.
3. Promo code
The promo code field allows the customer to enter a promotional code to benefit from a discount on specific rooms.
CultBooking offers its users the possibility to adjust and set-up a promo code section if they so wish. But it's optional.
When the user inserts a promo code, this is how it looks like:

Aria Grand Hotel has gone one step further and requested to create a special URL where the Promo code or voucher code: 'Ariagrand' is already taken as default. This way, the guest does not need to remember the special code but can access it directly via the specific and exclusive link. Here are more details about this feature:
Automatic promotional code on CultBooking
On the Simbol hotel booking landing page, the promo code option does not exist. So with BookingButton from Booking.com is not possible to have active special and exclusive promotions.
4. Smart calendar
CultBooking has a smart calendar that shows availability and restrictions on specific days at first glance. This function gives the user an immediate good overview and wastes no time on useless searches for unavailable dates. It is also possible to insert the daily lowest price on the calendar.
Here is a screenshot of the smart calendar of CultBooking:

WebDirect of Booking.com does not have this option, they only propose a simple, standard calendar, like in the example below:

5. Multi-languages
In the hospitality business, it's fundamental to be accessible and understood all around the world. Many tourists use English as the primary language when they travel, but many feel grateful when they can use their own language to browse rooms.
CultBooking engines offer the following languages, English, German, Russian, Portuguese, Italian, Spanish, and French. More languages are will be made available in future updates.

BookingSuite with the WebDirect BookingButton offers extra languages as well. Here is how the language option looks like:
6. Multi-currency
Tourists like to be able to see the prices in their local currency. It allows them to compare quickly and estimate the value much more efficiently.
Simbol hostel displays many currencies on their booking engine:
CultBooking doest multi-currency converting for 6 currencies at the moment of writing. More currencies will be available in near-future updates.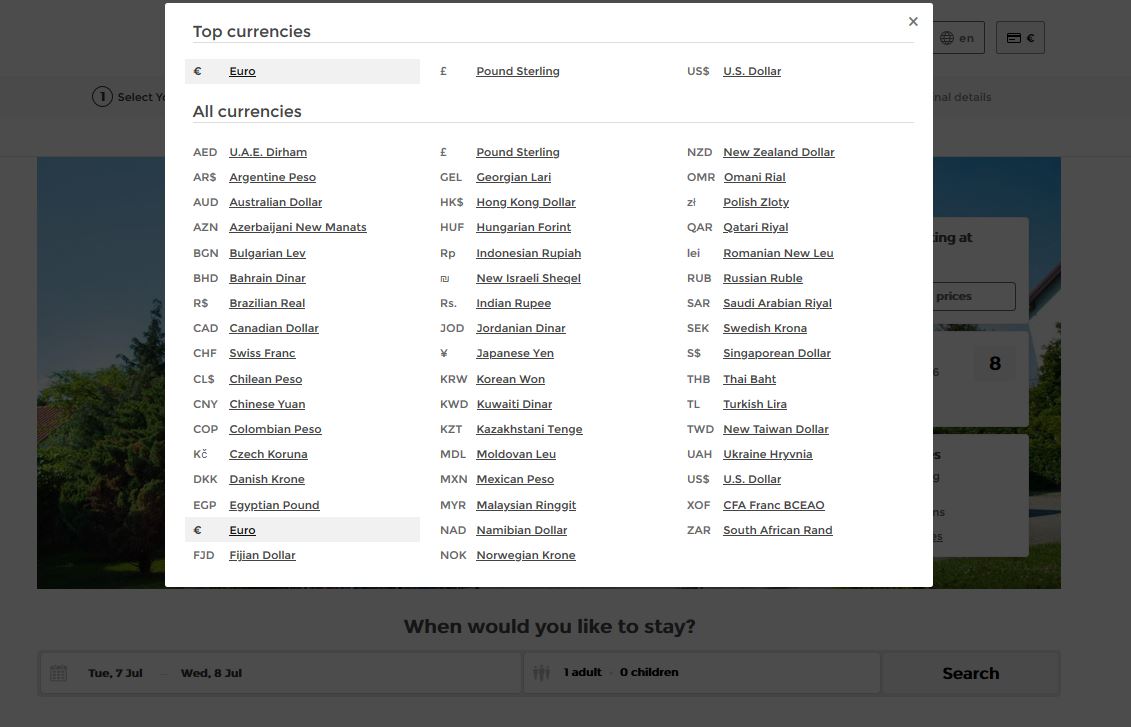 7. Multiple rooms booking
Both CultBooking and BookingSuite booking engines feature the option to book multiple rooms at the same time. The main differences between the 2 are the UI(user interface) and UX design(users experience).
On CultBooking, it looks like this: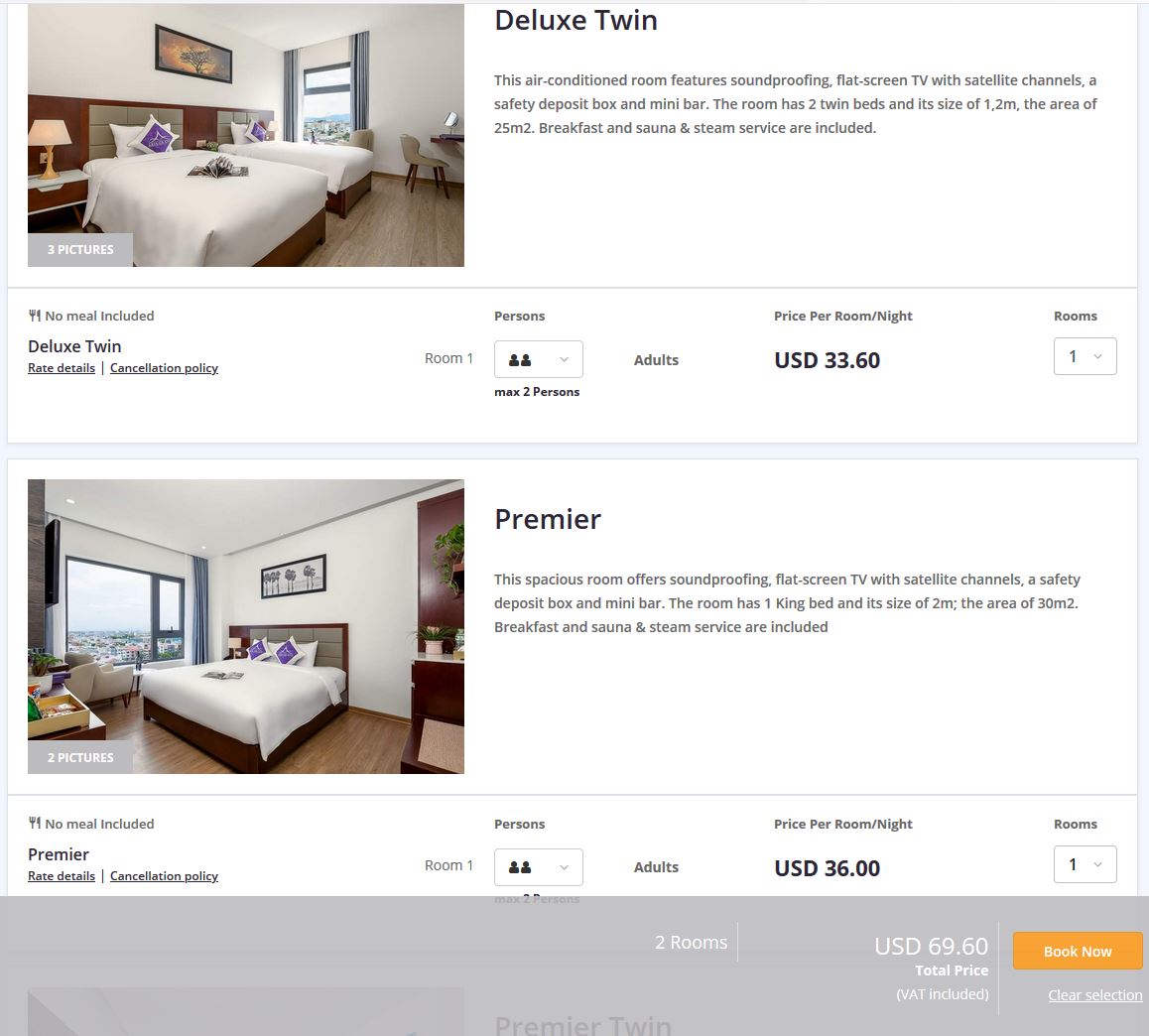 Here is how Booking.com displays it: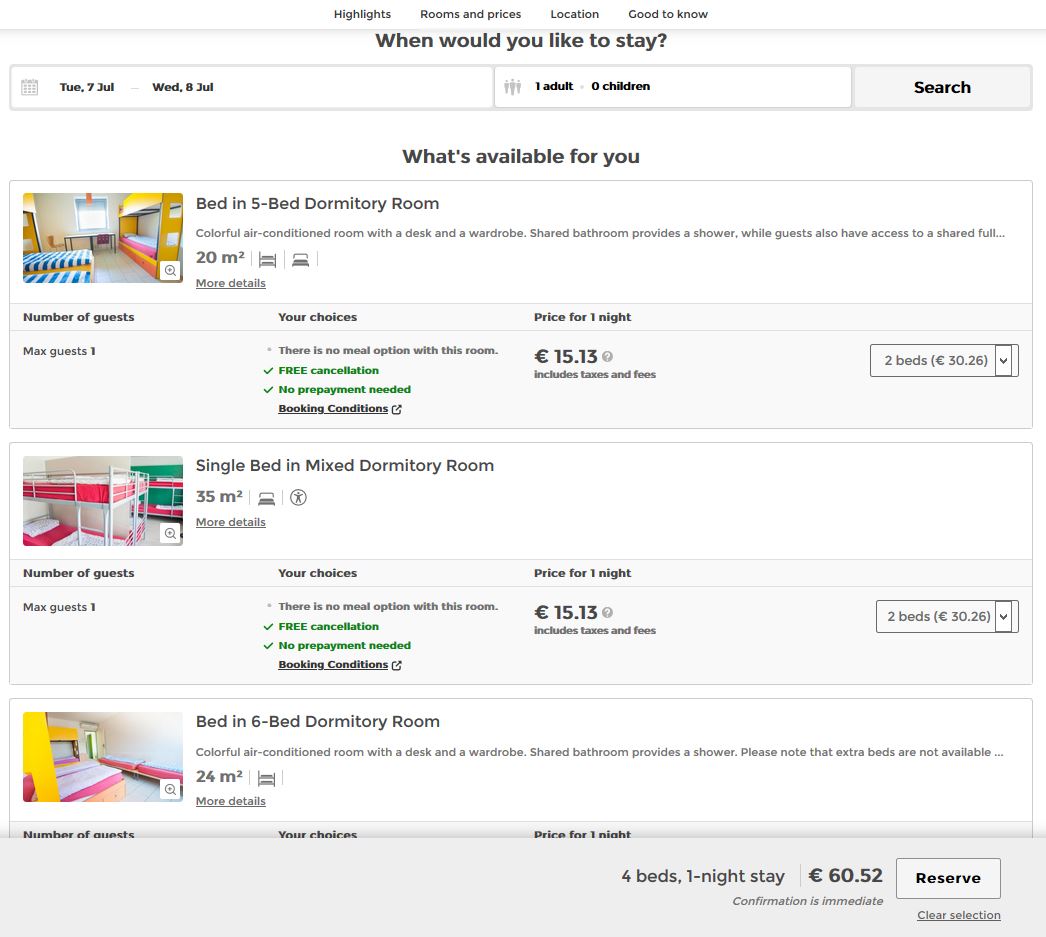 8. Discount based on occupancy
Both CultBooking and Booking WebDirect allow the customers to choose how many adults will occupy the room. This is a great feature and is available in much fewer Booking engines than you would have thought.
Moreover, CultBooking gives the Hotelier the option to provide a discount, for example, for a double room occupied only by one person. Therefore the guest will see the discount on the front-end. Simple nuances like this are what make CultBooking stand out. Just that little trick provides a new way to offer amazing Hospitality.
9. Children prices
CultBooking offers the possibility to add children at a discounted price in the same room with adults, up to 3 extra children in one room.
On BookingButton from Booking.com, is not visible to see the option to book with discount prices.
10. Dedicated booking link on each room description page
CultBooking has enhanced the software to allow customers to book a room directly from a specific room description page. So when a user is, for example, on the junior king suite description page, he can instantly see the price and disponibility for this specific room without showing all the other categories of rooms. Here is how Aria grand is doing it: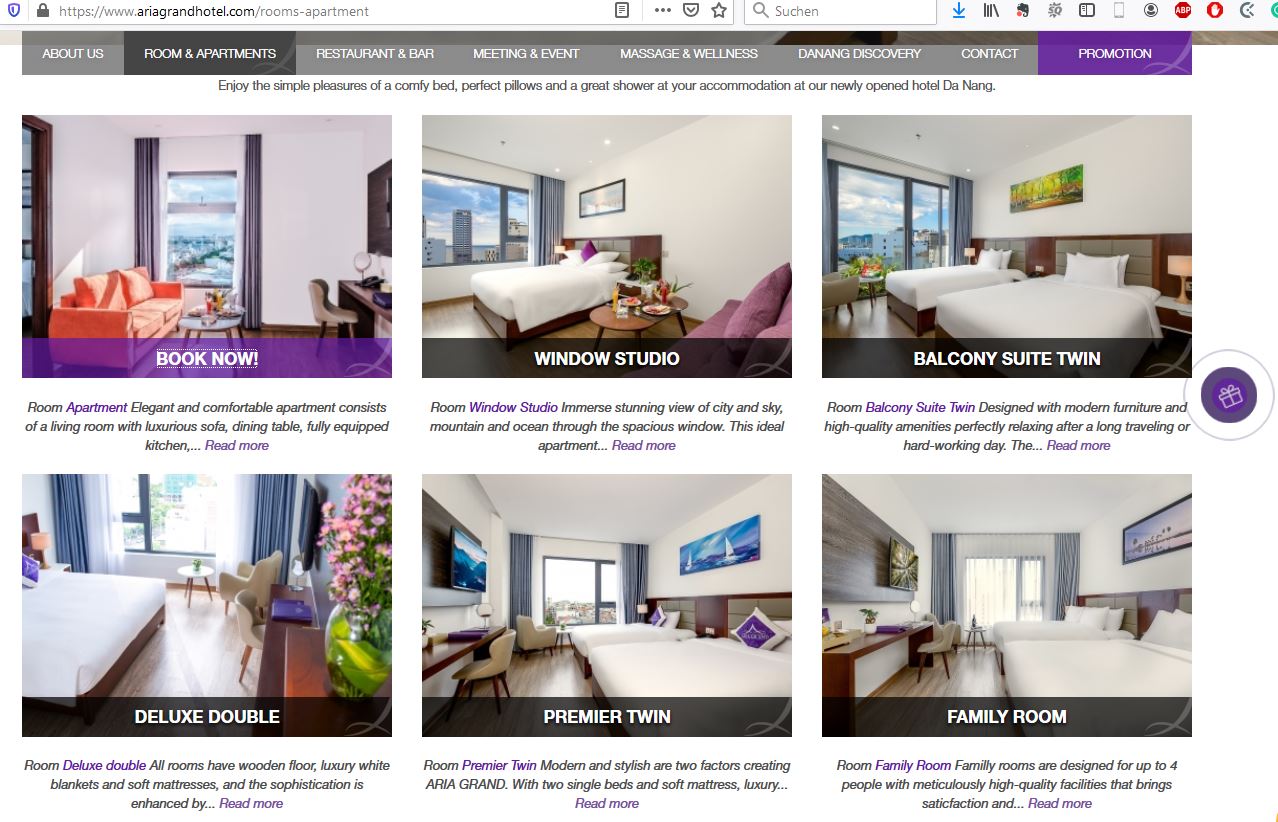 On Simbol Hostel, I was not able to find this option with BookingSuite. Rather, all rooms are displayed in the generic link URL.
11. Payment processing
CultBooking offers two payment possibilities :
Payment at the hotel with the booking secured via a credit card. So, in the case of no-show, the customer is charged a fee according to the hotel's cancellation policy.
Payment for the booking is processed automatically and transferred directly into the hotel owner's bank account. The customer has many payment options: PayPal, CreditCard, Klarna, and much more
BookingButton from Booking.com may have the option to secure payment or store credit card data. But when it came to connecting the payment gateway and relevant platforms there was no information available.
12. Extra services
CultBooking has always listened to its user base and done their best to implement features by request. One function was developed based on an active request that came from many Hoteliers all over. An extra little that we immediately change into a feature which is to give the Hotelier the possibility to activate and sell extras and add-ons with a simple set up. It could be everything from airport transfer, to breakfast, dinner or a bottle of wine even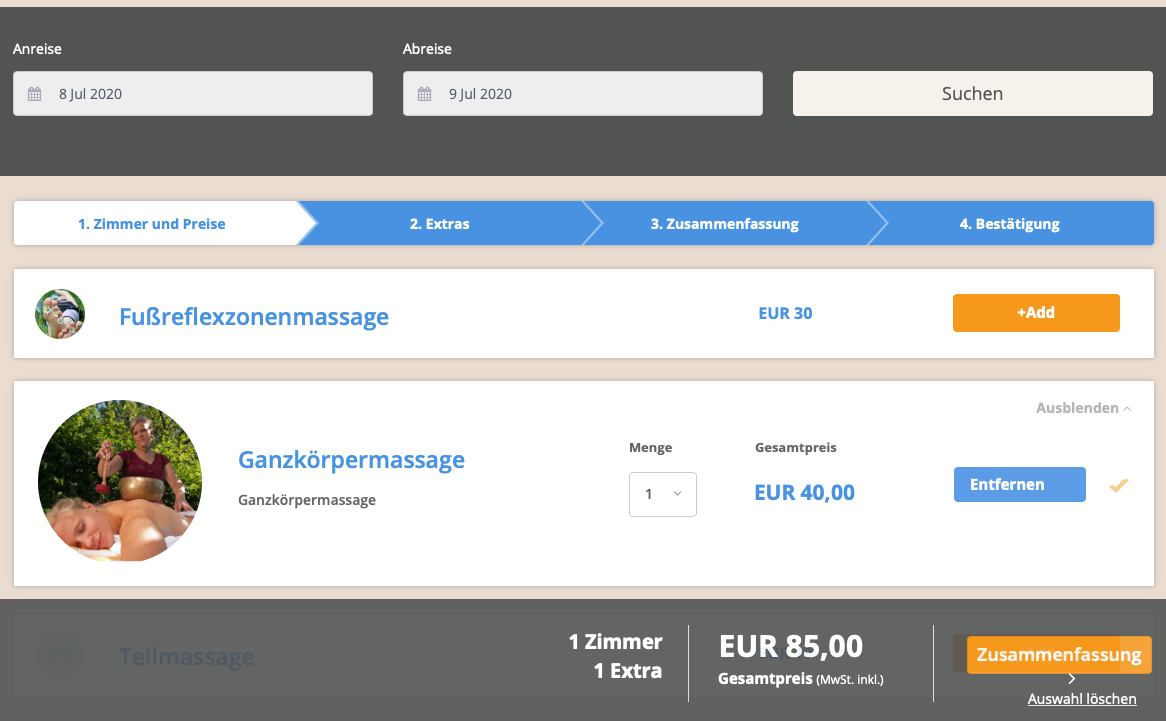 Booking.com WebDirect does not provide this feature, as their focus was always on selling rooms and nothing else. Relevant or not.
13. Live chat
CultBooking is flexible enough to allow the hotel owner to integrate and connect the live chat or chatbot of their choice into the code of their booking engine. This way the reception staff can give immediate support and a new channel of communication is open to prospective guests.
CultBooking staff will also help you through each step of the set-up process. They help via video conference, e-mails and even WhatsApp if requested.
BookingButton from BookingSuite does not offer any kind of live chat or similar service.
14. Mobile optimized
CultBooking and BookingSuite WebDirect, are fully optimized for mobile and smart devices. CultBooking takes this part very seriously as guests are becoming more and more mobile. Ongoing optimizations are happening every day with our technical infrastructure to always offer highly responsive service to your guests.
15. Channel managers & PMS, connected
CultBooking connects to 40 PMS and 17 channel managers, acting as a connection hub. Moreover, CultBooking has its own channel manager.
BookingSuite needs an external connection to channel managers from the network of Booking.com.
16. Social Media integrations
Both CultBooking and BookingSuite Button may be integrated and connected with FaceBook, Twitter, Instagram, or any other social media.
CultBooking allows for preparing exclusive links for social media campaigns with special discounts and conditions.
17. Pricing
CultBooking has a simple and straightforward price model. 29 EUR / month, less than the price of a daily espresso! in Europe. For example in Spain and Italy espresso costs around 1-2 EUR. Meanwhile in Berlin, starts at 2 EUR.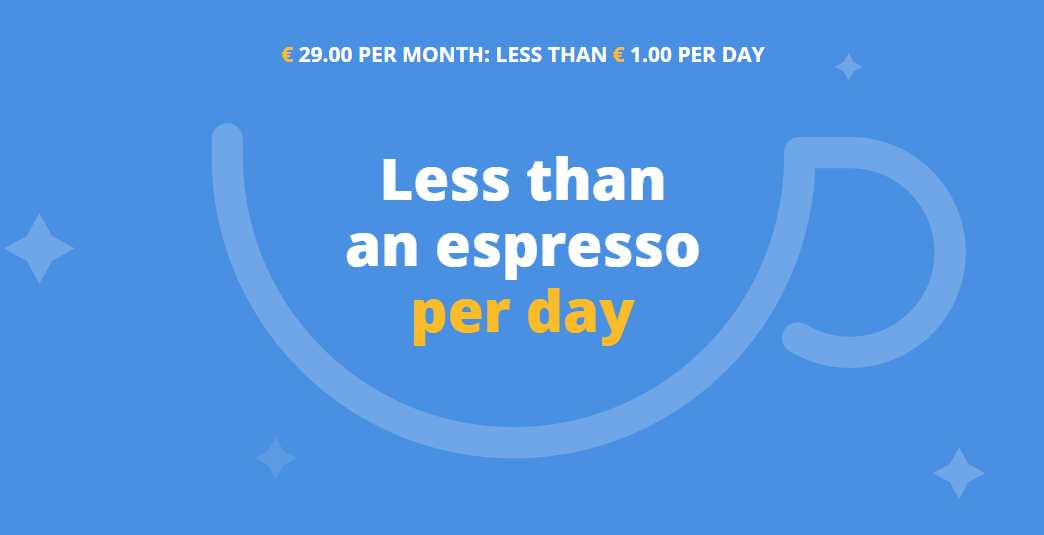 BookingSuite works with a commission model where the booking engine, the website, and maybe more services are included in a 10% commission on each booking.
Why choose CultBooking?
Many functions and extras.

CultBooking has developed many functions and extras with the hotelier, the end-user in mind. A complete booking engine tool constantly evolving and improving.
Easy transition. CultBooking will help you to easily move from BookingSuite WebDirect to CultBooking BookingButton with just a few clicks. So CultBooking is a great alternative for you to change and start receiving direct bookings from your website.
Simple connection with PMS and Channel Managers: CultBooking offers complete integration with hotel software PMS and channel managers. Furthermore, it's easy and free.
Here are extra reasons to switch to CultBooking and select the best booking engine for your website:
CultBooking accessibility make it the best alternative to BookingSuite
The booking engine and the booking button are using cutting-edge technology, making them fast, user-friendly, and adaptable to any devices. Moreover, there are weekly and monthly updates as the team of developers is working continuously on making improvements and adding innovations. Those features offer online customers a memorable experience.
Help
As a busy hotel owner, you don't want to have to run after a representative for technical service or commercial information; you want someone available for you on the spot. One of the strongest points of CultBooking revealed by online reviews is the excellent availability of the management team. The company is easily contactable with dedicated agents just for you.
to try the service and make sure it is the perfect alternative for you.
You're ready for CultBooking, the best alternative to BookingSuite services
It's for sure never easy to change from a service provider to another one. The problem here is that sadly the decision is not yours, as the services provided by BookingSuites will no longer be available at the end of November. Luckily the choice of which alternative to use is entirely and uniquely yours. The CultBooking team is waiting for your call to help you with a smooth and easy transition from the Booking.com(BookingButton) to CultBooking(BookingButton).
We hope this article helps you decide that the CultBooking tool is a good way to start your migration from BookingSuite. If you're still uncertain, try CultBooking 90 days without any risks; we are confident that you will start increasing your bookings immediately and see the power of our technology.
Website creation
The CultBooking team also is happy to help you create or build a new website. Or you can integrate the booking engine into your old existing website, depends on your needs.
For questions and support, please contact us via chat or email: info@cultbooking.com