As property owner, sooner or later, you are faced with the question: Which reservation software shall I choose for my property, hotel, guest house, website?
Thefore, you start looking for a booking engine, also called booking button, on Google by searching for 'reservation software' as a first term. Right after the Google ads, the first natural result is from a company called: Capterra.
What is Capterra? 
Wikipedia describes it well: 'Capterra is a company that provides research and user reviews on software applications for businesses[1]. The company assists consumers with selecting software for their needs'.
So, based on reviews and profiles of many software applications providers, you will be able to see who has the best reputation and presentation. Also you can see various players existing in the market, check prices, look at theier website or video presentation and get in contact with your selected company.
The first article on Google from Capterra is: 'Best Reservations Software | 2020 Reviews of the Most …'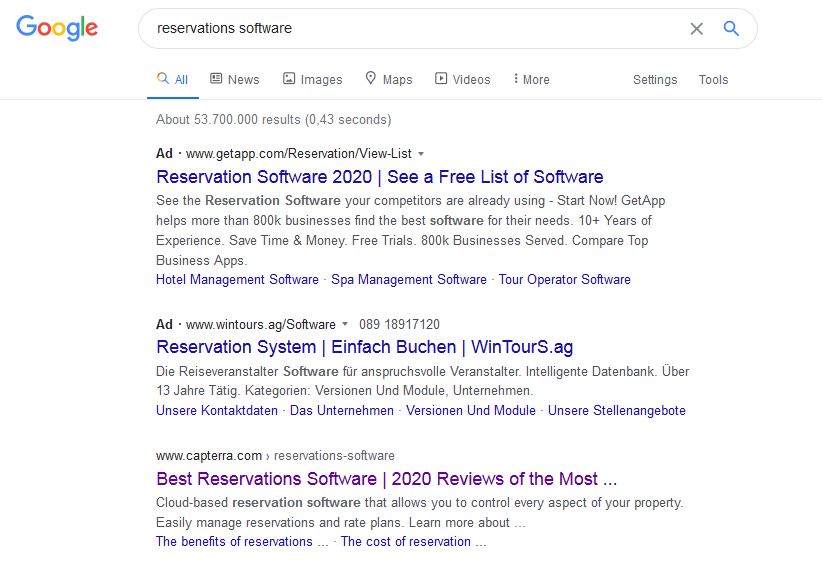 On Capterra website, the top listings are from providers that make a bid for specific keywords and markets, same concept as Google Adwords. Down the list are the other providers, higher ranked is the one that has the highest number of real reviews from the end costumers. 
So there are 307 results for 'reservations software' and here you will find: channel managers, property management systems (also called hotel software or PMS) and much more. 
CultBooking is listed on the first half, between Bookwise and Experitus.io. This position will change with time depending on new providers being registered and number of reviews that each company gets. What is interesting about Capterra is that they check manually each review to ensure they are from real persons and from real users of the technology, this is a great process that makes this platform trustworthy.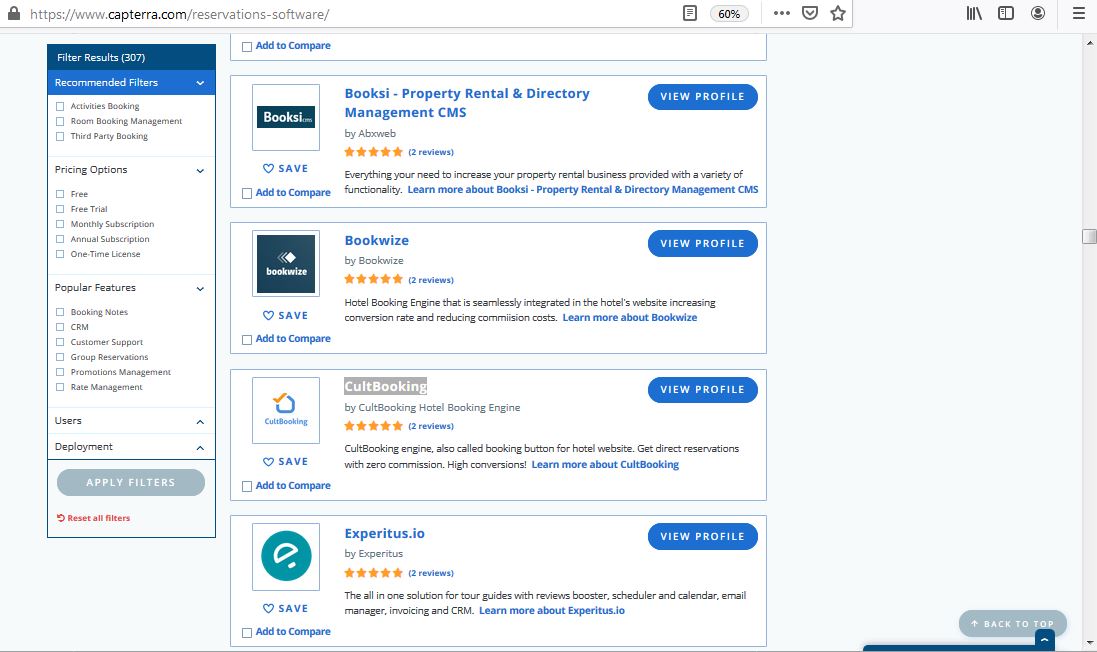 Are you a property owner and want mainly a booking button for your website and you are not looking for a channel manager or PMS. Then you shall be searching for 'hotel  booking engine' on Capterra. Is impressive to see 3125 providers for this product category. On the first page you will get results for 10 providers with option to view more. Is nice to see that CultBooking makes part of this top 10.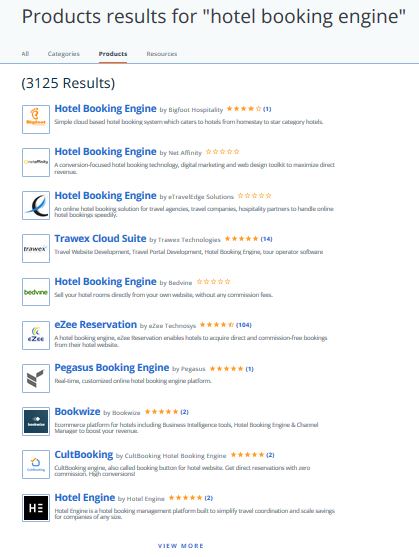 Also would be beneficial to check for 'booking engine' without hotel and also on this product search, CultBooking is present among top 10 providers. Here the results gave us 2799 results, as of 20 Apr 2020.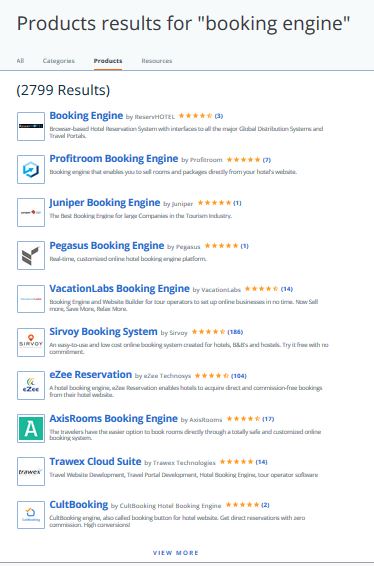 This week, a new property from Latvia that has 3 bungalows, has been contacting CultBooking and requesting a trial of our booking button system and extranet. The owner said, they have found CultBooking on Capterra. So this was the right moment to write about CultBooking profile and partnership with the listing network of Capterra. 
CultBooking profile on Capterra
Maybe you wonder how is the profile of CultBooking on Capterra. Please click here to find out more. Here are also some screen shots:
About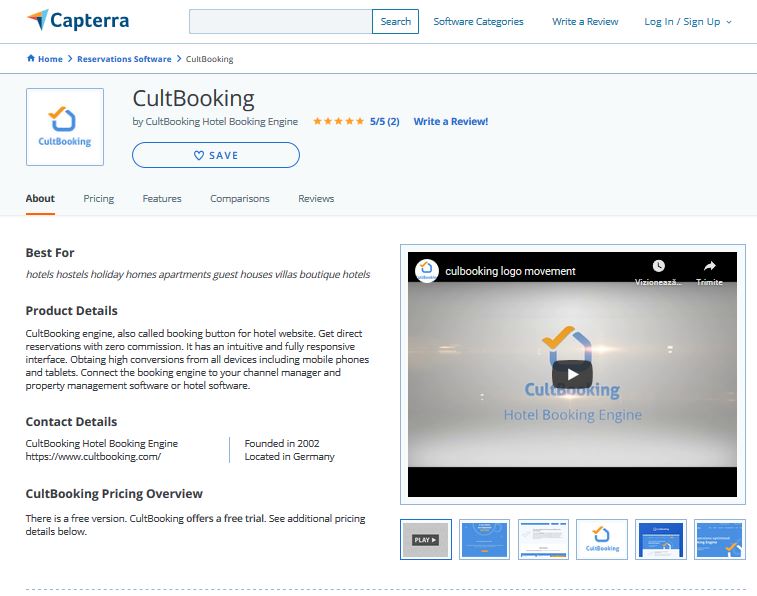 Features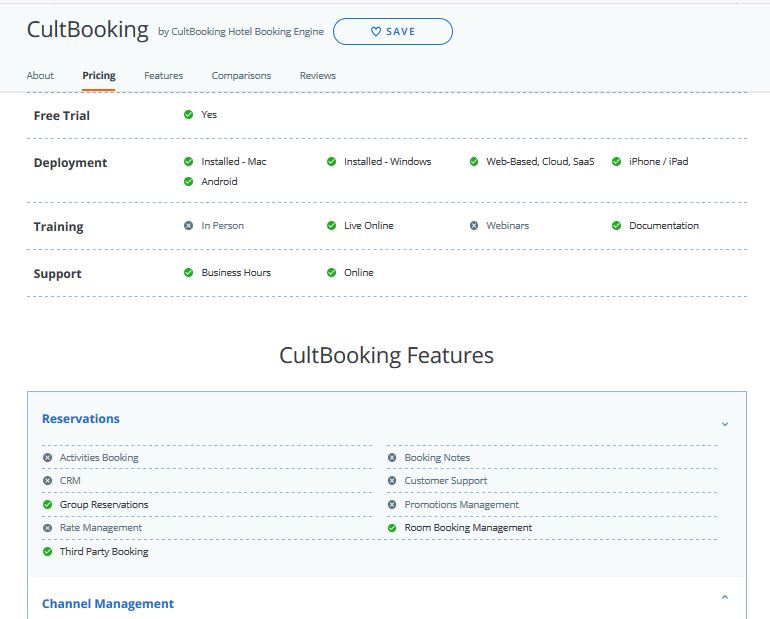 Reviews
For the moment CultBooking has two 5 star reviews. Would be great if you would help us grow and leave your comment via this link: https://reviews.capterra.com/new/189106 
I will be happy to provide you with an account and booking button so that you can try it by yourself and provide feedback and review.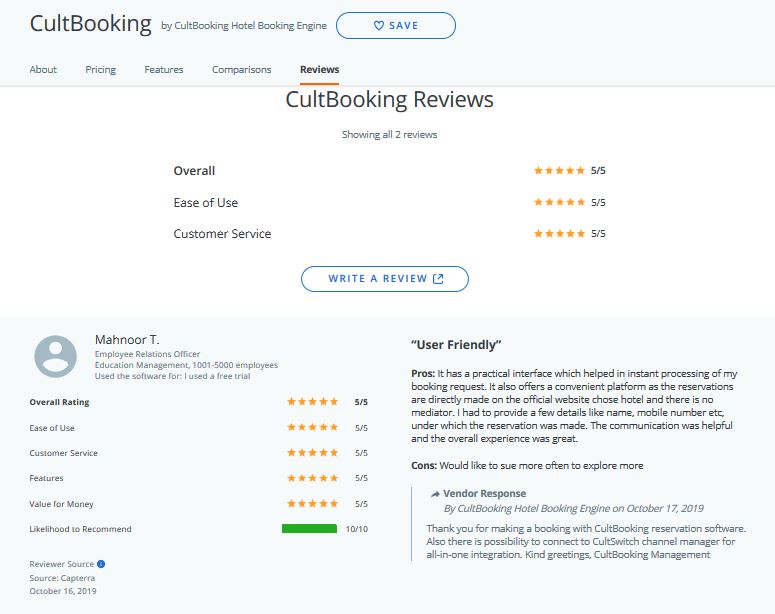 Also you can search directly for 'CultBooking' on Capterra and you will see our profile appearing: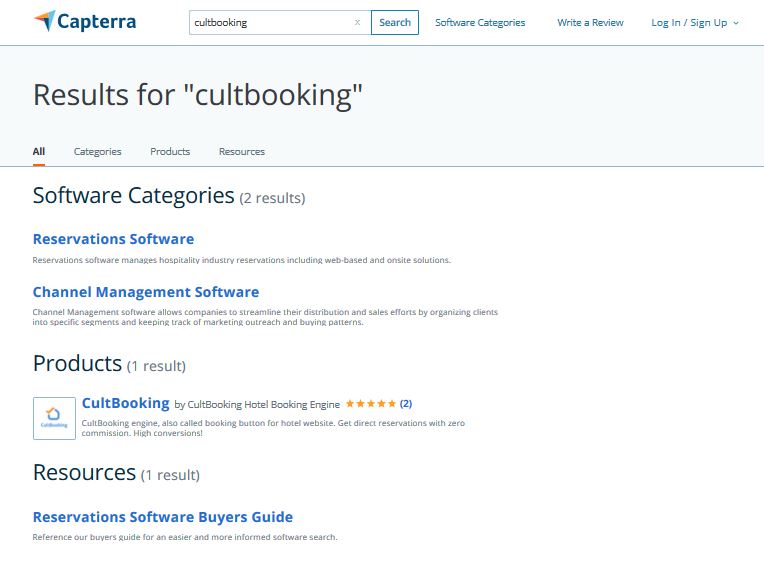 CultBooking hopes you enjoyed this tour. Now you are more prepared to search for booking engine, reservations software providers for your website. If you need direct bookings and want to have top performance, CultBooking, booking button, is here to help. 
Support
If you have any questions and need support, please contact us via phone or email: info@cultbooking.com