Updated 03 Feb 2021
19 May 2020
Both CultBooking and Nightsbridge are hotel booking engines, also called booking buttons or booking form, installed on hotel's website to enable guests to check availability and prices and process direct bookings.
They help you move from a classic contact form, email or telephone, to automated technology that is is sync with your channel manager and property management system.Very useful tool for guests and property owners, as their website become a new booking channel in addition to the OTA's mix already in use. And most important, the costs of producing a booking are reduced from to zero.

Would you like to enjoy the following benefits:
An online booking system works non stop: 24/7. Potential visitors will be able to book a room anytime the want, at any hour. It maximises your sales because you are not limited to your working hours.
Hotel booking system will make your staff and work flow more efficient. Your team will not have to be waiting for guests to call.
Secure payments with your own online booking engine. You can require from your guests to pay when they book and not worry about payments when they arrive. In case of a no-show, you can keep some of the money as compensation.
using software like CultBooking or NightsBridge will help you reach your goals. There are things you can do with one of the tools but not with the other, and vice versa—so it really comes down to your needs, and how you intend to use it. This piece is here to help by laying out the differences and similarities between CultBooking and Nightsbridge. We cover:
Experience your booking engine from user's point of view
4 reasons our customers choose CultBooking
What are the differences between CultBooking's and Nightsbridge's features and functionalities?
For the comparison has been selected this hotel from South Africa using NightsBridge: https://www.sediba.com/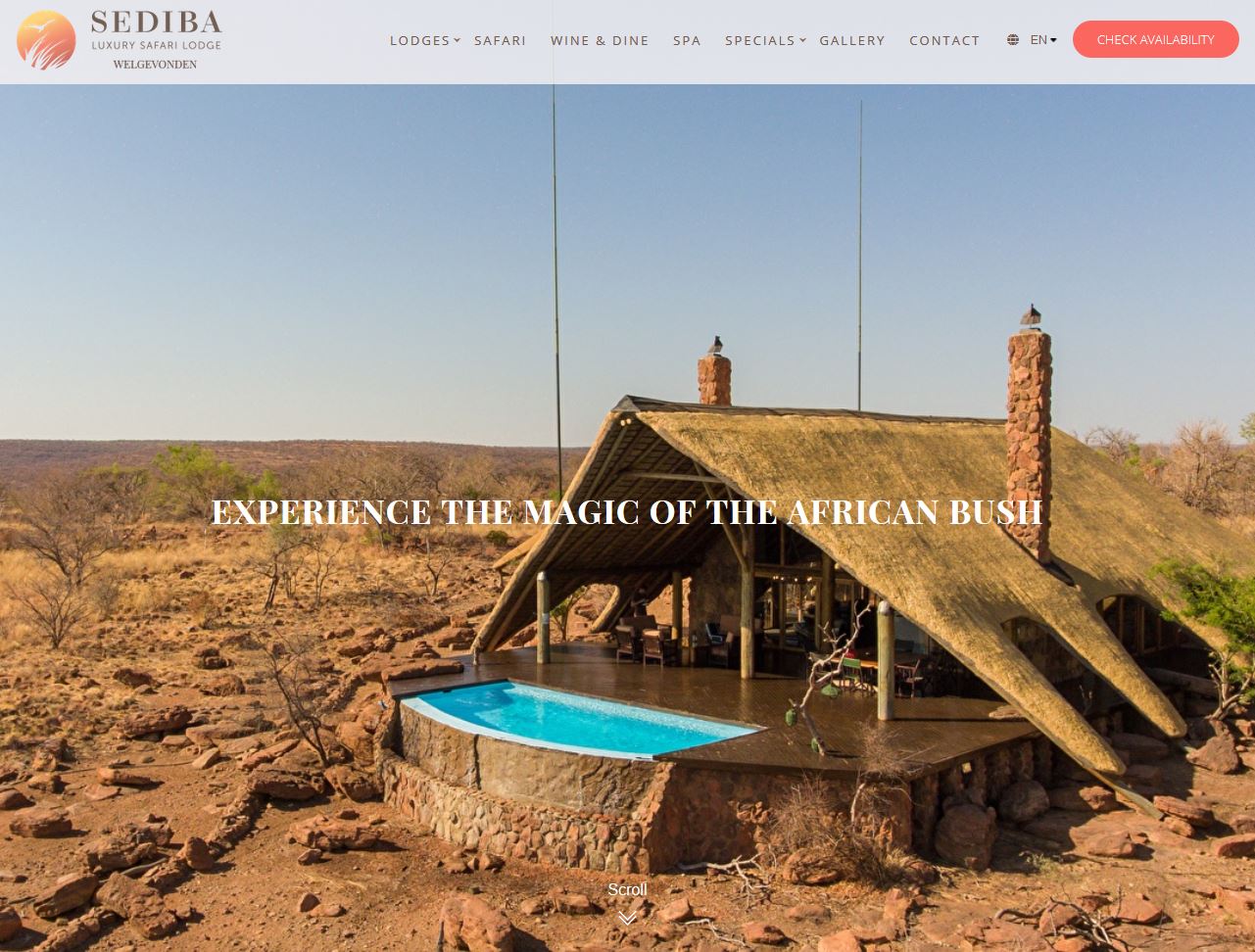 CultBooking hotel booking engine and button has selected this hotel from Germany for the purpose of this analysis: http://www.kunibertderfiese.de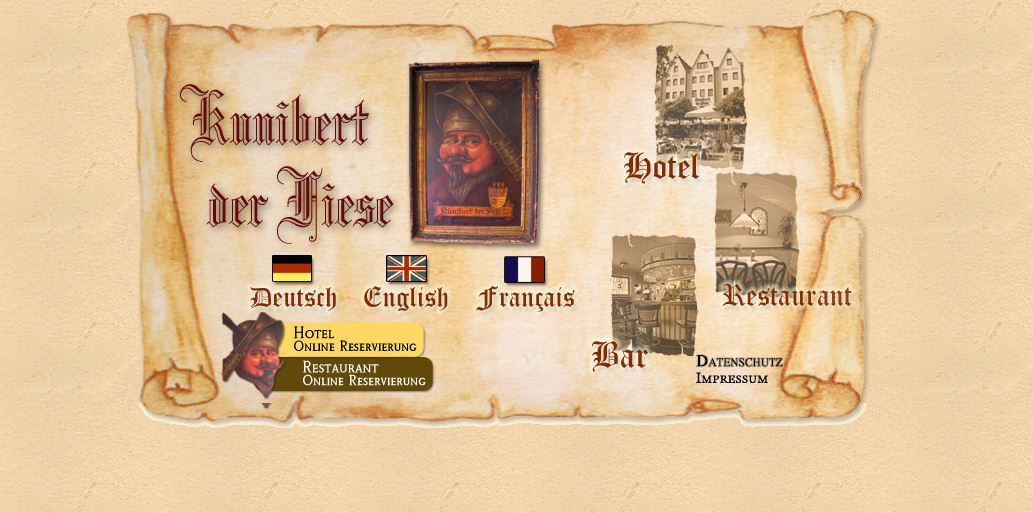 Nightsbridge
CultBooking
1. Free demo
2. Promo code
3. Smart calendar (showing prices &
available dates, minimum stay)
4. Book multiple rooms at same time
5. Occupancy base discount (E.g. for double is possile to insert reduction for 1 person )
6. Children prices
n/a
7. Individual link for each room (show only selected room and not full list of offers)
n/a
8. Payment processing
9. Extras or add-ons (E.g. Parking, flowers, bike ride, breakfast, drinks, cleaning)
n/a
10. Property managent systems (PMS), Hotel Software, connected
27
40
11. Channel managers connected
1
17
12 Price
40 EUR
p.m.
29 EUR
p.m.
Experience your booking engine from user's point of view
Free demo
CultBooking offers 30 days free demo to test the technology and decide if is the right tool for your hotel or property.
There is not an option to try for free on the website on NightsBridge.
2. Promo code
Hotels use this section of promo code or voucher code to give special discounts to loyal clients or to selected group of guests. Here is how CultBooking does it, by allowing the user to insert the promo code and then search discounted room rates: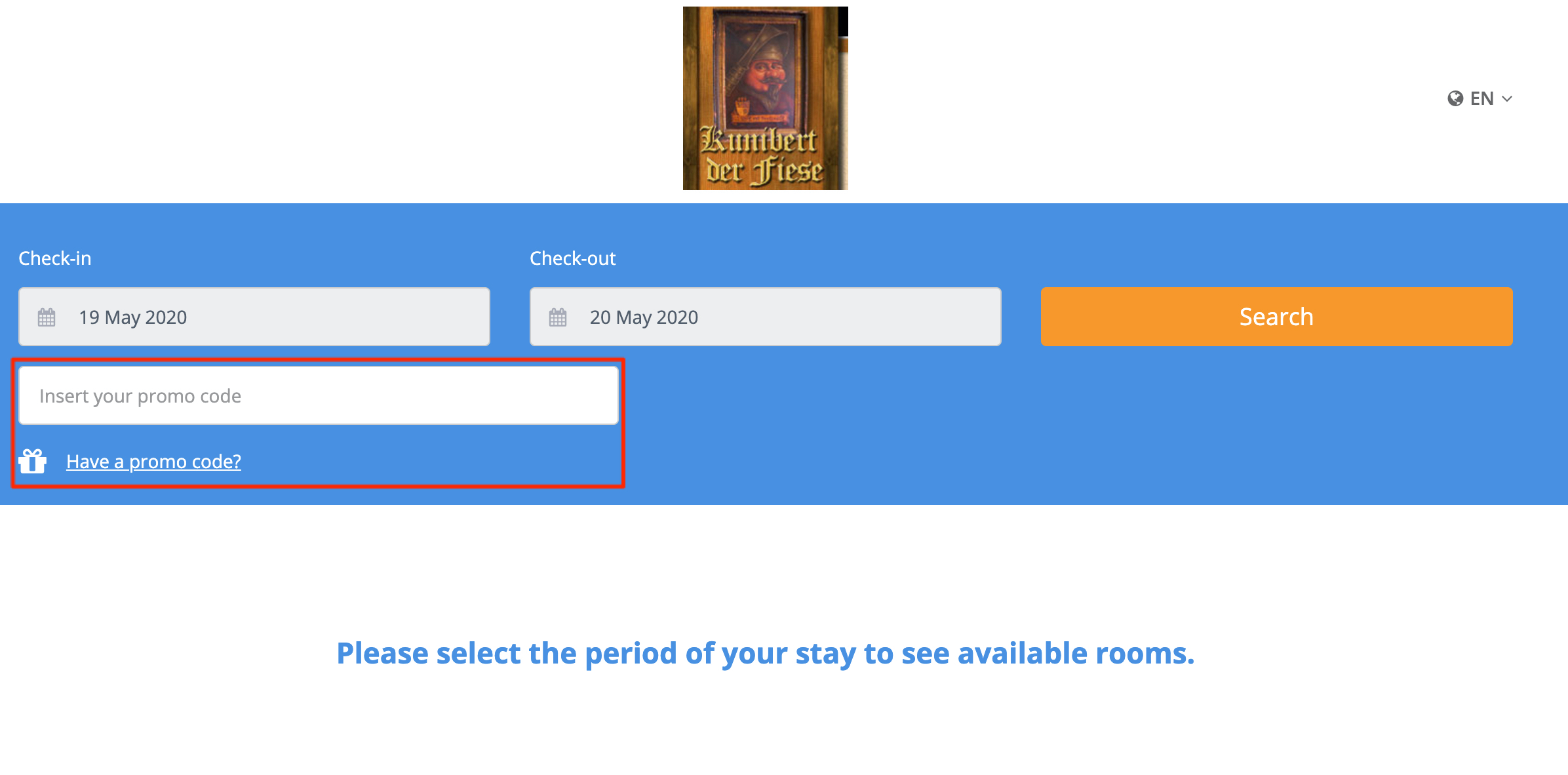 For this particular hotel, I was not able to find promo code on NightsBridge, either at check-in or check-out. Maybe is possible to enable later, but is not present for the given hotel.
3. Smart calendar
CultBooking has option to enable: availability and restrictions as minimum stay inside a smart calendar. This way, when user comes he sees directly the available days and rooms and does not have to do a blind search, and receive as response an error message. Also is possible to enable as well prices. So that the lowest price is shown for a certain day. In this case, hotel does not want to display lowest price and this option is turned off.
Here is example of how smart calendar looks for CultBooking: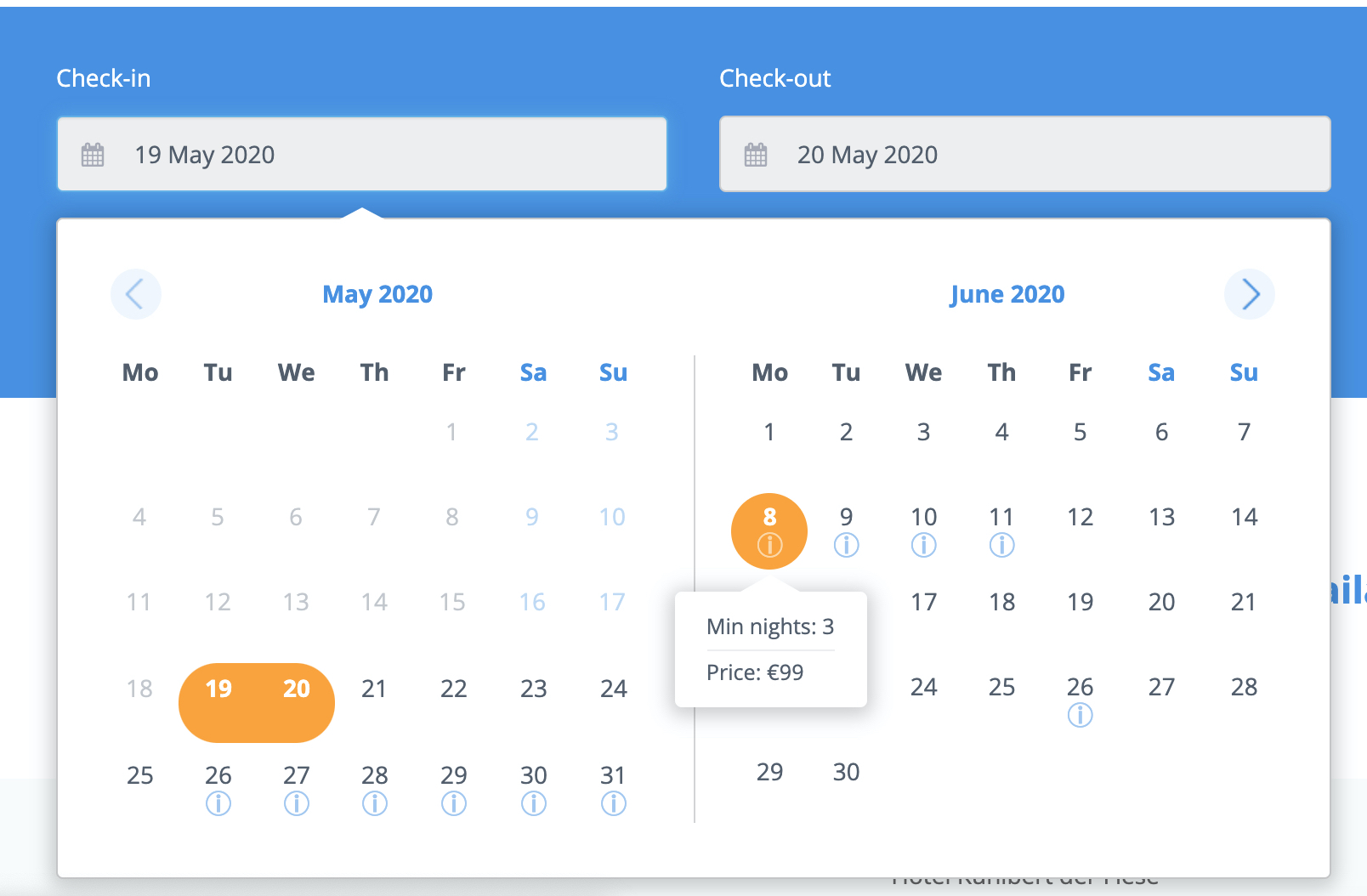 NightsBridge also has smart calendar. This smart calendar is not shown when opening Check-in and Check-out, but when clicking the right side button from check availability:
Here we can see only date for one week. On CultBooking data of 2 months is shown, so that user has a wider overview and can check faster.
NightsBridge shows prices for each room and for each occupancy. This is nice to see that information is complete, but this is also complex. User has to stop and think to understand the data, so he needs to stop for a while. Moreover, the prices are displayed with no . or , for example: 8550. Would be better to display this way 8.550. What is disturbing is not seeing the currency on front or behind the number. Are we talking about 8.550 EUR, USD or INR?
4. Book multiple rooms at same time
On CultBooking, the user has option to select as many room rates or offers, as he wants and the selection will be shown in the book now pop-up bar, at the bottom, along with total price of the reservation.
When user clicks book now, he goes to next page, where he will see the summary and the form to fill needed data to complete the reservation. Is nice to see that the booking process is broken in various steps.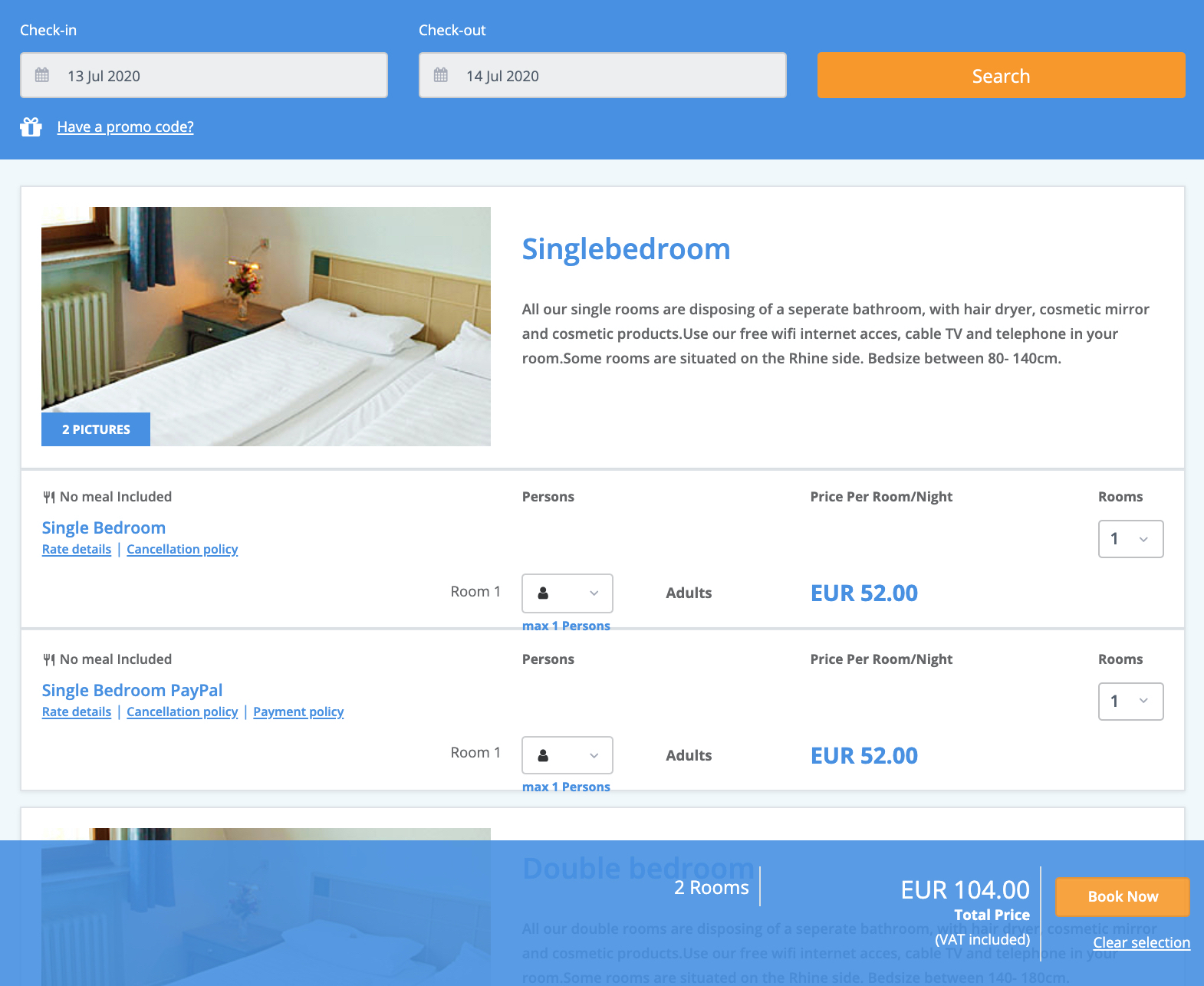 With NightsBridge, also is possible to book various offers at the same time: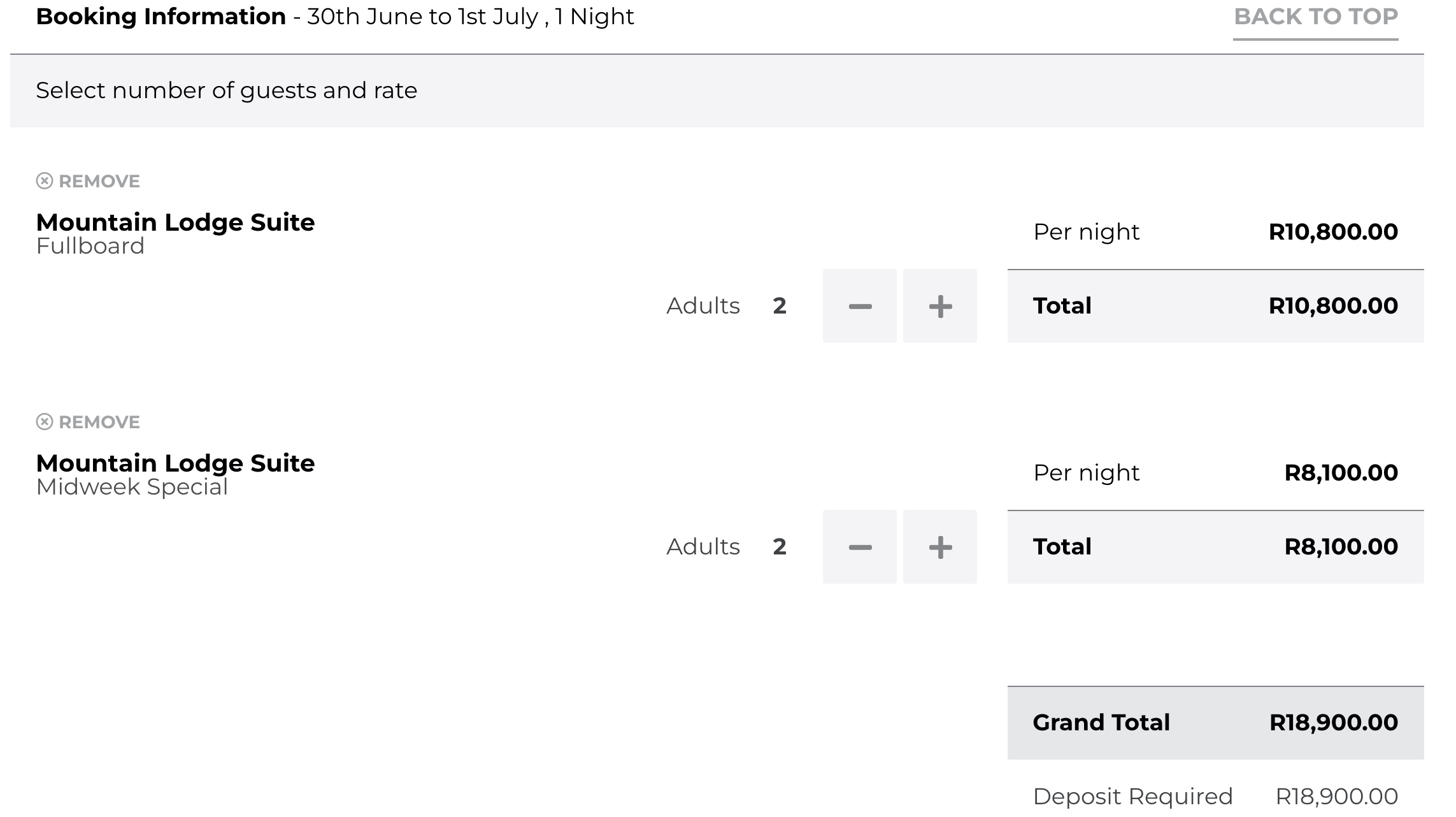 On top are the list of rooms and down below the selection. We are talking here about one page that is very long and divided in various sections, this is Facebook style. So there is a lot of information on one page, that is mixed. Down below there is also the form for entering data to complete reservation.
Both booking engines, have this function available. When comes to design, we are entering the field of personal taste, user preference, UI and UX section. Therefore, we are not going in depth with these points.
5. Occupancy base discount (E.g. for double is possible to insert reduction for 1 person)
Do you have double room and want to sell it as single? or maybe you have triple room and want to add discount for two persons stay or one person stay. All these options are possible on CultBooking. The below hotel, decided not to offer any discount when less people sleep in the same room: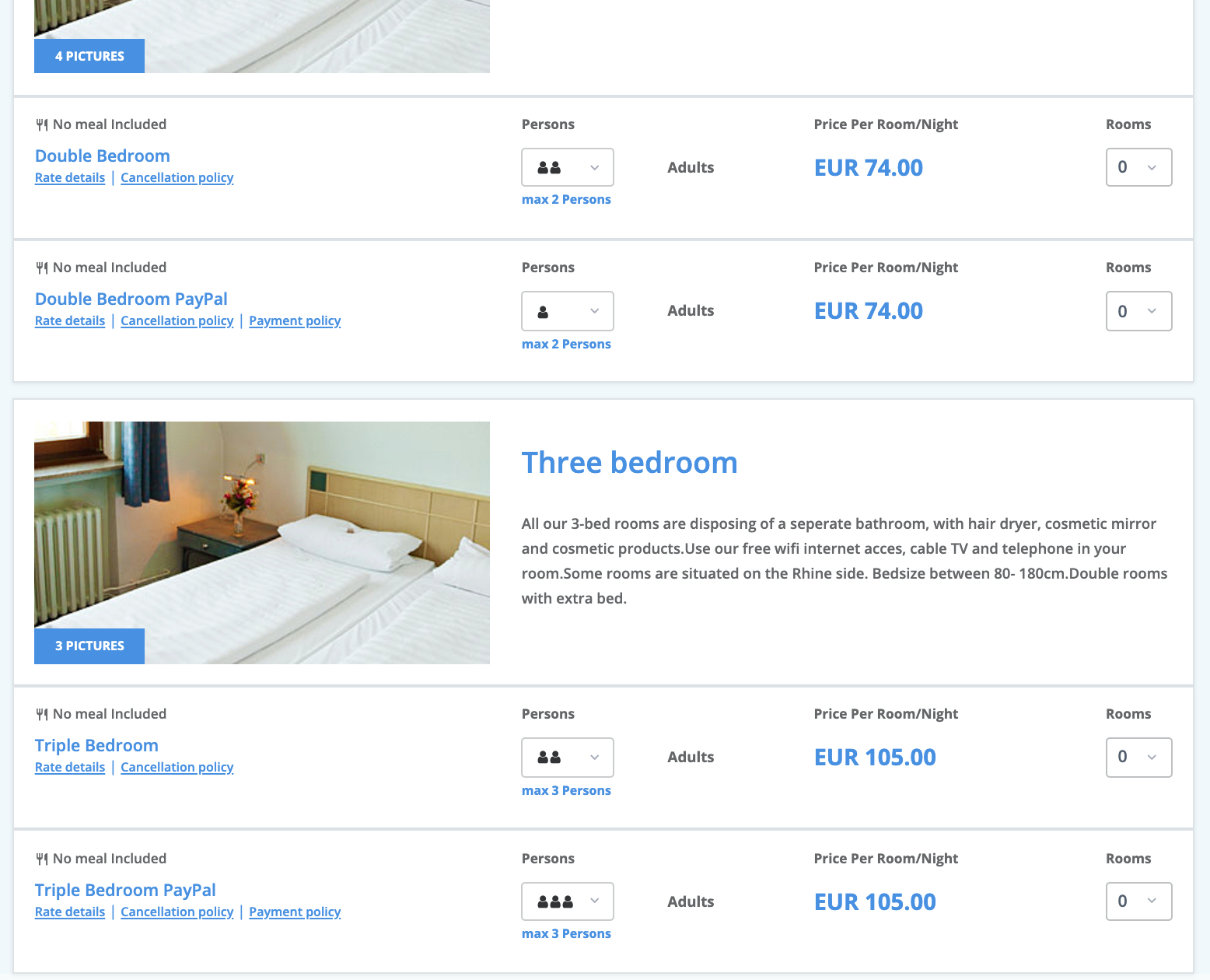 Same is possible on NightBridge:
6. Children prices
CultBooking offers option to add additional children in the same room with adults. It exists possibility to add children at zero costs or with additional costs based on age intervals.
For the analysed hotel with NightBridge, I was not able to find this options, but maybe is also available.
7. Individual link for each room (show only selected room and not full list of offers)
CultBooking has made an enhancement, to have only double room for example bookable via specific link. So when hotel has a dedicated page for each of its rooms, then we insert the special link and only availability for this room is shown. This is nice feature for user, as if he is looking specifically at this room, he wants to book this room and does not want to be shown all the rooms available, as he will have to filter by himself manually with additional effort and time spent.
Sediba lodge, has pages dedicated to each of their lodge offers. NightsBridge link is inserted, but has no specific filter to show only that room lodge, but shows generically all rooms.
8. Payment processing
CultBooking has two options for payment:
a) Payment at hotel, but booking is secured via credit card. So that hotelier can check if credit card is valid and in case of no-show to charge the card accordingly with the cancellation policy of that specific room rate: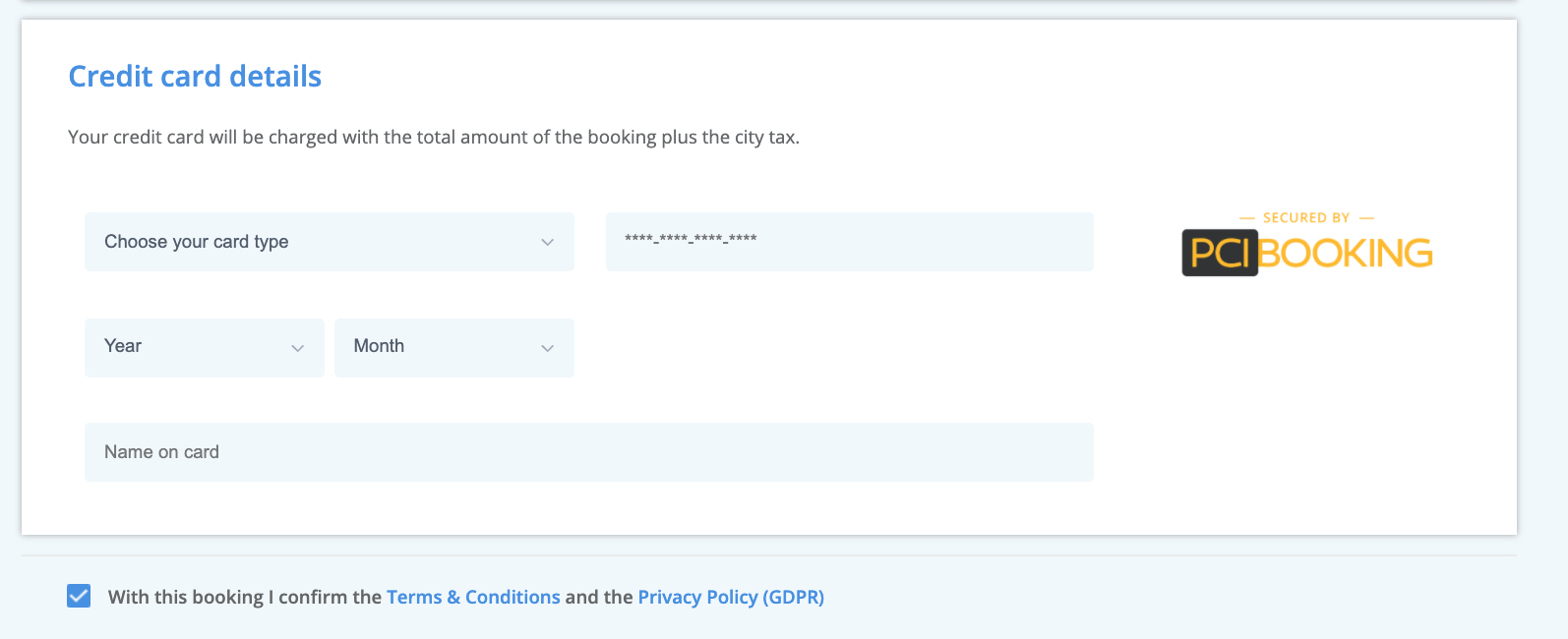 b) Payment gateway, where payment is processed automatically and the money is transferred directly into the hotel owner bank account. Hotel can choose payment options: PayPal, CreditCard, Klarna and much more: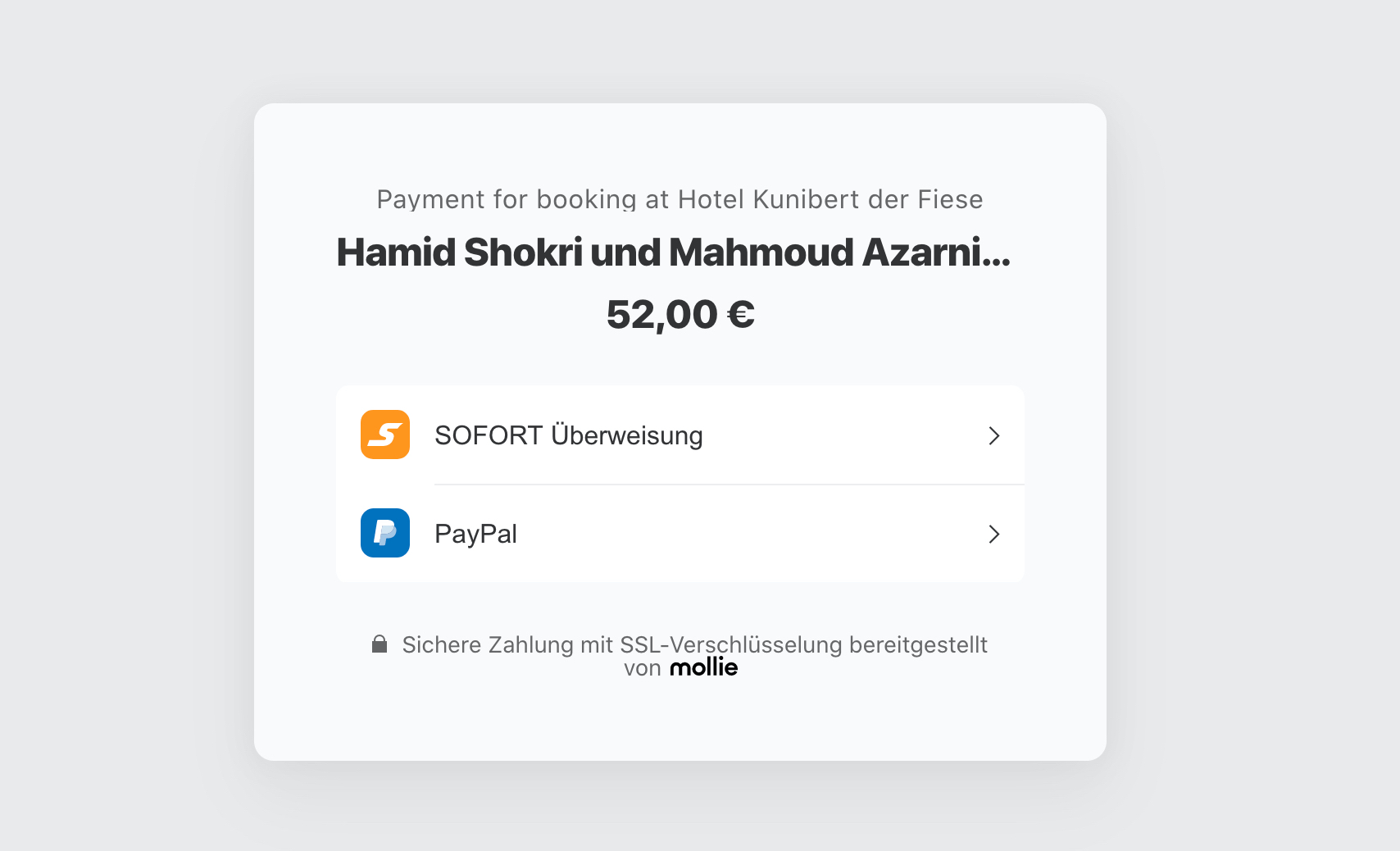 On NightsBridge, user can select between credit card and bank transfer. I think we are talking here only about securing booking with credit card, I am not sure if payment gateway is available: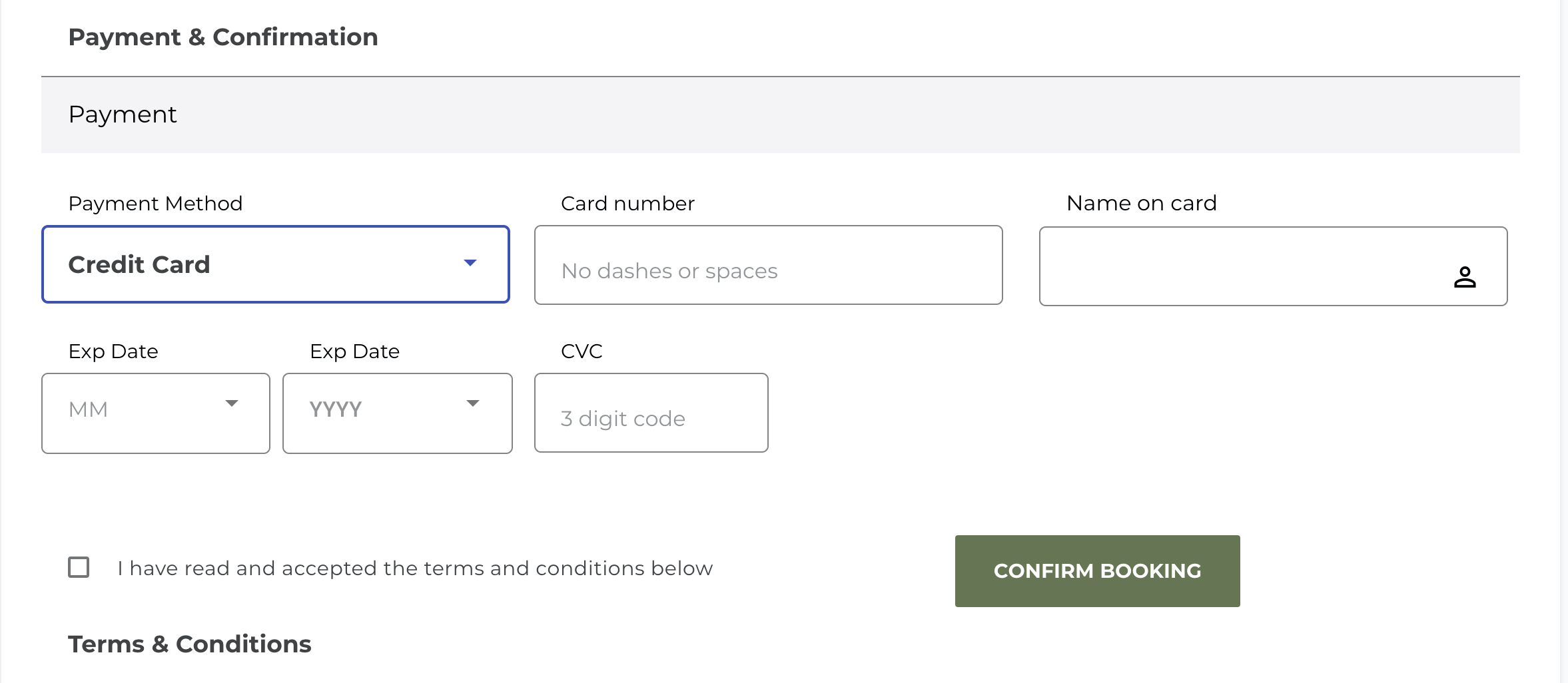 9. Extras or add-ons (E.g. Parking, flowers, bike ride, breakfast, drinks, cleaning)
CultBooking makes it possible to include extras along with the booked rooms. Like for example, parking, cleaning, etc. These extras are per stay and quantity can be selected. Like for example, user wants to book a bike for 2 nights or he can book 2 bikes. Or he can book parking:

On NightsBridge, for this specific hotel, I was not able to find this option.
10. Property managent systems (PMS), Hotel Software, connected
CultBooking is connected to 40 property management systems, also called hotel software or front desk program. Here is the complete list:
API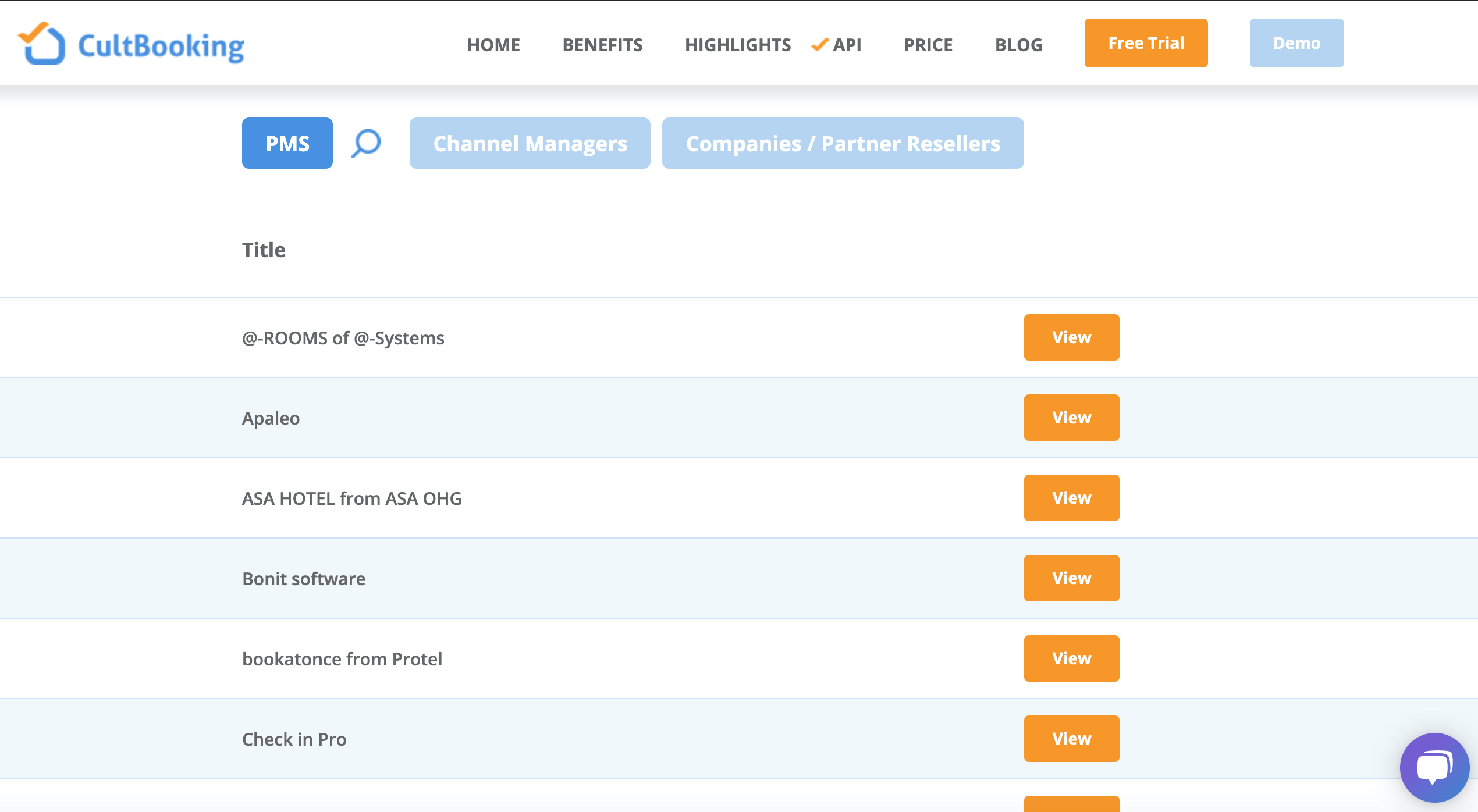 NightsBridge has 27 connections to PMS. Here is the list: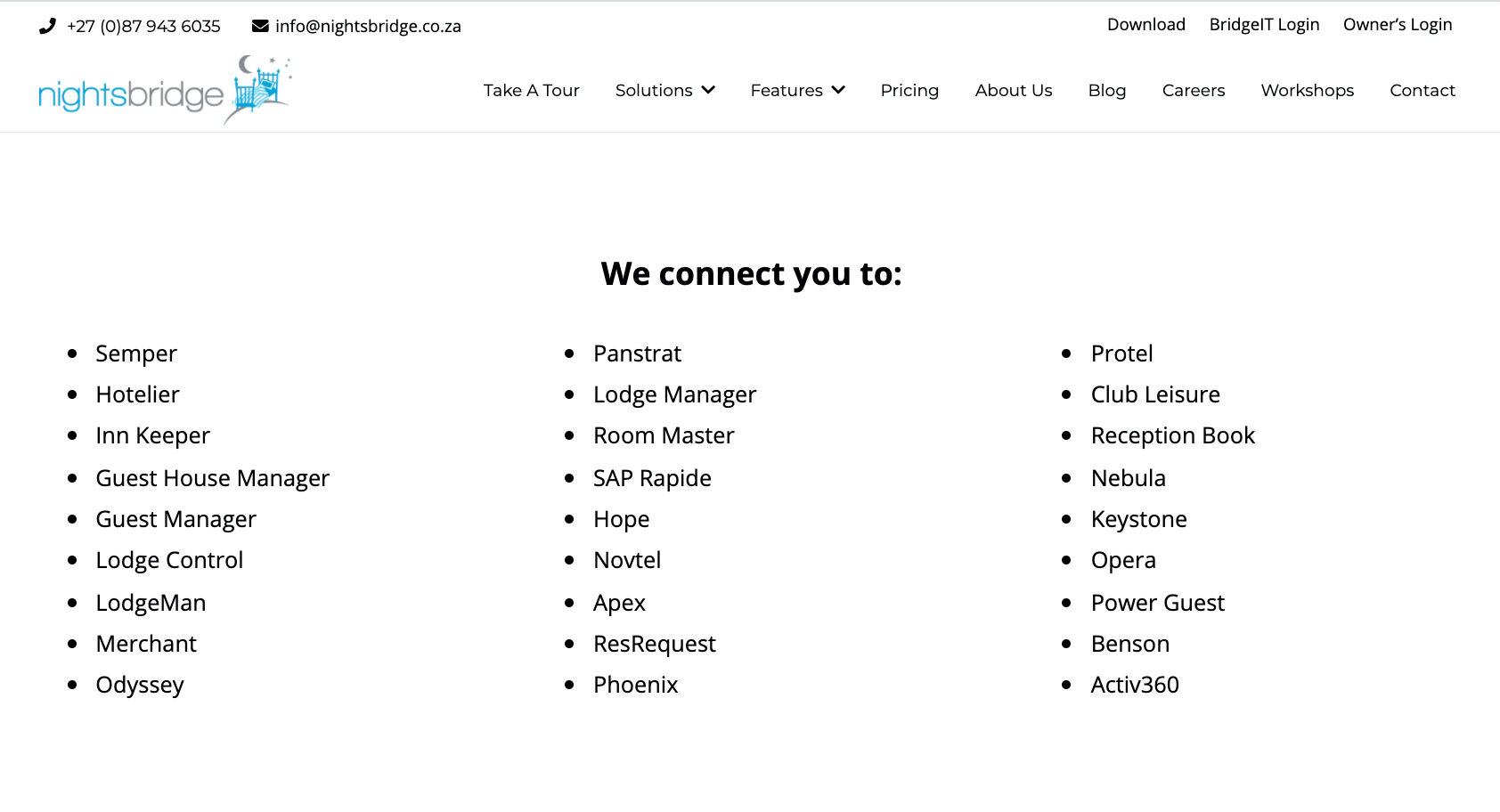 11. Channel managers connected
CultBooking connects to 17 channel managers, here is the complete list:
API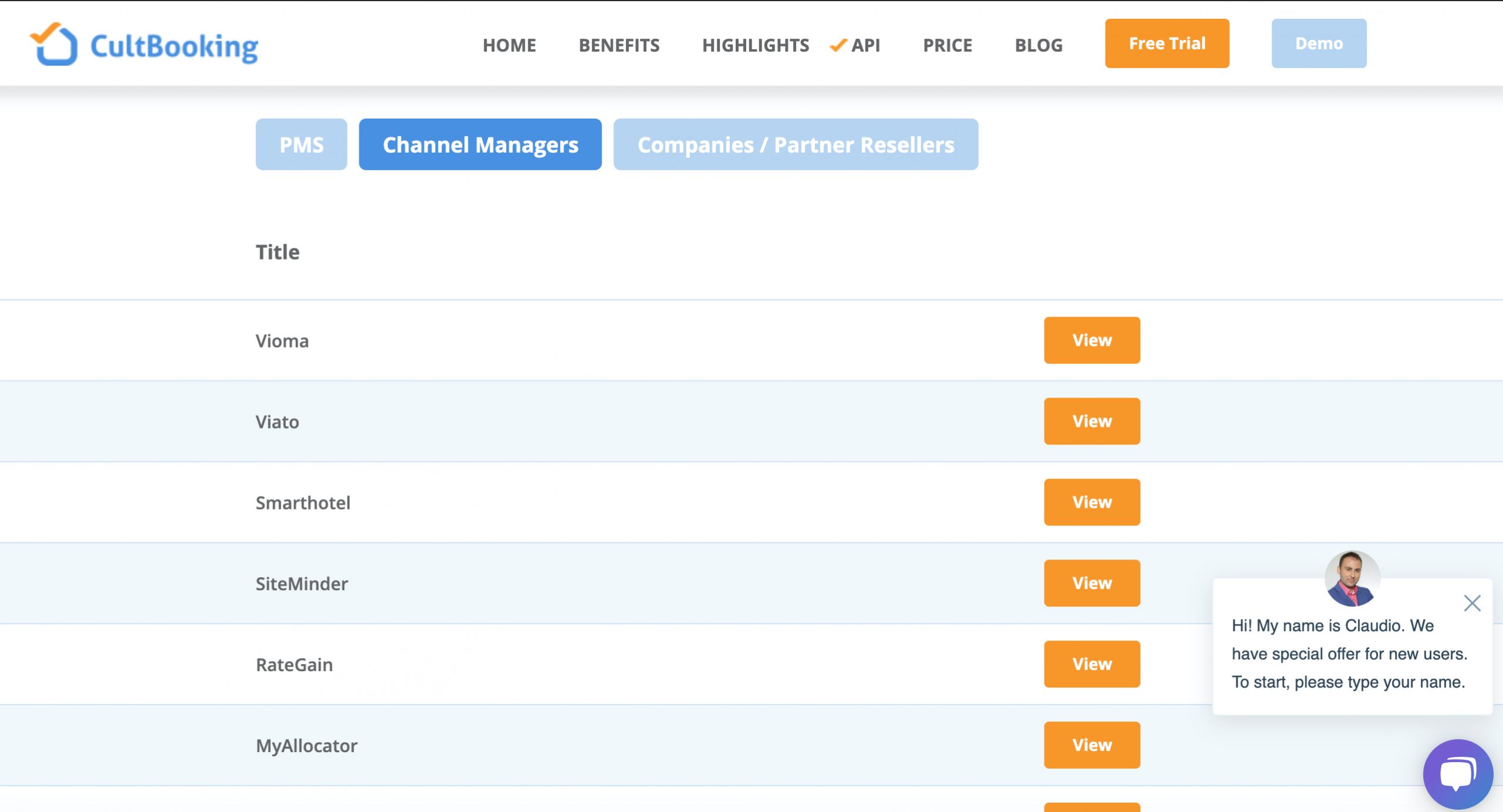 NightsBridge also has own channel manager. Therefore, I was not able to find on their website reference of connection to other channel managers.
12. Pricing
CultBooking costs less than an espresso per day. Has a monthly cost of 29 EUR: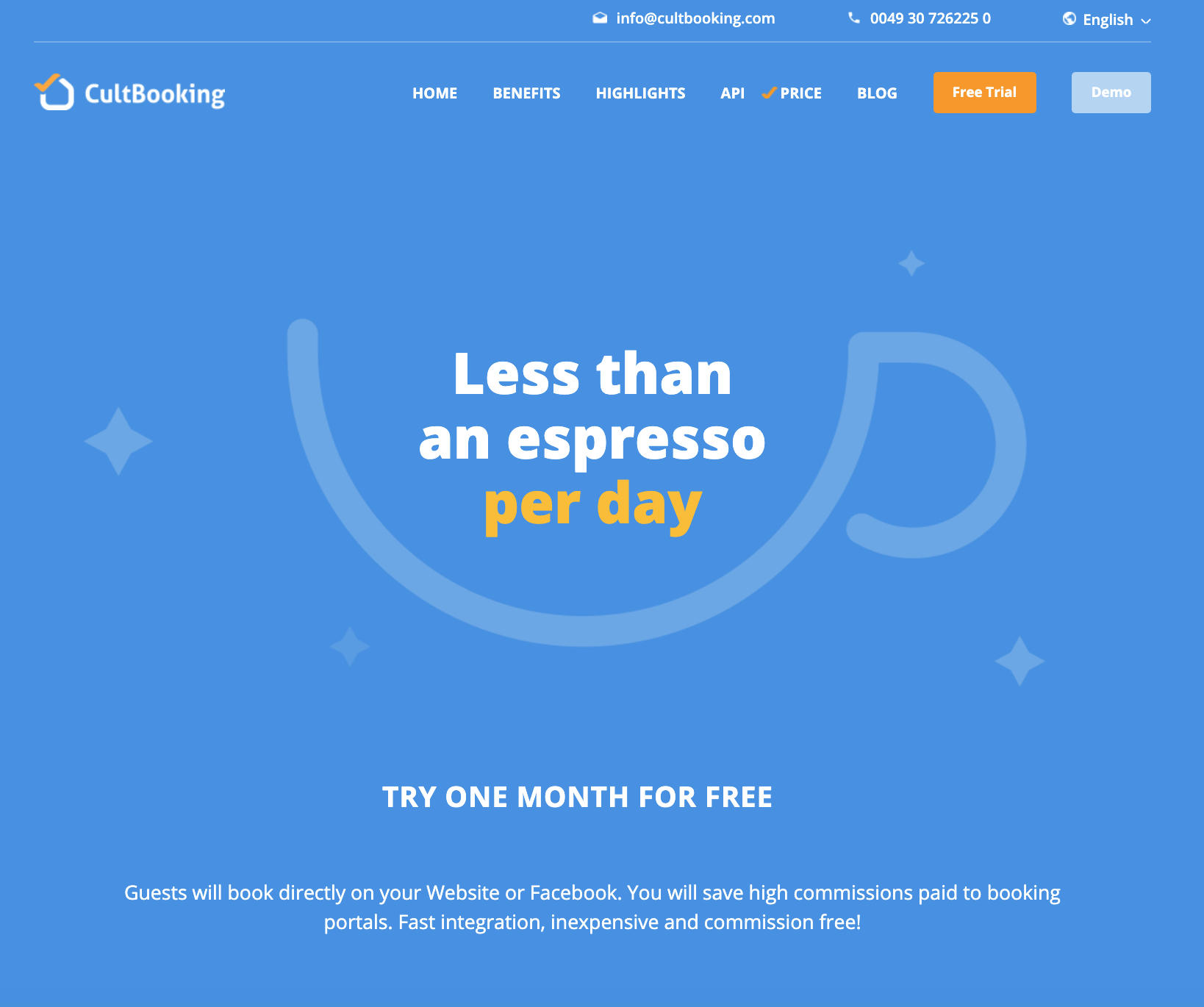 Nightsbridge, you can not buy just the booking engine, it comes in a package with channel manager which has an extra cost.
Here is a list of their prices: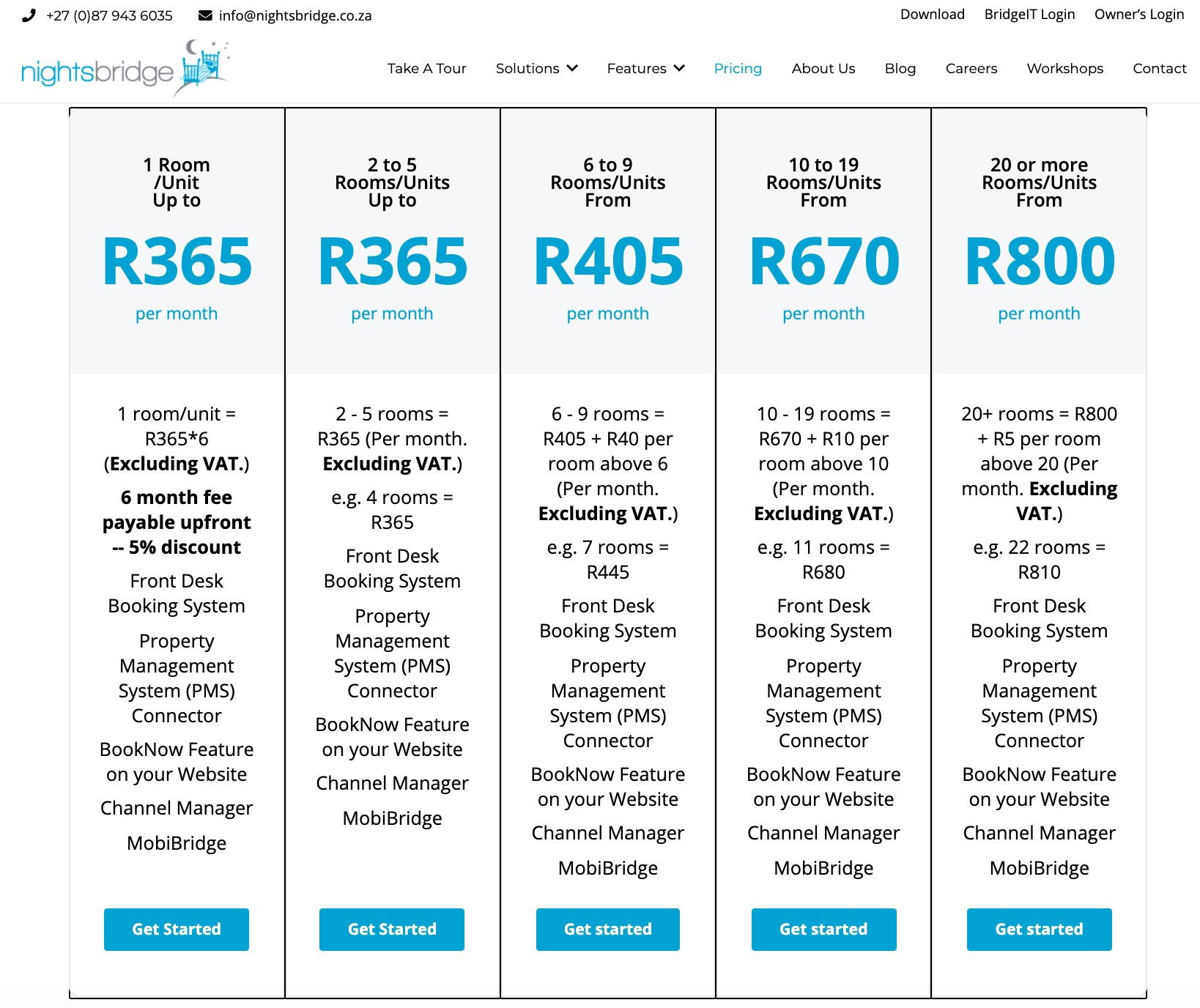 Why choose CultBooking?
Affordable: less than 1.00 EUR/Day for all the features needed to obtain direct bookings and transforms visitors into guests.
Easy to get set up: add a link ULR of code to your site, and you're done.
Easy to start getting bookings today: visitors will be able to check your availability and prices in real time, with no need to call you or send an email. This is very convenient and great feature for each user, new guest or loyal guest.
Easy to connect with PMS and Channel Managers: right from the start, CultBooking lets you connect with hotel software PMS and channel managers, in an easy way. Moreover, the connection is free.
We hope this piece has cleared some things up for you, and that you've found the info you need in order to choose the tool that's right for your hotel and property. If you're still unsure, give CultBooking a try for free: set-up is quick and easy, and you can start receiving bookings from your users right away. For questions, contact us via chat or email: info@cultbooking.com