Updated: 03 Feb 2021
CultBooking reservation system and Siteminder BookingButton propose an online reservation service for your hospitality businesses via their booking engine software. Your resort website integrates the engine, allowing prospective customers to reserve a room directly online.
This service is beneficial for you as the owner, as your website becomes a money-making machine. Furthermore, the cost of generating a new booking is minimal.
Here are some of the advantages of the service:
There is no closing time for the booking engine system; in other words, you can reserve a room whenever you desire.
With phone and email bookings, it's difficult for your staff to be 100% efficient. Besides, mistakes can quickly happen. The booking engine simplifies the task as it becomes the primary booking media and centralizes all the client's information.   

During the booking process, the guest gives his credit card information. As a result, for you, the booking is secured in case of no show.

Additionally, reservations software like CultBooking booking system or Siteminder helps increase your property online visibility and booking conversion. 
This article compares the two services from a user point of view. Firstly, it identifies step by step the main differences and common points between the two engines. And, to conclude, it gives you four reasons why customers choose CultBooking online booking engine. 
For Siteminder we use the booking engine of the hotel Stahl in Germany https://www.gasthaus-stahl.de/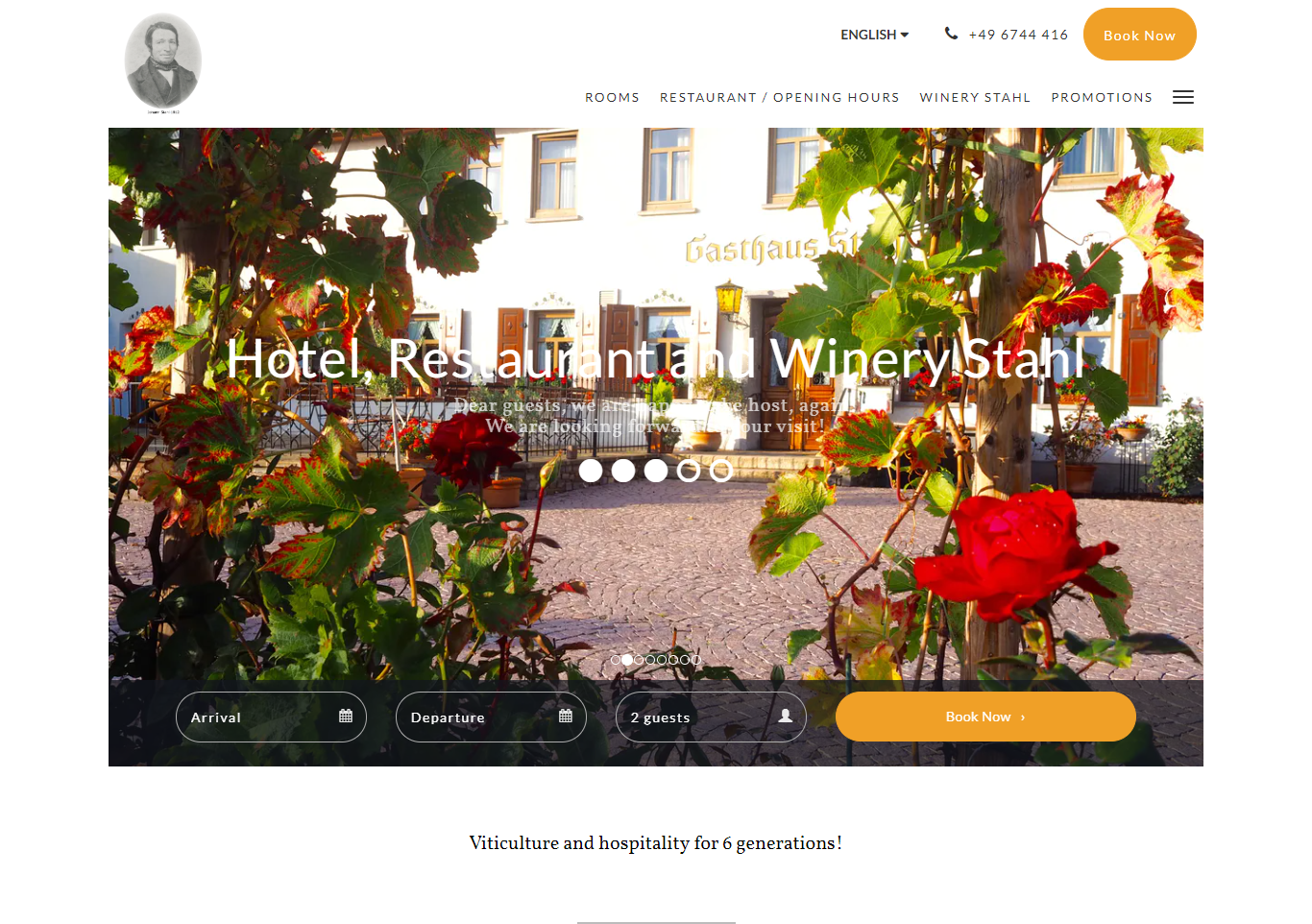 For CultBooking we use the booking engine of the Residenz & hotel Am Kurpark also in Germany http://residenz-hotel-schlangenbad.de/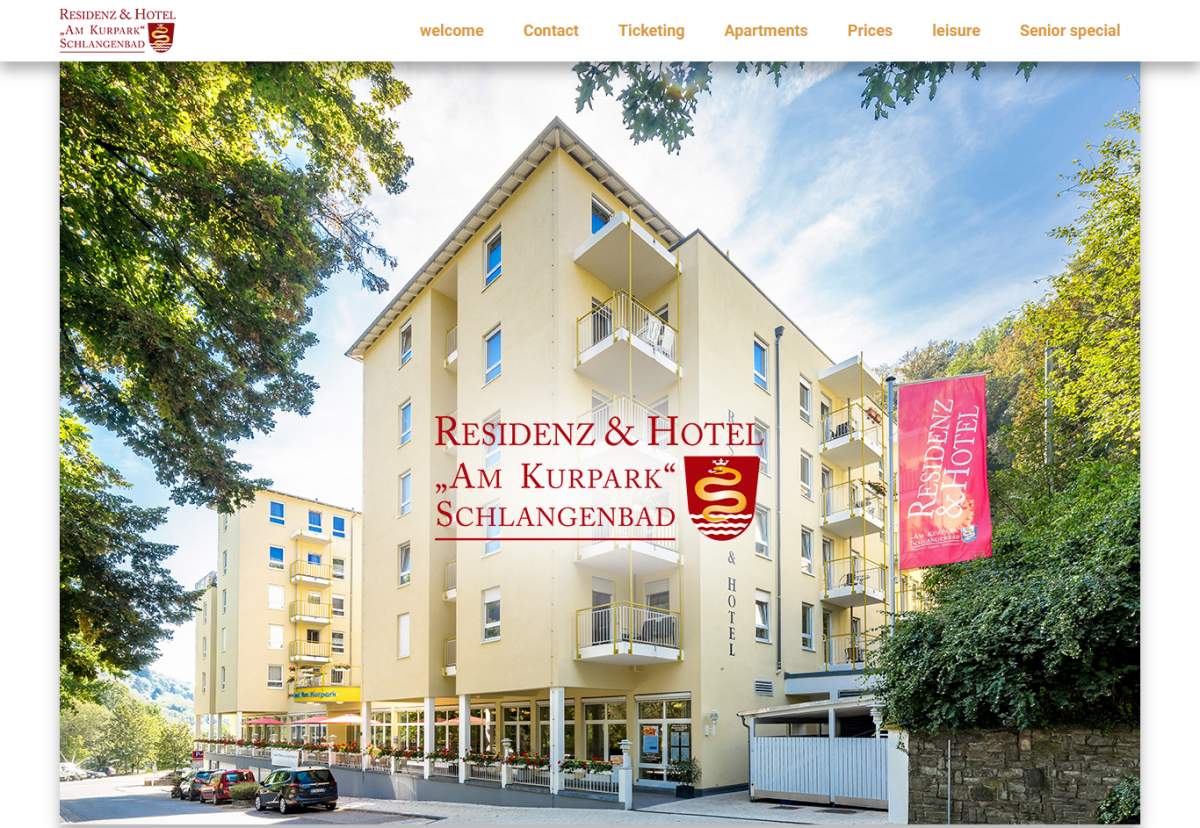 Siteminder
(BookingButton)
CultBooking
(BookingButton)
1. Free demo
2. Promo code
3. Smart calendar
4. Multi-languages
5. Multi-currency
Under
development
6. Multiple rooms booking
7. Discount based on occupancy
8. Children prices
9. Single link
10. Automatic Trip Advisor reviews
11. Payment processing
12. Extra services offering
13. Live chat
14. Mobile optimized
15. Channel Managers
1
17
16. PMS
272
40
17. Free trial
18. Pricing

From 29 EUR
p.m
Fix 29 EUR
p.m
1. Free demo
CultBooking proposes you to try out a demo of the software to see for yourself how the engine works.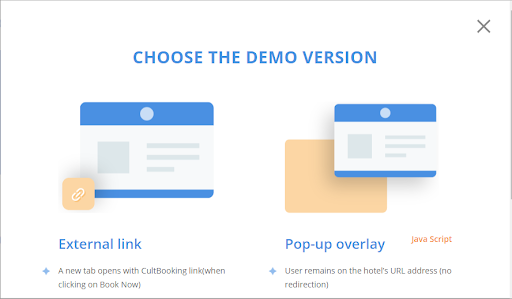 Siteminder doesn't offer the possibility to try a demo of its service. However, after you give your personal information, you can access a video showing the advantages of the booking engine.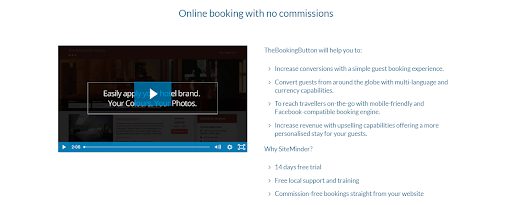 2. Promo code
The promo code tag enables the guest to take advantage of specific promotions or rebates on your hotel's rooms or particular services. The "Am Kurpark" hotel page offers this possibility to its customers. Moreover, the CultBooking development team is creating extra options to avail discounts, like an integrated discount on the room selection page.

On the hotel Stahl booking engine, there's no promo code section. However, on the website of another hotel using the Siteminder engine, the tag is present. So, it's a customizable option.

3. Smart calendar
Both websites use a smart calendar depicting direct availability in the hotel. As a result, you don't lose time searching for unavailable dates. Also, it is possible to include the daily cheapest price on the smart calendar. The calendar of "Am Kurpark" hotel includes the price option.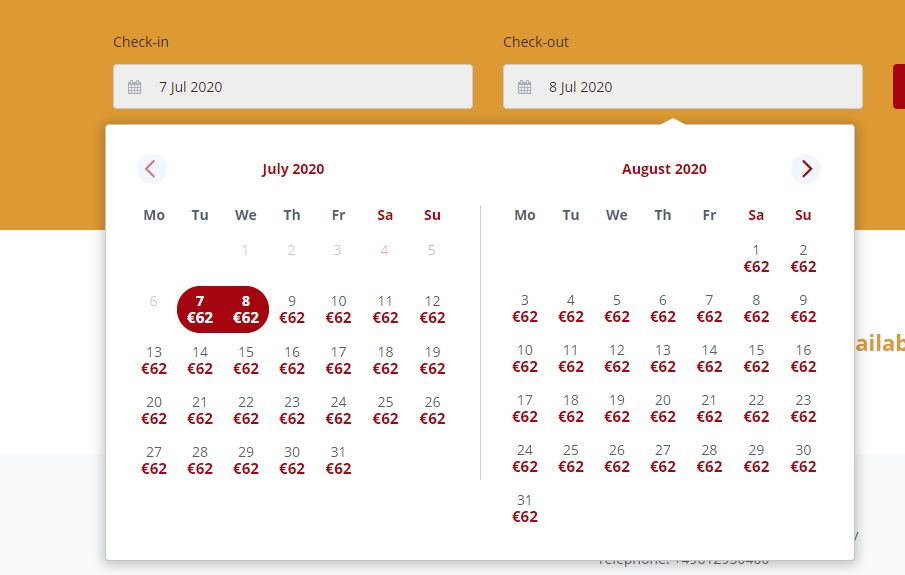 The one of hotel Stahl gives the unavailable dates only.
4. Multi-languages
If you want to reach potential clients worldwide, you need to be approachable and understandable. English and Spanish are the most used languages in the travel business. Still, many tourists prefer to use their mother tongue as it avoids any misunderstandings. CultBooking software allows the use of many different languages. In the example booking engine, you can decide between German and English.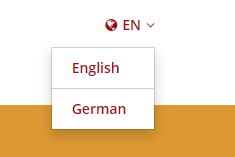 On the Stahl booking page, you can also select your preferred language; however, it's independent of the general website's selection. That is to say that it's a bit annoying as each time you access the booking page, you need to reselect your preferred language.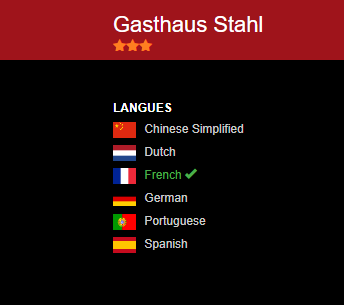 On another website powered by Siteminder (hotel Fettehenne hotel-fettehenne.de), it doesn't seem to work correctly; on the same page, you end up with three different languages.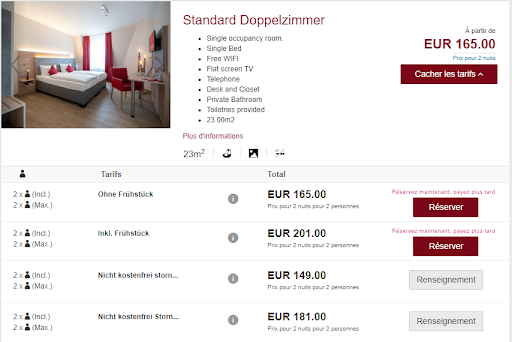 5. Multi-currency
International customers appreciate being able to see the prices in their home currency. It allows them to compare with what they know quickly. Stahl resort offers a plethora of different currencies on its booking engine, 101, to be exact. This option is excellent and is a definite advantage for Siteminder products.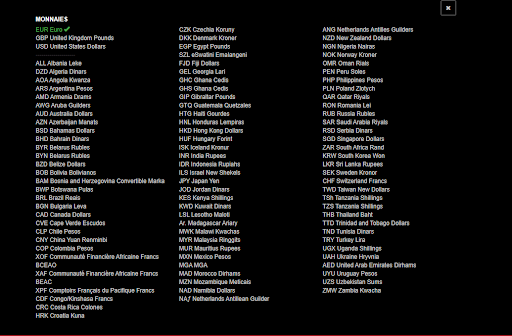 CultBooking will be proposing the multi-currency option very soon.
6. Multiple rooms booking
Both CultBooking and Siteminder booking engines provide the possibility to reserve multiple rooms. Both offer a different layout. "Am Kurpark" hotel one has a clear summary page giving the details on one line per room.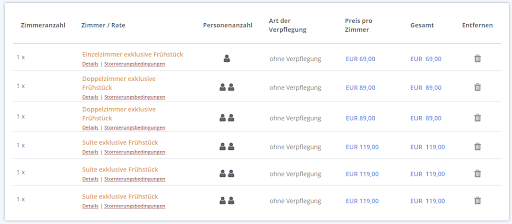 On the Stahl hotel page, a tab on the right mentions the name, the numbers, and the price for each selected room.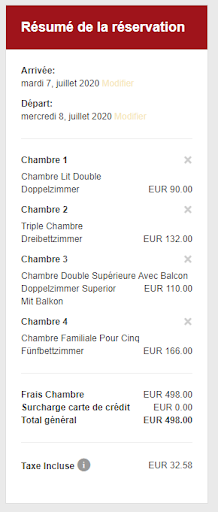 7. Discount based on occupancy
"Am Kurpark" proposes the option to select how many persons will stay in the room. The price of the room varies in function of the selection.


Stahl hotel uses a different approach. You can't select the number of adults staying in the room. Still, there's an extra room category option for single use on the selection page.

8. Children prices
Both booking engines are customizable to allow children's addition at a reduced price in the room.
9. Dedicated individual booking link on each room description page
CultBooking online booking software has a unique feature that allows you to book directly from a particular room description page. In other words, when you're in a specific description page, you can directly see the price and disponibility for this particular room without showing all the different categories of rooms.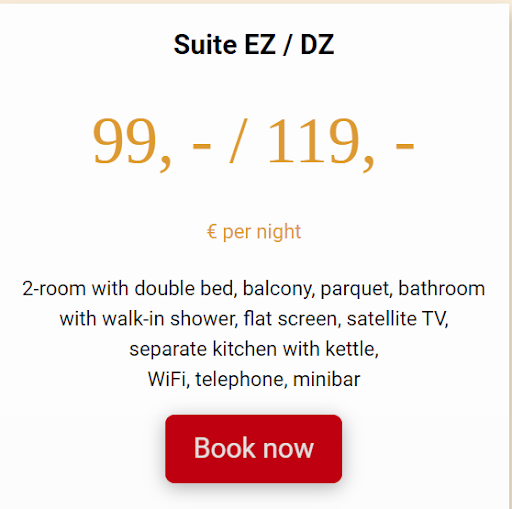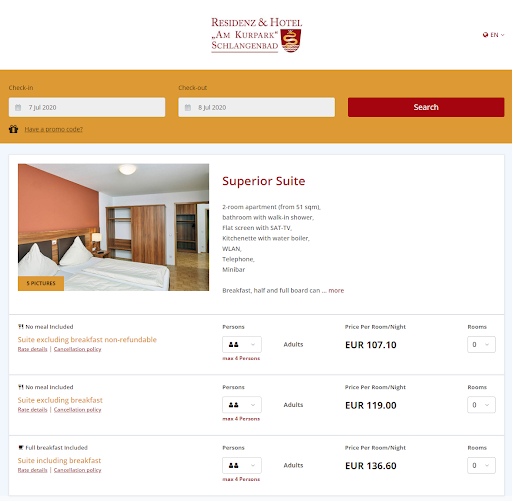 Likewise, Stahl property proposes to book directly from the room description pages. But the link redirects you to the general booking page without any room filters.
10. Automatic Trip Advisor reviews
Siteminder advertises that there is a feature on its search engine, which automatically invites the customer to let a review on Trip Advisor at the end of his stay. Indeed, this option renders immense online visibility for your hotel.

CultBooking doesn't offer this feature yet.
11. Payment processing
Siteminder and CultBooking propose two payment choices: "Pay later" at the property with the reservation ensured with a credit card. So, in the event of a no-show, the client is charged with a predetermined compensation fee. "Prepayment" for the whole stay is collected directly. With CultBooking and Siteminder engines, the customer has multiple payment alternatives: Debit Card, Credit Card, PayPal, and much more. CultBooking has integrated 3rd party payment gateway. In addition to the gateway for online travel agencies (OTA).
Therefore, the hotel reservation happens seamlessly and the money is transferred directly into the account of the hotel and property owner.

Siteminder: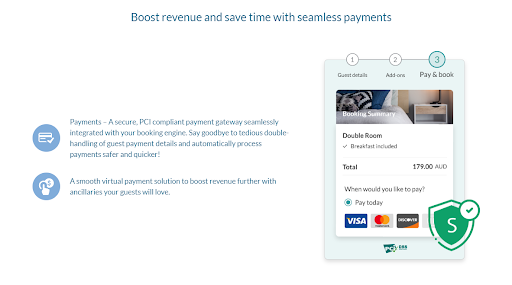 12. Extras and Add-ons
Both providers allow your hotel to propose extras and add-ons for the customer bookable directly via the booking page. However, none of the example websites use this option. Here is a CultBooking example. And a Siteminder example.
13. Live chat
CultBooking proposes integrating a live chat directly on your hotel website, enabling prospective clients to contact your hotel in one click. The option is not available on none of the example websites. Still, to the contrary of CultBooking online booking system, Siteminder doesn't have a live chat on its site, so we can confidently assume that this service is not an option.
14. Mobile optimized
More and more online sales are made daily via cell phones or tablets. Therefore, it is essential for your booking page to be mobile-friendly. Both software offers this as an inbuilt feature.
15. Property management systems (PMS) connected
CultBooking has 40 PMS connected. Here are the entire lists: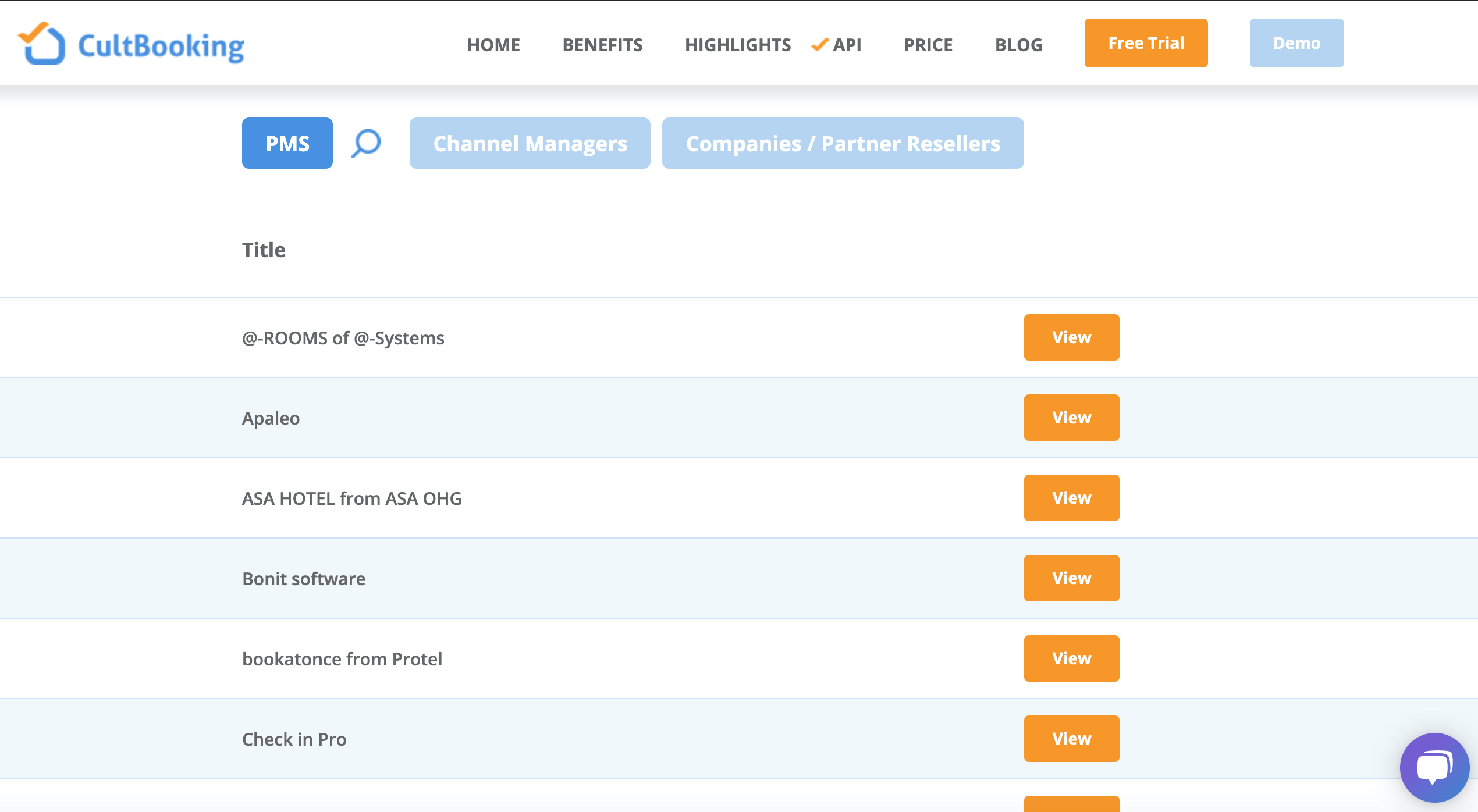 Siteminder advertises that the integration of its booking engine is possible into most PMS. Depending on your property location and number of rooms, they propose to help you find the system which will suit your property the most.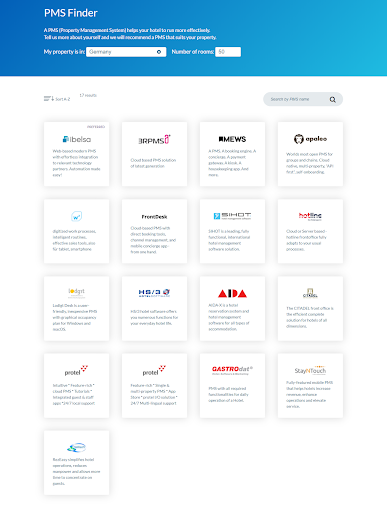 16 Channel Managers connected
CultBooking is compatible with 17 channel managers: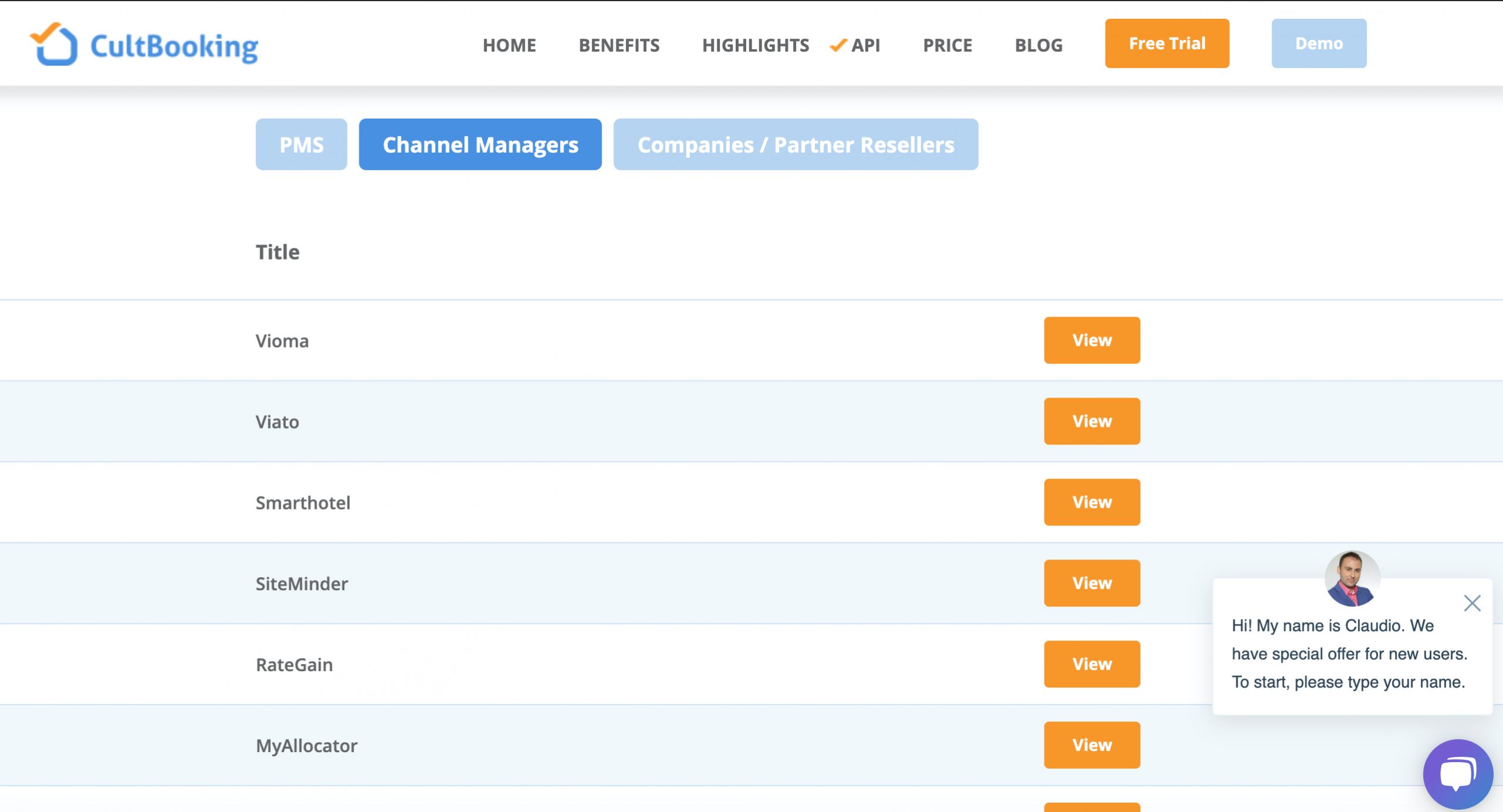 For example, if you have a hotel in Germany with 50 rooms here are the recommended PMS: Siteminder offers its own channel manager, so there are no direct references to any other channel managers on the website.
16. Free trial
CultBooking offers you in addition to the free demo, one month completely free.

With Siteminder, 14 days are free to test the service.

17. Pricing
The price to use the booking engine from CultBooking is clear and simple. It is 29 € by month, jokingly less than the cost of one daily small coffee.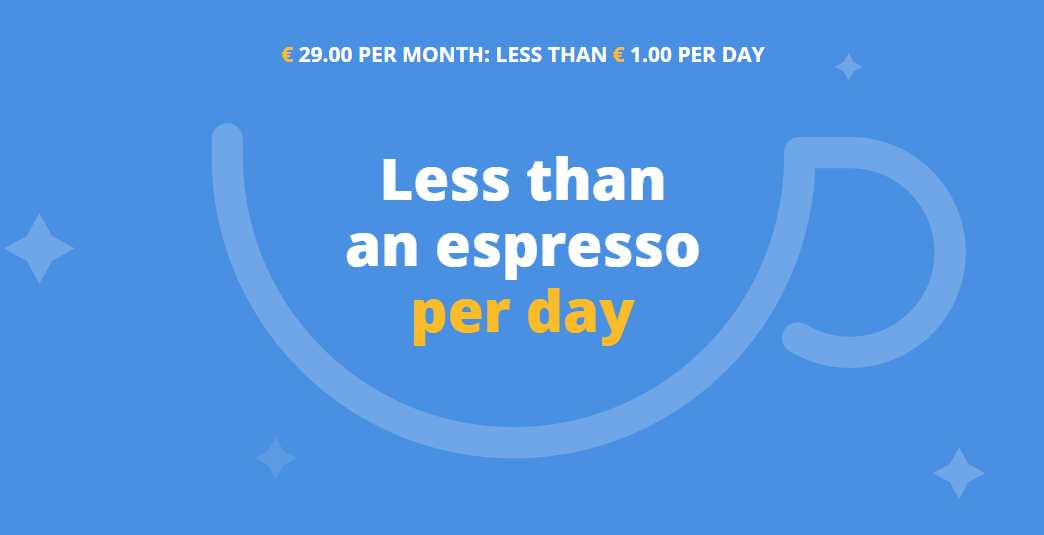 The monthly price of the Siteminder online booking engine depends on the number of rooms in your resort. Starting at 29 EUR/month for 1 to 5. From 6 rooms, the price is 39 EUR/month and is increasing gradually up to 269 EUR/month for 1000 rooms, above 1000 the website advises you to contact the company. Also, note that there's a 5% discount if you pay annually and a non specify initial setup fee.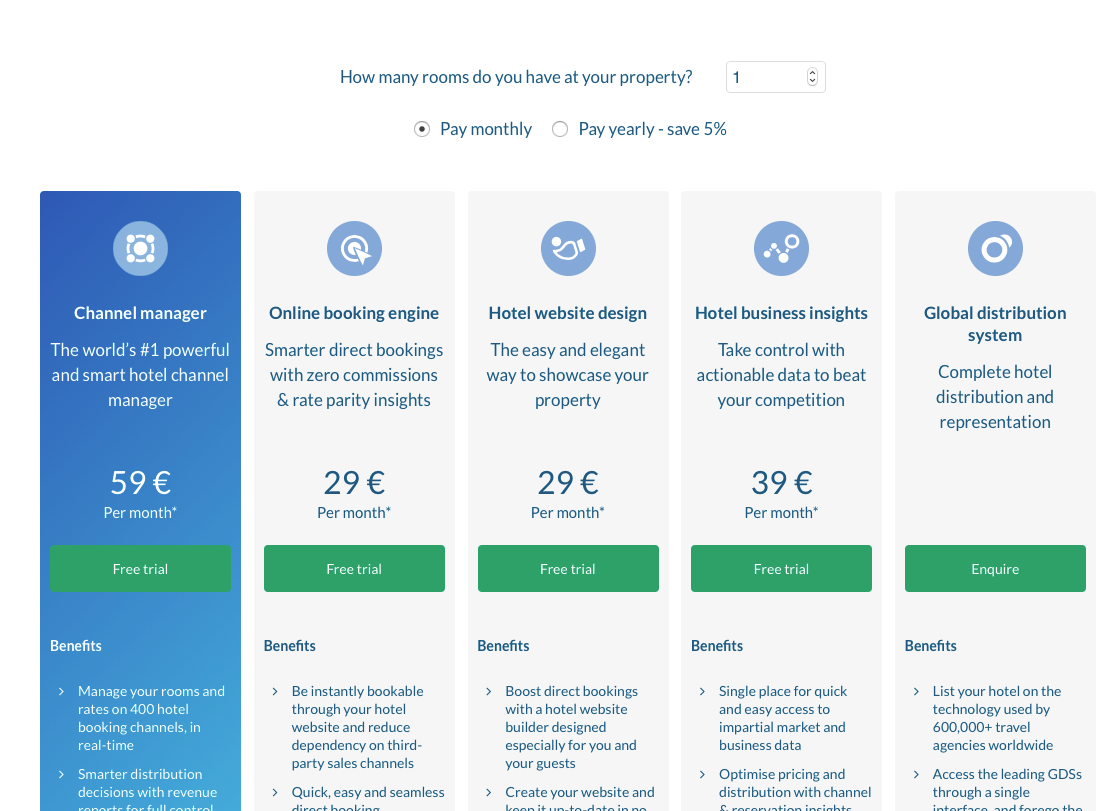 Why our customers chose CultBooking?
Inexpensive: The service only costs 1€ by day. It's a reasonably low price regarding the tremendous benefits you will get from it.
Simple installation: The software installation to your website is quick and easy.
You see the profits straight away: The whole booking process for your property is centralized. Without a doubt, it will increase your staff productivity and effectiveness.
Straightforward PMS and Channel Managers integration: CultBooking takes care of software integration with your existing PMS and channel managers. Furthermore, it's included and free.
We hope that we convinced you that this tool is essential to improve your business. Still doubtful? No problem, try the service one month for free and see the incredible increase it will bring to your booking conversion.