Mews & CultBooking Booking Engine
The life of a Hotelier is not just a job, it is in fact, a lifestyle. In today's world of high-speed data and smartphones every year a profession as old as the world gives way to new technology when comes to reservations systems, revenue management, check-in and check-out and any other software within the hospitality industry. This trend does not apply to Hoteliers.
With our decade long experience as a Booking Engine we know many great hoteliers that remember the world that was some time ago, not too far when 'channel management', 'cloud-based' or 'global distribution' were just some fancy words. They remember a different clientele, their guests thought as highly of the hotel as they did their destination. Guests of old judged a respectable hotel by the hospitality of the reception while today's modern guests think more of the quality of the WiFi reception.
We at CultBooking know that times are constantly changing and are often amazed by how well our experienced Hoteliers are willing to learn and to adapt, especially when we introduce them to new 'staff'.
In this article, we would like to talk about Mews, a Property Management System (PMS) we have grown fond of.
For us, our newest partner, for our clients, meet your newest member of staff.
For a moment imagine CultBooking as your reception manager, holding the line at his desk while Mews is an extension of your manager. Mews could be your lobby boy, making certain communications between departments. This extension can also apply to your front of the house that opens the door to new guests with a smile. Making them feel welcome and pointing them towards reception.
As a Property Management System and much more, Mews, in partnership with a modern Booking Engine helps the Hotelier of any generation to focus on what she or he does best. To be the heart and soul of a magnificent Hotel that takes care of its guests.
Now let's look a little bit under the hood of the two to see how they connect and combine to make a perfect match for you as hotelier. Seamlessly integrating Mews into the CultBooking ecosystem. 
What is Mews?
Mews is a modern and highly automated PMS(Property Management System) that acts like a reception manager that never needs a break. Giving any busy hotelier peace of mind as a PMS constantly manages day-to-day hotel operations. Not just at the front desk, it also keeps an eye on housekeeping and reservations, billing and invoicing. 
As stated on their website "Mews is designed to simplify and automate all operations for modern hoteliers and their guests."
It is interesting to think of a Property Management System(PMS) as if the world of Hospitality solutions would be compared with 'The circle of life.'
A PMS takes care of different tasks that affect one another, from many facets of your Hote. Eventually morphing into an ecosystem of time-saving solutions designed to exceed the expectations of your guests and maximize revenue for your business.
Speaking of a system, that's where we come in.
CultBooking as a connector
CultBooking can with ease become the link that connects your Mews operated reception desk to the outside world and catapult it into global distribution with OTA's connections and also travel agents. Enabling potential guests worldwide to book your rooms in an instant using our world-renowned, high-quality booking engine. More direct bookings, means less commission and full access to the guest details for mailing and marketing purposes. 
CultBooking is a solution specialised in online distribution with products as:, Channel Manager and Booking Engine.
Through the dashboard of the booking software, you can get a bird's eye view of your business and see how all the modules, like your PMS and Channel Manager, connect with services around the globe to achieve a hub and marketplace for the hotelier to have a variety of choices to choose from and always login and come back to CultBooking central dashboard: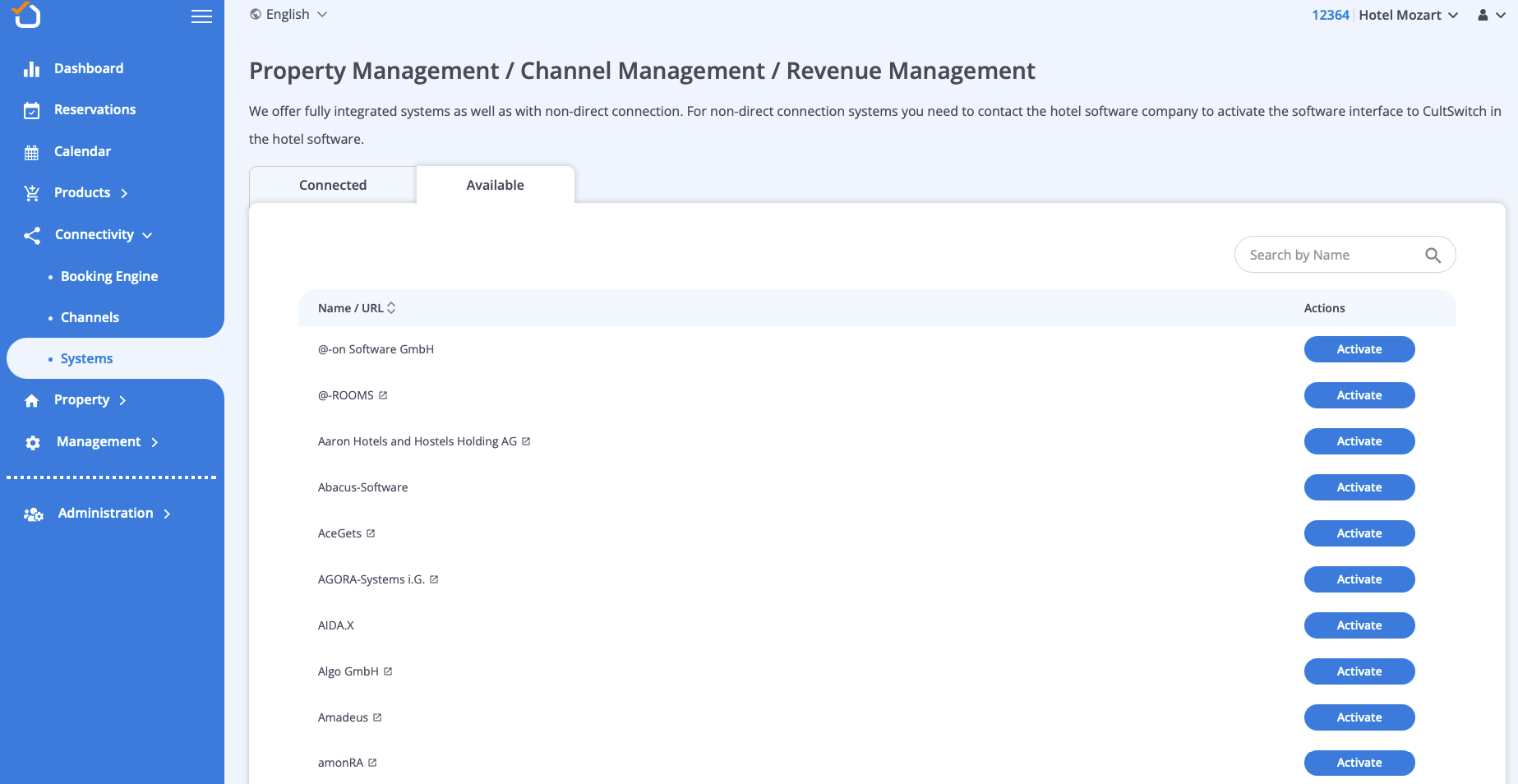 Every bit of data is centrally administered inside your Property Management System, giving you full control over your inventory, rooms and rates settings or occupancy levels.
Come and register for a demo to see how simple the integration between your front desk system and ours can be. Imagine the actual, physical rooms you know so well suddenly being out there in a few simple steps, wishing minutes for the whole world to have access to it and be able to book them in just few clicks. 
Exclusive offer
If you are currently a Mews user looking for a modern Booking Engine that allows you to look under the hood with no commitments, look no further!
We offer you 1-year*  of CultBooking, you can also bring along a Channel Manager of your choice.  This gives even the busiest of Hoteliers ample time to truly try out our engine and learn about its possibilities with us. 
Also you can use exclusive booking channels like eHotel and CRC and the reservations will fall into your Hotel pms, also called hotel software.
Click the link and try out our hassle-free Demo.
"Offer is only valid for current MEWs users until 31 December 2021"
To contact us, please use this email address: info@cultbooking.com