CultBooking, Hotel Booking Engine, and Channel Manager as WordPress  plugin
What is the WordPress marketplace?
WordPress is a powerful online tool that allows you to create your own website and is known for its approachability; especially for those new to the world of website creation and design, Using WordPress is easy. 
It's also highly versatile; offering a huge range of customizability to personalise your website and enhance its set up so it looks and works exactly how you intended.
 One of the ways WordPress manages this level of input is through its offering of various plugins. Plugins are basically small pieces of software that you can apply to your website, in essence; increasing the capability and functionality of your website.
 WordPress has a wide choice of different plugins that can be used on your site. Either from WordPress itself or from third-party developers.
 Available plugins can be either free to download and use or especially in the case of high quality or specialized examples can be paid for.
 Plugins are easy to install into your website. You can even download a few different ones and try them out and see how they work for your site. If you like them that's great, and if not it's easy to uninstall them too.
The biggest advantage of checking out the plugins available for your WordPress site is the huge range to choose from and not to mention that new ones are regularly added, so it's worth keeping an eye out here in case a new plugin appears that could be better than a plugin you already currently use. You may even come across a great plugin that you didn't even consider needing until seeing it!
Why use WordPress Marketplace and plugins?
As mentioned previously, the huge range of plugins available for you to download and use on your site is huge. Often you will have the option to choose from different plugins that aim to complete the same function but with minor differences and abilities which suit many different types and styles of websites.
Because plugins are such a beneficial addition to almost every website and they take relatively little time to find and set up, it really is worth checking out the range of plugins available. Using the plugin directory on WordPress is so simple that it only takes a moment to find great plugins for your site that instantly improve your website's appearance, ease of use for visitors and it's overall professionalism.
Again the ease of use for browsing Plugins for WordPress makes it really attractive to both new and experienced users. When you find a plugin that you like the look of, one can click on it to open up a section containing a page containing a more detailed description; allowing you to read more about it and get to know how it works, a small tutorial on how to install it and who it is intended for.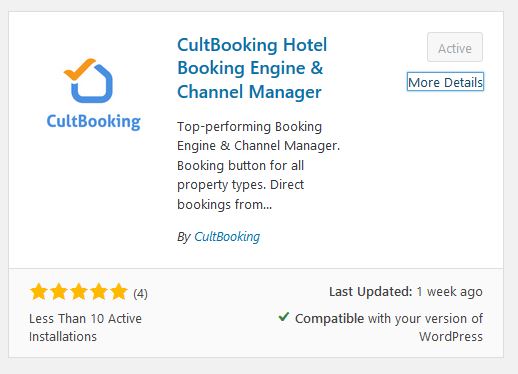 Hopefully, after reading through it you'll know if the plugin will likely fit the range of functionality you desire and does what you need it to do.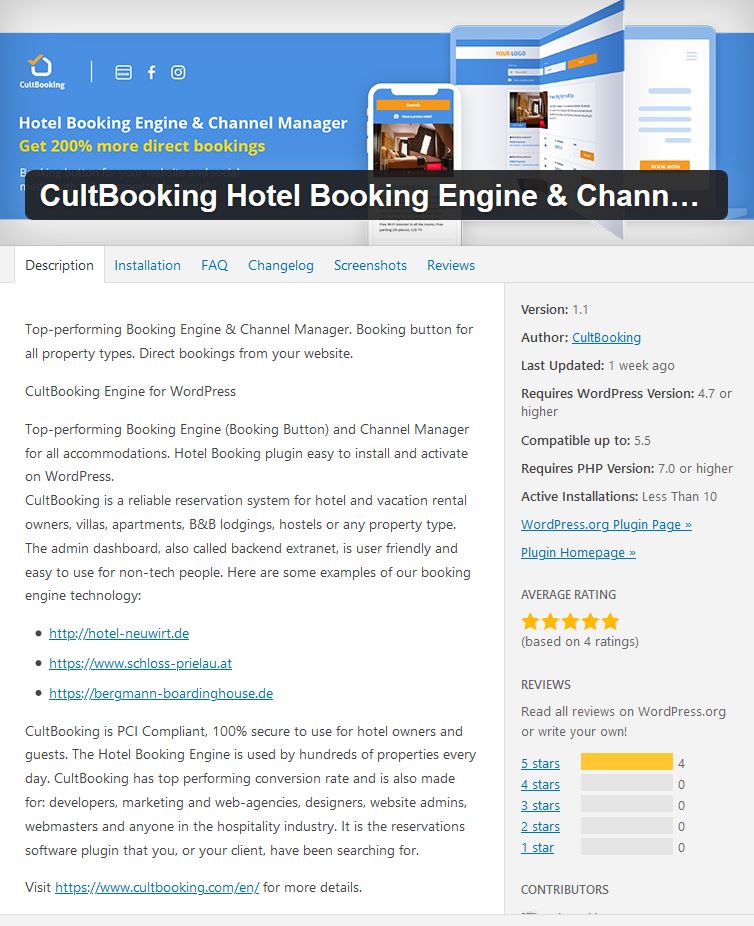 Next, there's a panel for reviews; here you can check the feedback from other users and see what they liked or disliked about it and the overall consensus on the plugin, this should be a big help in making up your mind if you're undecided on which plugin to get.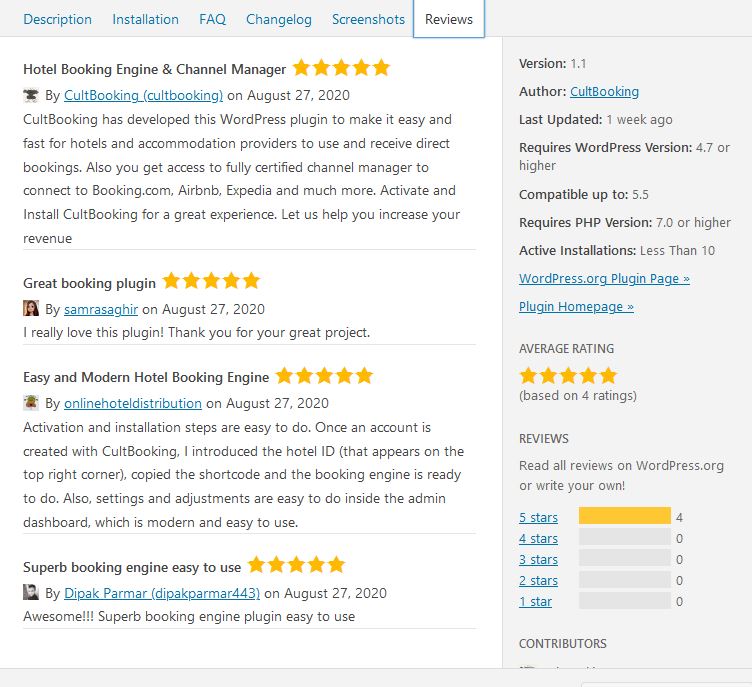 Adding Plugins to your site not only increases its functionality but also importantly makes it more attractive and powerful for those who visit your website. Making it an easy and efficient way to give your website a fresh boost to new heights.
How to find CultBooking on WordPress?
The CultBooking hotel booking engine plugin is a high quality and top-performing booking engine and channel manager including a booking button and the ability for direct bookings on your website for all types of accommodations from hotels to B&Bs etc.

The CultBooking  WordPress plugin is very easy to find on the marketplace and you can have it up and running in no time.
One way is from your WordPress website as the admin. In the toolbar on the left side there is a title for 'plugins', just click on this and a search bar will appear. Next, type in 'CultBooking' here and the plugin will appear:

Another way is from the WordPress website one can search for plugins by looking along the header at the top of the site and then clicking on the word 'Plugins'. After clicking on this a new page will appear below including a search bar and also a small number of featured plugins that may be new or popular at the moment and a few other categories may be found.
The easiest way is to just click on this plugin search bar, that allows you to type in keywords or titles to search through the wide range of available plugins, and type in 'CultBooking'. Also, you can search by following keywords: 'hotel booking engine' or 'booking engine'.
Now the CultBooking plugin should appear in the results. Just click on it and you can hit the install now and then activate.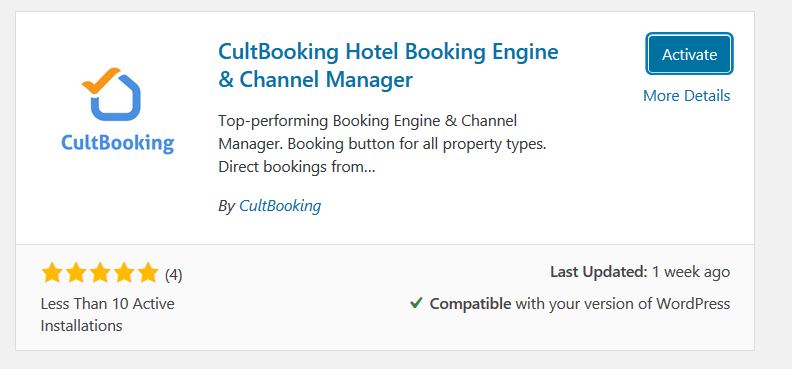 From here you can also read through the details and features of this plugin from CultBooking, check reviews and also browse support features and installation steps.
How to install CultBooking?
Installing CultBooking to your WordPress website is simple and easy! 
Firstly, once you have found the CultBooking hotel booking engine plugin in the plugin section; all you have to do is click on 'Install Now'.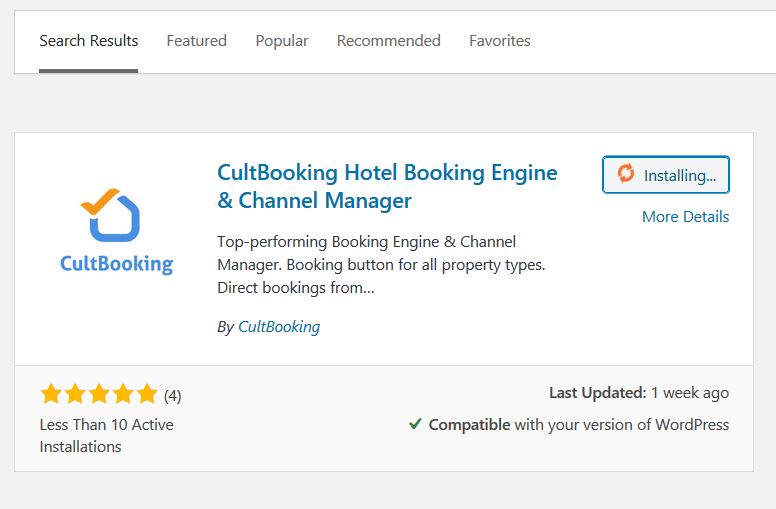 After successfully being downloaded, you should be logged in as the admin for your WordPress site and then go to the Plugins menu in WordPress.
From this Plugins menu page you can find the CultBooking plugin downloaded and from here click on 'Activate'.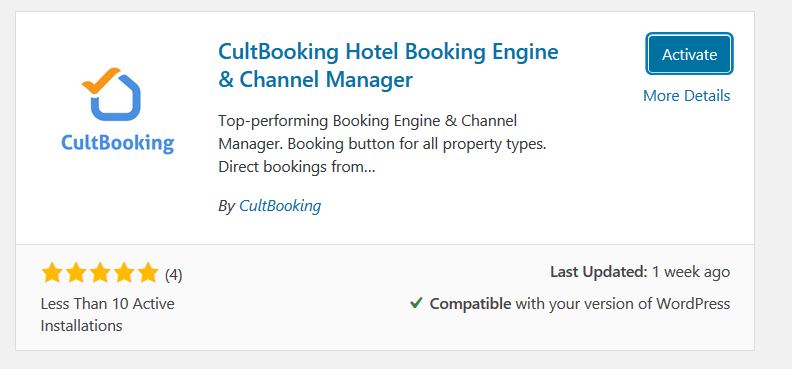 Next, you should open the Booking Engine plugin from CultBooking which will appear in the left bar, possibly towards the bottom.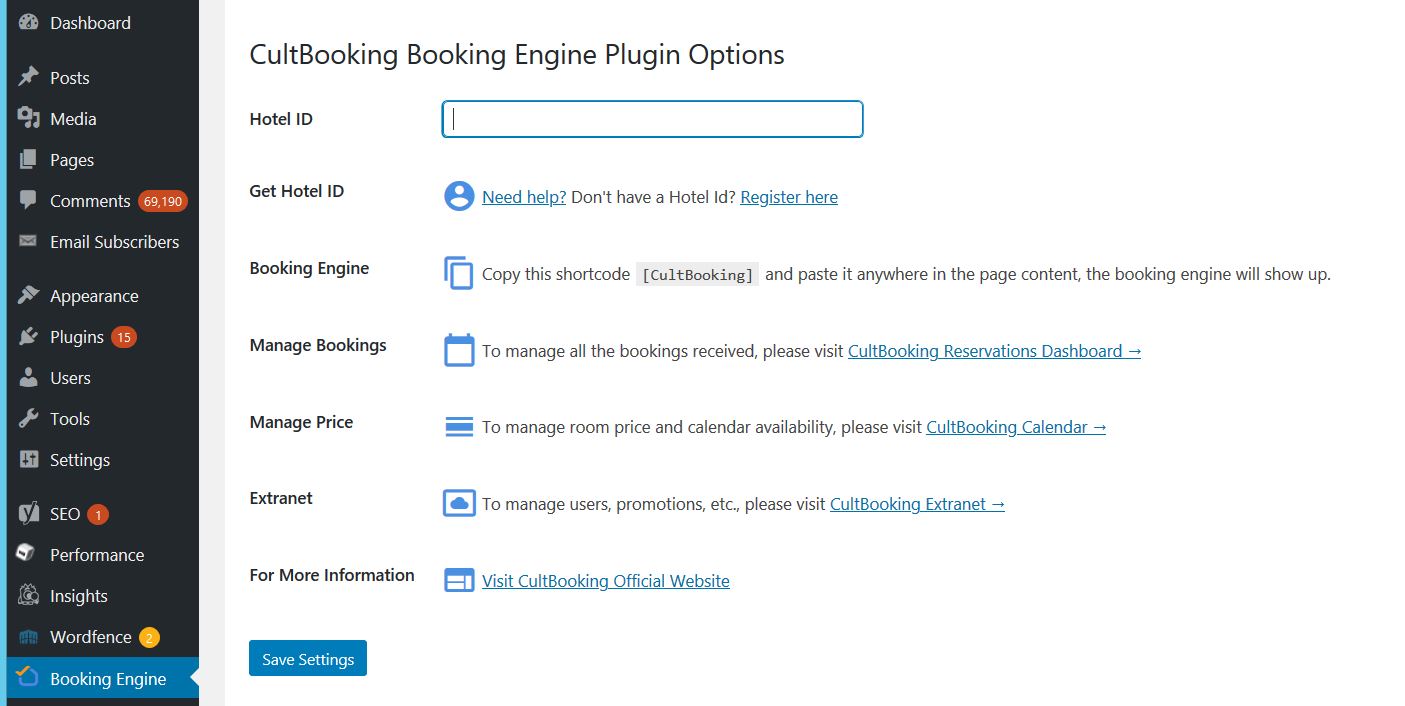 Click on it and open its options page, and now you can enter your Hotel ID, and then just copy the shortcode (found next to the heading called 'Booking Engine') and paste this code wherever you like in the content of a page in your website, and the engine will appear on your WordPress website!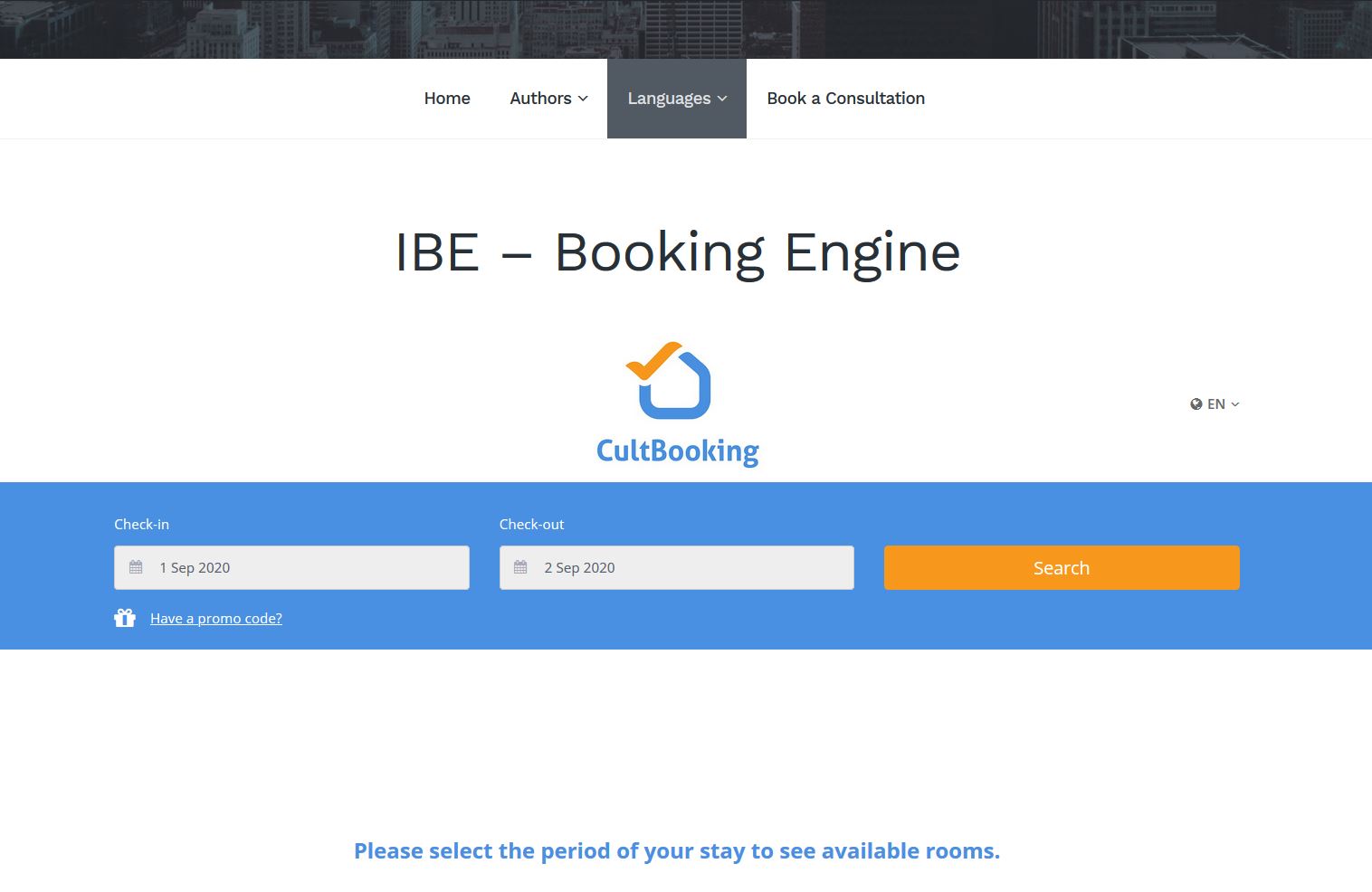 Here are again the steps for CultBooking wordpress plugin and how to obtain a hotel ID:
| | |
| --- | --- |
| Get Hotel ID | account_circle Need help? Don't have a Hotel Id? Register here |
| Booking Engine | content_copy Copy this shortcode "CultBooking" and paste it anywhere in the page content, the booking engine will show up. |
| Manage Bookings | calendar_today To manage all the bookings received, please visit CultBooking Reservations Dashboard → |
| Manage Price | calendar_view_day To manage room price and calendar availability, please visit CultBooking Calendar → |
| Extranet | settings_system_daydream To manage users, promotions, etc., please visit CultBooking Extranet → |
| For More Information | |
For questions and details, please get in touch with us: info@cultbooking.com