CultBooking vs Net Affinity: Which One Suits You The Most? Best hotel booking engine alternative
Last update: 19 Oct 2020
William Cotter asked us to remove his logo from this article. 

CultBooking and Net Affinity are offering hotel booking engines. Those engines are integrated directly into hotel websites to allow guests to check availability and prices and to book rooms directly. This tool is handy for the property owners, as their website can now be a booking channel in addition to being an information tool. The cost of this new channel to produce a booking is extremely low. Here is a non-exhaustive list of the benefits:
An online booking system is available 24/7. Potential customers can book a room whenever they want irrespective of the time of the day.
The hotel booking system will make your staff more efficient, as it centralized the reservation process in one place and reduces the use of other channels like phone calls or emails.
During the online transaction, the customer has to give his credit card details. You can request the room's payment directly or use the card details as a guarantee in case of no show.
Using the services of CultBooking or Netaffinity will assist you in reaching your sales objectives. The two software are similar, but each has its own specificities, so it comes down to your needs and your resort's uniqueness. The comparison in this article outlines the main differences and similarities between the two products to help you choose the one which suits you the most. In this article: We use an 18 points checklist to compare the two services. We detailed each of those points from a user point of view. In the end, we give you four reasons why many customers chose CultBooking. For Net Affinity we use the Seafield hotel & spa resort in Ireland https://www.seafieldhotel.com/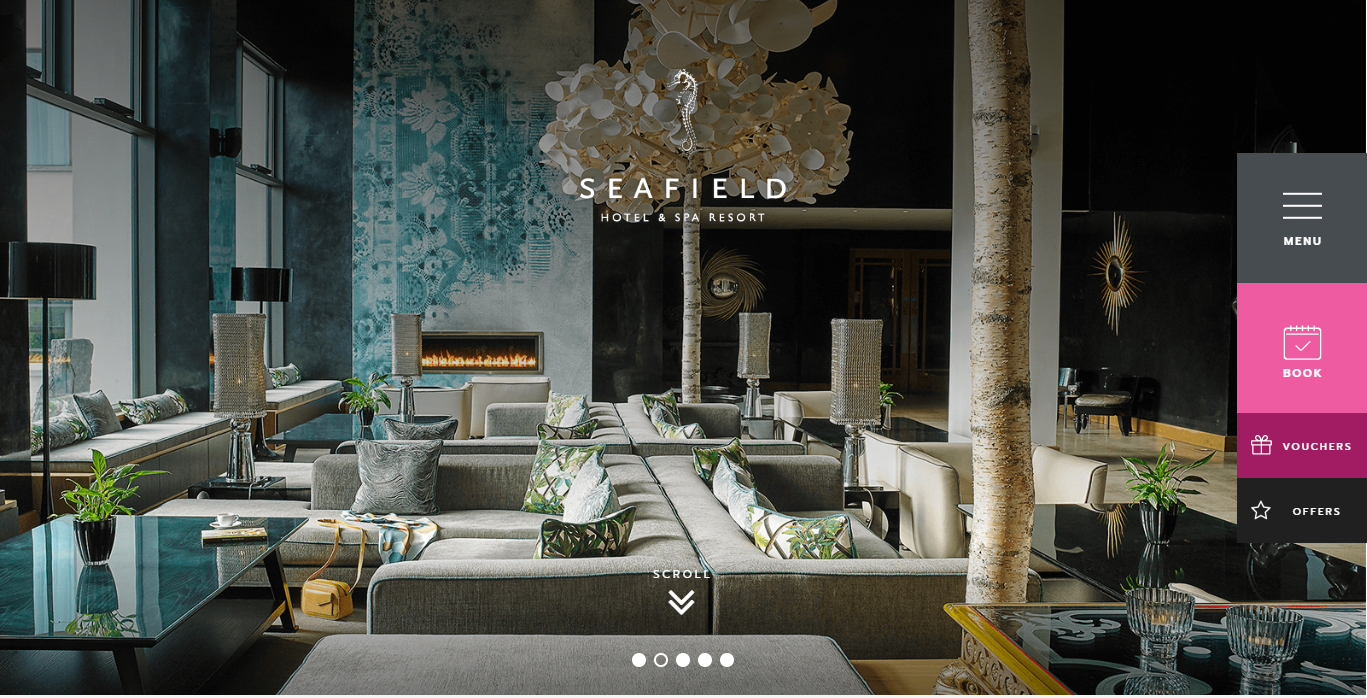 For CultBooking we use the Bergmann Boardinghouse in Germany https://bergmann-boardinghouse.de/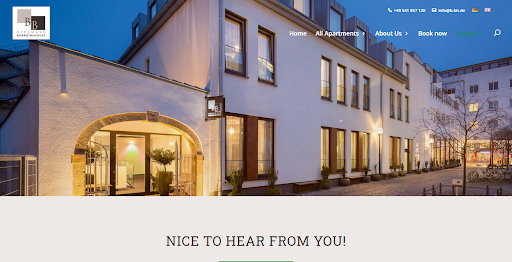 1. Free demo
CultBooking offers a demo version of the software, directly accessible on its website, to try the tool and see how it works.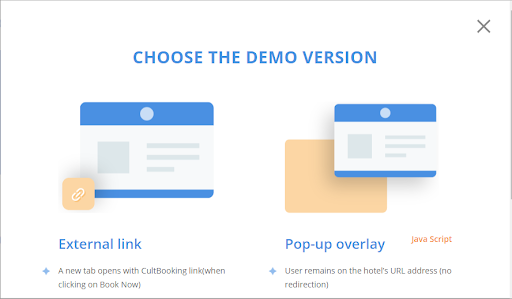 On the Net Affinity website, there is a link to a demo and to book a tour of the service. After a few hours, a commercial representative contacts you by email, asking when he can schedule a phone call with you.
2. Promo code
The promo code section allows the customer to enter a code to avail of a promotion or a discount on specific services of the hotel. 
CultBooking offers the possibility to customize this section or delete it completely, that's why with this specific hotel booking engine, the promo button is not present. 
When the client selects the add-on here is how the section looks like:


On the Seafield hotel booking page, the promo code option is present next to the stay's date selection.



3. Smart calendar
CultBooking proposes a smart calendar depicting the availability and restriction on specific days directly. This tool gives the big picture to the customer, and therefore, he doesn't lose time doing a useless search for unavailable dates. It is also possible to insert the daily lowest price on the calendar. 
Here is an illustration of the smart calendar proposed by CultBooking:

Netaffinity also uses the technology of an intelligent calendar.
The Seafield calendar shows availability and prices for each room. This feature helps you see the complete information on one page.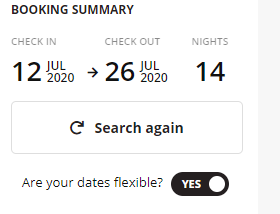 4. Multi-languages
In the hotel business, it's essential to be accessible and understood all around the world. Many tourists use English as the primary language when they travel, but most feel more comfortable when they can use their own language.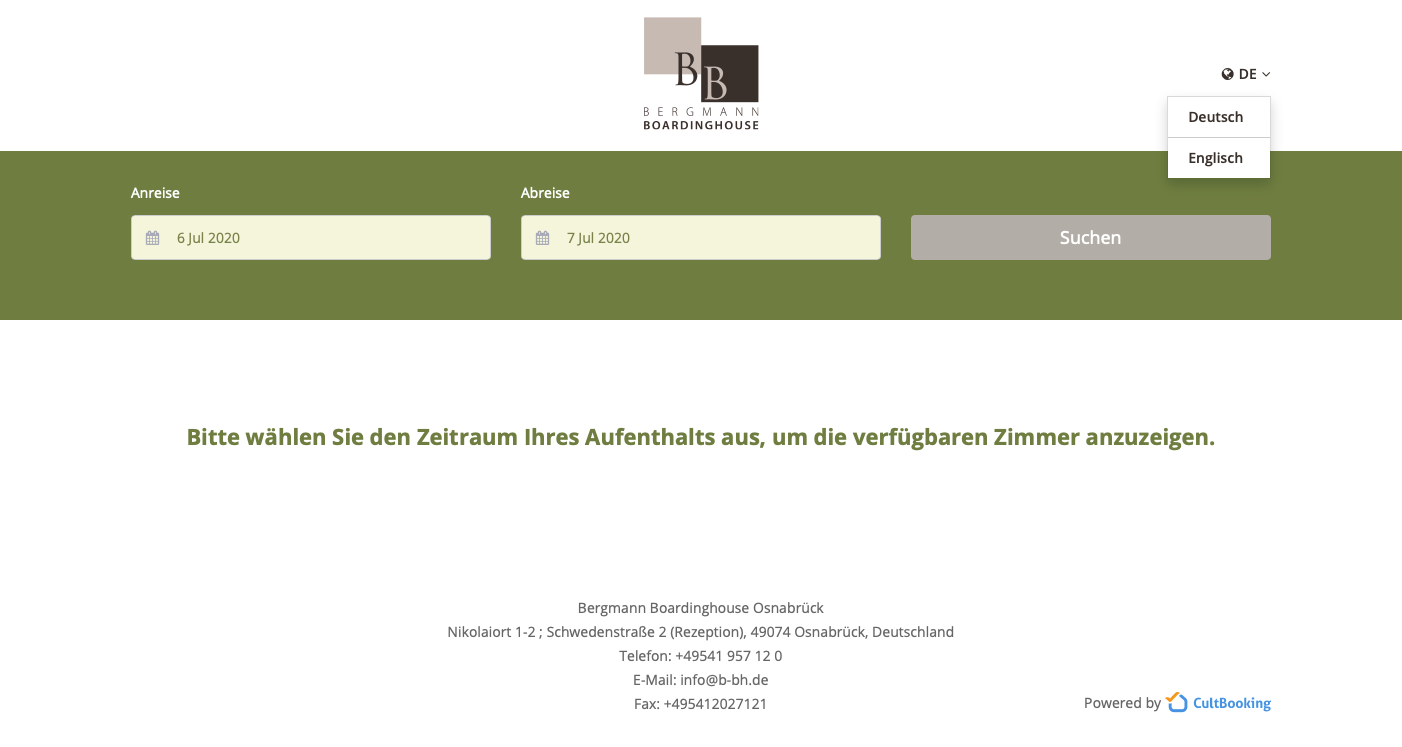 CultBooking engines can use many different languages. In the example website, the customers can choose between English and German.
On the Seafield website, you can't select any other language other than English. However, on the Netaffinity website FAQ section, it is specified that you can activate a multi-language module. So, for sure there is a multi-language feature as well inside Net Affinity. 

5. Multi-currency
Travelers like to be able to see the prices in their country's currency. It allows them to compare quickly with their references.
Seafield resort is offering 22 different currencies on its booking engine. This option is excellent, but some customers might be frustrated if their country's currency is not available. For example, a customer from Saudi Arabia might wonder why his neighbor from Bahrain can see the price in his money, but he can't.

The development team of CultBooking is developing the multi-currency option; it will be available soon.
6. Multiple rooms booking
Both CultBooking and Netaffinity booking engines give the option to book multiple rooms in different class categories. The main differences between the 2 are the website's design and the UX design(users experience).
On the CultBooking one, when you click on the "Book Now" button, You land on a summary page giving the rooms' details with one line per room.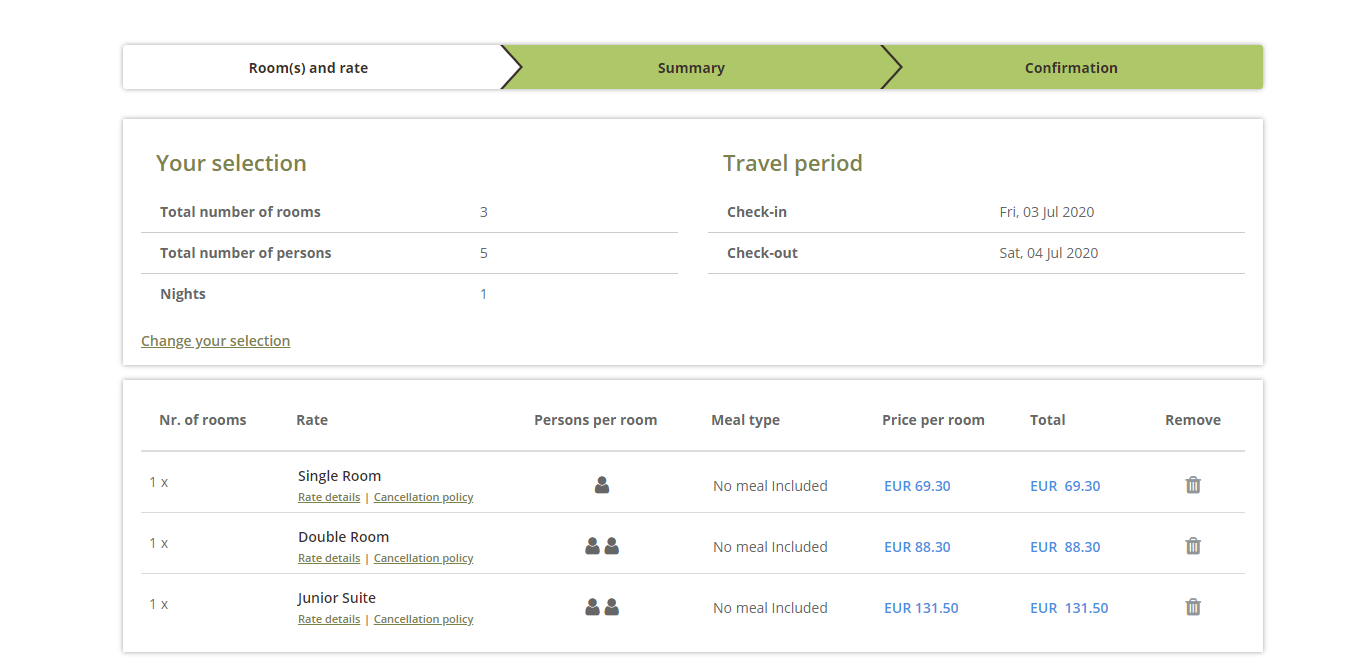 On the Seafield page, when you click on the "Continue" switch, you also arrive on a summary page. Each selected room has its own tab with the details of the services offered and pictures.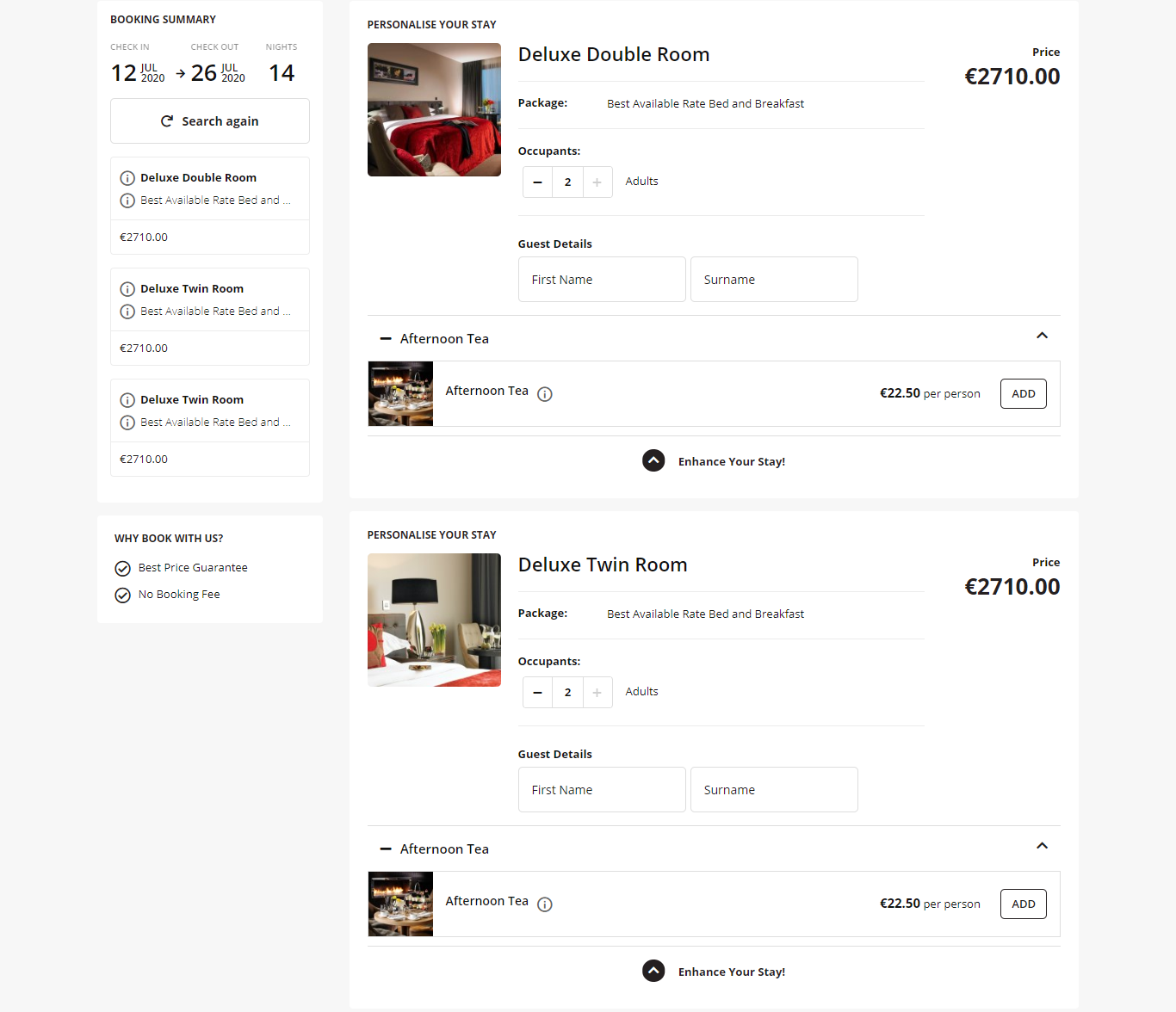 7. Discount based on occupancy
Both CultBooking and NetAffinity allow the customers to choose how many adults will occupy the room, giving the hotel owner the option to provide a discount, for example, for a double room occupied only by one person. 
8. Children prices
CultBooking offers the possibility to add children at a discounted price in the same room with adults.
 The Seafield hotel doesn't offer this option, but Netaffinity advertised it as a customization on the website FAQ section.
 

9. Dedicated booking link on each room description page
CultBooking has enhanced the software to allow customers to book a room directly from a specific room description page. So when a user is, for example, on the junior king suite description page, he can instantly see the price and disponibility for this specific room without showing all the other categories of rooms.
Seafield resort has rooms description pages with a direct booking link as well. But the link redirects to the standard booking page without any filters. So, is needed to check with Net Affinity if this function is available. 
10. Recapture of abandoned bookings
Netaffinity proposes recapturing abandoned bookings through direct popups and automatic follow-up emails, reminding prospective customers to finish their online bookings
CultBooking doesn't offer this feature yet.
11. Payment processing
CultBooking has three payment alternatives :
Payment at the hotel

Confirm and secure the booking secured via a credit card. So, in the case of no-show, the customer is charged a fee according to the hotel's cancellation policy.

Payment for the booking is processed automatically and transferred directly into the hotel owner's bank account. The customer has many payment options: PayPal, CreditCard, Klarna, and much more.
You will need to confirm with Net Affinity which payment options and settings are available. 
12. Extra services
Both systems allowed the clients to add extras to his reservation.
CultBooking proposes to include those add-ons just before the booking summary page. As a middle step, with a dedicated page for extras add-ons. So that user can fully concentrate on extra services and choose the ones needed.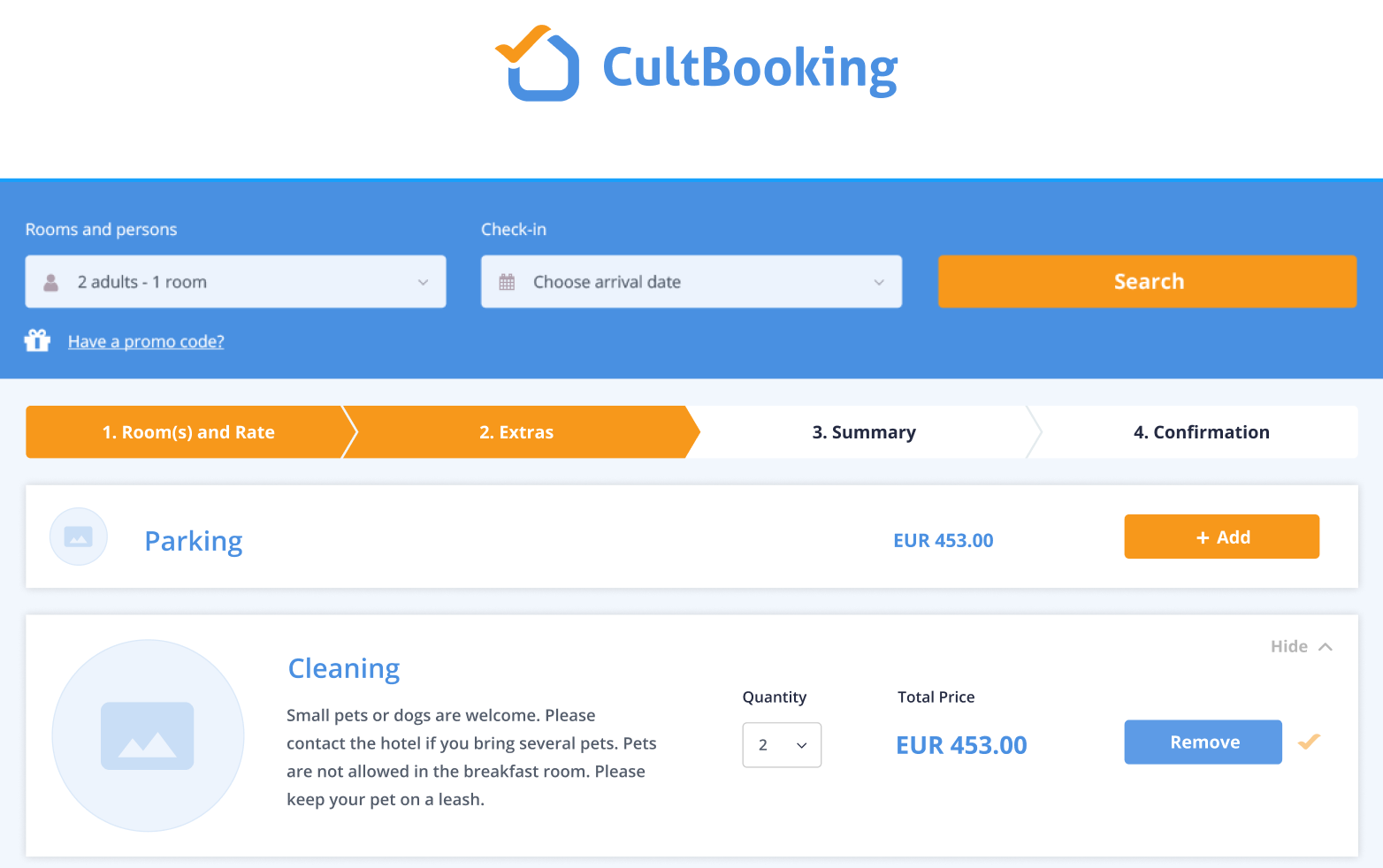 The Seafield hotel and Netaffinity propose to include the add-ons straight from the selection page. When you continue the booking, some pop-ups appear to suggest an upgrade on the selected room like balcony or afternoon tea.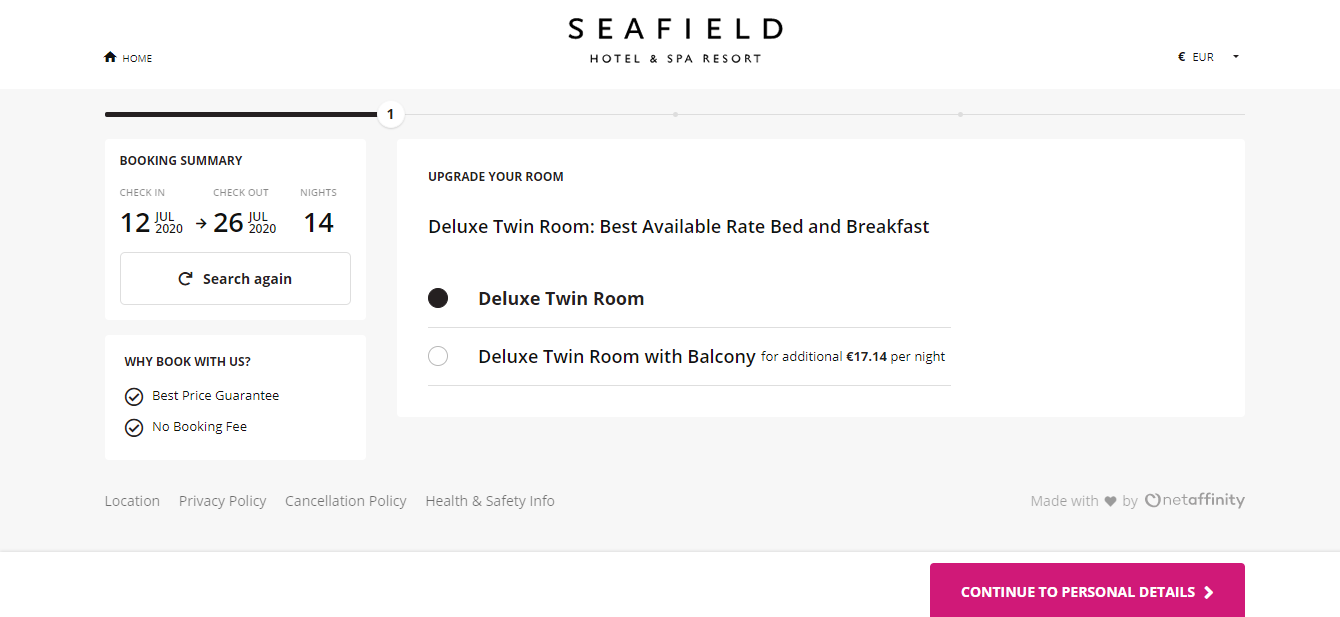 13. Live chat
Both software: CultBooking and Net Affinity includes the option of a live chat directly integrated into the booking engine page, allowing customers to enter in communication with the hotel in one click.
14. Learning Academy
Netaffinity offers a series of courses and quizzes to become an expert in its software and services. It's convenient and easy to use, but you need some time to go through the whole program.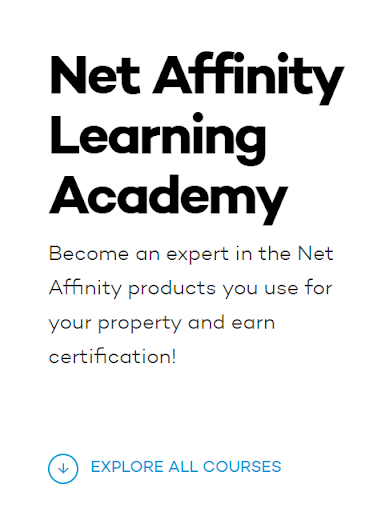 CultBooking offers training on how to use the technology of online distribution, the booking button, how to integrate on a website, how to use and add promo codes, and much more, on the blog section of its website. Moreover, has comprehensive and available customer service, at easy reach, via email, chat, and phone. 
15. Mobile optimized
A big part of online sales is done nowadays via mobile phones. That's why the booking engine that you use must be mobile optimized.
Both companies: CultBooking and Netaffinity offer it as complementary.
16. Channel managers and Property management systems (PMS), Hotel Software, connected
CultBooking is integrable to 40 property management systems and 17 channel managers. Here are the complete lists:
Property Management Systems (PMS) or Hotel Software / Front Desk: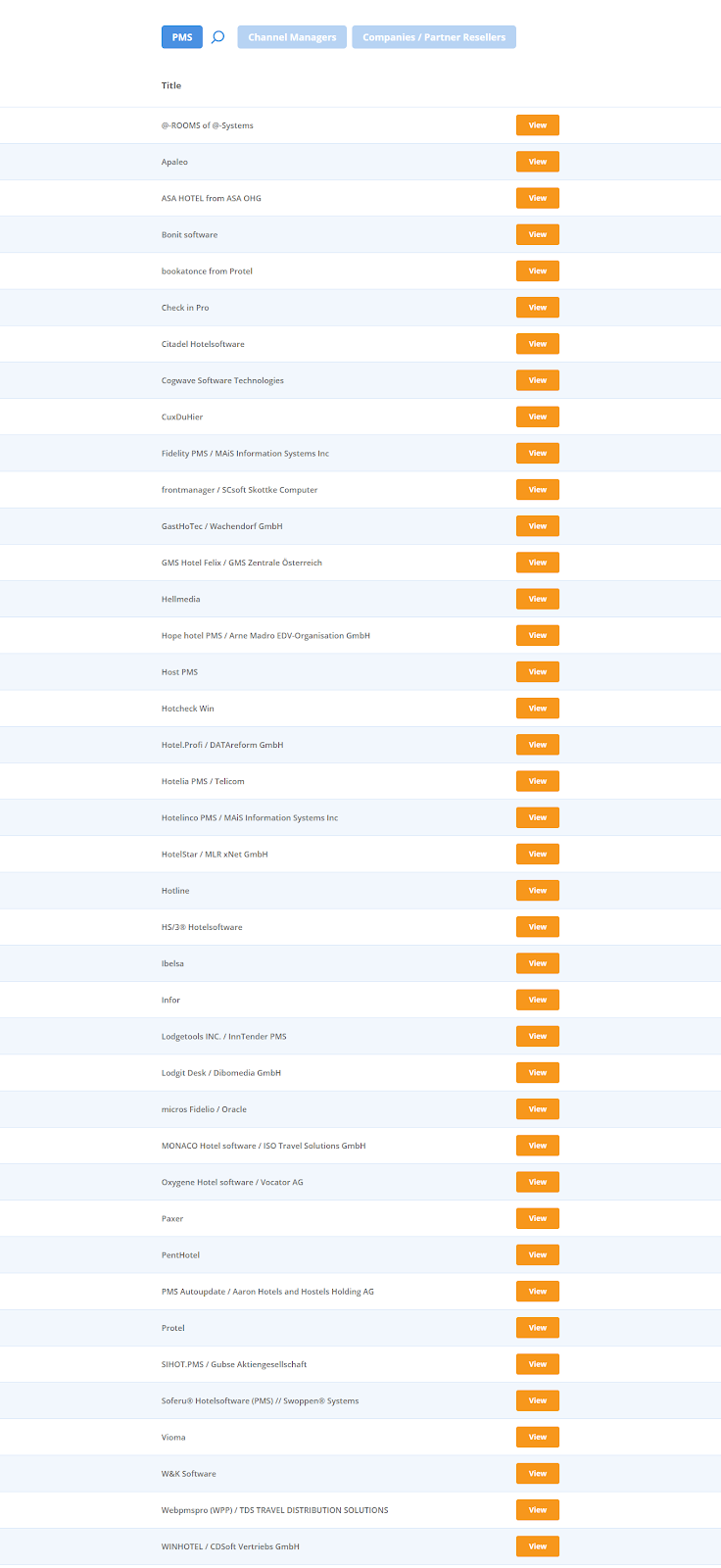 Channel Managers connected: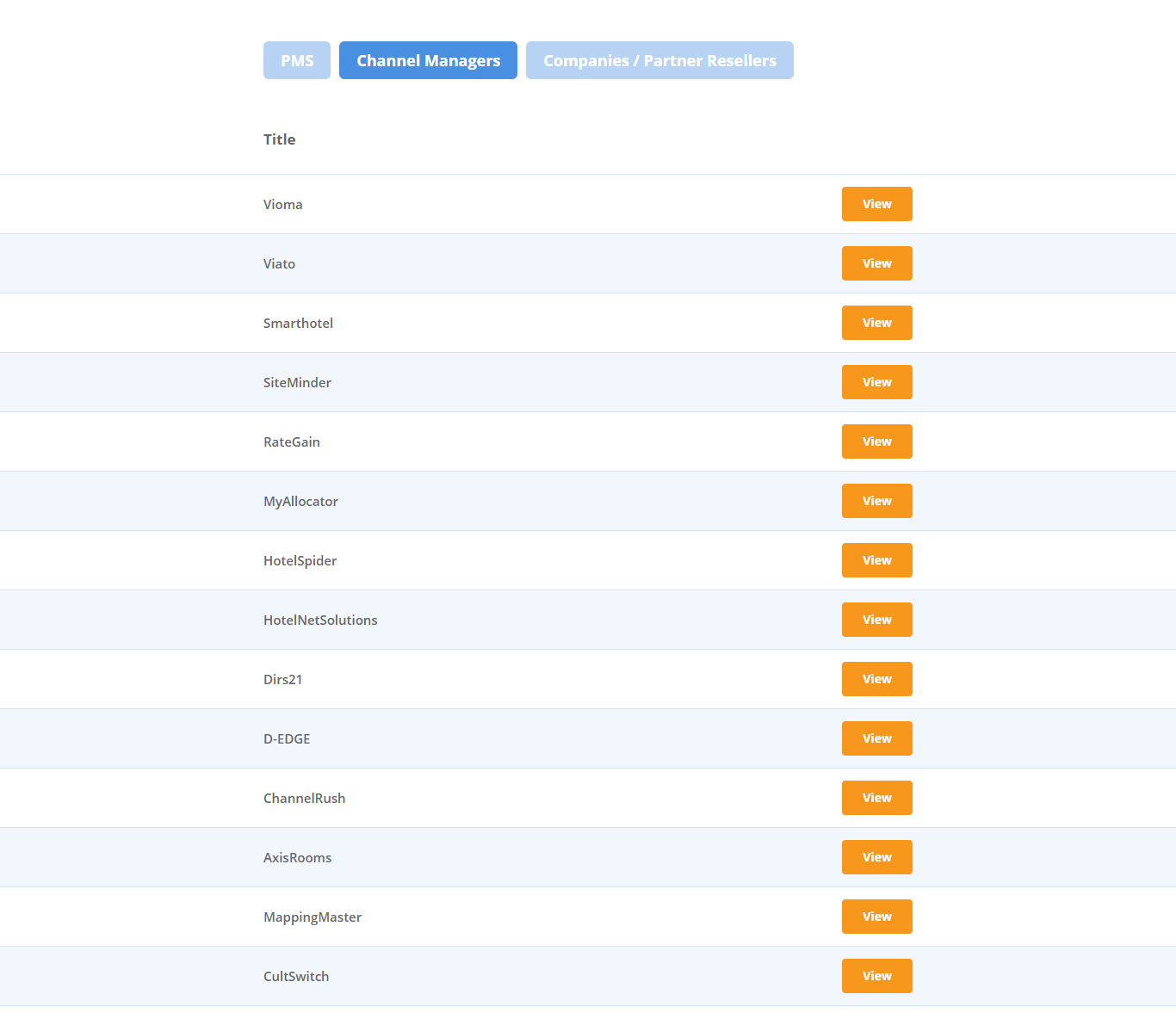 Netaffinity state that its software is compatible with most PMS and channel managers without giving any list, so you will need to ask for more details. 
17. Free trial
CultBooking proposes besides of the free demo 3 months for free. 
Netaffinity proposes the 1st 90 days or three months for free.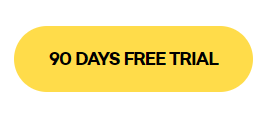 18. Pricing
CultBooking has a clear and straightforward price policy. The monthly cost is 29 EUR, less than the price of a daily espresso!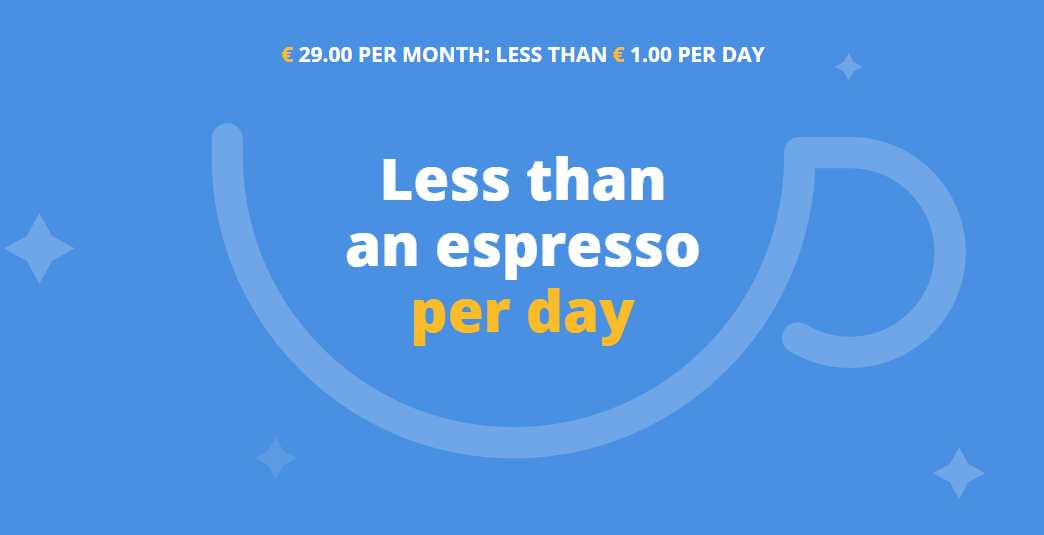 Netaffinity proposes a price depending on your geographic location and on the number of rooms in your property. Note that there's also an onboarding fee of 299€.
Less than 30 rooms, the monthly cost is 79€

Between 30 and 49 rooms, the monthly cost is 99€

Between 50 and 99 rooms, the monthly cost is 119€

Between 100 and 149 rooms, the monthly cost is 139€

Above 150 rooms, the monthly cost is 159€
However, the pricing section on the website advises you to contact Netaffinity directly for a quotation if your hotel location is in Uk/Ireland or if your property has more than 30 rooms.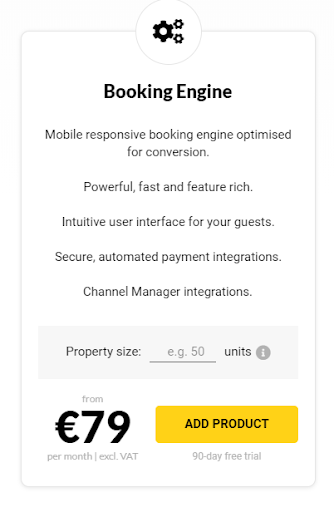 Why choose CultBooking?
Economic:

The service's daily cost is less than € 1 /day. It will increase your booking conversion at a tremendously low price. 

Easy to set up:

The software integration on your website takes less than 10 minutes.

You start getting new bookings straight away:

 The prospective customers don't need to contact your hotel via phone or email, they have direct access to the rooms' rate and availability. It's a fantastic feature to transform online users into your hotel clients.

Simple connection with PMS and Channel Managers:

CultBooking offers complete integration with hotel software PMS and channel managers. Furthermore, it's straightforward and free.
We hope this article helps you decide that this tool is essential for the future of your hotel. If you're still uncertain, try CultBooking one month without any risks; we are confident that you will start increasing your bookings immediately. 
For questions and support, please contact us via chat or email: info@cultbooking.com
---
PS: Communication with William Cotter
From: William Cotter
Sent: Friday, October 9, 2020 11:02 AM
To: Dr. Reinhard Vogel
Subject: Important: Urgent action required to address the misrepresentation of Net Affinity Limited on your website
Importance: High
Ref: Misrepresentation of Net Affinity Limited on your website
Date: 9th October 9.35am
To: Mr. Reinhard Vogel, Owner of Cultuzz Digital Media GmbH
It has been brought to my attention that Cultuzz Digital Media has a page of content on it's website which has a number of very serious inaccuracies which are very damaging to the brand and reputation if Net Affinity limited.
This page can be found at: https://www.cultbooking.com/en/cultbooking-vs-net-affinity-which-one-suits-you-the-most/
This page which is a comparative analysis of Net Affinity v's Cultuzz Digital Media contains several inaccuracies and unfairly misrepresents Net Affinity in an unfavourable light. In addition it damages  Net Affinity's business and reputation with our customer whom you include as part of your unfair and biased analysis.
None of this content or the use of our logo has been passed by or approved by us. Furthermore no representative of Cultuzz Digital Media reached out to us in advance of the publication of this page and it's offensive content.
As you are aware I first chatted with Claudiu-Sorin Simina, Head of Business Development with Cultuzz Digital Media on Wednesday 7th October last expressing our deep concern with this page of content requesting that it be taken down within 48 hours. Since then I've had no response from your side, no acknowledgement of my conversation or request. Nor has any action been taken to take down this page.
I now formally request that this page be taken down with immediate effect today. Failure to do so will result in this matter being passed to our legal team without delay. Please be on notice that all and every costs associated with this matter as well as all known and unknown damages to our business, brand and reputation now and in the future as a result of this misrepresentation will form part of our legal recourse.
Please confirm by close of business today that this page has been removed permanently with a written apology confirming same.
William Cotter,
Managing Director,
Net Affinity Limited.
---
From: Dr. Reinhard Vogel
Sent: Friday 9 October 2020 12:17
To: William Cotter
Cc: Claudiu Simina
Subject: Important: Urgent action required to address the misrepresentation of Net Affinity Limited on your website
Dear William,
You are referring to a blog page at CultBooking Website (https://www.cultbooking.com/) that was written by Claudiu whom you already know. Claudiu compared the booking engine "CultBooking" with your booking engine. It's not his or our intention to compare unfairly or publish any inaccuracies in this article. I'm sure that Claudiu did his best to find the correct information regarding your booking engine.
I told Claudiu to not compare unfairly in any way. In particular, I asked him
– to refer only to services for the same needs or purposes
– to refer objectively to one or more essential, relevant, verifiable, and typical features or to the price only
– to avoid any confusion in trade between CultBooking and your booking engine
– not to take unfair advantage or damage the reputation of other trademarks
– not to disparage or denigrate the services or activities or personal or business circumstances of a competitor
– not to present CultBooking as an imitation or replica of another booking engine
However, if you think that the article is unfair, misleading, or inaccurate at any point, please let me know. We will correct it immediately. Anyway, the article is not static but will be kept updated as we receive new information.
Regarding your logo, I have asked Claudiu to remove it.
Kind regards,
Reinhard
Dr. Reinhard Vogel
Managing Director
Cultuzz Digital Media GmbH
Ullsteinstraße 130
Tower B, 6. OG
12109 Berlin
Germany
---
From: William Cotter 
Sent: Sunday, October 18, 2020 2:33 PM
To: Dr. Reinhard Vogel
Cc: Claudiu Simina
Subject: FW: Important: Urgent action required to address the misrepresentation of Net Affinity Limited on your website
Hi Reinhard,
I notice that this page continues to remain online despite several requests from me for it to be removed as a matter of urgency,
https://www.cultbooking.com/en/cultbooking-vs-net-affinity-which-one-suits-you-the-most/
This page contain several inaccuracies about Net Affinity and unfairly represents our business which is damaging to our repute.
This page has been written and collated without our consent and endorsement.
I request once more to take down this page by close of business Monday 19th October.
Failure to do so will result in this matter being passed to our legal team to pursue.
Please note that we will seek recovery of all costs and any and all damages accruing from it's continuation.
Regards,
William
---
This article has been updated on 19 Oct 2020 with minor changes to ensure that all information is 100% accurate. For the analysis, there is used only information found on the official website of Net Affinity, and on its booking engine, this is public information.
We have asked William Cotter to provide insight and indicate where we shall make changes and where shall we put more light into the excellent services of Net Affinity, but unfortunately there was no collaboration and no will to provide any details.
Claudiu Simina,
19 Oct 2020