8 Proven Low-Cost Marketing Tactics to Boost Your Ecommerce Sales
US ecommerce sales are expected to surpass $1 trillion for the first time this year. As the stakes get higher, investments in ecommerce marketing are often staggering. While you are advised to invest between 6 and 20% of your gross revenue into marketing, when margins are low, it can be difficult to see a high return.  
Instead of pouring large amounts into advertising or organic marketing tactics, try these low-cost tactics that can boost sales. They will also increase the value of your ecommerce business overall, as they have a direct impact on your scalability and conversion rates. 
Highlight Your USP Right Off the Bat 
The average customer will see dozens of websites when looking to make a purchase. Unless their first impulse is to shop on Amazon, they will likely check out several stores before deciding who to do business with.  
Since you only have a couple of seconds to capture the attention of your audience, you want to highlight all of your main selling points as soon as possible. Ideally, you will do this in the hero section of your website, and in as few words as possible, tell your customers why they should convert.  
Take a look at Mannequin Mall. In four short sentences, they tell you everything that might sway you: they ship to your home or business premises, have fulfilled more than 10.000 orders, and they work with other brands in the fashion industry.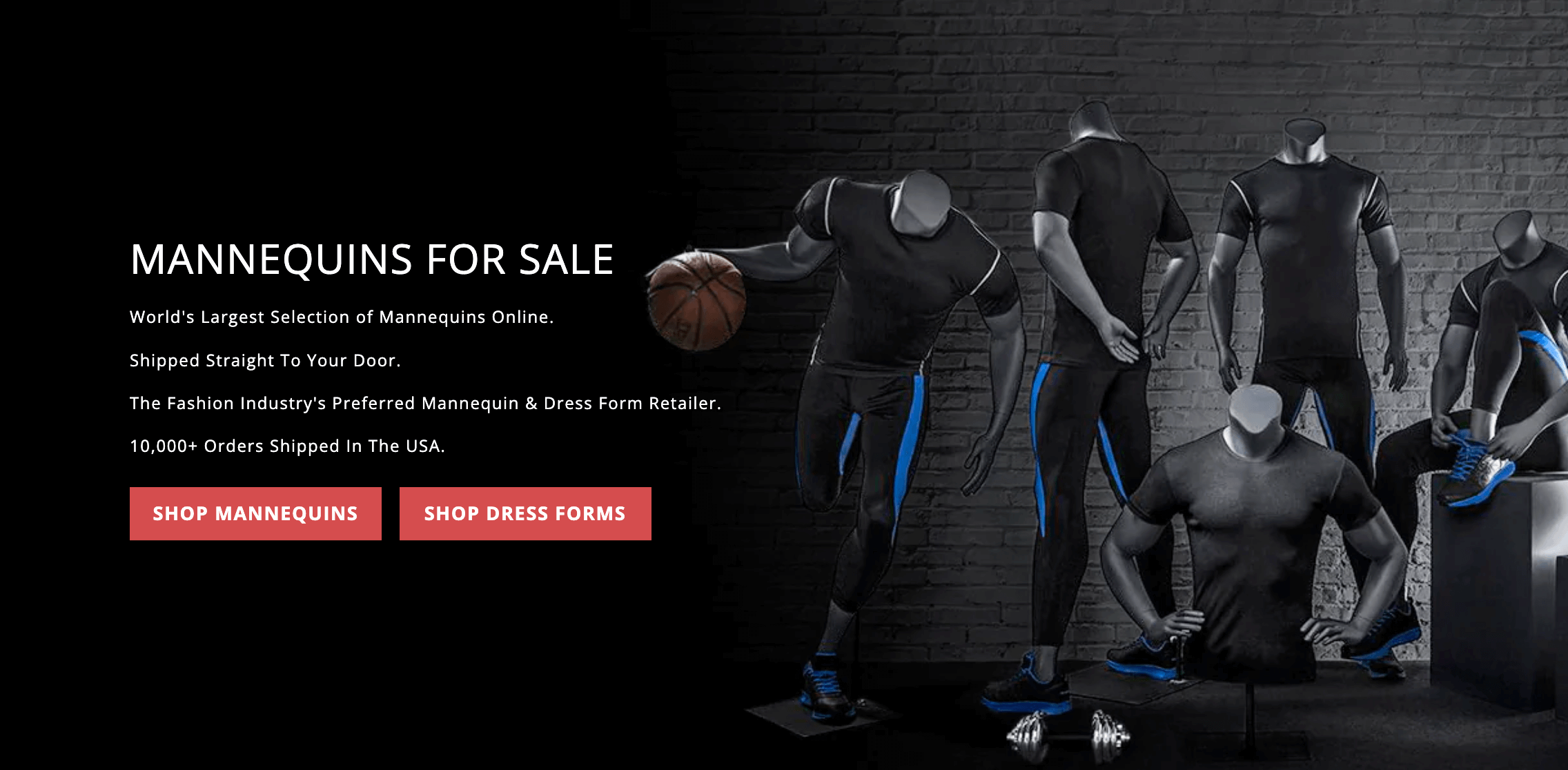 Source: mannequinmall.com 
If you scroll down the page, you'll see who they have worked with, and your trust will further increase. 
Speak Your Audience's Language
A lot of ecommerce brands make the mistake of de-personalizing their online presence in an attempt to appeal to a wider audience. And while niching down certainly means you are limiting your customer pool, it also makes you more appealing to a select audience.  
This may not work for every brand. If you sell a large variety of items, you can't hope to specialize in all of them. But if you sell one type of product and appeal to one kind of customer, speaking their language will certainly go a very long way.   
Meowingtons is a prime example of user-focused copywriting done right. Everything about their website speaks directly to cat owners, who have their own way of speaking about their pets. There are plenty of other online stores that sell similar products.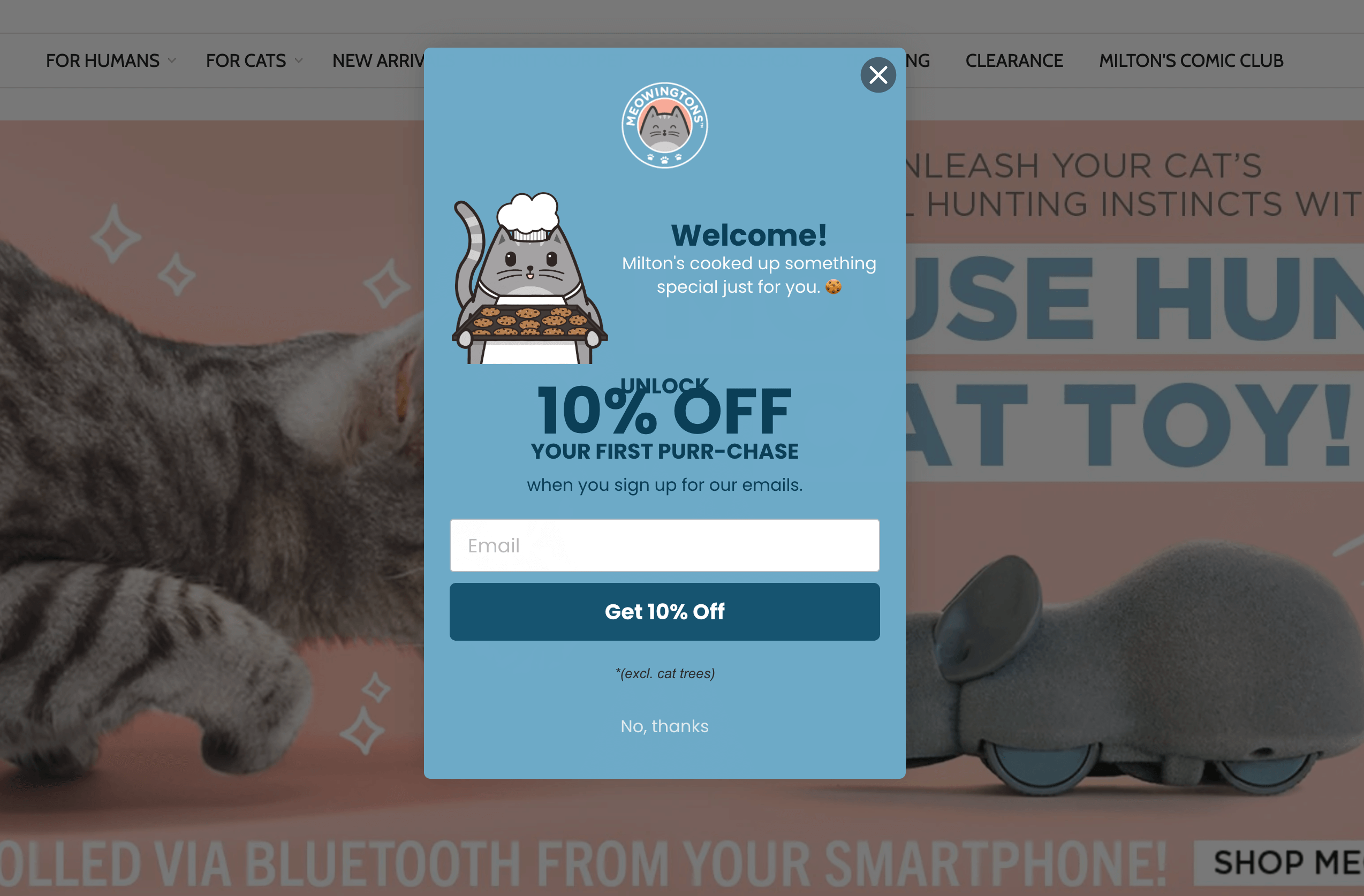 Source: meowingtons.com 
But Meowingtons has done a great job at building a community by highlighting everything that makes them just like their audience.  
Be Of Actual Use to Your Customers 
Success should be about more than just making a sale. Community and brand building are valuable ways of attracting and retaining customers. Acquiring a customer costs five times more than retaining one, so it's easy to understand why being of use to your audience will be a low-cost marketing tactic.  
Note that there will be some investment involved, but it does not have to be monetary. You can invest your time and expertise to create valuable, educational content that will teach your audience something and help them navigate your store better. 
Transparent Labs does this well. Their blog is filled with posts that help their customers choose products, learn more about their mechanics and understand how they will slot into their workout routine. This post on the best creatine supplement is a good example to reference.  
It explains what the product is, answers common questions, and goes on to recommend an actual product. Never forget to offer customers a chance to shop directly from your blog posts. It's a much better experience than having to do a search manually. 
Make Help Easy to Access
No matter how useful your content is, there will be times when customers need to ask you a question. Operating a stellar customer service department is a very effective way to improve conversion rates.  
Customers want their questions answered fast, and they want to be treated with care and respect. Even if you aren't available 24 hours a day, you should note your response times and working hours clearly.  
The more contact options you can provide, the better. Take a look at how Mirror, which sells a very innovative product that is bound to raise a lot of questions, handled it well. They have a phone number with clear working hours, along with email and live chat.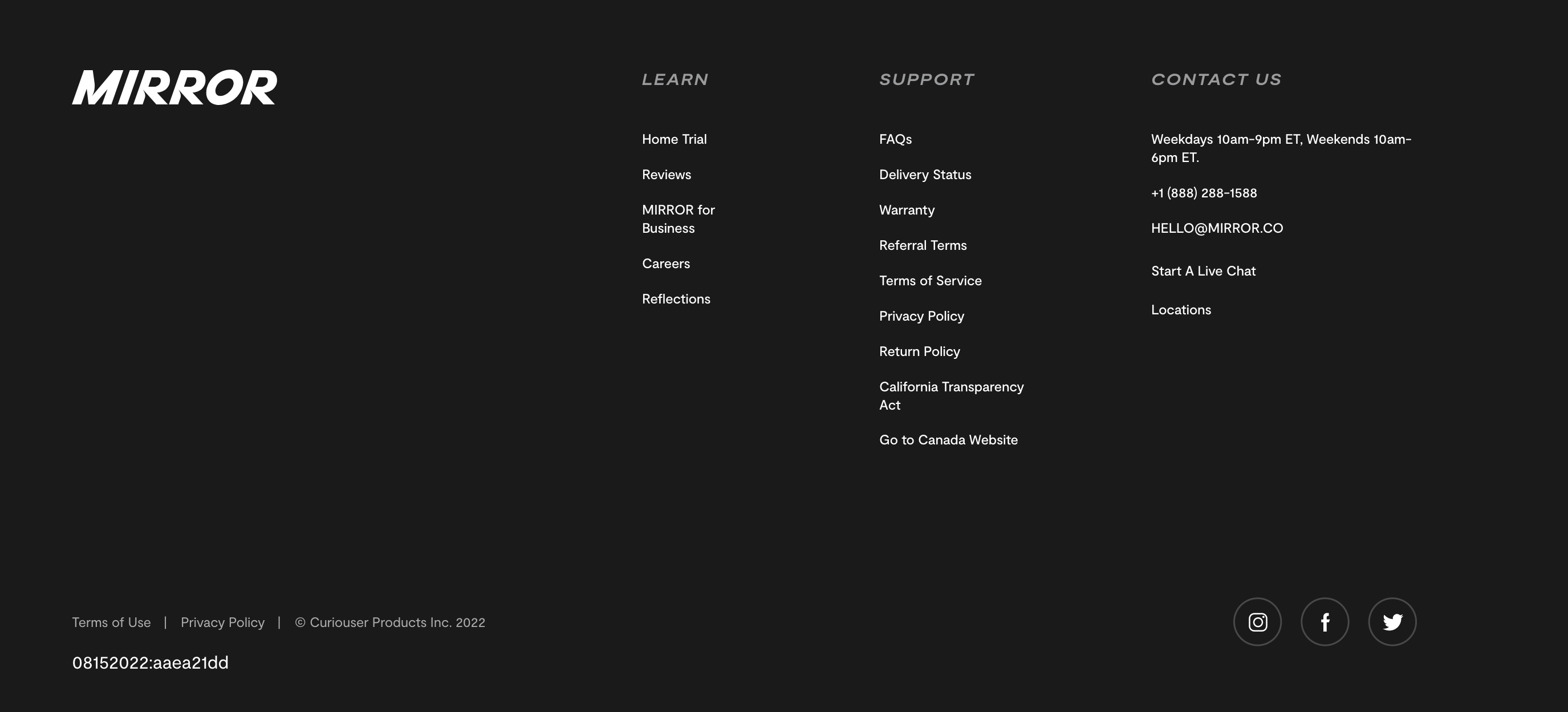 Source: mirror.co 
The live chat option also goes a step further and offers access to a help section. If you can't find your answer there, a human will be happy to help you out.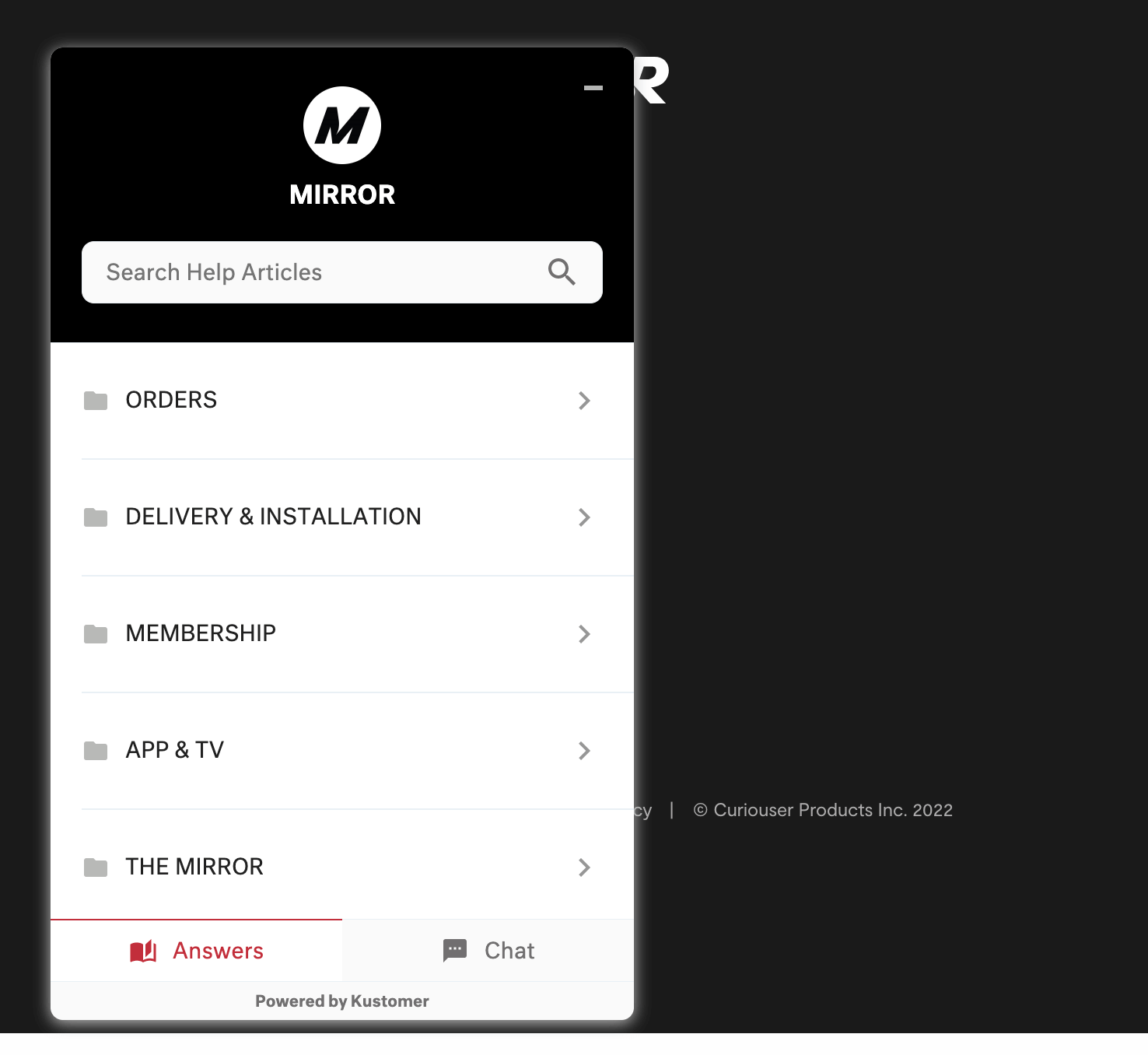 Source: mirror.co 
Rely on User-Generated Content
User-generated content is an extremely low-cost way to improve sales. It's easy to access (provided that you ask for it or ask for permission to use it), and it is incredibly trustworthy. Most people will trust reviews more than they trust a brand's own product descriptions.  
You can quickly gather plenty of useful data simply by following up on each purchase and asking your customers to tell you their honest opinion. Including images with the reviews is just an added bonus.  
You can also reach out on social media and ask customers if you can use their photos. Make sure to credit them and give them a shoutout on socials, too.  
Gili is a great example of UGC done right. All of their product pages, as shown in this example, come with plenty of user photos of their paddle boards in action, which make it so much easier to determine the actual color and size.  
Integrate Social Media
Speaking of social media, making it easy to shop on your profiles is another great way to boost sales. Most platforms have some sort of shop available for integration, so it won't be too difficult to set up. 
If you also add your Instagram roll to your website, for example, and make the products shoppable, you can expect to see an increase in sales. Don't forget that you also need to always mention which product is featured in any image you post on social media. Linking to the exact product page will immensely improve UX.   
MVMT applies this strategy with great success. Their Instagram is both a part of their homepage and very easily shoppable, so customers don't have to spend any time determining which watch they've spotted and how they can get their hands on it.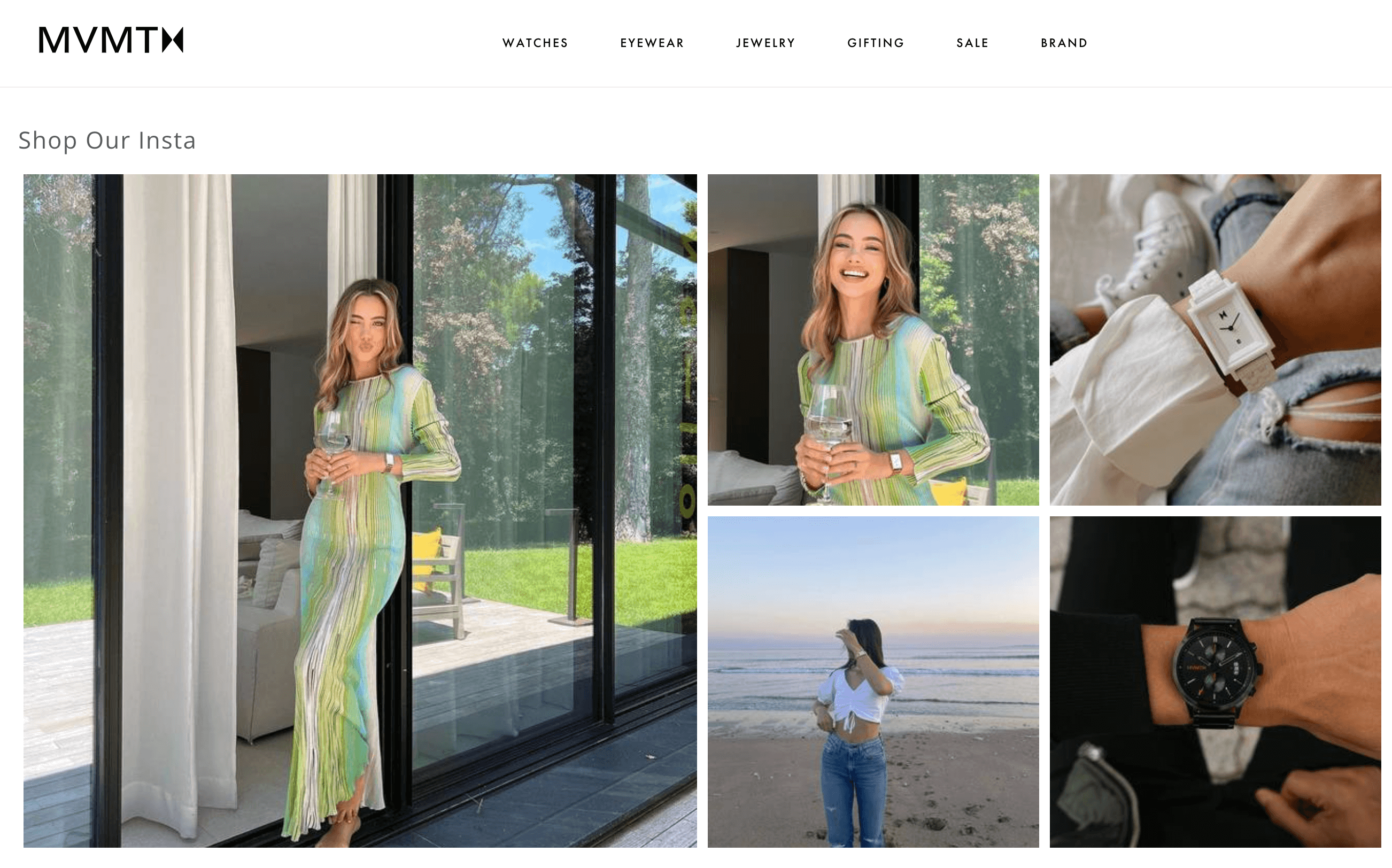 Source: mvmt.com 
Work With Bloggers and Affiliate Websites
Asking others to do the marketing for you – with a small commission included – is always a cost-effective tactic. Since you won't have to pay anyone a fee unless you get featured (or perhaps even if you make a sale), you can capitalize on others' efforts to promote your products.  
Working with bloggers and affiliate websites will take some effort, as you will need to reach out to them, set up commission tiers, and work out specific deals based on everyone's unique audience. However, it can turn out to be quite a lucrative investment.  
A good example to reference is this post on Eachnight. Each time someone clicks on a link and then purchases a mattress a small commission gets paid to the site for the referral. It likely doesn't cost the mattress companies that much, and most importantly it will save them the cost of running their own user acquisition campaigns.  
Grow Your Email List with a Discount
The ROI of email marketing is still quite staggering, with a return of $36 for every dollar invested. Growing your email list thus becomes a very cost-effective marketing tactic.  
Other than promoting your email list on your social media and in your content, you can use a popup to entice new visitors to sign up. FYE offers a 20% discount when you opt into their list. This is a very small price to pay for the potential return that will come with access to a vast number of customers. Since they already know what products they are interested in, they can easily send personalized deals straight to their inbox.  
Wrapping Up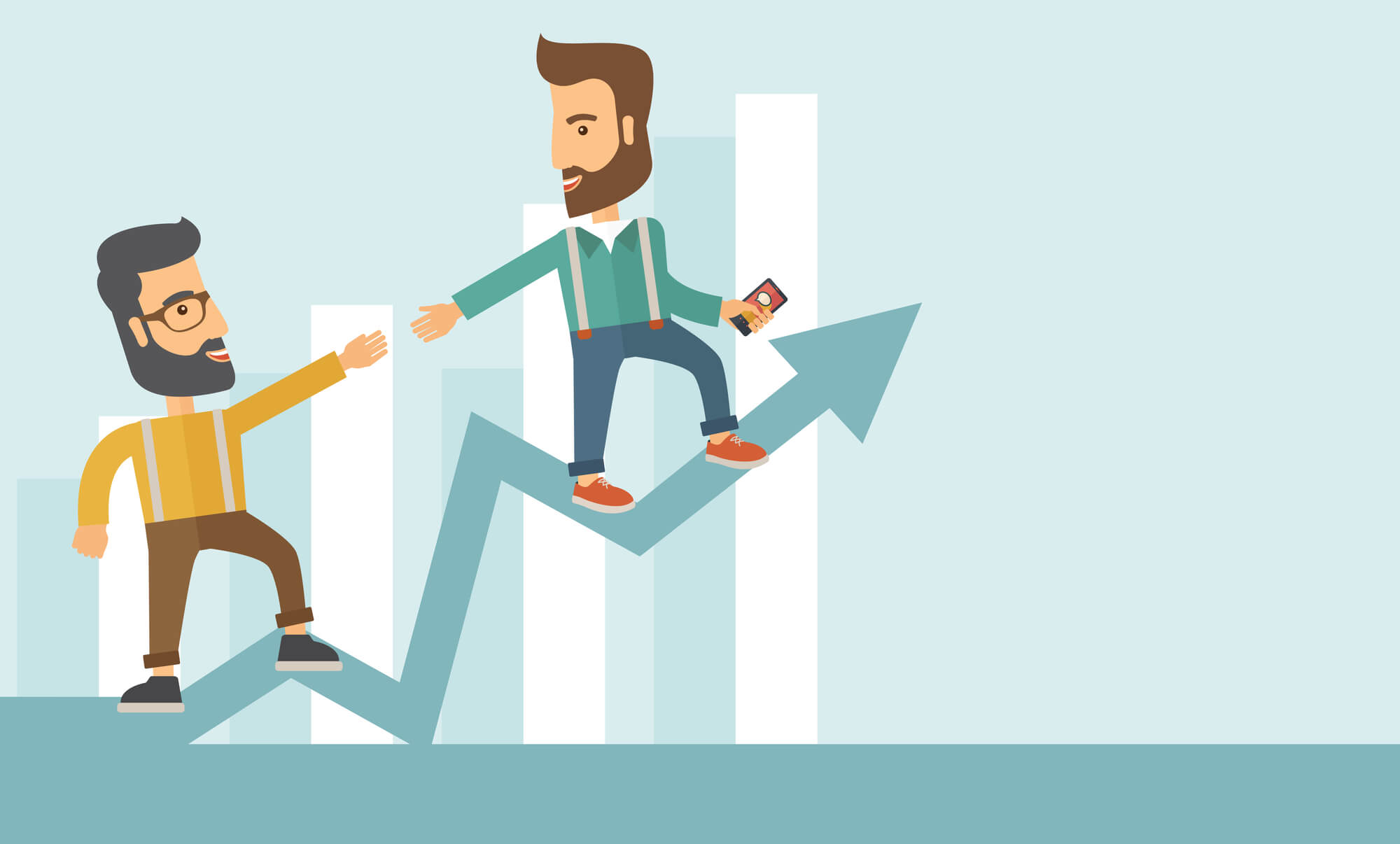 Source: depositphotos.com 
Quality marketing does not need to cost you an arm and a leg. How well you know and understand your audience is much more important than how much you invest. Just rely on all the data you have access to, and you'll be able to design effective campaigns at a fraction of the cost.