CultBooking & CloudInn Partnership – Exclusive Offer: FREE Booking Engine & Channel Manager
1. What is CloudInn?
CloudInn is a complete software solution for your property. Covering the wide range of areas needed to run a successful accommodation business; whether you're running a hotel, hostel or rental property. 
Success is built upon a strong foundation that allows day to day operations to run as smoothly and efficiently as possible, maintaining a high level of quality all of the time. To achieve this a key ingredient is of course having the best management software for your properties and hotels. 
CloudInn focuses on it's client's satisfaction and puts them first. The ethos of CloudInn is to provide the best experience for its users. By using the right property management software your properties have the best opportunity to increase occupancy rates through global distribution and stay up to date with the hospitality industry and world of online travel.
CloudInn's booking system, as mentioned, offers many of the key services that a property manager or hotelier needs such as; front office software (PMS), a Channel Manager, online bookings module, payment gateways for online-bookings, even back-office management to simplify and streamline inventory, financials and revenue management.
The front office software for example, provides options for all of the different aspects needed for a successful reception desk. Including reservation management, room availability, check in/out, billings and maintenance etc. CloudInn makes it easy and intuitive to use these features while providing a good level of control for its users.
In order to provide such a high level of service CloudInn's team is made up of members from various areas of the property world. Hoteliers, software engineers and even an implementation team to assist and ensure the software is optimised for the client. 
2. CultBooking Booking Engine & CloudInn PMS
CultBooking's Booking Engine is another key piece of Hotel management software for everyone in the accommodation industry, because it integrates with your own website and allows for direct bookings. This way you eliminate commissions and increase your revenue. 
Through CloudInn, we want to make it possible to connect with CultBooking's Booking Engine. Integration is done in a reasonable amount of time and with the goal to achieve 100% satisfaction.
Using both of these management tools offers (PMS+Booking Engine) our users gain a synergistic effect, to fully realise the potential of their business. 
For instance, when guests book a room at one of your properties using your own website, the reservation will automatically be shown directly inside the CloudInn PMS reservation system. Of course the booking will also be visible inside the CultBooking extranet, additionally inside the Booking Engine more advanced settings can be found. For instance, you will be able to set-up promotional codes, produce customized links, insert cancelling policies and much more. 
CultBooking is a leading booking engine software provider that is focused on optimizing booking rates for your properties, offering the best management solutions and the end user's experience. CultBooking provides many features for its clients to get the most out of the software through a balance of functionality and customisation.
Seamless integration of services will remove much of the hassle when using different services to run a business. We really believe in the benefits of having two great software tools working together with each other to provide the best experience for our clients and partners.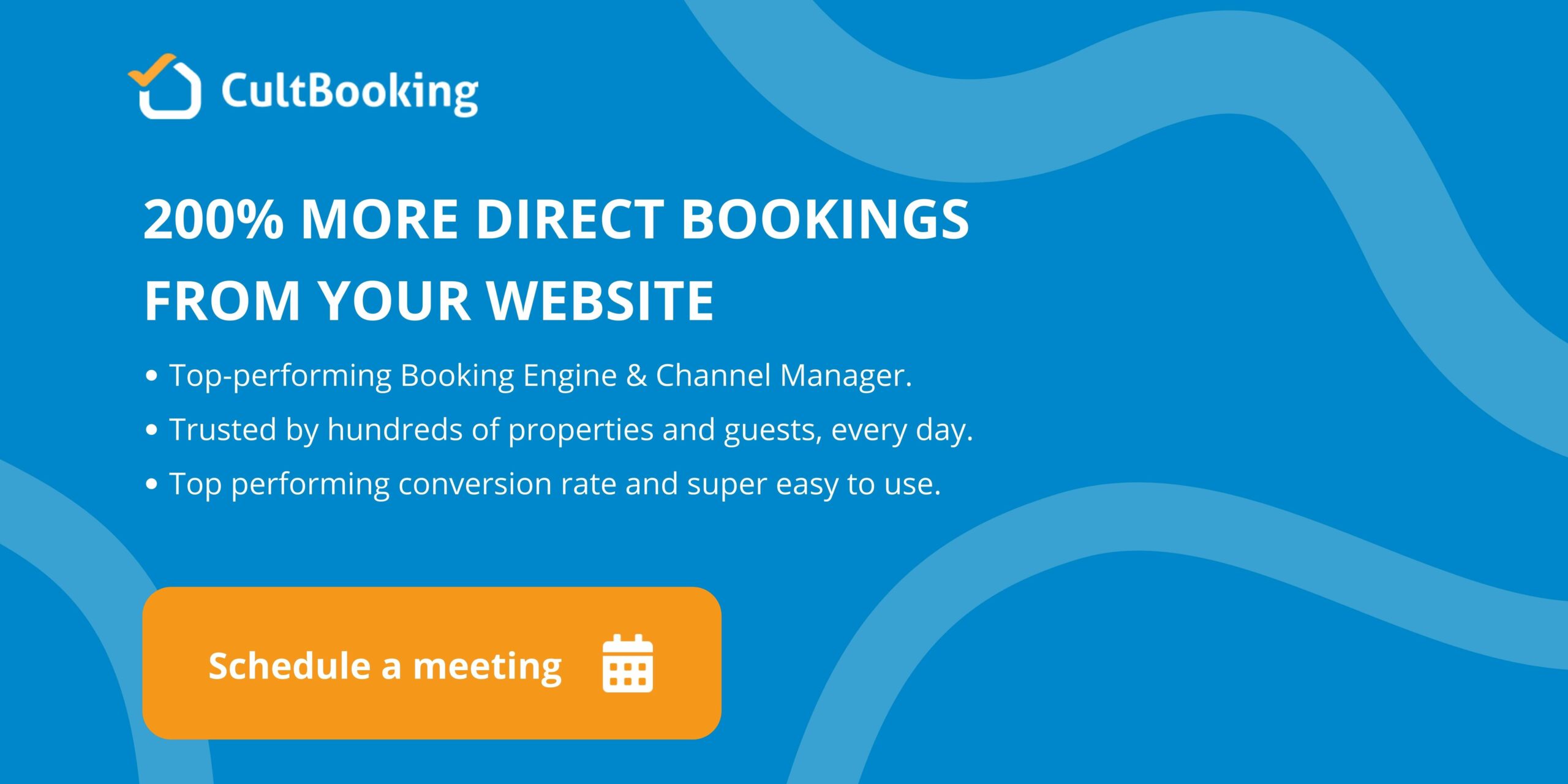 3. Channel Manager connections of CultBooking & CloudInn (new)
Using the two powerful companies and strong products of: CloudInn and CultBooking, together has never been simpler. This development ultimately benefits our clients that implement the software programmes to their websites. The end users also derive many benefits from the combination of these two cloud-based services. By using both tools, clients can take advantage of the best parts of both management tools such as exclusive offers. For example CultBooking's latest offer that incorporates exclusive OTA's.
Thanks to API software, these two channel management programmes run seamlessly together and are integrated to provide the best possible performance for clients.
Apart from the CultBooking engine, clients also will have access to two other channel managers; CultSwitch, which is a powerful software tool aiming to give rental properties and hotels a way to expand their coverage of the worldwide market using OTA's from leading booking portals worldwide. MappingMaster is the second example, this software is another example of a high quality Channel Manager for rental property managers. Again with the aim to increase visibility and give the best opportunity to maximise bookings and exposure in the worldwide market using its global distribution system. The main difference between the two Channel Managers is the level of support and having a dedicated account manager that constantly optimizes your online visibility via CultSwitch, the full service online distribution provider. 
4. Exclusive offer for CultBooking & CloudInn Partnership
CultBooking in combination with CloudInn offers everything that's expected from a high quality central reservation system and booking management software tool. 
Its range of functionality is very impressive, offering a highly powerful software option for rental owners and hoteliers alike. Packaged in a presentable manner that is easy for clients to interact with and adjust to their liking, and for end users ensuring that they will  have a seamless experience when making a booking with the property or online hotel.
Because of these factors and the impressive team behind CloudInn that hold the same standards and ultimate aim to ensure the best experience for their users, CultBooking is offering 1 year of free services to CloudInn clients and users. This is a great opportunity for those using the PMS from CloudInn currently as they now have the opportunity to use a Booking Engine or Channel Manager from CultBooking and easily integrate it as a part of their website. Users can enjoy the advantages of using the Booking engine or Booking Button from CultBooking while still being able to maintain their current PMS system with CloudInn, is the possibility to keep your current Channel Manager of choice and only use the Booking Module from CultBooking.
Take full advantage of the high performing Booking Engine from CultBooking today, especially when it's free of costs for you as a CloudInn client and user. We want to help you by building the best infrastructure for your business. Just contact us via email and tell us you have CloudInn: info@cultbooking.com, then this promotion will be applied specially info@cultbooking.comfor you.