CultBooking Vs. DIRS21: Two Hotel Booking Engines Compared
In this article, we will review two popular hotel booking software: CultBooking and DIRS21. This article compares step by steps the two services from a user point of view. Free demo Promo code Smart calendar Multi-languages Multi-currencies Multiple rooms booking Discount based on occupancy Children prices Dedicated individual booking link on each room description page Travel insurance Payment gateway Cancelation tag Upsell and Add-ons Live chat Mobile optimized Property management system (PMS) integration Channel Managers integration Free trial period Pricing Make sure to read this review until the end so that you can decide which reservation software is the best for you.
Product overview
Before we start with the comparison itself, let's explain what direct hotel booking engines are, and the advantages it will bring to your property. The booking software is integrated directly into your own website and allows online guests to check live prices and availability. Additionally, they can book a room with a few clicks. Here are some of the advantages of the service: The system is always available; to put it another way, 24/7, you can receive commission-free bookings. Furthermore, clients have to leave their credit card, which secures for you the reservation in case of no shows. The Hotel booking systems centralize the room reservation and replace manual procedures like phone and email reservations. As a result, it reduced your staff's workload, and they can concentrate on the customer service for the guests of your hotel. Moreover, the direct online reservation system is an excellent addition to services like Booking.com, Expedia, or other OTA. In particular, it gives you more control over your hotel marketing strategy. Not to mention the significant boost to your property visibility and booking conversion rates that this solution offers.
Companies overview
CultBooking is a division of the renowned Cultuzz Digital Media GmbH, a leading provider of software and technology solutions for the travel and tourism industry. The headquarters is in Berlin. DIRS21 is the name of the booking engine proposed by Touring AG, a German firm based in Wernau.
2.4 Booking multiple rooms


8.3 Product link (packages)

9.2 Channel manager
integrations
For CultBooking we use the Booking Button of the Hotel Hof Tütsberg in Schneverdingen-Heber, Germany https://www.tuetsberg.de/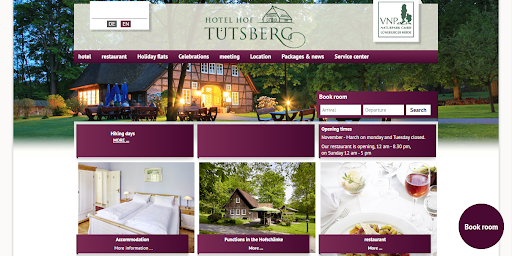 For DIRS21 we use the booking engine of the hotel Olympia in Munich, Germany https://www.hotel-olympia-muc.de/welcome.html

1. Booking Calendar
1.1 Smart calendar
A smart calendar is an easy to use tool giving rooms availability. So, you don't waste time inquiring about unavailable dates. Additionally, it is possible to incorporate the daily lowest price. The calendar of Olympia hotel includes both the availability and the price options.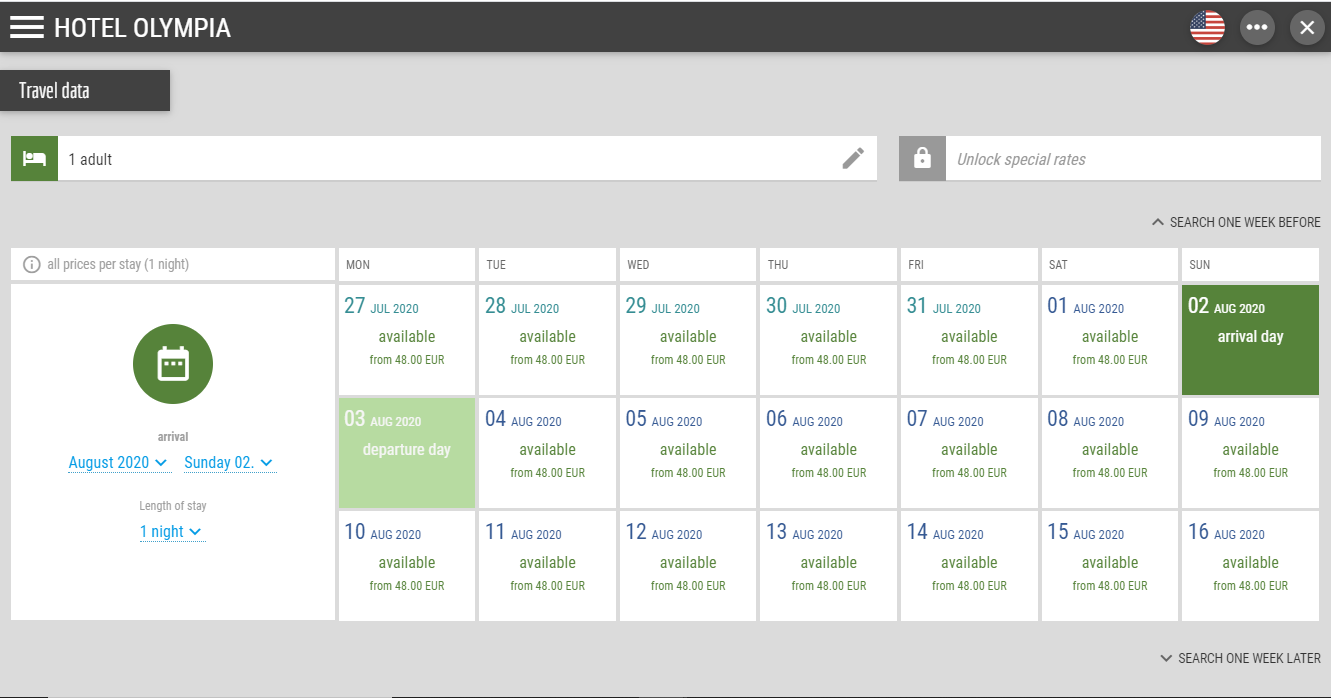 The Tütsberg hotel doesn't make use of the CultBooking smart calendar. Here is an example from another hotel booking calendar powered by CultBooking.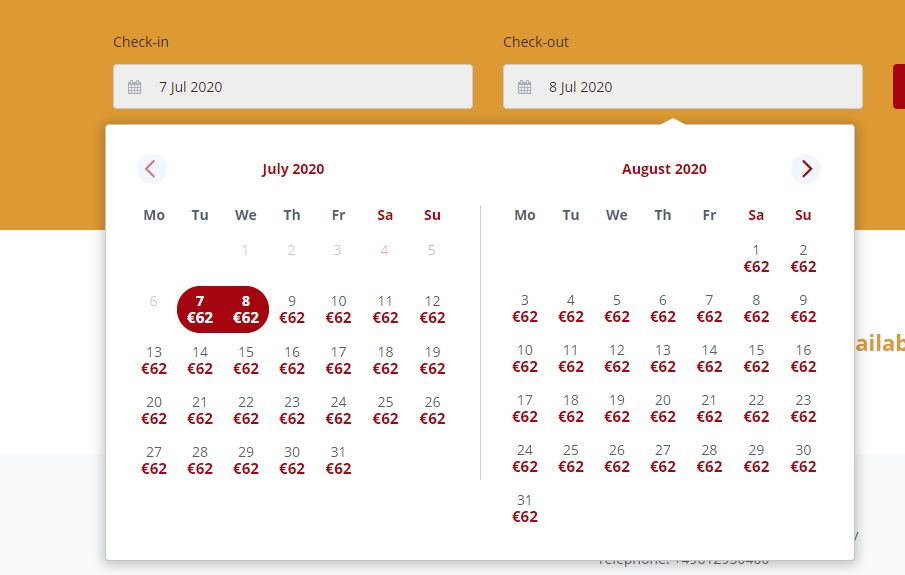 2. Functions
2.1 Promo code
A promo tag is integrated to your booking engine page and permits the guest to benefit from specific discounts or vouchers on your rooms or special services. The Tütsberg hotel didn't select the option. However, here is how it appears on the webpage when the hotelier opts for it. Furthermore, the CultBooking promo option is fully customizable, allowing you to, for example, to integrate existing promotions in the rooms selection page.

For the hotel Olympia, a tag "unlock special rates" is integrated into the reservation page.

2.2 Occupancy prices
Both properties let you select how many persons will stay in the room, and the room occupancy determines the price.
Tütsberg hotel

Olympia hotel

2.3 Children prices
Both reservation software can propose an option that allows you to add children to your room at a discounted price.
2.4 Booking multiple rooms
Both hotel booking software gives you the option to book different rooms with one booking. Tütsberg hotel offers a summary of the selected rooms straight after you click on the "book now" switch.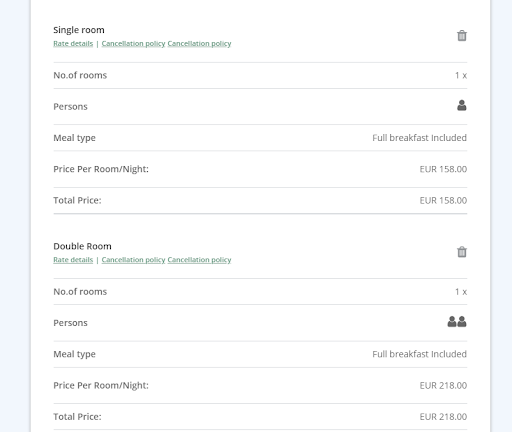 On the Olympia site, you only see a summary after giving your information; as a consequence, if you have made a mistake in the selection, you have to restart the whole process again.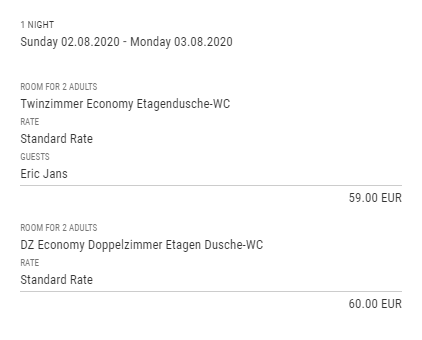 2.5 Payment gateway
CultBooking and DIRS21, hotel booking engines, offer two automate methods of payment:
"Pay at the property upon departure," with the room secured with a credit card payment. So, in case of a no-show or late cancelation, the customer card is debited with a fixed compensation. Usually, the cost of one night.
"Full payment" for the entire stay is paid directly. The client has various payment choices: Debit Card, Credit Card, PayPal, and much more.
CultBooking reservations software has the following payment gateway: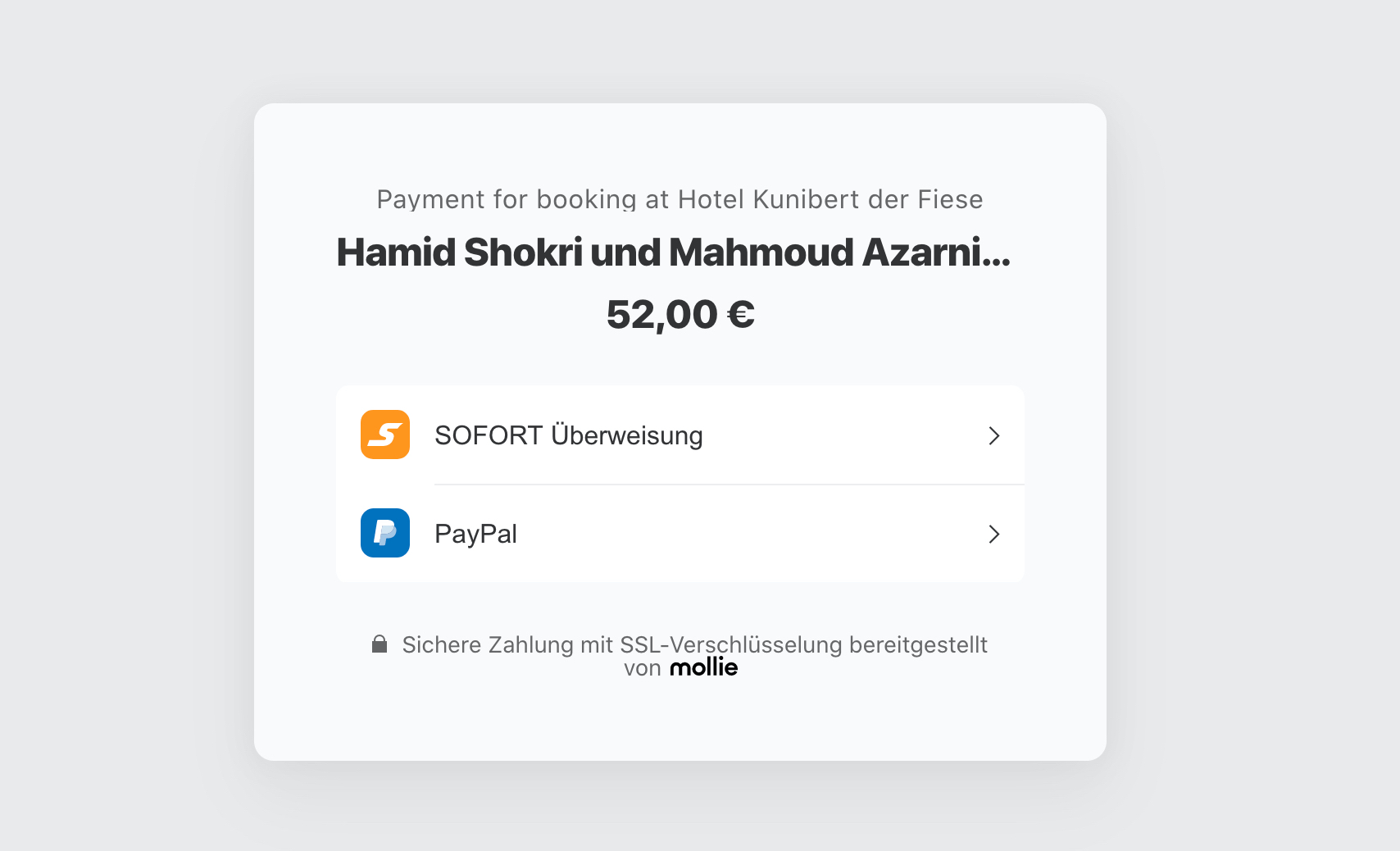 Hotel Olympia with Dirs21 booking engine offers below payment form:

3. Add-ons
3.1 Travel insurance
Olympia proposes the travelers to add, in one click, travel insurance to the reservation. The option is available on the payment processing page. CultBooking doesn't propose this add-on.

3.2 Extra services
The hotel reservation system allows your hotel resort to adding optimized upsell services and add-ons. In other words, you can advertise directly via the hotel website any extras that the customer can avail instantly online. In this case, none of the properties propose any.
Here is a CultBooking upsell page, withing the middle step of the hotel booking process: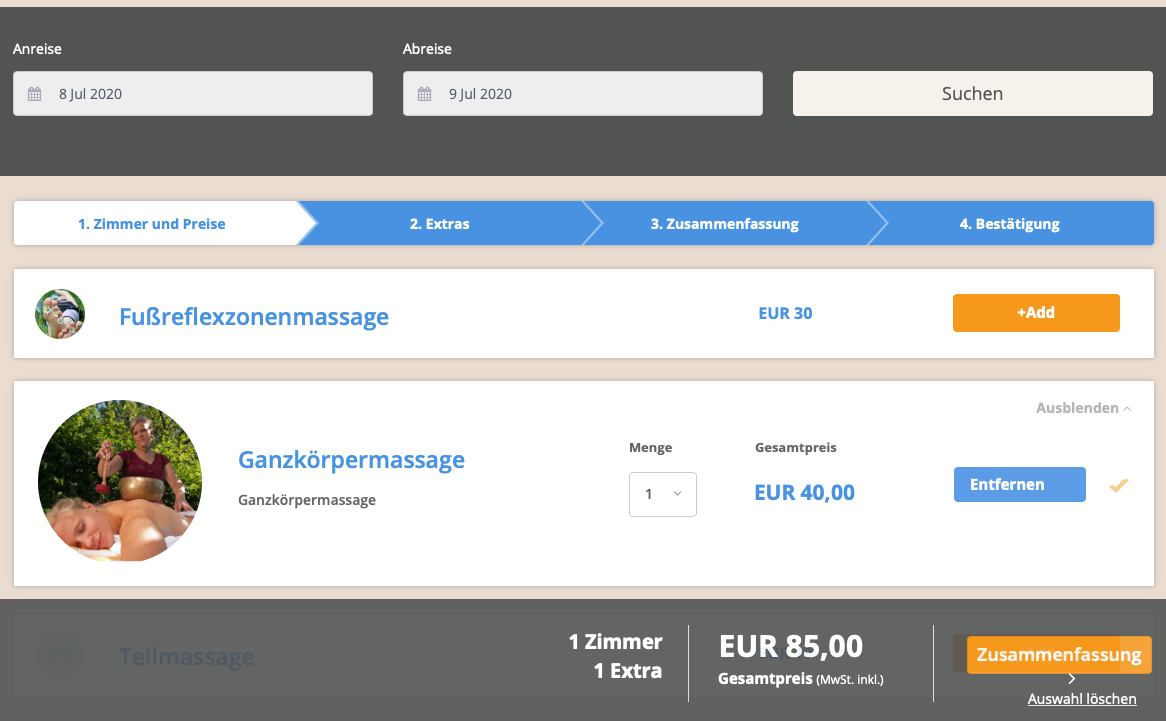 And a DIRS21 one.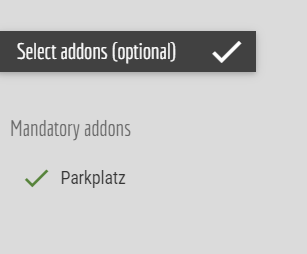 4. Internationality
4.1 Multi-languages
In the hospitality industry, you know that to reach a worldwide clientele, English and Spanish are the most used mediums. Still, many travelers favor using their languages as it is more comfortable and handy for them. On the Tütsberg hotel booking engine, you can decide between German, English.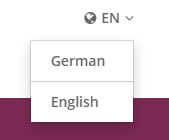 On the Olympia page, you have a choice between 17 different languages.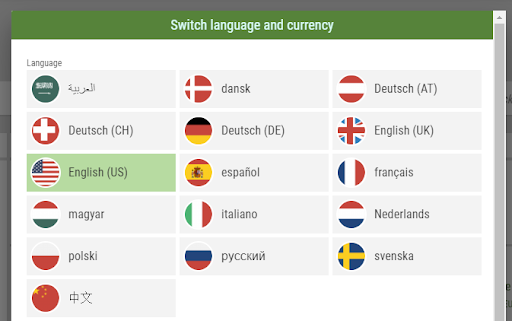 4.2. Multi-currencies
Customers love to be able to compare rates in their currencies, for the simple reason that it's their reference currency. Olympia resort offers the rates in 7 different currencies.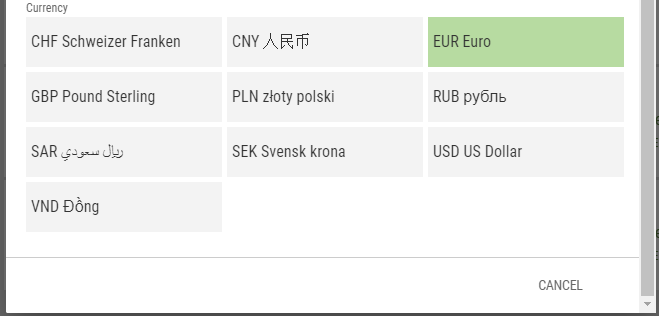 CultBooking team of creatives is developing the multi-currency option; it will be available soon.
5. Personalization
5.1 Cancellation tag
In the Olympia hotel online-booking system, there's a cancellation page. You have to click on the "cancel existing reservation" tag to access it.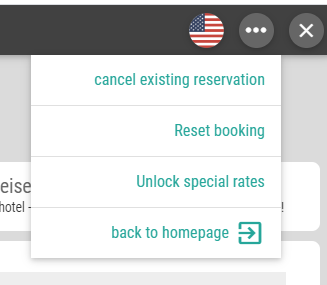 CultBooking hotel software doesn't have the feature. Based on demand, this part can be developed and offered in the future.
5.2 Login
6. Support
6.1 Live chat
CultBooking proposes integrating a live chat widget directly on your hotel system, enabling online users to contact your back office in one click and simplify communication with your hotel. The selection is not available on any of the hotel websites. Still, to the opposite of CultBooking, DIRS21 doesn't offer a live chat on its website, so we can positively say that this item is not an option.
7. User interface
7.1 Responsive
Nowadays, almost everyone has a cell phone connected to the internet and uses them for eCommerce and online reservations. Therefore, your booking website needs to be mobile user-friendly. The option is inbuilt in the reservation platform of both providers.
8. Hierarchy
8.1 Multi property
I think the Dirs21 booking system, offers this solution. Will need to check some examples and provide some links.
CultBooking had one request for this and will also build this function.
8.2 Dedicated individual booking link on each room description page
CultBooking proposes a great feature that allows you to book a specific room from its description pages. To rephrase, you can see the room's rate and availability without displaying all the different room categories. In the same way, on the Olympia website, you can book a room from the information page but without any filters.
8.3 Product link (Packages or arrangements)
CultBooking offers the possibility to make packages with minimum stay and discount for a weekend or whole week. Or plan for summer or spring some exclusive discounted packages, also called arrangements
8.4 Vouchers
Sell also cookies, a bottle of wine, or massage, like an online shop, with a special link. No need to sell associated with room, you can do it separately and build your own e-commerce.
9. Integrations

9.1 Property management system (PMS) integration
DIRS21 hotel system is compatible with 30 Property Management Software. Here's the complete list: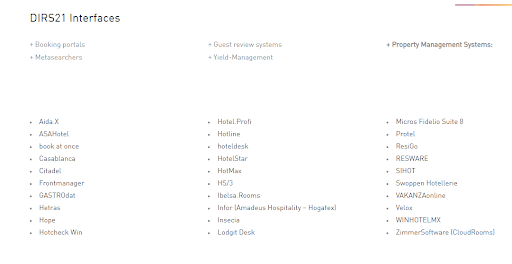 The CultBooking booking system is integrable in 40 PMS systems. Here is the entire list: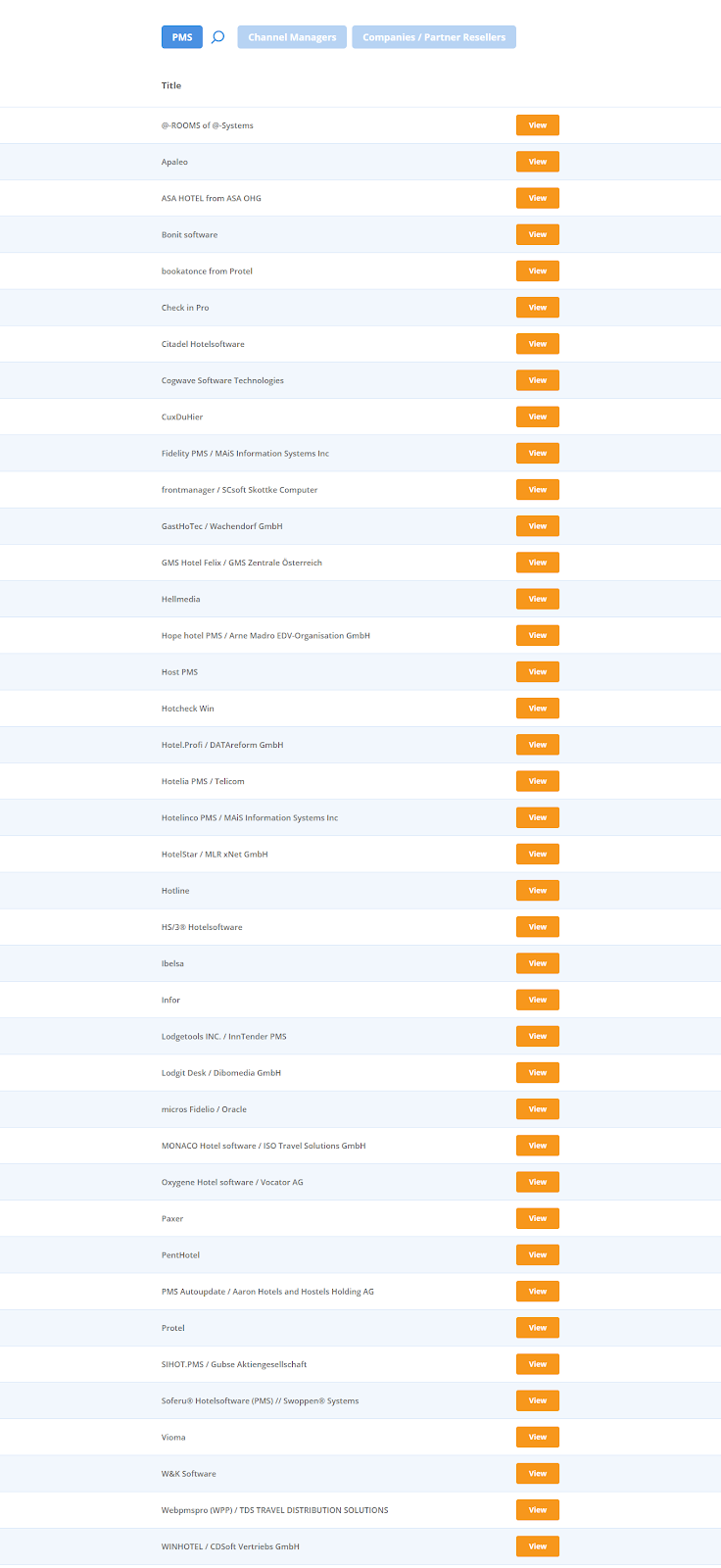 9.2 Channel Managers integration
The CultBooking reservations system can be added to 17 channel manager, here is the list: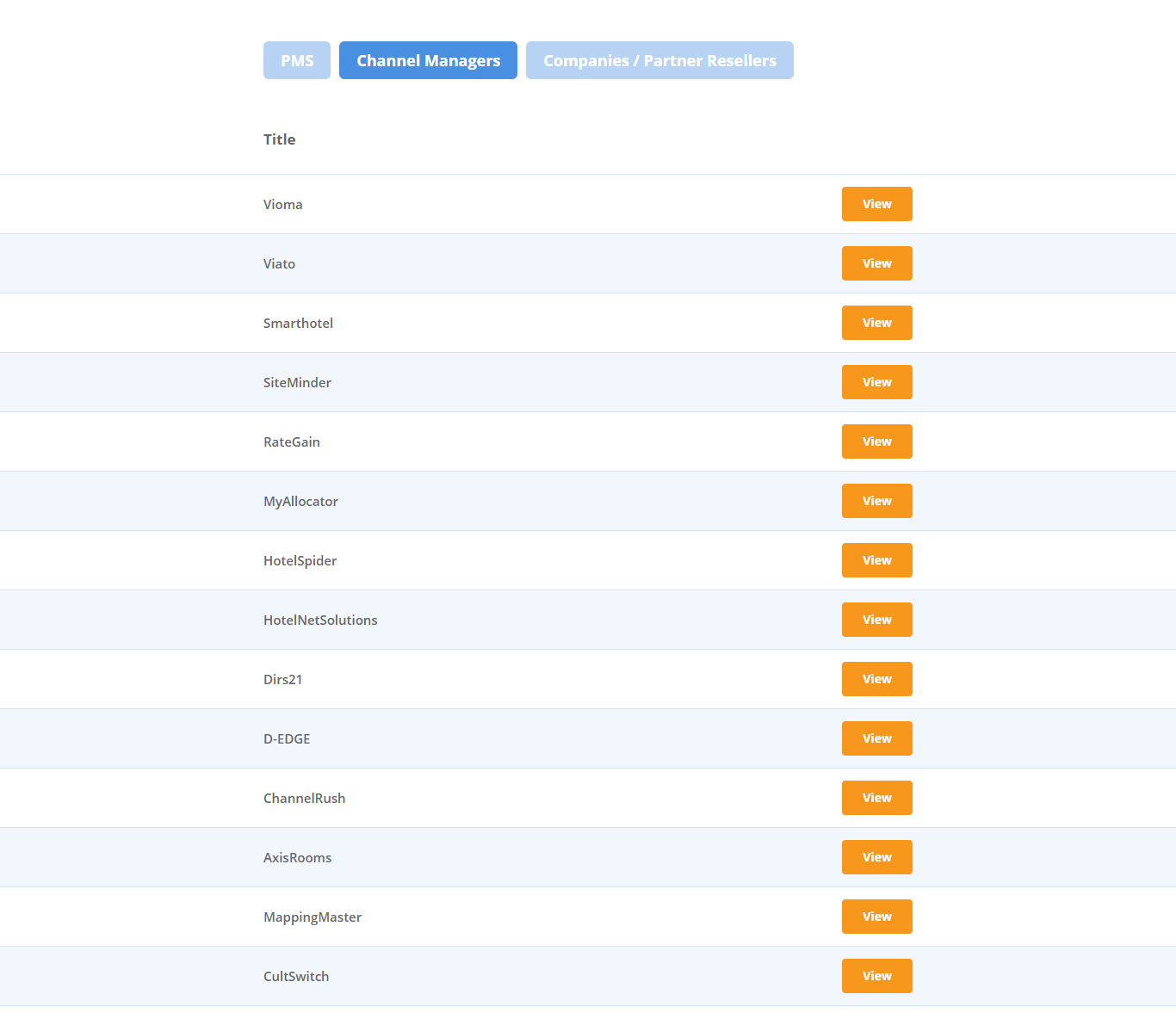 DIRS21 proposes its channel management software, so there are no references to any other channel management-tools on its website. Additionally, it seems like DIRS21 is now offering a new hotel management software called "Cockpit." Apparently, the online booking engine, soon, will only be proposed as an add-on.
10. Offer
10.1 Free demo
Both CultBooking and DIRS21 provider websites propose you to test a demo version of the software to understand how it works and see the advantages of their booking solution.
Here is an example screenshot of CultBooking hotel booking engine: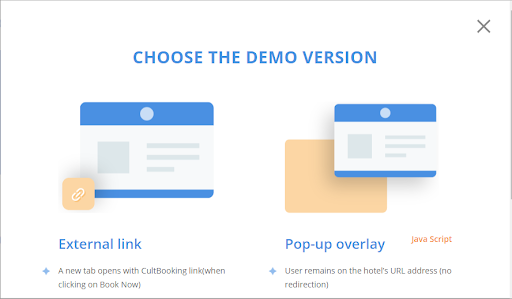 Also, DIRS21 reservations software offers a preview: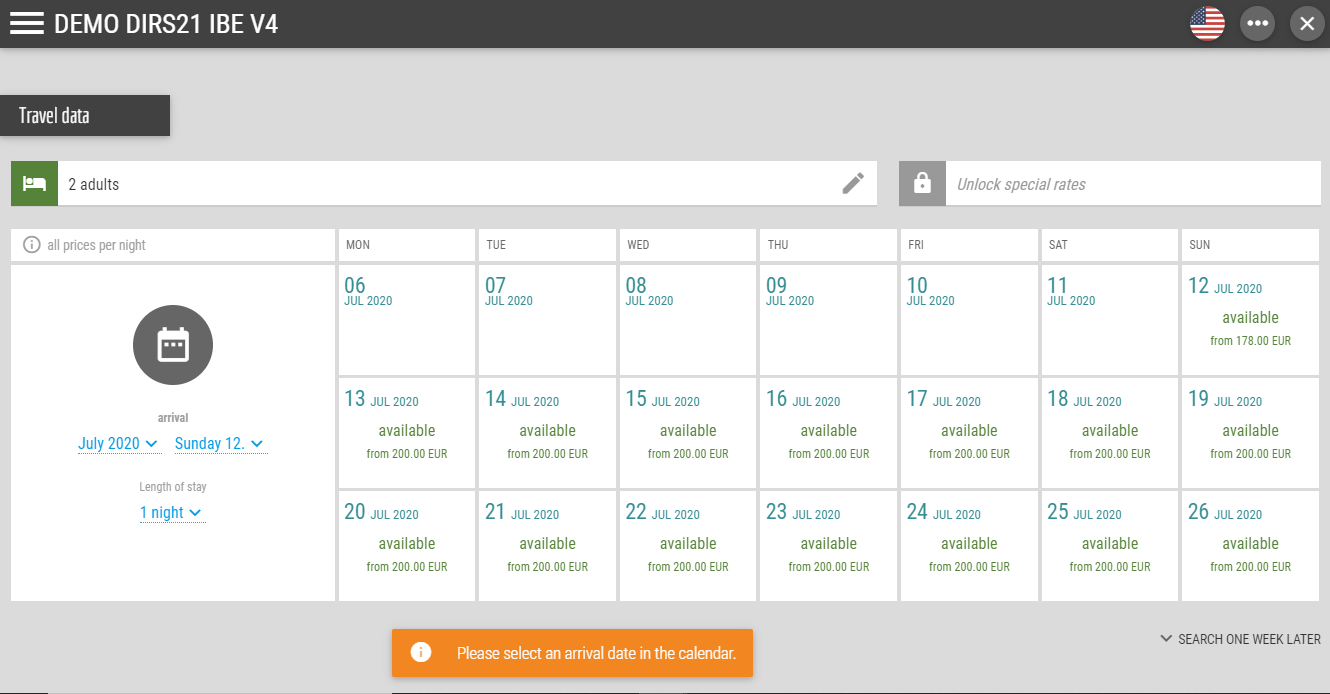 10.2 Free trial
CultBooking is offering the hotel owners its Booking Button for free for one month.

In the price brochure of DIRS21, there's no mention of any free trial period.
10.3 Pricing
The hotel booking system's intuitive monthly price from CultBooking is one of the cheapest on the market. 29€ by month without any hidden costs like an installation fee or an initial set up fee.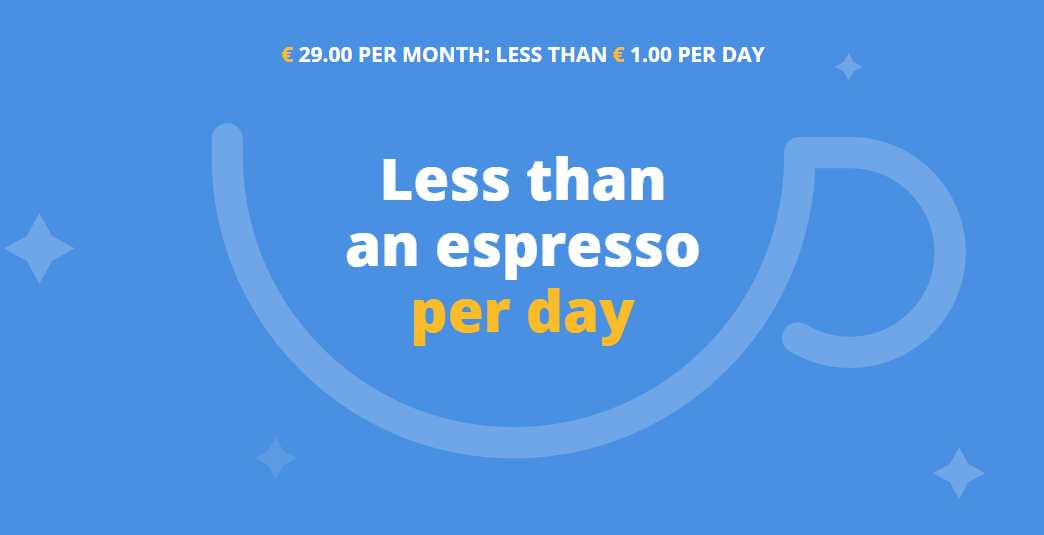 DIRS21 price is 57€ monthly, with an initial setup fee of 395€. If you want to integrate it into your existing hotel management system, it will be 295€ extra.
Why our customers chose CultBooking?
Low-priced: It only costs you 1€ a day to simplify your reservation management and increase revenue.
Easy installation: The online booking software installation on your website is fast and straightforward.
You see the advantages straight away: The booking reservations process for your resort is centralized so that your front-desk staff's work is streamlined.
Straightforward PMS and Channel Managers integration: CultBooking is the best hotel booking engine for the integration with your current PMS and channel managers.
We hope that we convinced you that this room booking system is necessary to increase your online sales. Still unsure? Try the software for one month completely free and witness the incredible raise it will bring to your room booking conversion rates.
For more details, please contact us directly: info@cultbooking.com