Here at CultBooking we are constantly looking at ways to make our service better and up to date. We believe in the importance of offering the latest and best available features so we are constantly updating and developing our products to ensure we continue this trend.
Our Booking Engine and Channel Manager services help hotel and property managers to manage and improve their online booking process. CultBooking's reservation system is highly ranked throughout the industry.
With the ever improving updates, it makes sense that we should ensure our pricing strategy follows suit. So we have updated our pricing plans and improved them to make it easier for new and also existing users to have a wider choice and more flexibility when it comes to selecting which option works best for them.
We want our users to have the optimum experience possible while using our services, so we are happy to announce this update and will explain below what's new and make a comparison between our old and new pricing systems, whilst highlighting the new benefits for our users under the new system.
CultBooking's Hotel reservation system new price plans cover our Booking Engine and also the option to add our Channel Manager too.
Our reservation system allows your guests to make online bookings seamlessly via your own website or Facebook. It's simple to integrate our system into your website and will make the booking process much easier for your clients.
There are many advantages to using CultBooking over other systems with various examples such as lower commission fees, intuitive channel management, simplified control over your occupancy, and a highly customisable range of options.
Our online booking system is not only useful for the hotelier but also can be used as a property management system for B&Bs etc. Allowing various accommodations property types to also have the opportunity to use our system.
Old prices :
 When CultBooking first released our original price plan it was the best match with our services at the time, but as our product grows, it should also develop along with our growing user base made up of a wide global distribution, including websites for online hotels and other accommodation types looking for an intuitive service and an increase in clients looking to book their online travel. 
In terms of numbers our old prices were as follows:
– €29 per month, or in other words, less than €1 per day.
– 1 month free trial.
This plan worked well as a generalised price option that was good value and offered a simple one size fits all.  For a long time this was a suitable set up but as our user base grew we felt it was necessary to also expand our range of options in order to provide more flexibility, choice and value depending on the needs of our different users, who want to have the advantages of using CultBooking's reservation system such as providing an automatic and clean payment gateway to give just one example.
Our old prices also included a 1 month free trial; we felt this was a great way to demo our services and gave enough time to get to know the system and make a fair decision whether it worked for our prospective users. 
So we have decided to keep this 1 month free offer in our new pricing plan, again to help users get to know and understand CultBooking's services.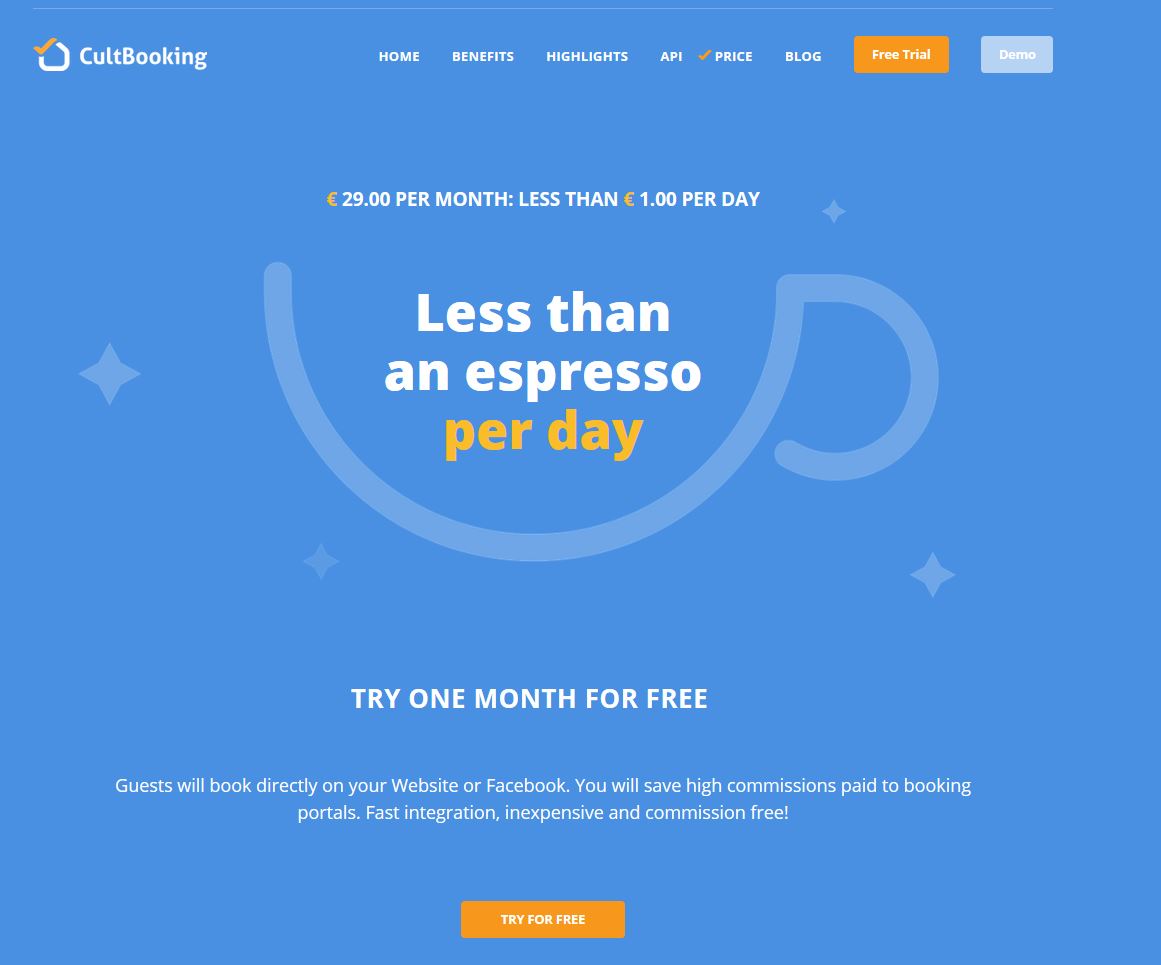 New prices :
Maintaining the pace and improving our services for our users is a top priority here at CultBooking. So it made sense that offering a wider range of pricing options was the right move.
We are pleased to announce this new plan and are excited to explain the updated changes below.
  1. Starter : This starter option gives the user a no cost way to get started with CultBooking. With this you can freely enter and use the CultBooking Engine system. The only fee associated with this choice is a 5% commission which is only activated when a booking occurs. 
This is a very low cost option as 5% commission is highly competitive in comparison to similar providers on average, for example; Booking .com in which the commission price is 15%. 
This option includes : Unlimited room categories, a customisable front end, smart calendar, multiple languages, multiple types of accommodation booking and supports various currencies.
   2. Pro : The Pro plan is somewhat similar to the Starter plan but there is no commission charges and instead maintains our original price plan at €29 per month (less than €1 per day).
 This is a great choice for users who loved our old price plan or have a large volume of bookings and so will benefit from not having any commission charges to pay or don't need the channel manager that comes with the Expert plan.
   3. Expert : The Expert plan is the top offering in our new pricing plan.
 This includes all the features of the CultBooking Engine like the above plans, but the Expert plan also includes the Channel Manager which includes: Unlimited OTA channels, increased online visibility, booking engine and PMS integration and a feature for eliminating over-bookings.
This is the perfect option for those who want the most advantages and features available plus a high level of control over their online booking and reservation system.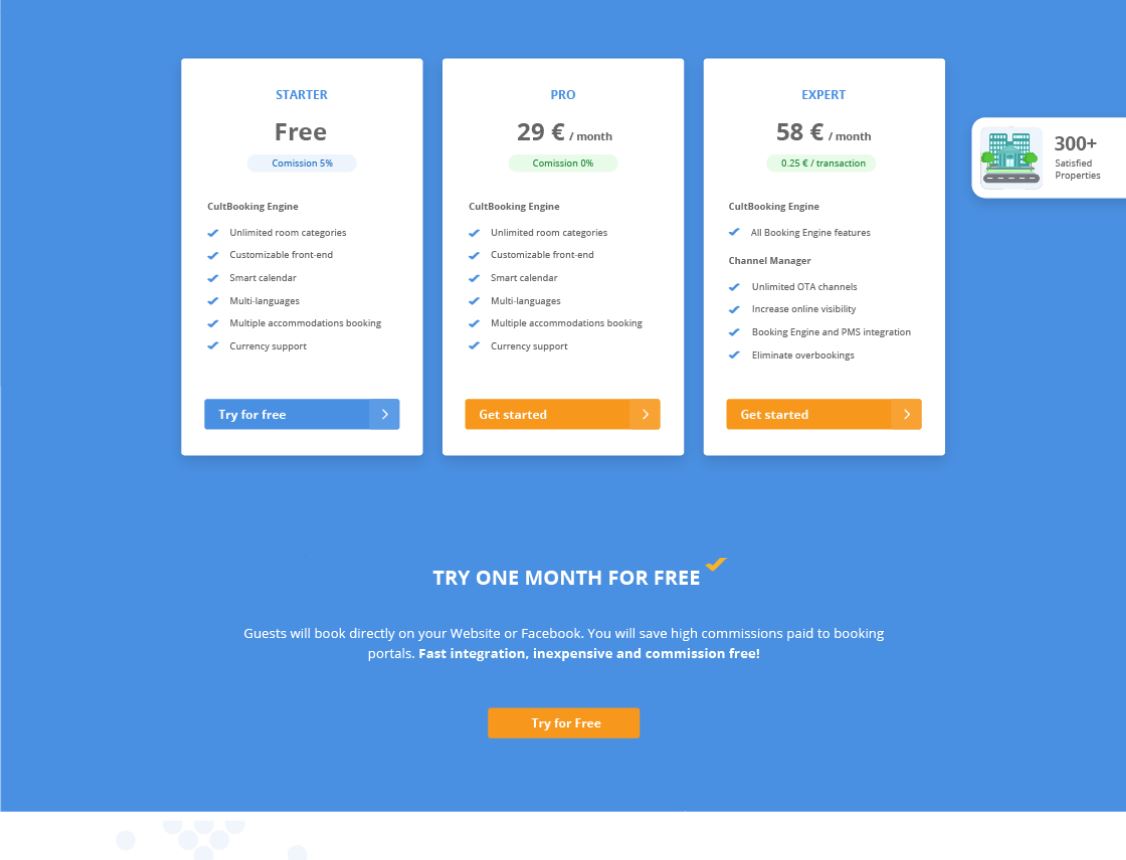 In Summary :
CultBooking's Booking Engine and Channel Manager services have been growing and developing along with our user base. As our services are updated and improved its been a joy making the announcement of releasing this new update of our pricing system. We are glad to provide a new range to our clients who now have more choice than ever before.
We are confident these updated plans including the 1 month free trial, Starter, Pro and Expert will improve your CultBooking experience, and for new users make it easier for them to seamlessly join us and make use of our online booking system.
---
Do you want to simplify the user experience with CultBooking – booking software? Your hotel management software will be fully integrated with the cloud-based reservation software from CultBooking. Along with the channel manager, you will have a fully operative distribution system that is automated and makes your online hotel visible for global distribution on thousands of booking websites.
If your hotel management system (PMS) is not yet integrated with the central reservation system and booking engine from CultBooking, you may contact us and we will arrange for a connection.  Moreover, the latest integration has been done with revenue management software, called RoomPriceGenie. 
In the hospitality industry it's essential to have connections with as many partners and companies as possible, allowing for an easy and fast connection in order to automate the global distribution systems. From one central back-office, you will be able to control your rooms prices and inventory. That is why CultBooking is a trusted provider and an essential player in hospitality.