10 Oct 2019
Since July – August 2019, developer is working to implement the smart calendar and fully optimize it. The new smart calendar is solving 3 main problems that are a conversion killer:
1. Showing fully booked days (non-available dates)
With the old calendar, user was able to click on any date and search many times for an available date, returning error message: 'There are no available rooms'

This was definetely a conversion killer, as user had tried 2-3 times and got this same response, then he abandoned the session. User experience videos, have displayed this usability failure, even tought there was already an intuition about this behaviour.
Please see this related article: New Smart Calendar
With the new calendar this issue is solved. User knows when opening the calendar which dates are available to book and which not: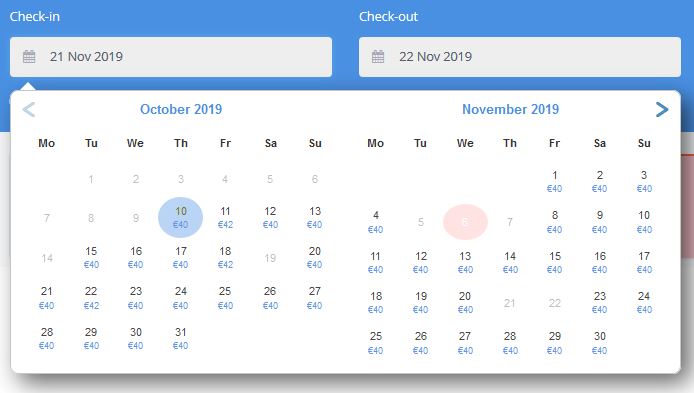 If user wants to book a room for dates that are already booked out, then he is advised to elect other period. Also user is not allowed to click on search and perform this action. He has to chose another Check-in date to continue his search.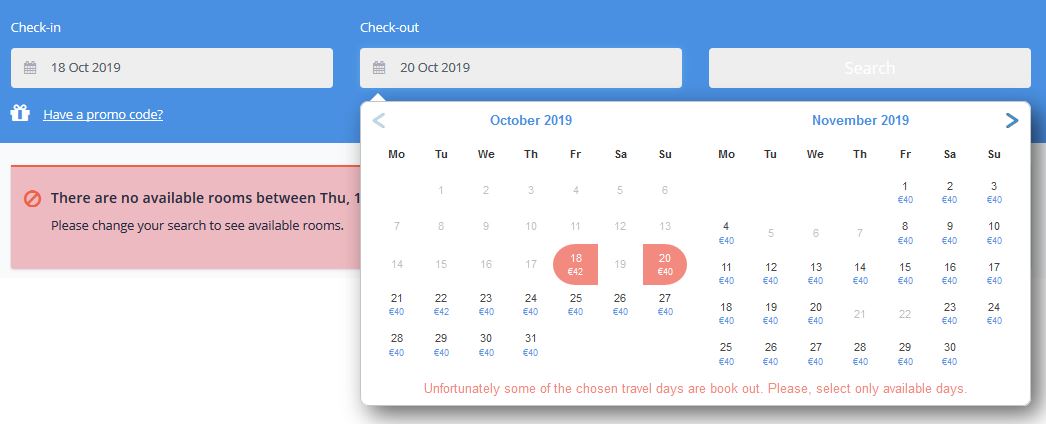 Here is how available dates are shown in the calendar:
2. Showing lowest price room offer

The smart calendar has been designed also having in mind the Price Shoppers or Leisure Travelers.  These guests have no specific date in mind when wanting to travel and have full flexibility. This calendar was already in version 3 of CultBooking, where guest can see an overview of the monthly calendar and see if a certain day is cheaper, when compared to other days. So now the smart calendar combines the calendar for Business Travelers that have specific dates to travel and have no flexibility with the Leisure guests. Here is end result: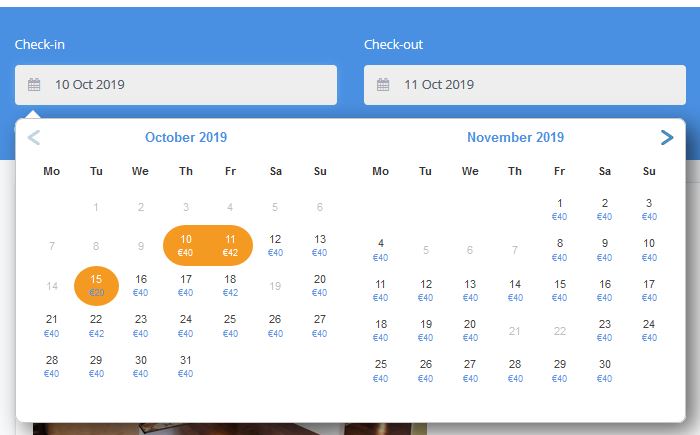 Check-in date on 15 Oct 2019 is 50% cheaper than on 16 Oct 2019. On 18 Oct 2019, there is a price increase of 2.00 EUR.
3. Indicating minimum stay
This feature is under development and shall be released in one week time. This point is also crucial as user was allowed in the old calendar to perform search for 1 night, when there was a restriction for 2 nights as minimum stay. Therefore again the user received the error message, thinking there are no rooms available or that the technology does not work and he went booking on OTA portals.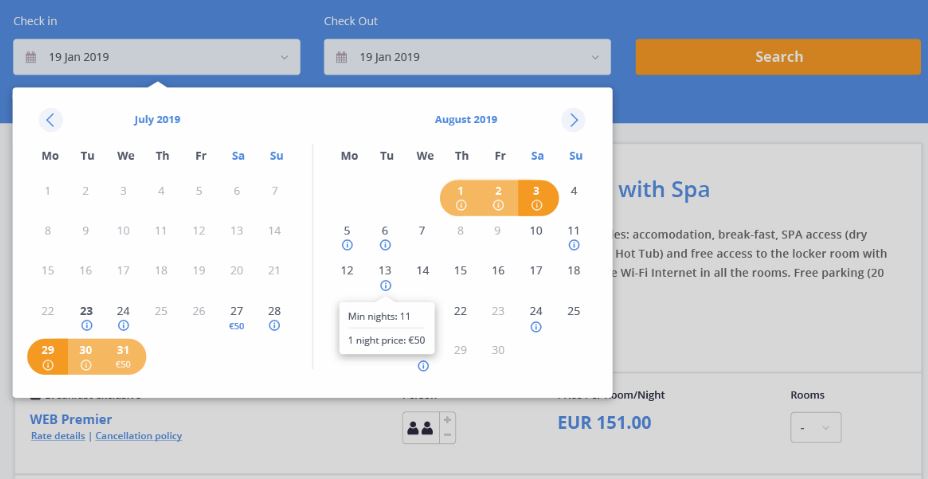 The new smart calendar has an 'i' sign where there is a restriction for a certain day. When user does mouse over on the 'i' sign, it shows him the minimum stay restriction and the price per night. When he clicks on check-in on 29 Jul 2019 and there is a minimum restriction of 2 nights, the check-out will jump automatically to check-out 31 Jul 2019. Calendar does not close and user can enhance his stay and search for 3 or more nights.
Conclusion
So the smart calendar solved 3 major problems for users and hotel owners. Making the search smart from the begining, eliminating unnecesarry clicks and availability searches.
Please feel free to test it and let us know your experience. I will be happy to hear your feedback and learnings.
Support & Help
For questions and help, you can reach us via the contact form or directly by email: info@cultbooking.com