10 July 2019
CultBooking team checked the performance reports of hotels using the direct booking technology. There were 51 hotels with bookings via the booking engine of CultBooking NEO.
The top 3 hotels in terms of revenue, have been elected and studied internally to see: a) looking for the Book Now, button, where the call to actions are located b) how the booking engine is integreated, with iFrame, pop-up or external link c) Google visibility d) revenue increased in percentage. These are some basic indicators of their success.
Of course more if related to their sucess, like the price on the website, the availability/number of rooms for sale. If the property hotel is doing SEO optimizations on regular basis, SEM campaigns of AdWords, visibility on as many booking websites creating a billboard effect and driving trafic to their website, good reviews and reputation, etc.
Turmhotel Zum Erasmus / Hotel Kelheim
Hotel website: https://hotel-kelheim.com/
a) Book Now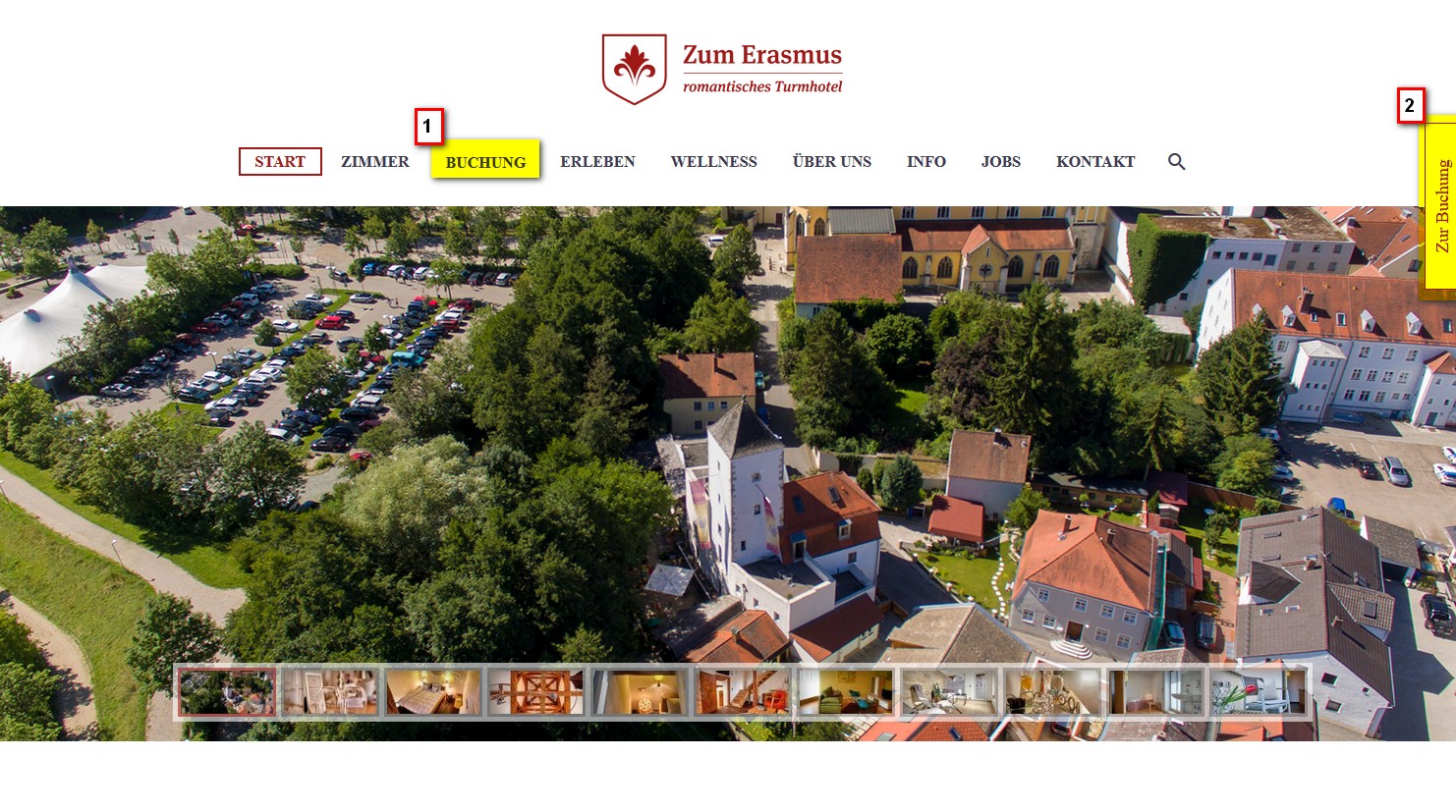 On Home, the first page there are 2 calls to action: 1) 'Buchung' and on the right side vertically 2) 'Zur Buchung', that opens the following window: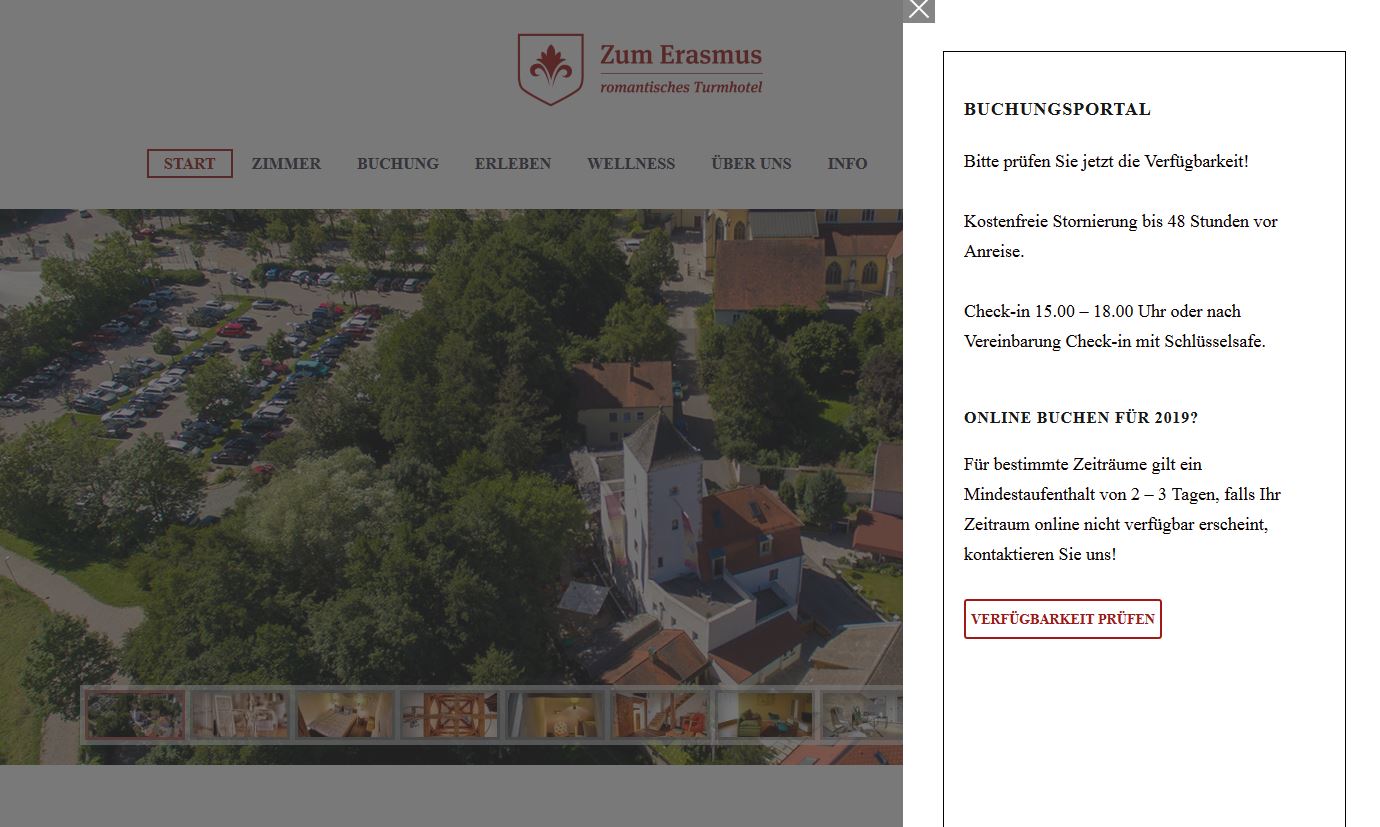 Scrolling down a bit, there are all the rooms described and again with 'Buchen' button.
b) Integration
All the book now buttons lead to an external link that has the search function, where user has to elect dates before showing the list of rooms available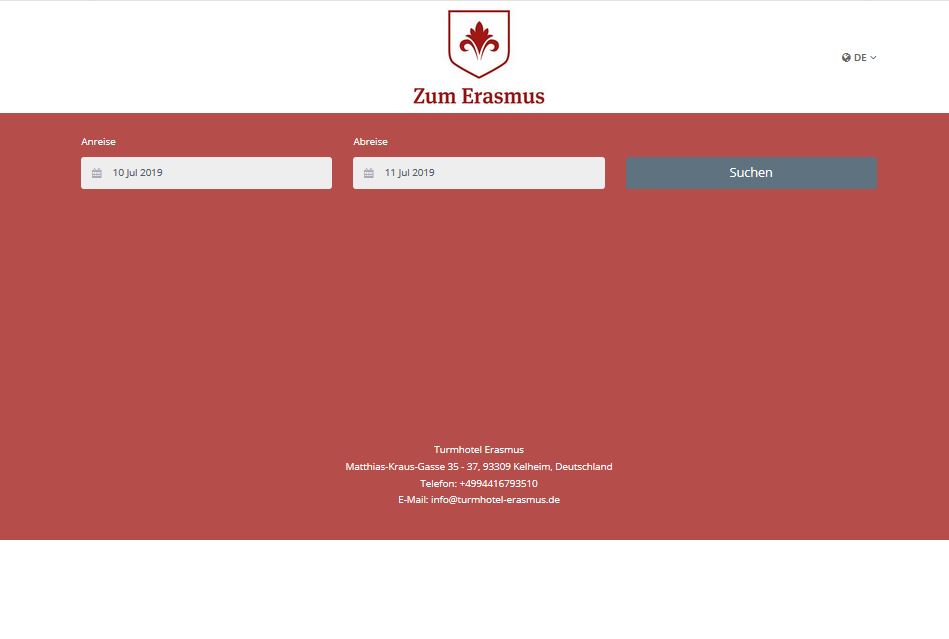 c) Google visibility
By first page on google when typing the hotel name, here is the result coming. Nice to see there is a business page with 56 Google reviews. Also the property is on several booking channels avaiable.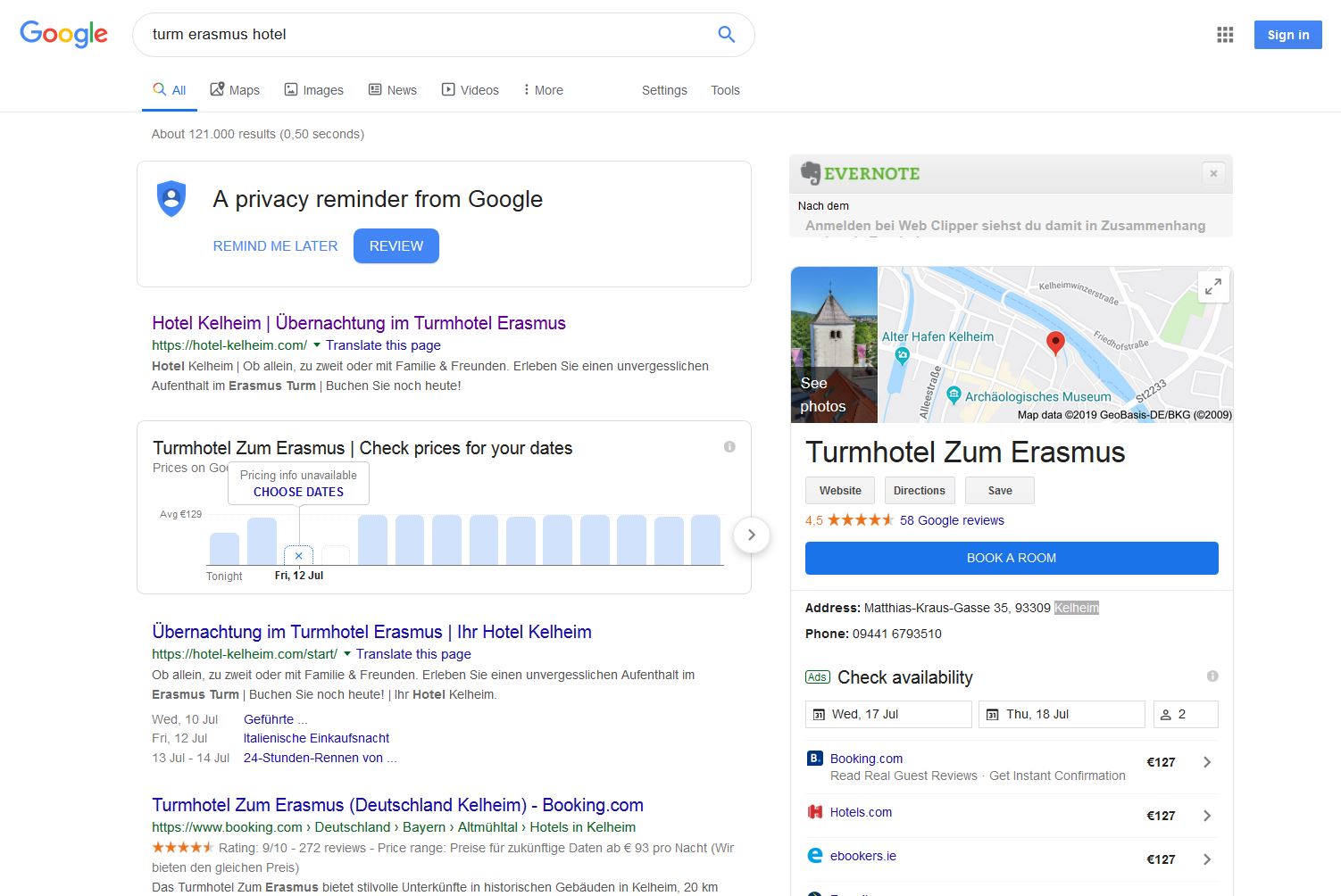 Google travel is replacing Google hotel finder. Here is can be seen that the hotel is first on the list, even when having higher price than the rest of properties. Also, I did not apply any filter. I just did a search based on the location of the property and selected 01 Sep 2019, as checkin date. Position 1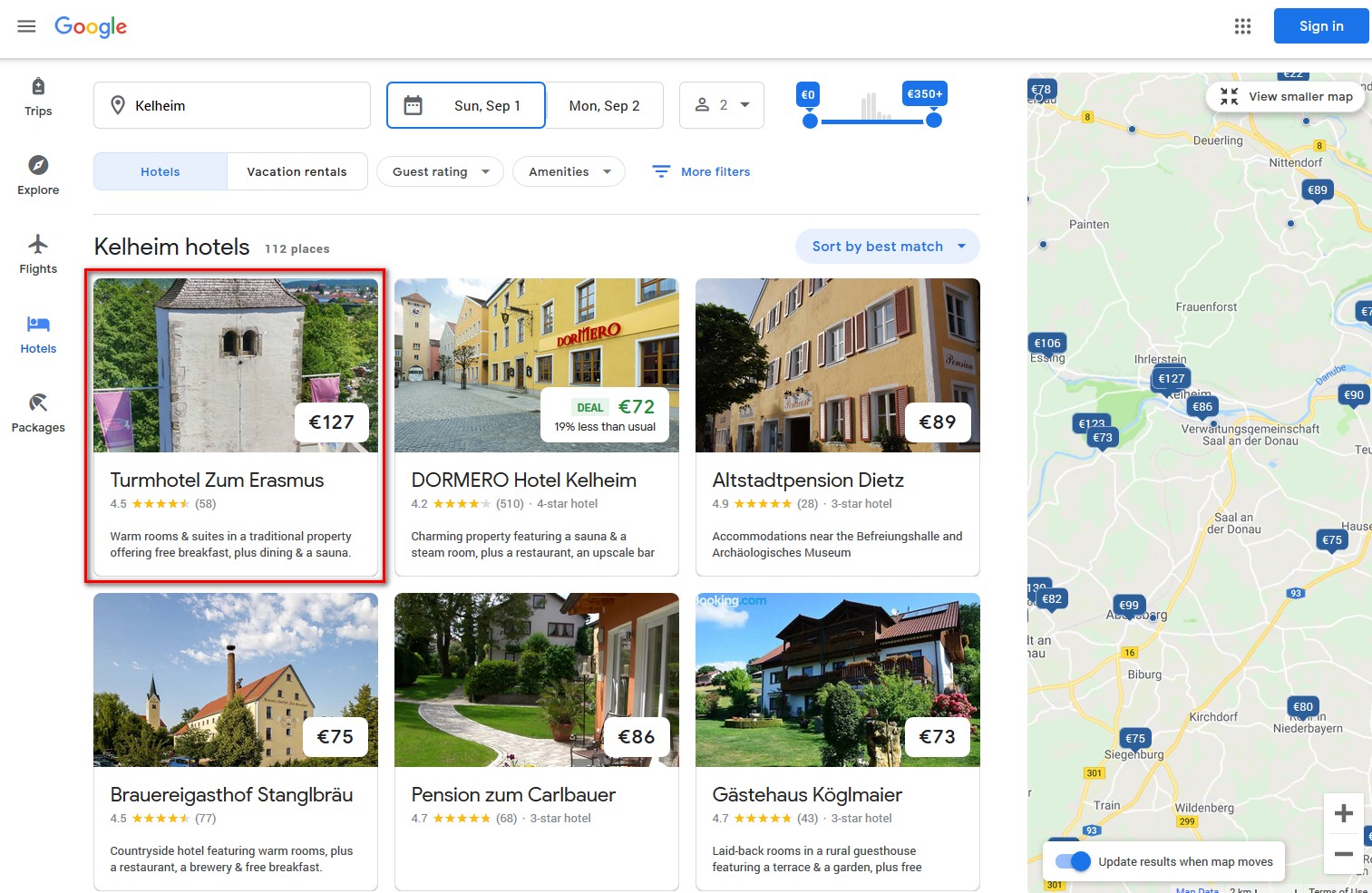 d) Revenue increase
Unfortunatelly, we have no data to compare with same period of last year.
Hotel Hof Tütsberg
Hotel website: https://www.tuetsberg.de/
a) Book Now & b) Integration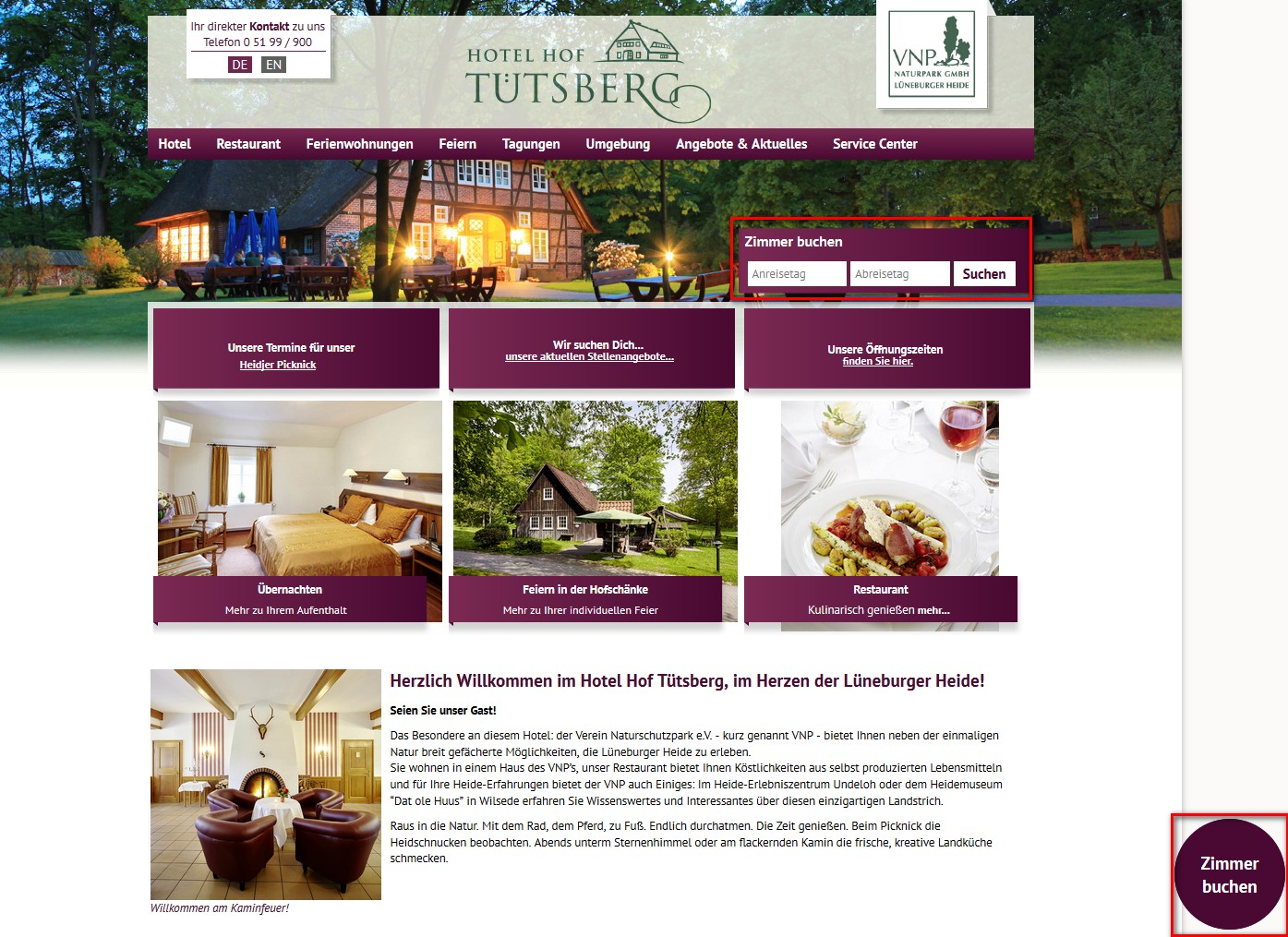 There are 2 calls to action: 1) on the top right side, where the user has to elect the check-in, check-out dates and then an iFrame opens: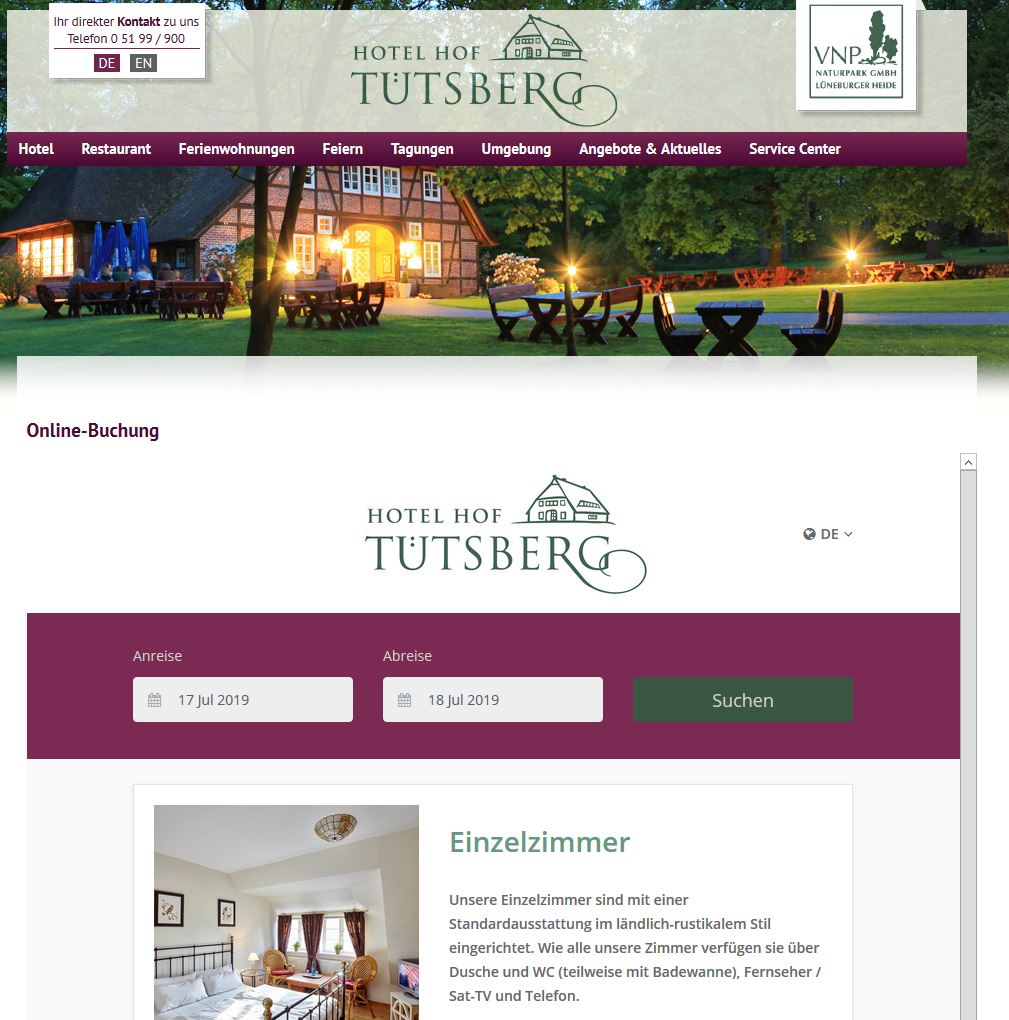 What I do not like is that the iframe is  bit too down below and the user needs to scroll down to see the rooms. Also is a bit disturbing the scroll down line, on the right side (is old fashioned)
Integration 2) is made via 'Zimmer buchen', button that is situated on the left corner of the inferior side of the website. I like this button being there present and big enough, but not disturbing. When clicking the button
c) Google visibility
4,6 note out of 218 reviews. Also a very good reputation.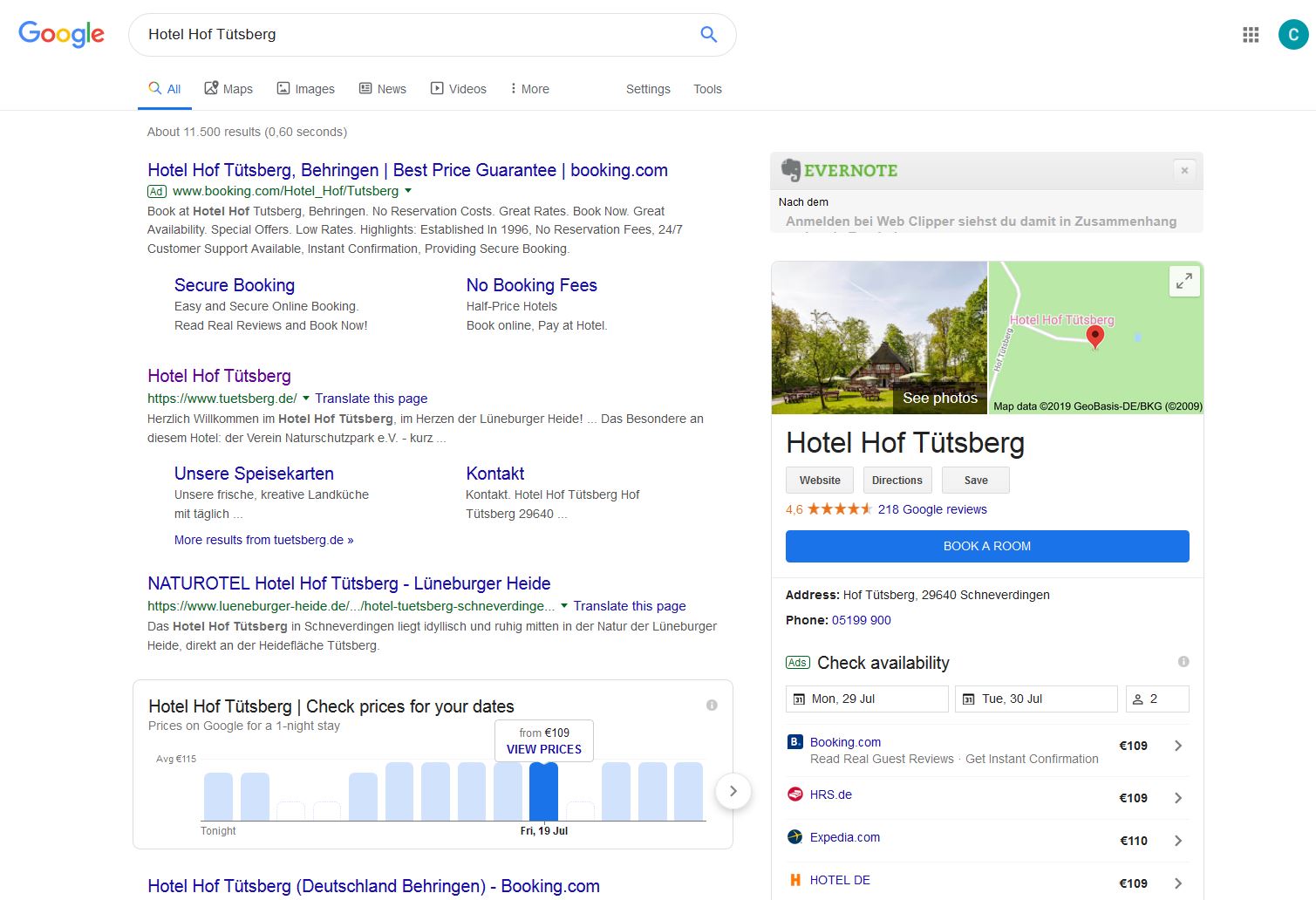 On Google travel, the hotel is still on first page, on the top 3 players and is moved from left corner to the right corner. Position 3.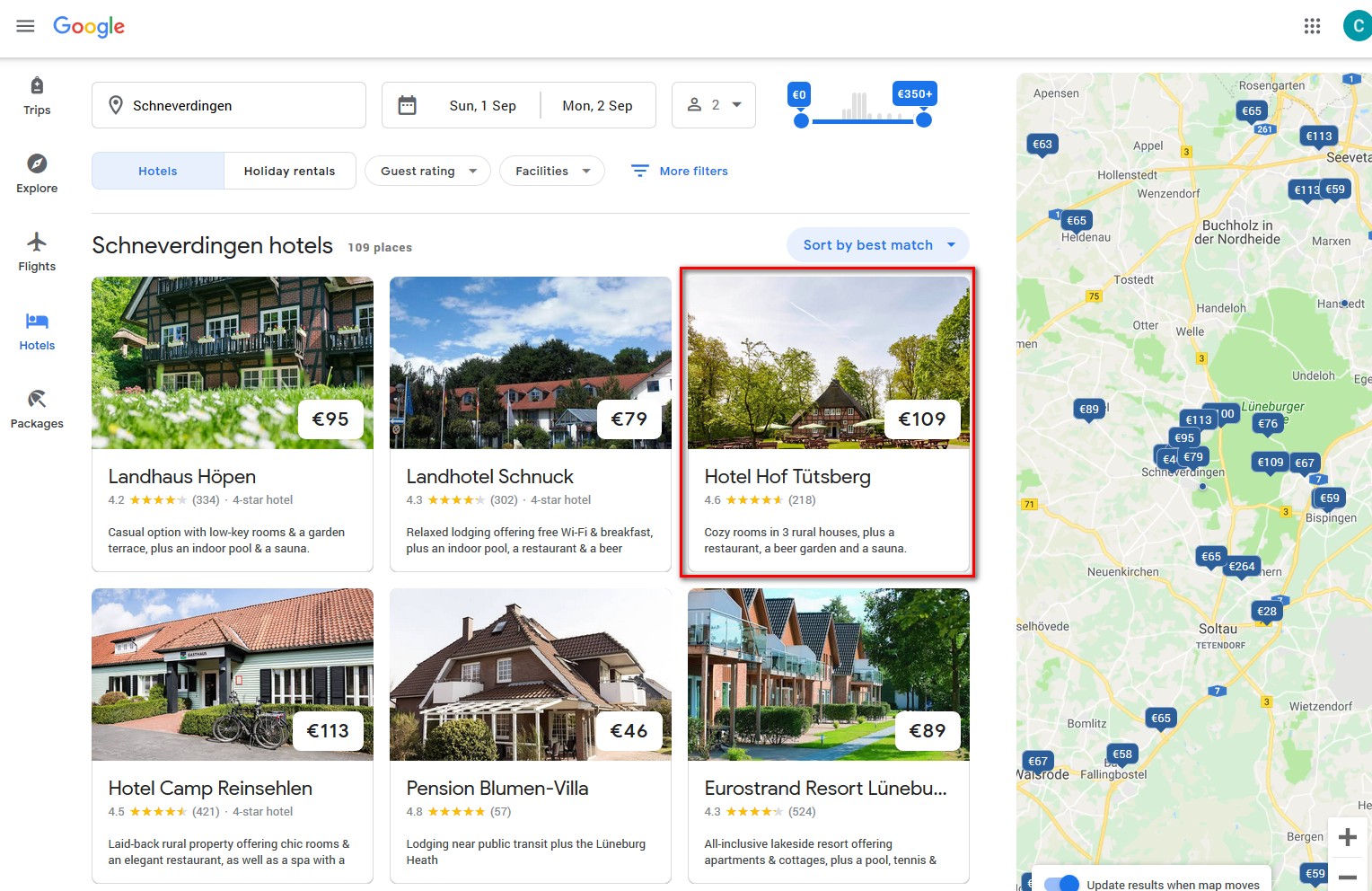 d) Revenue increase
When comparing Jun 2019 with Jun 2018, there has been an incredible increase of 247%. Is nice to see how the revenue is going up in such a drastic way, by using high-end technology that is being improved on weekly, even daily basis.
Bergmann Boardinghouse Osnabrück
Hotel website: https://bergmann-boardinghouse.de/en/home-2/
a) Book Now
There are again 2 buttons indicating Book Now option. One button on the top menu and one button on the inferior side, centered. Because the buttons are white and the backgrounds also have a lot of light is a bit hard to see clearly the action buttons. This would be a small suggestion and improvement for the designer and hotel owner.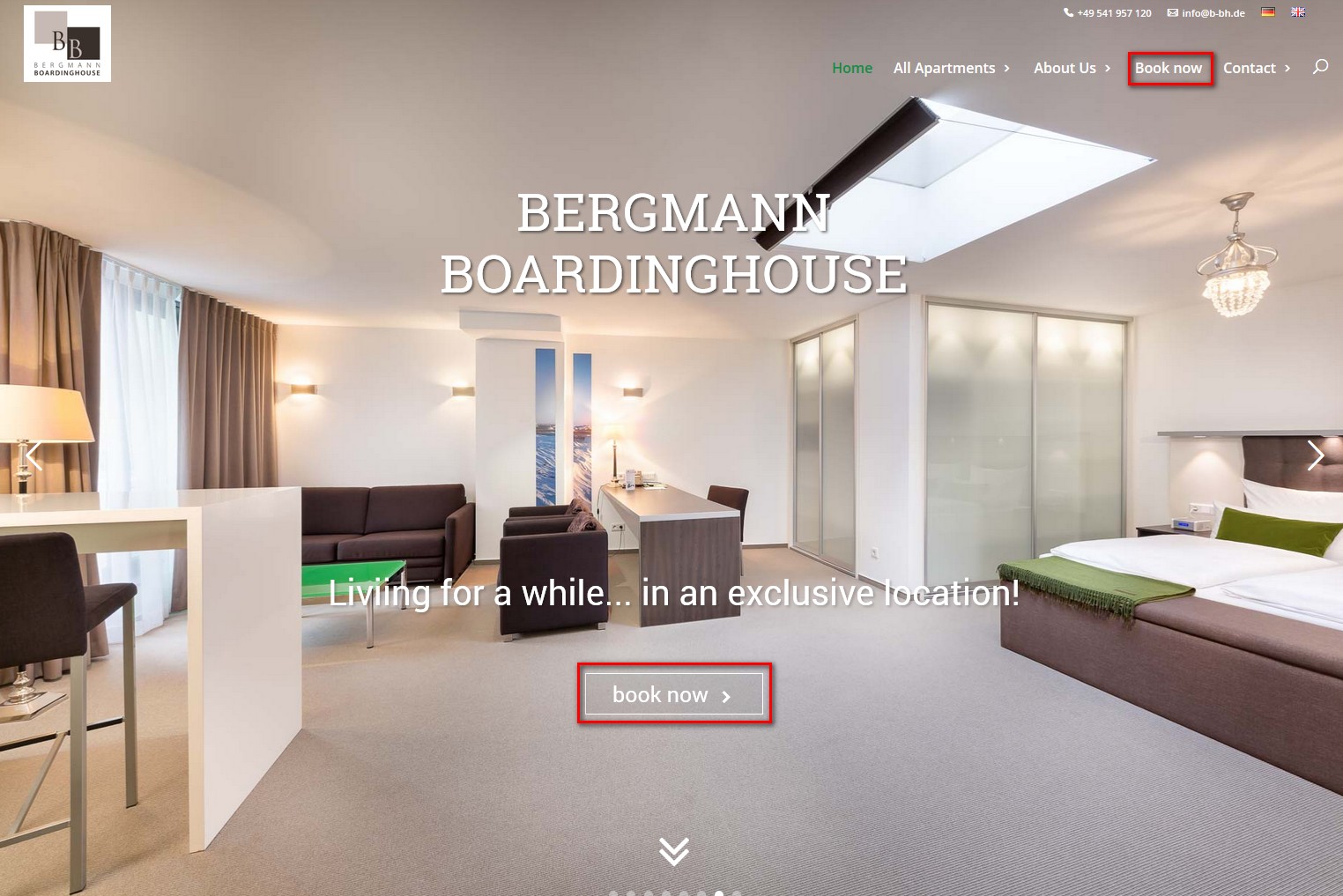 b) Integration
After clicking Book Now, an external link opens, making a direct query to shot the available rooms for today. Looks like this: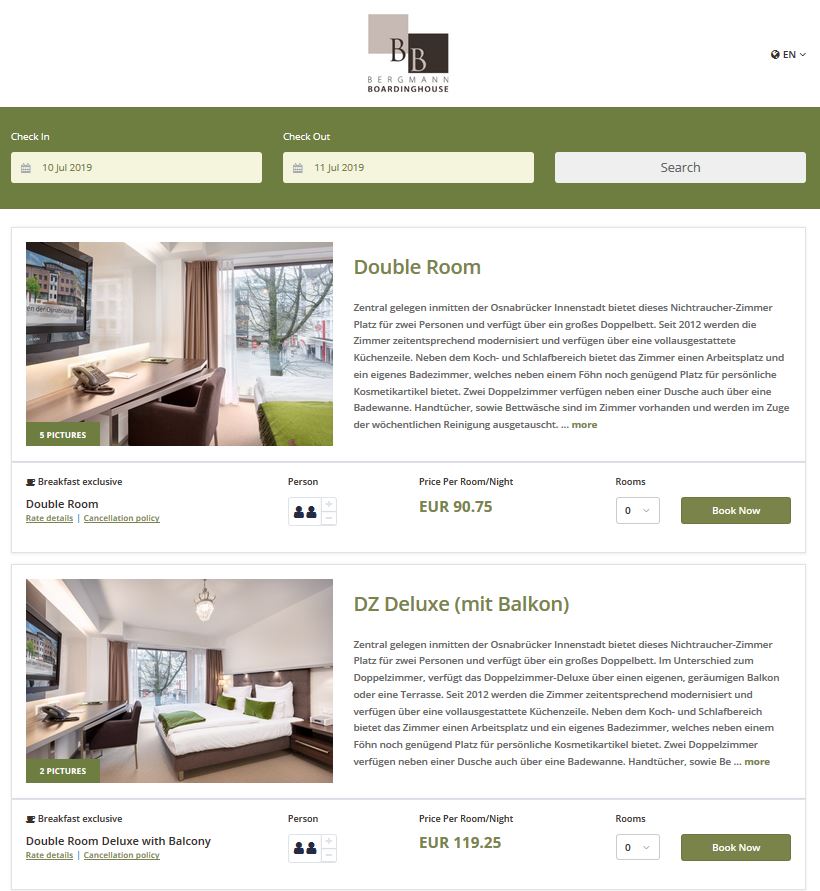 c) Google visibility
4,4 note out of 152 reviews.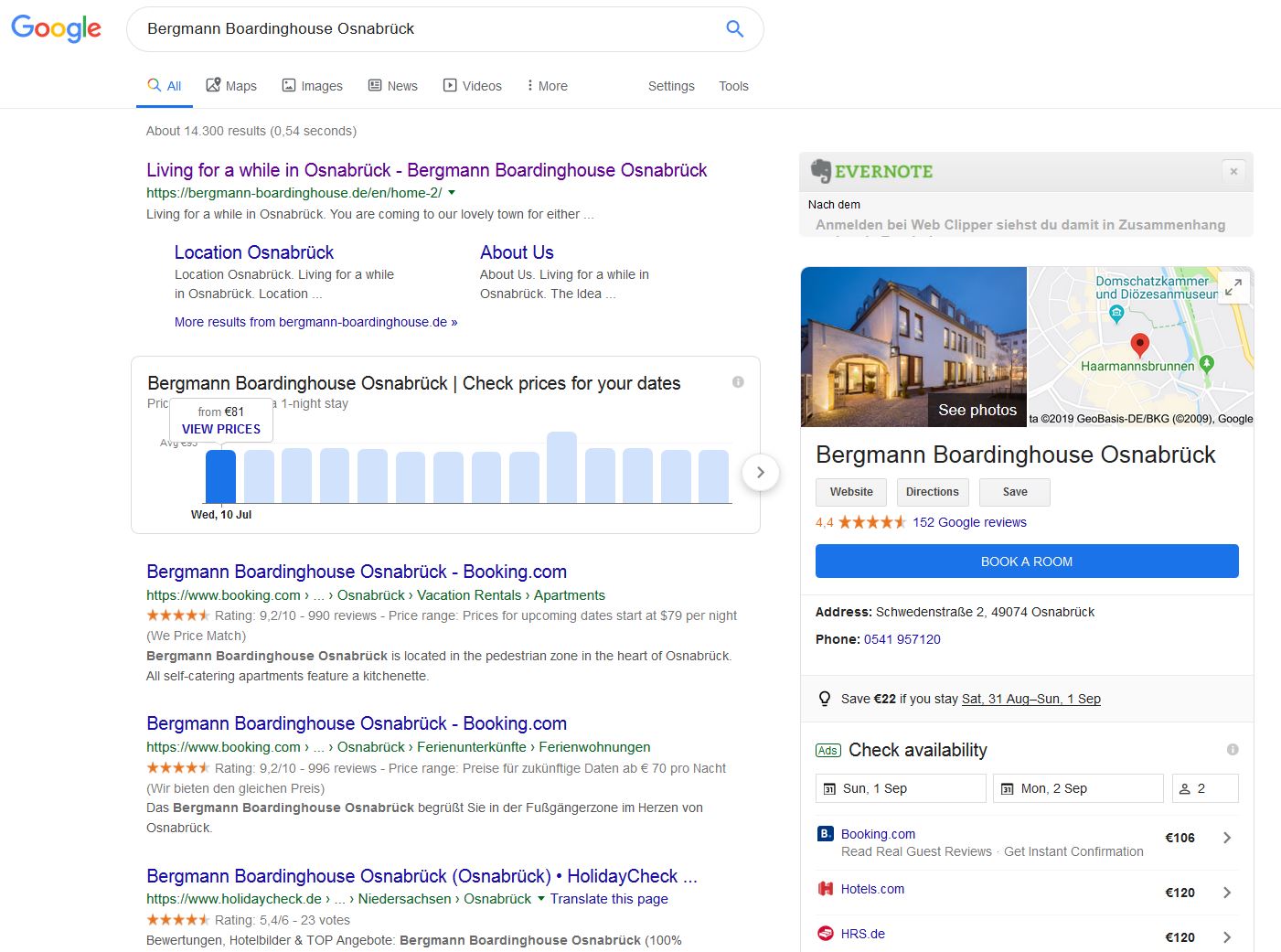 The hotel is on the first page of google travel, but moved down to the second line. Position 4 to say like this.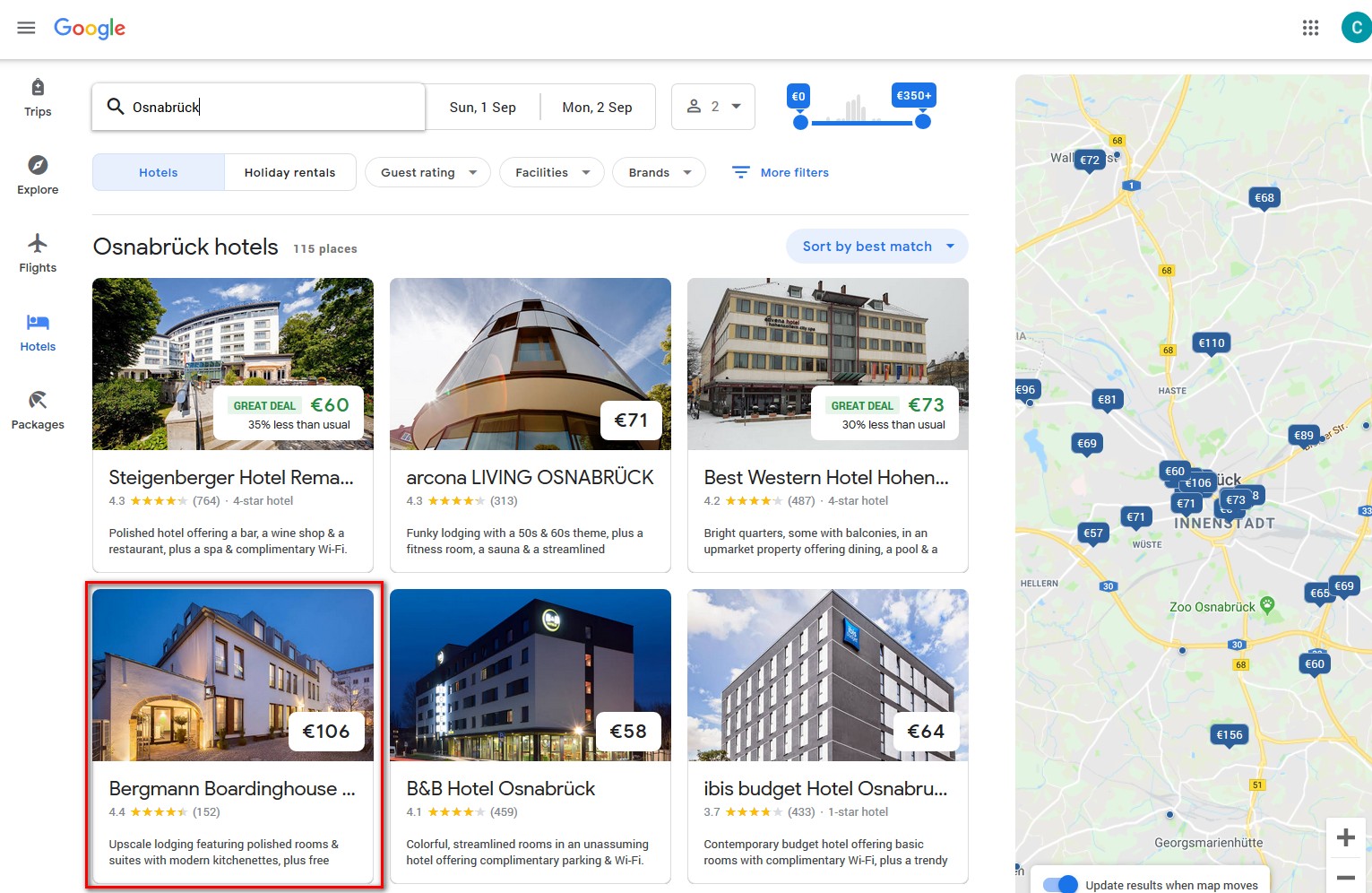 d) Revenue increase
243% revenue increased, when comparing with the same period of last year. The hotelier must be happy having commission free, direct bookings.
Conclusion
Was interesting to see how the top 3 players have integrated the technology from CultBooking. The second hotel uses iFrame integration, that can be improved and needs some padding. The other 2 hotels are using external link that is continuosly being optimized and has all the padding and functions needed. So nothing is blocking conversions. Our recommendation is to integrate as external link, is easier and also guarantees a higher number of converions, as for iFrame more variables have to be checked by hotel website webmaster and developer.
Google positioning playes a major role and also the reputation built, score note, reviews and much more. Happy to see that hotels are increasing their revenue with the booking engine NEO launched by CultBooking.
Support & Help
For questions and help, you can reach us via the contact form or directly by email: info@cultbooking.com