Which booking engine is the best?
This question comes often in the mind of every hotelier and property owner: What is the best booking engine for my hotel? HotelTechReport's 2021 HotelTechAwards ranked the top booking engines based on real user reviews and software specifications. According to their rankings, Cloudbeds was voted as the best hotel booking engine, followed by CultBooking.com, Bookassist, SiteMinder, NetAffinity, and Avvio. If you're looking for a reliable hotel booking engine, these are some of the best options available on the market today.
This article will guide you to find the: "best booking engine for hotels" and property owners, to Boost Direct Bookings and Streamline Reservations with the Best Hotel Booking Engines – Find Top Solutions and Expert Insights to Optimize Your Booking Process and Drive More Traffic to Your Website Today!
What is Booking Engine
A booking engine serves as the shopping cart for your website, and its primary objective is to drive direct bookings while reducing the costs of third-party services. In today's competitive hospitality industry, a seamless booking process with cutting-edge technology is paramount to your hotel's triumph and to distinguish yourself from the competition.
Are you in search of a high-performing booking engine to boost conversion rates and secure more direct bookings for your hotel or property? Whether you run a cozy bed & breakfast or a hotel resort, selecting the right booking engine is vital for your ecommerce strategy. Your booking engine must ensure a seamless, quick-loading, and mobile-optimized booking experience, preventing potential guests from navigating away to book elsewhere.
Choosing the ideal booking engine solution requires evaluating various factors, such as user experience, pricing, functionality, and support. In a market where software booking solutions are becoming more and more similar, the main diferenting factor may be the support, how approachable is your account manager and how long it takes to get replies to your calls and emails when needing assistance.
To optimize conversion, seek out a booking engine with a variety of top-notch features and integrations. Let's delve into the top 10 booking engines. With this guide, you will be well-equipped to make an informed decision and pick the best tool to skyrocket your hotel's revenue and choose the best tool available in th market.
What are the 10 best hotel booking engines?
To maximize the benefits of integrating a hotel booking engine into your website, it's crucial that the booking technology to be optimized for mobile devices and to be conversions devoted. Implementing the booking engine into your website or even Google Hotels, shall be a simple, easy process. Keep reading to discover the top options:
CultBooking.com is a hotel booking engine that provides hotel owners with a range of features to help increase direct bookings and revenue. CultBooking Booking Engine provides guests with a seamless and hassle-free booking experience. This Booking Engine can be integrated as a widget, pop-up overlay, as a script or used as a standalone website. Here are some reasons why it is a good choice:
Customization: CultBooking.com offers full customizable booking engines to be tailored to a hotel's branding and website design. It will match your hotel's unique brand identity. By incorporating your hotel's colors, logo, rooms and rates, pictures and texts, guests can experience a seamless and secure booking process that reflects your brand's identity.
Mobile optimized: The booking engine is designed to be mobile and tablet friendly, ensuring that guests can easily make reservations from their mobile devices. This enables guests to quickly and easily make reservations, reducing the likelihood of website abandonment. The fast and intuitive booking process ensures a seamless experience for guests, leading to higher conversion rates.
Channel management: The platform allows hotel owners to manage their distribution channels and update their room availability across all online channels in real-time via own integrated channel manager system. Or choose from a wide range of famous channel managers that are our partners, for example: Siteminder or CloudBeds.
Secure payments: CultBooking.com offers a secure payment gateway that ensures that all transactions are safe and secure. Payment may be processed automatically and funds to be transfered to your bank account directly or you can secure the credit cards and charge them via your POS of choice.
Multilingual support: The booking engine is available in multiple languages, making it easier for hotels to cater to guests from different countries.
Packages and promotional offers: this is a highly demanded feature, where hotels want to offer a minimum stay of 2 nights for example and include also a tour or some extra services. Moreover, the CultBooking Engine is ready to add also extra services as: parking, bottle of wine, bike rental, dog stay, etc.
Overall, CultBooking.com offers a comprehensive solution for hotel owners looking to increase direct bookings and revenue. Its customizable features, mobile optimization, channel management, secure payments, and multilingual support make it a viable option for hotels of all sizes. The above features makes CultBooking an ideal candidate for: best booking engine for hotels.
A very important aspect for many hoteliers is that they do not need to book a meeting for a DEMO with a Sales Manager. You may directly open a free account and in few minutess you are ready to receive direct bookings. Here is a video guide on how the full set-up  process works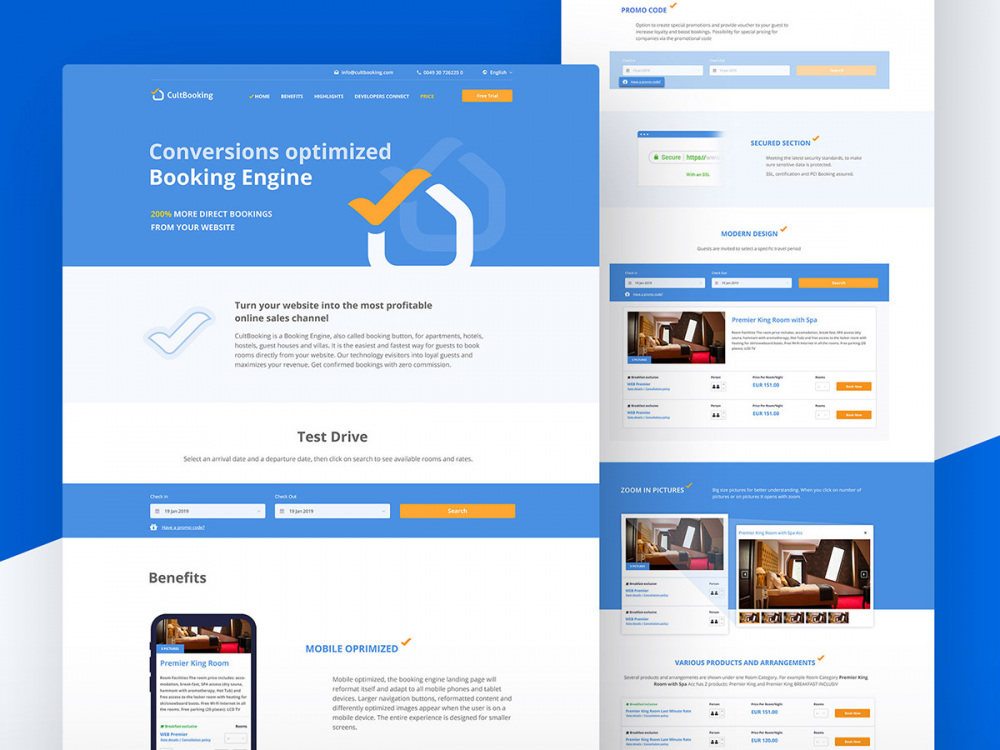 Real client example CultBooking:

SiteMinder
SiteMinder's Booking Engine is designed to enhance every aspect of the booking process, providing hoteliers with insights into rate parity and easy access to hotel apps that can drive conversions. The secure payment system ensures a safe and secure reservation process for guests. In addition, this tool eliminates the need for hoteliers to invest time and money in creating their own systems, as it offers seamless integration capabilities.
Real client example Siteminder: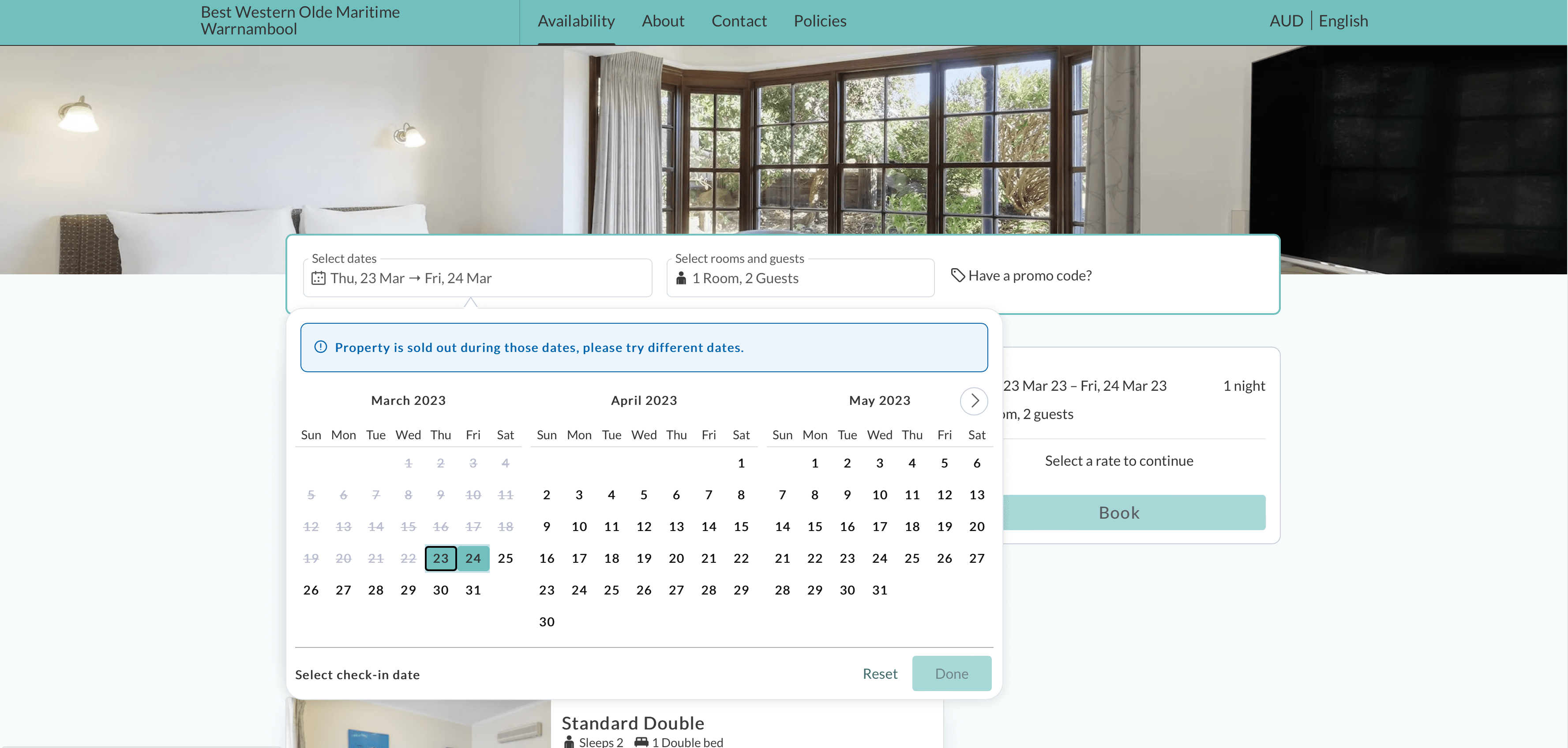 Bookassist
Bookassist's booking engine is a powerful and customizable tool that helps hotels increase their direct bookings and revenue. Optimized for mobile devices, the engine provides a seamless and secure booking experience for guests, resulting in higher conversion rates. With integrated payment gateways and real-time inventory management, the engine streamlines the booking process, increasing revenue for hotels. The engine also offers personalized offers and incentives to help build customer loyalty, making it easier for hotels to take control of their online distribution and develop a strong direct booking strategy.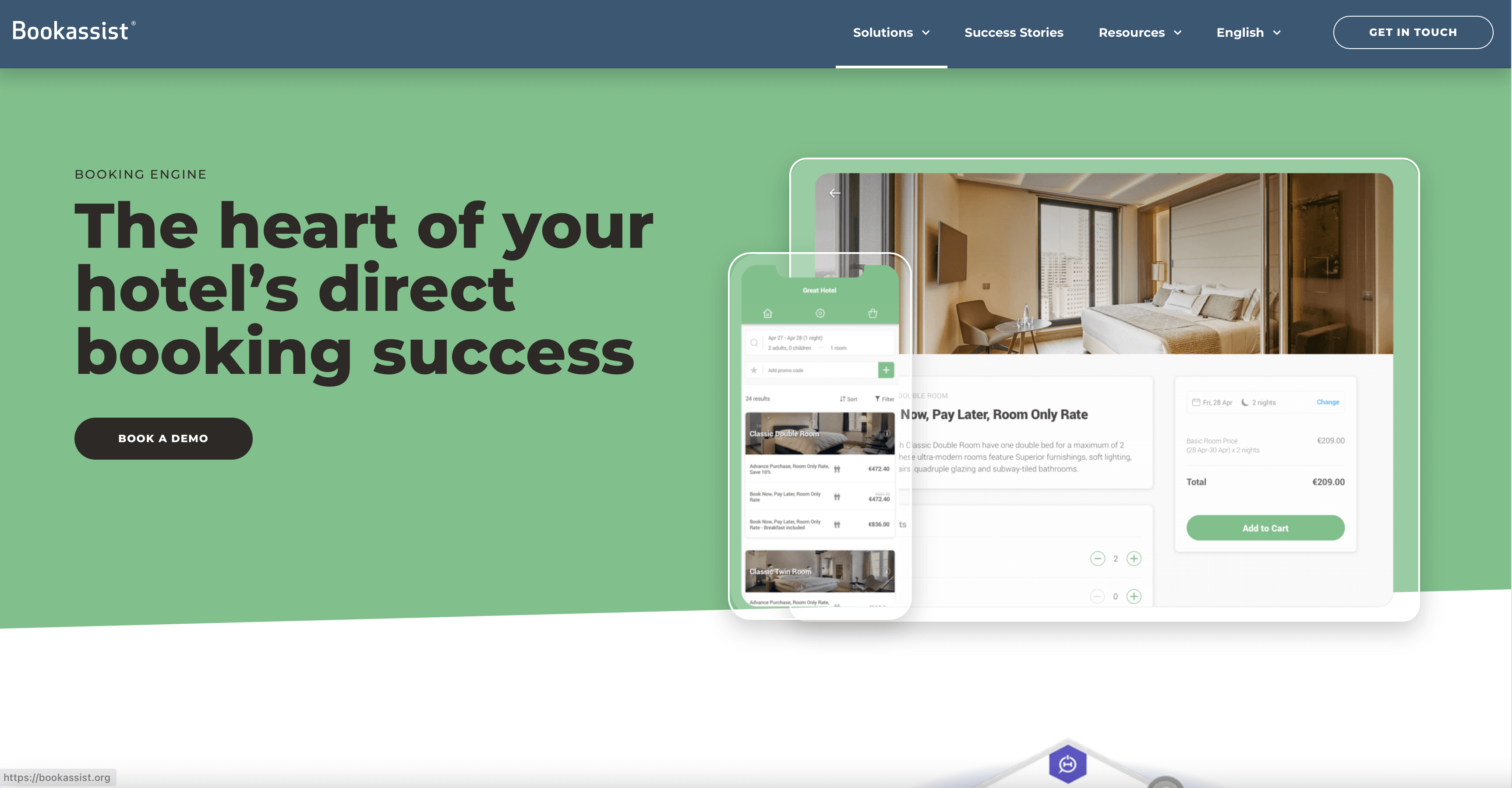 Real customer example of Bookassist: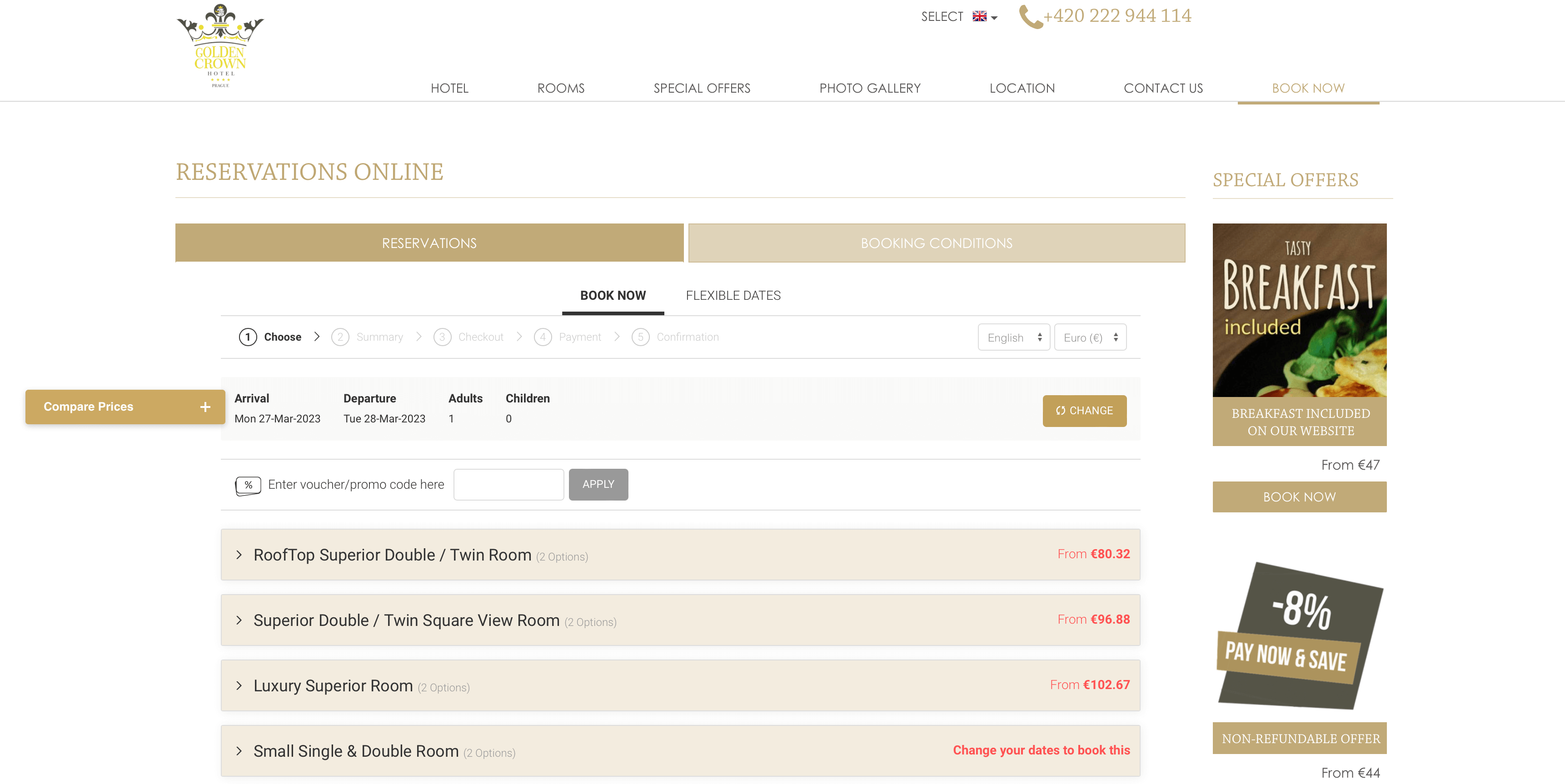 Net Affinity
The below is an introduction from their website: " Net Affinity's booking engine is the newest technology on the market. Feature-rich, lightning fast and made for mobile, it's everything your guest needs from their booking experience.
This new piece of technology has been built from the ground up, with years' worth of our knowledge and learnings applied. Hosted using the most modern cloud infrastructure and built around APIs, it enables us to artfully link all your tech together, propelling your systems toward extraordinary heights."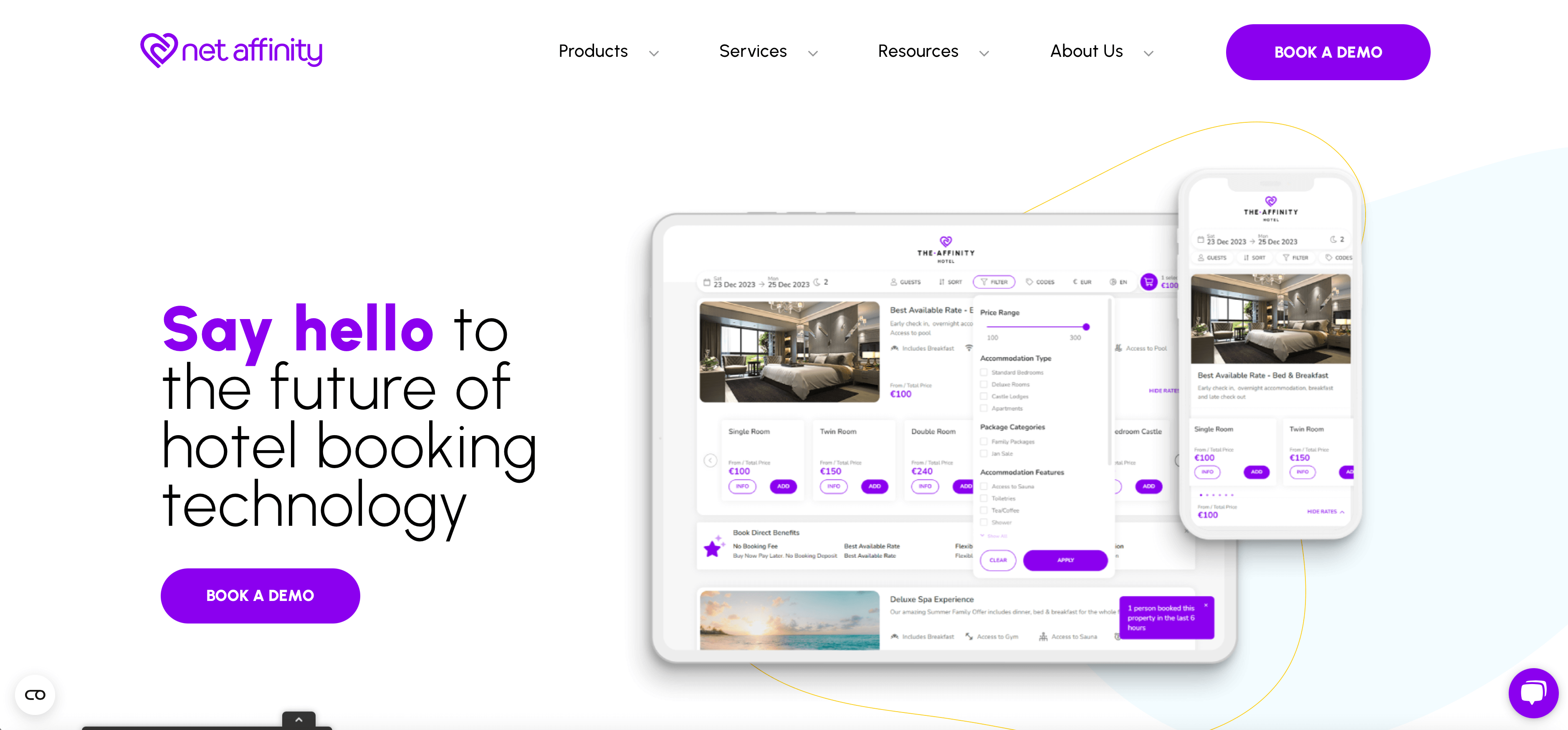 Real client example of Net Affinity: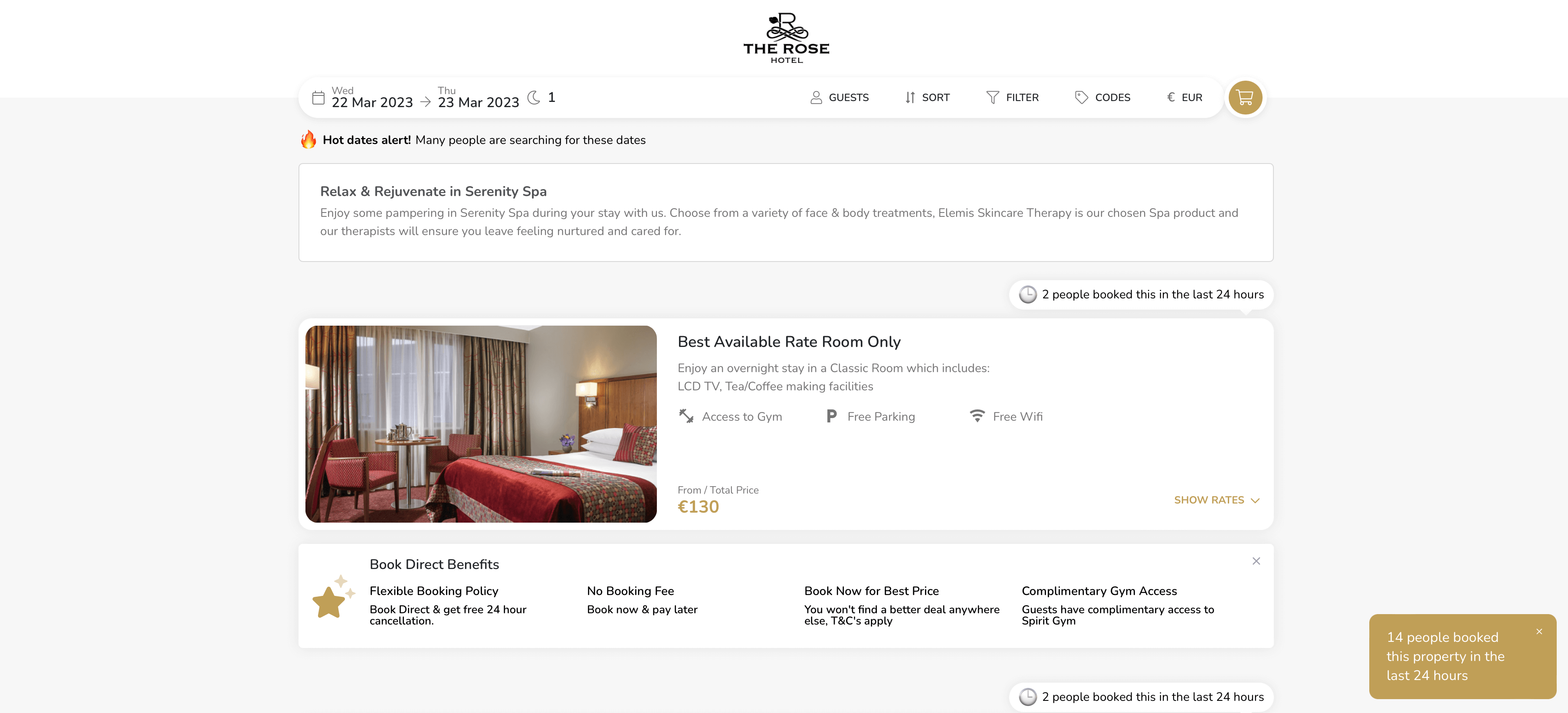 Avvio
Avvio is a booking system powered by artificial intelligence that utilizes data science to optimize the online booking process. The system seamlessly integrates with your central reservation system, channel managers, and business intelligence to offer a smooth booking experience with ample opportunities for personalization. By providing a highly personalized user journey, Avvio increases the chances of conversion.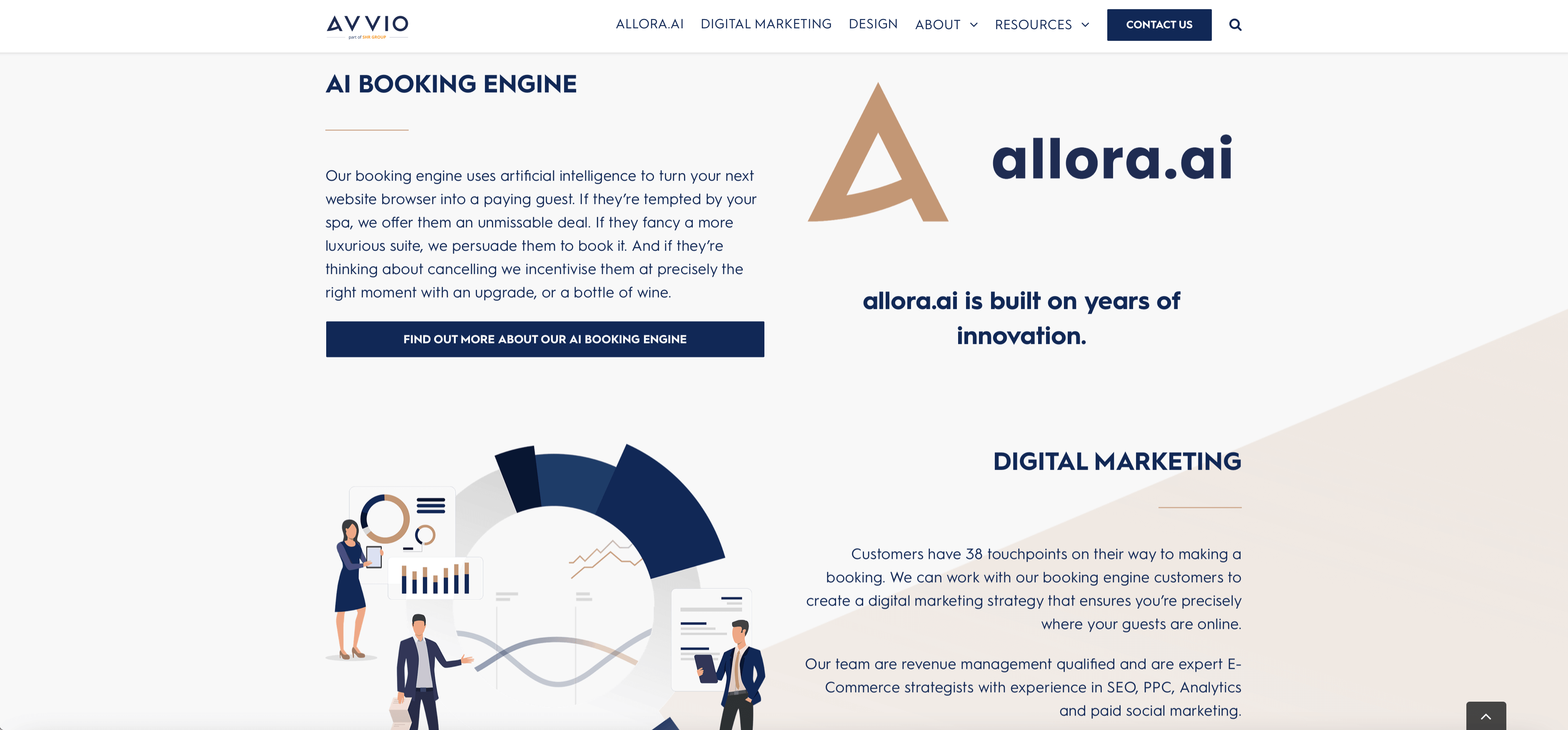 Real client example of Avvio:

D-Edge
Here is how E-Edge is presenting the Booking Engine on the official website: "Your hotel's website should be your most profitable sales channel.
Our fully integrated booking engine will boost your conversion rate and turn your website into your hotel's highest-yielding shop window."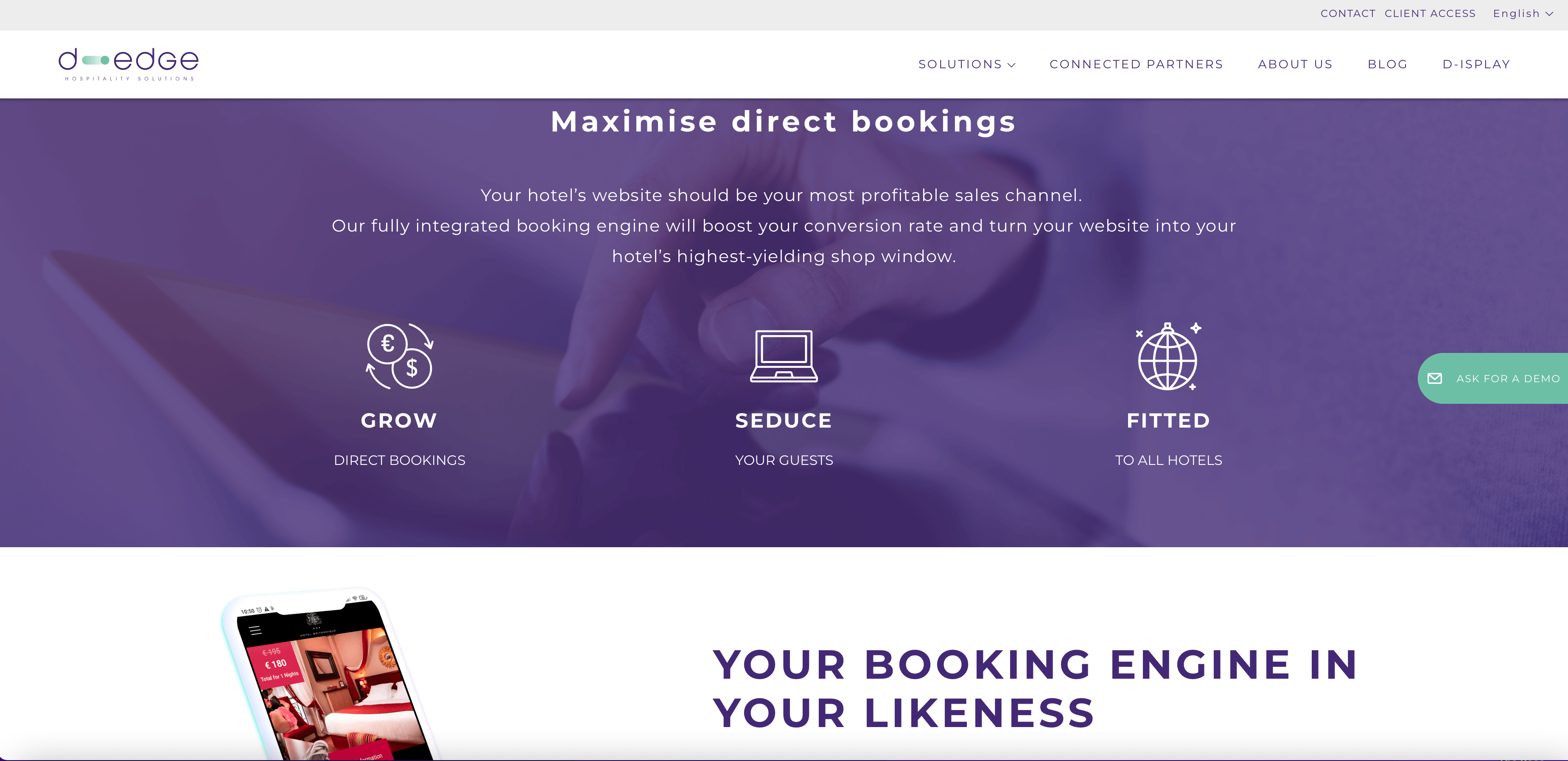 Real client example of D-Edge: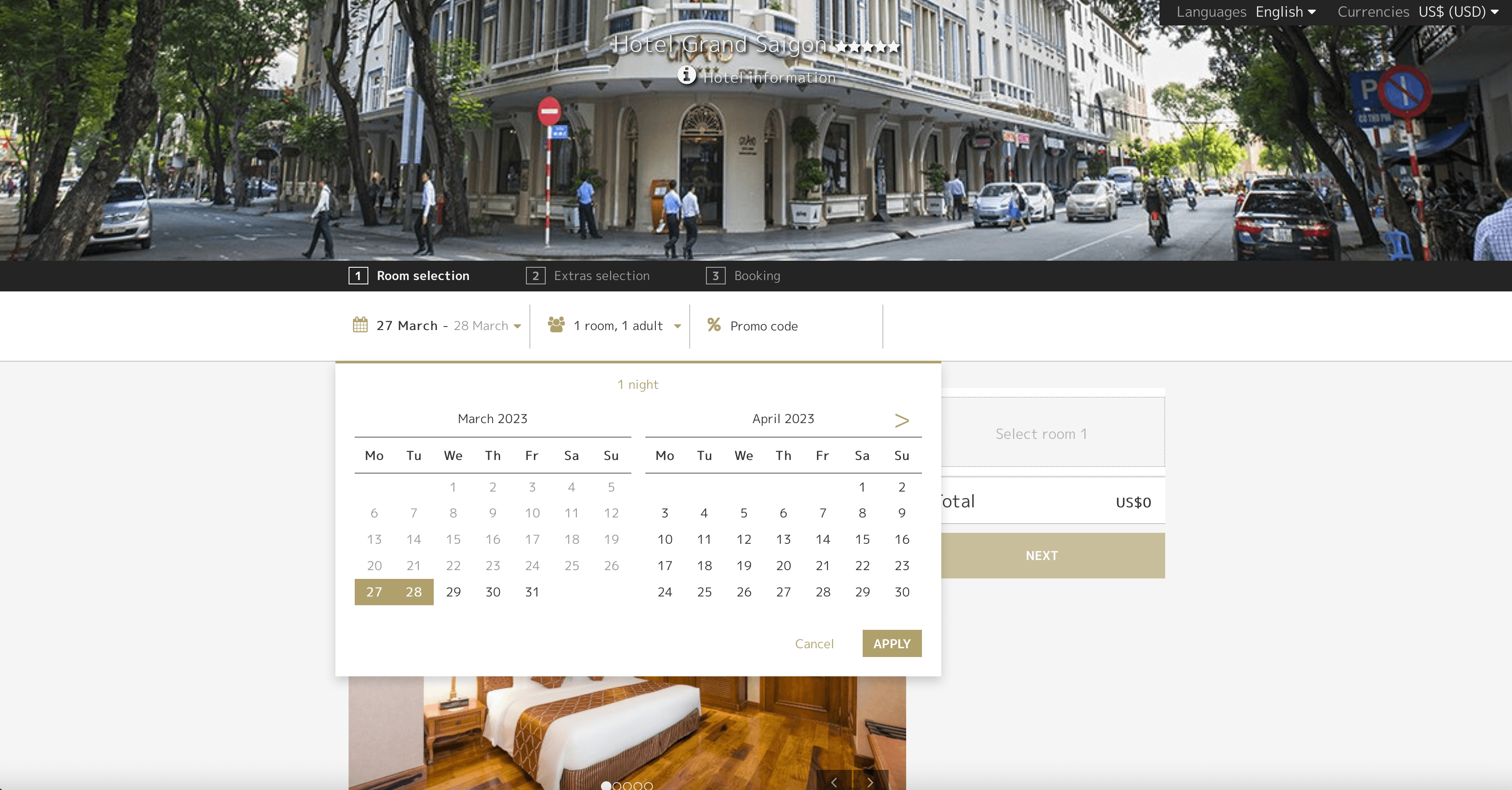 Profitroom
Description from Proftiroom website: "No other booking engine has been engineered from the ground up with leisure hotels and resorts in mind. The Booking Engine 360 is about attracting travellers and converting them into guests but also making sure your personalised guest experience stays with them from the start and drives brand loyalty in the future."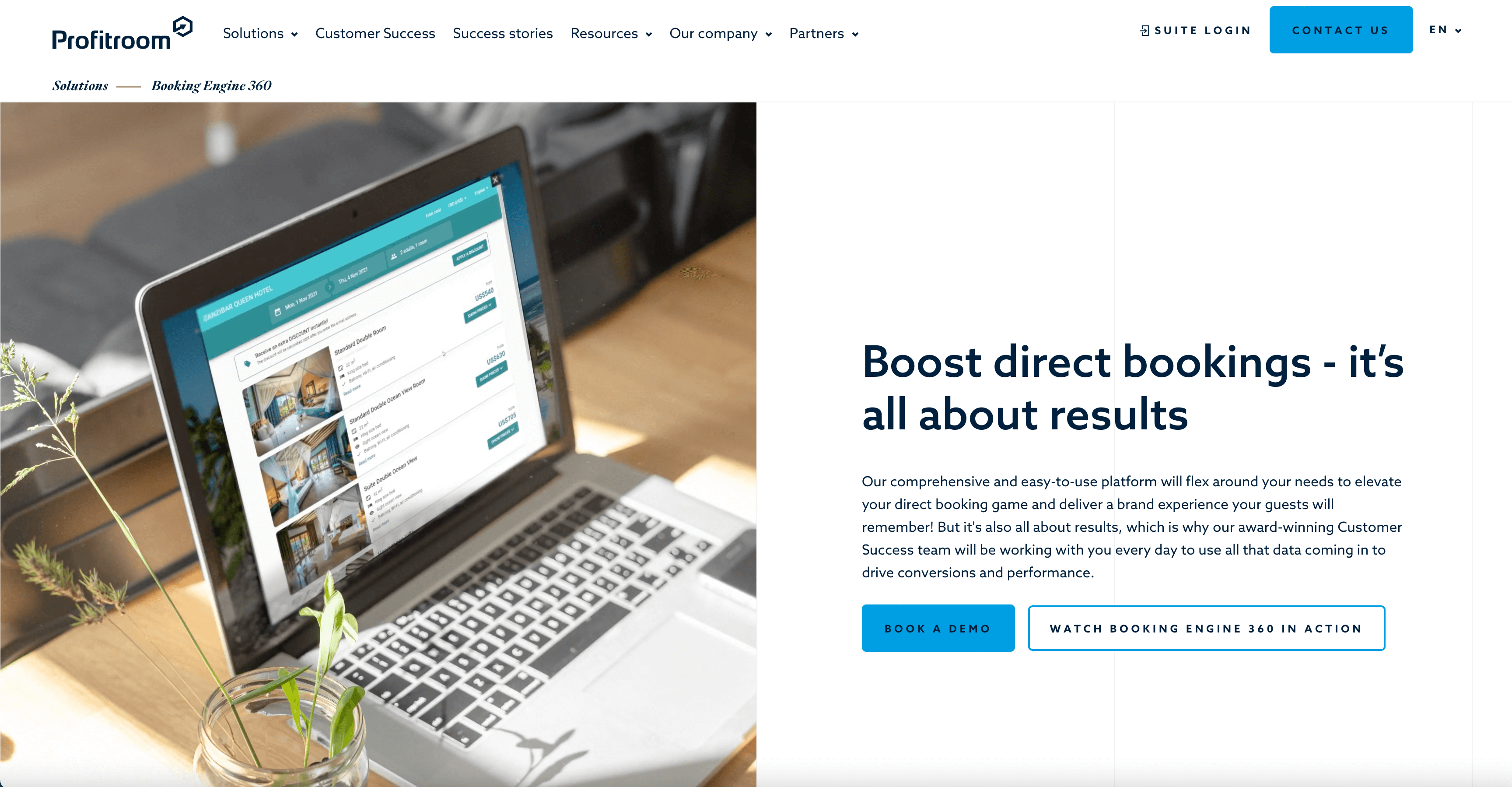 Real client example of Profitroom: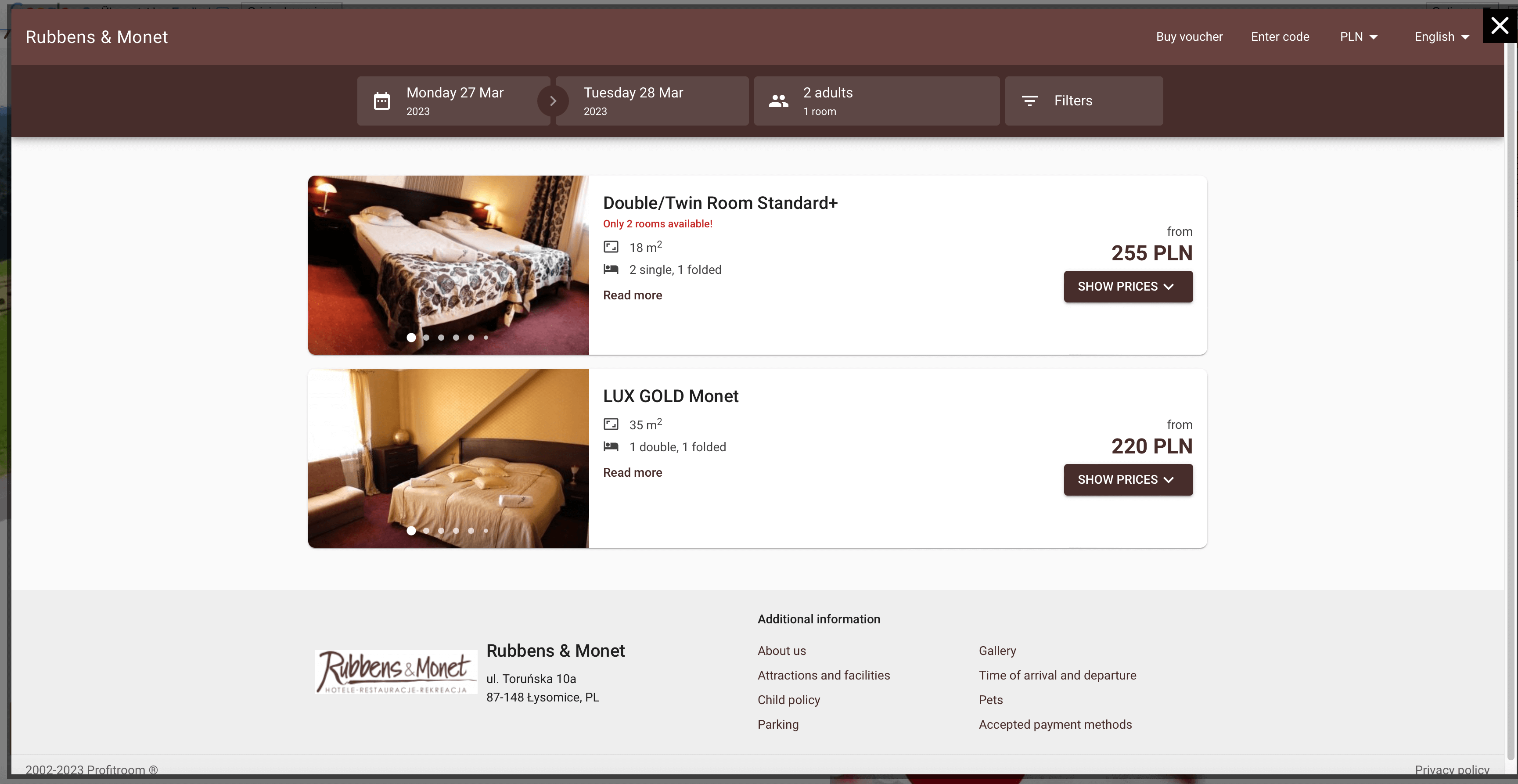 Selfbook
Here is the promise of Selfbook from their website:
" Selfbook — fintech-enabled hospitality liberating hotels to provide the ultimate guest-first experience.
Selfbook revolutionizes hotel bookings and payments from the inside out to provide a refreshingly simple user experience for guests and hoteliers alike."
Moreover, selfbook is a new entry player who tried to position itself as: best booking engine for hotels, along the increasinly competitive market.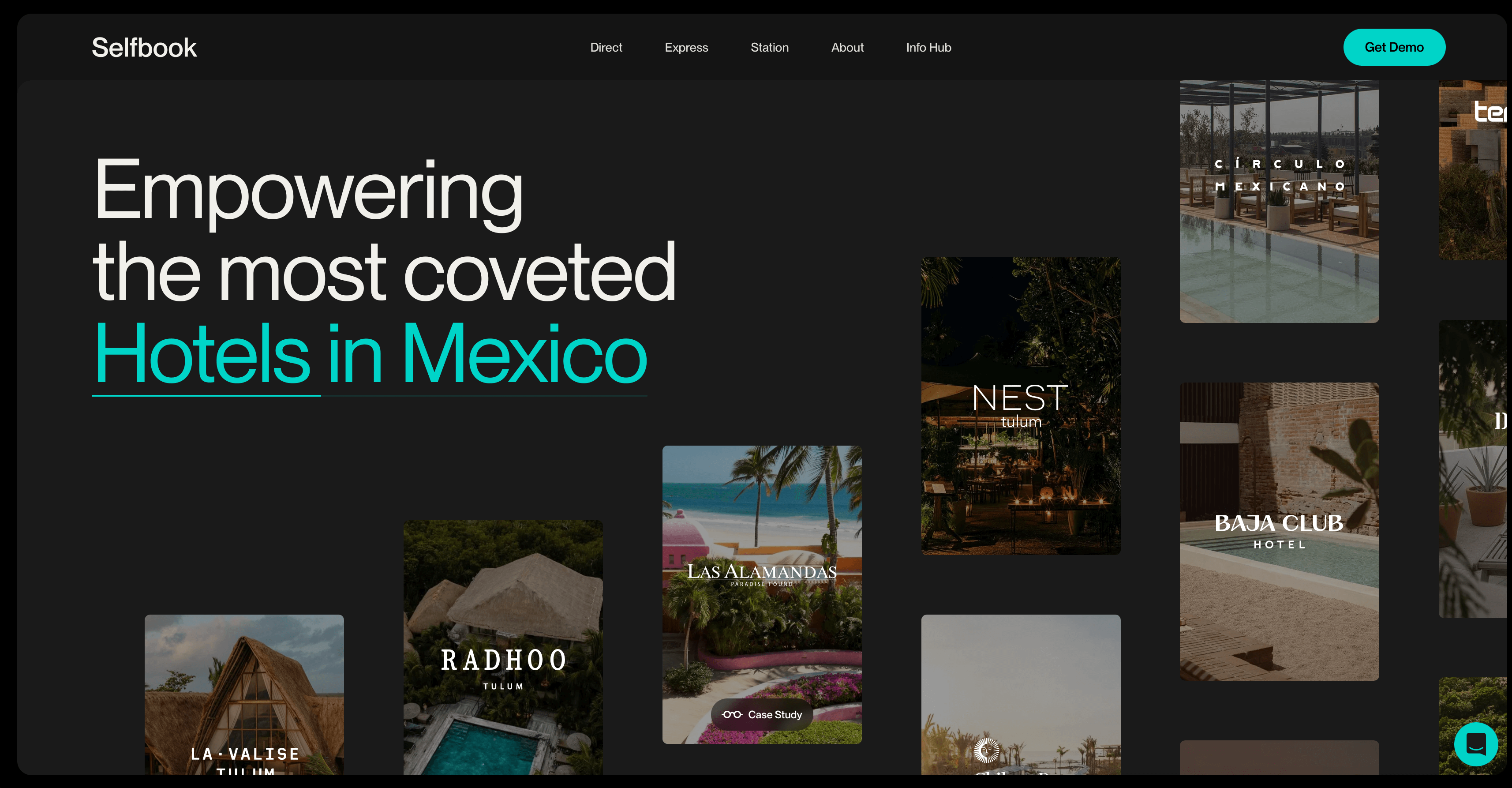 Real client example of selfbook: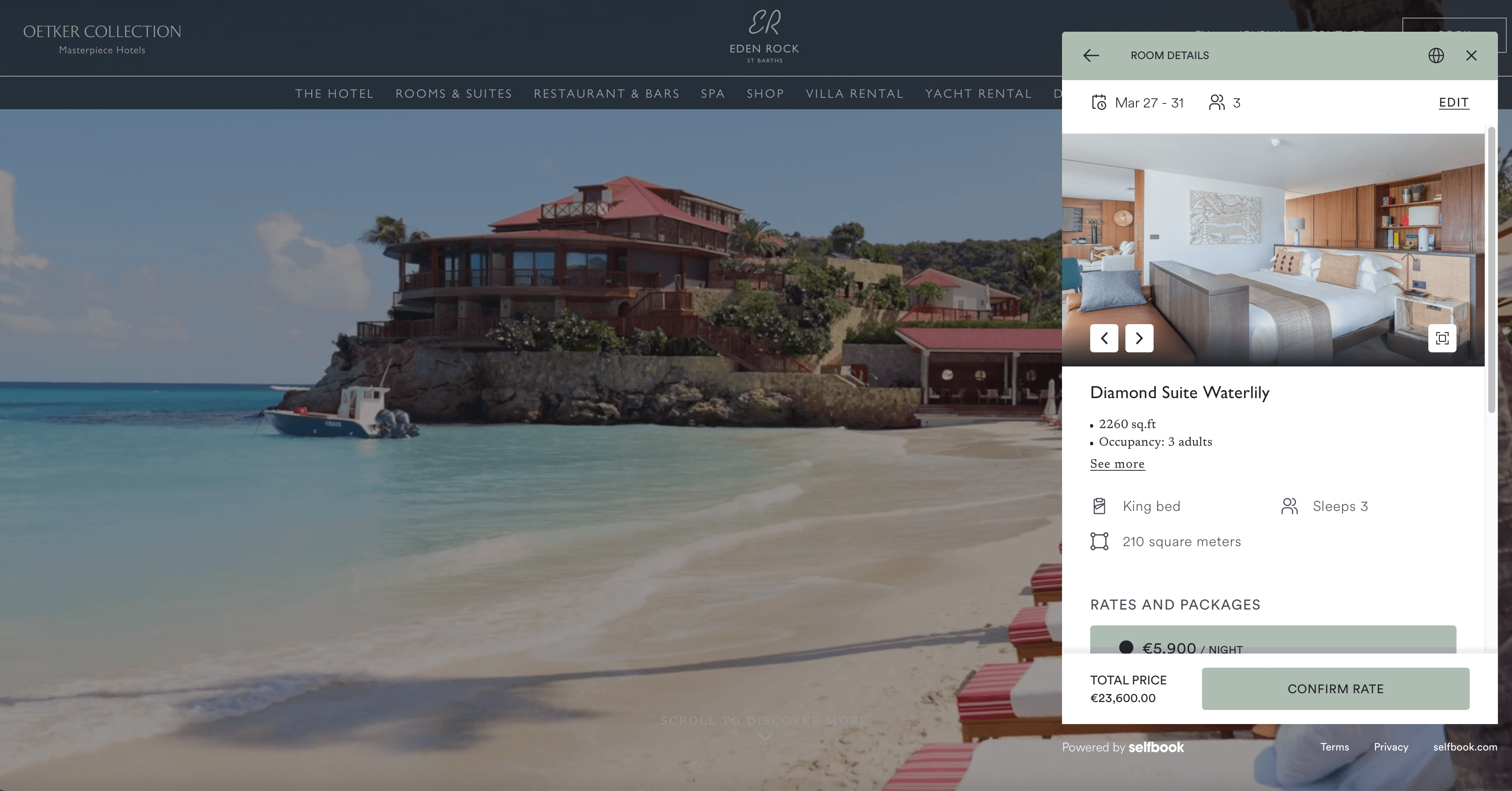 InnRoad 
Here is the concept of InnRoad Booking Engine: "secure online hotel booking engine makes it easy for guests to make reservations directly on your website"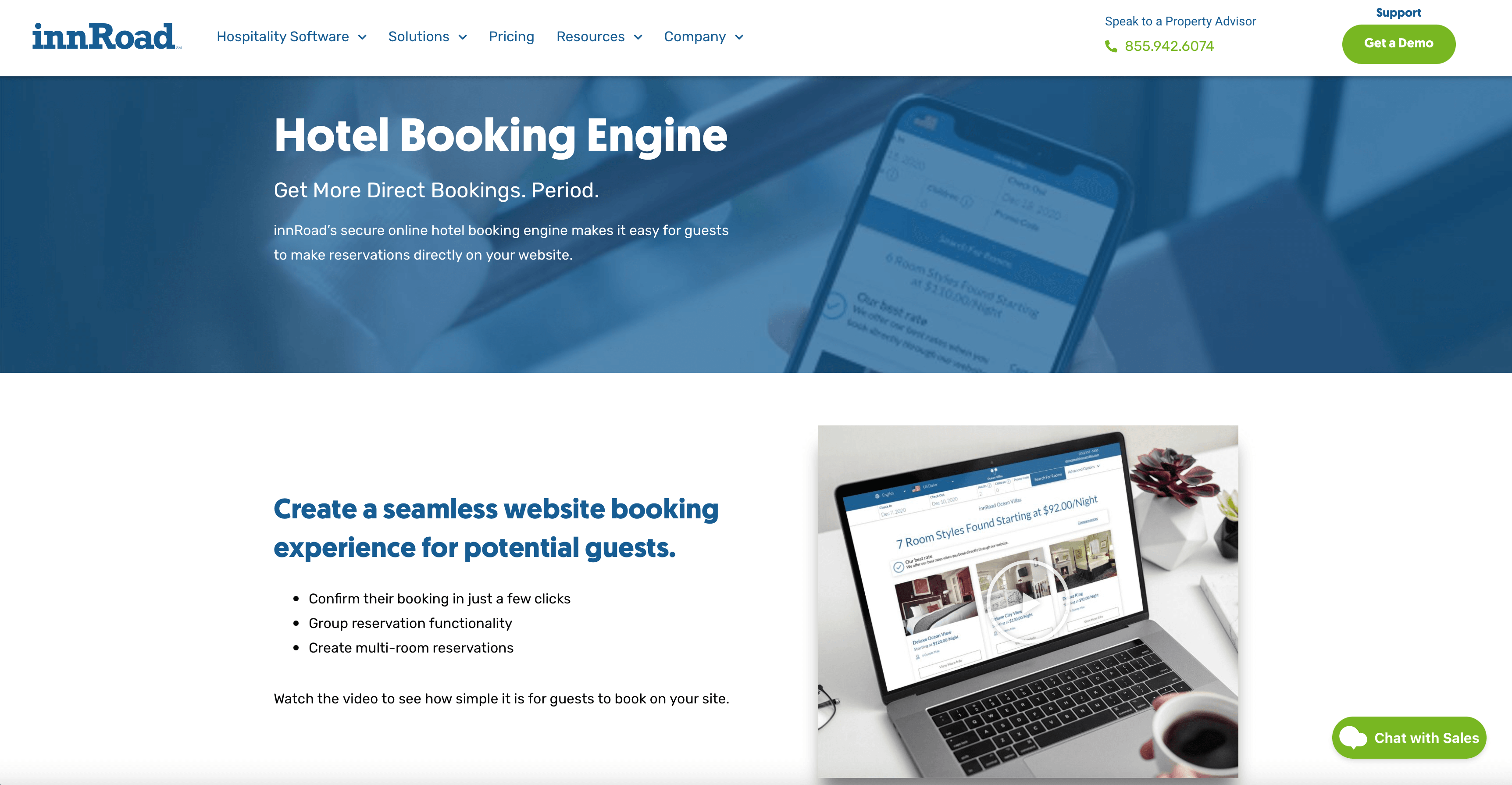 Real client example of InnRoad: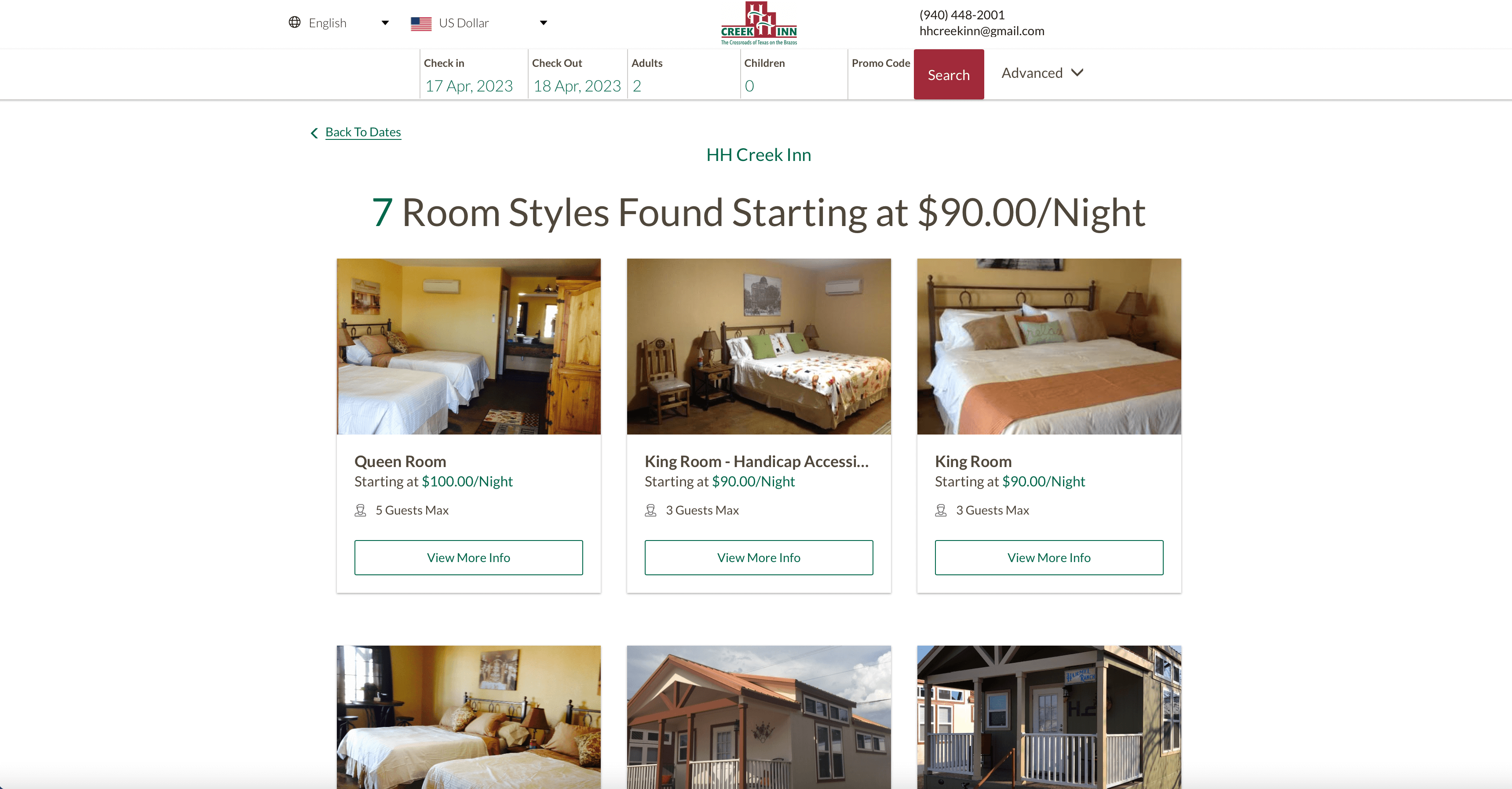 Vertical Booking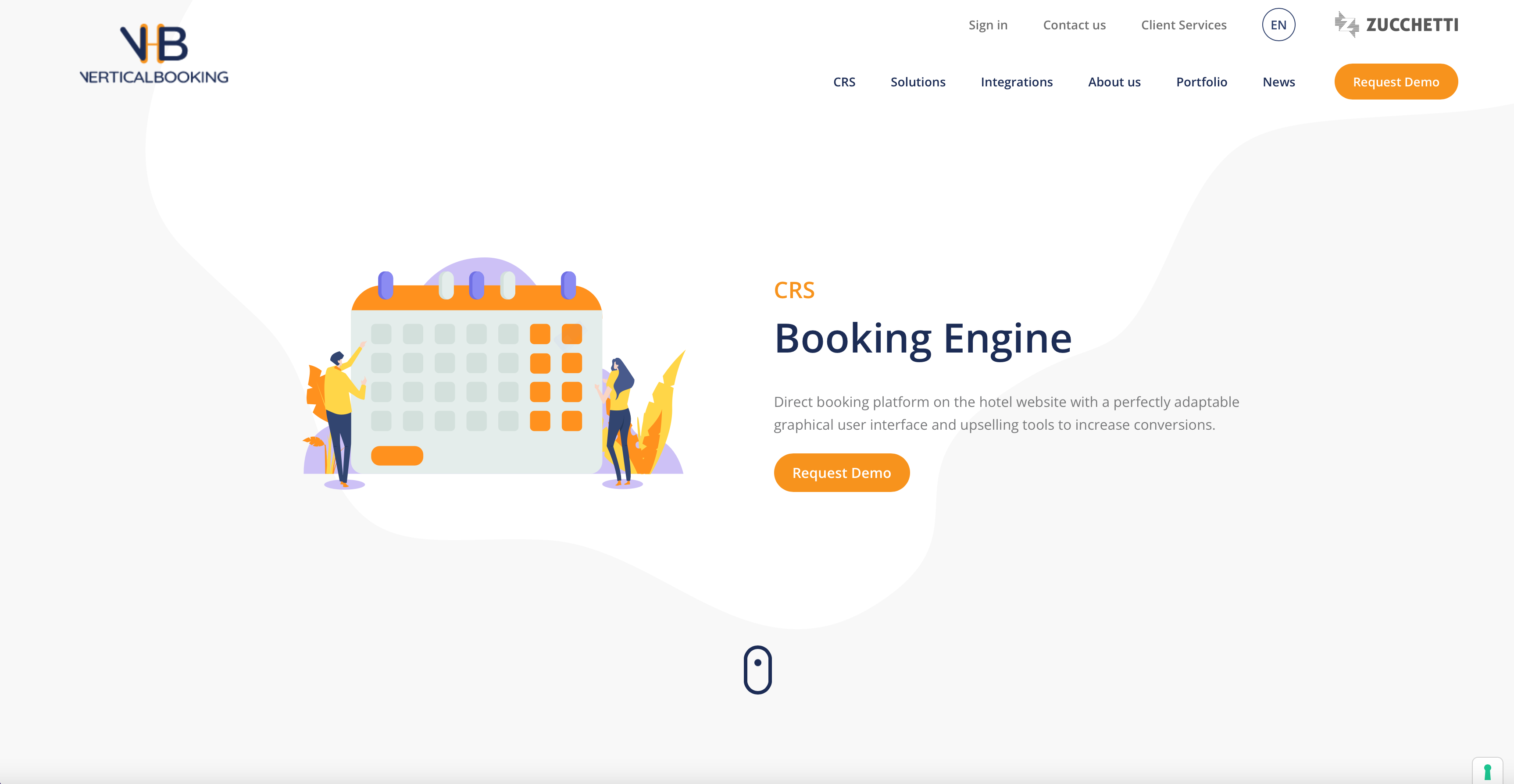 Real client example of Vertical Booking:
To boost your hotel's revenue and customer retention, it is essential to select a booking engine that caters to your specific needs, having in mind your hotel and property profile as well. In 2023, we have researched and compiled a list of the top hotel booking engines that provide a hassle-free and intuitive booking experience on your website and Google Hotel Metasearch. Our aim is to help you simplify your journey to finding the appropriate direct reservation system.
By eliminating intermediaries, as OTA websites, you can maximize revenue per booking and improve conversion rates. A streamlined reservation experience not only enhances brand loyalty but also simplifies reservation management and provides valuable data insights. Utilizing a booking engine will help you make data-driven decisions to optimize the user journey and boost sales and revenue. With access to real-time data, you can analyze various conversion paths and enhance the overall booking experience for your guests. That is why CultBooking has been enhanced with Google Tag Manager and Facebook Pixel Tracking capabilities, for your to know every step of the user journey and has many changes to become: best booking engine for hotels in 2023 and beyond.