Your hotel's marketing strategy drives more traffic to your website than ever before. Your hard work paid off in building a healthy direct channel. But what about your conversion rates? If the main purpose of your site is to increase revenue through channeling direct bookings, it's important to know how to optimize your website for a better hotel conversion rate. 
The average hotel website conversion rate is 2%. The good news is that you can take a dozen simple steps to boost your hotel website's conversions. The first step is understanding why you're losing potential customers. 
Many hoteliers primarily focus on making their site decorative. They forget to consider the essential user experience in converting users into hotel guests. In this article, we'll learn why having a website in the hospitality sector is crucial and how you can optimize it to increase your bookings.
By the end, these actionable insights will turn your website into a conversion machine to help you get more out of your online hotel booking engine. 
Let's begin. 
The Importance Of Having A Website For Your Hotel
Your website is one of the most important tools in your hotel's marketing strategy. Without it, you easily stand no chance against your competitors. Nowadays, people rely heavily on the internet for information – a vital aspect influencing their sales decisions. 
Your website helps showcase your hotel's individuality and represent it in the best possible light for customers to find online and make an impression easily. 
Moreover, with the rise in digitalization, having a social media presence is not enough. Relying on third-party channels like social media posts alone won't get you the best organic reach for your hotel. This is where designing and developing your website comes into play. 
Through your hotel website, you have the added benefit of telling your story with your visuals, displaying visuals more prominently. This allows you to personalize your story with fresh and vibrant images. 
On top of that, a website allows for greater reach. Your presence is no longer restricted to the area you are in and to the capacity of your marketing efforts. Your hotel may be located in New York, but your customers can be from as far as Japan. 
5 Reasons Your Hotel Should Have A Website
1. Main Communication Channel 
Your website is the first place guests look to for information about your hotel and thus makes it the main platform of communication with guests. Here is where people usually want to know what a hotel offers, the room rate, and the hotel's facilities.
A website also allows the brand to relay information or updates like ongoing promotions and upcoming events. 
2. Builds The Brand Image
Creating a strong brand identity is important in any hotel industry as it helps with booking sales and revenues. A website gives your hotel the space to create your brand image, among other things like the presentation of restaurants, events, special offers, and unique solutions that define the hotel's character. 
3. Source Of Information
Your website is a source of information for guests and the hotel itself. This helps provide a wide range of information that not only helps the brand image but informs about the hotel: its history, available attractions, amenities, distinctive offers, and restaurant services.
A well-designed website is also a great source of information on guests, including their behavior, activities, frequency of visits, and conversion rate – all of which are important for tracking your hotel's marketing efforts. 
4. Hotel Trademark
The hotel's graphical design helps reflect the hotel's character, and a person who has never visited the hotel before can experience this virtually. For this reason, a website with atmospheric pictures and unique content is important to highlight the brand's trademarks. All of this combined allows the user to get a feel for the atmosphere and look of the hotel.
5. Direct Sales And Bookings
The main reason for building any hotel website is to generate effective sales. Creating your own sales channel limits sales costs through the OTA – Online Travel Agency. Instead, your website generates revenue through channeling direct bookings, which helps you build longer-lasting relationships with your customers. 
Reasons Your Hotel's Conversion Rate Is Low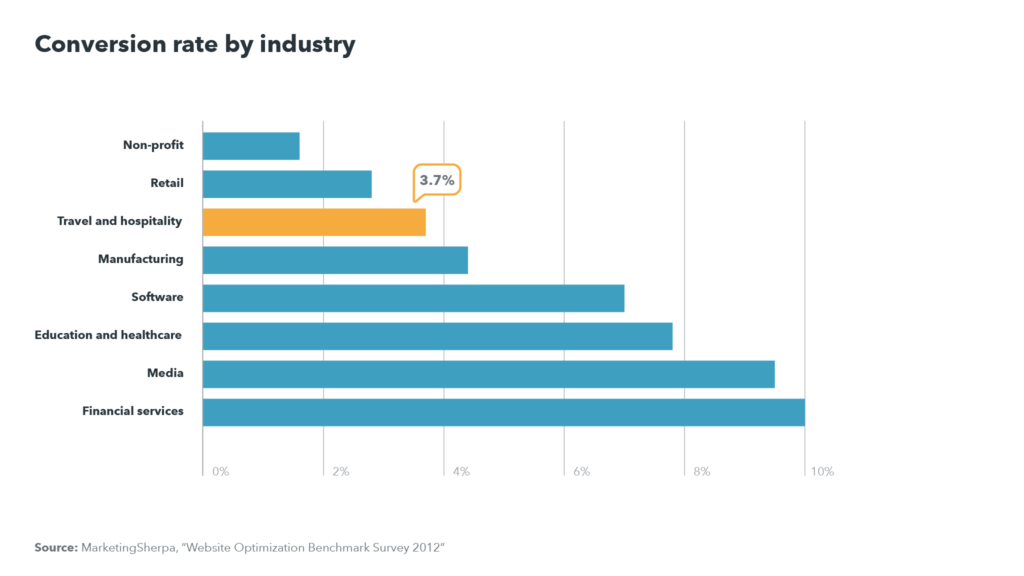 Getting customers to convert their clicks into bookings is not as easy as it seems. Many factors make or break your website's sales revenue, including your website's optimization, design, and user functionality. However, the primary reason you may have difficulty converting is your site's inability to attract relevant users. 
If you haven't identified your target audience, you will have trouble implementing the position of your hotel and, as a result, formulate incorrect marketing campaigns. First, understand where and when you commonly lose customers in the booking funnel to avoid losing even more customers. Is it a bounce or an exit? What does your traffic flow look like? 
Either way, understanding the root of your hotel's low conversion rate is important to determine common problem areas and how to fix them. With Google Analytics, you can understand your hotel's metrics through the help of data pipelines to discover new insights for increasing your hotel's revenue. 
Here are some reasons you might be losing customers from your website. 
Choice and information overload:

With so many options and

reviews of the best hotels available online

, it's critical to know how to differentiate your hotel from the competition. For instance, "There are at least hundreds of hotels in Berlin." You need to have a better overall proposition to sell out your rooms. You need to make that very clear on your website.
Poor platforms:

A lot of work goes into building your website, including making it user-friendly, functional, and smooth-running. But once it's live, it should also make conversions. Irregular updates on your website can cause traffic to decline over time. 
Risk/Investment:

Booking a hotel, especially for longer periods, is not a one-time spur-of-the-moment thing. People want to spend their money on pleasing experiences. Hence people take more time in researching which hotel to invest in (if it's worth their money or not)
Confusing offers:

How you position your offers can greatly impact your website's conversions. For instance, if a scenic landscape surrounds your hotel, you can offer pre-wedding photography packages. Hotels that don't take advantage of events or occasions when guests are looking for special offers will see low conversions. 

Ancillary services:

Hotel amenities, including bars, spas, and golf courses, can significantly impact your conversions. Excluding these on your website can make you lose a visitor to a competitor who openly promotes their hotel's top restaurants on their website to attract a visitor. 
To avoid losing customers, let's look at how you can increase your hotel's conversion rate.
6 Ways To Improve Your Hotel's Conversions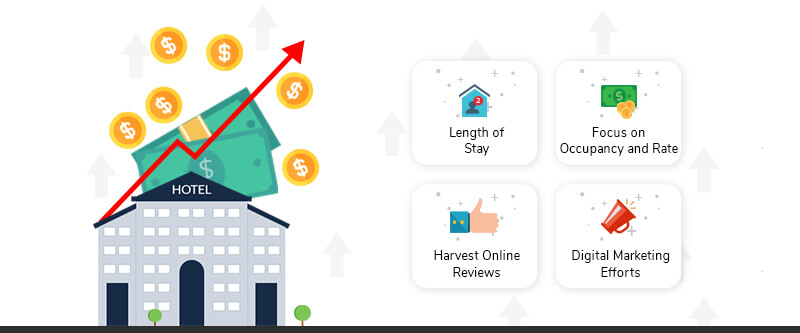 There are several practices that you can apply to optimize the conversion rate. Whether incorporating minor changes or analyzing qualitative and quantitative insights, everything is vital in helping you with the conversion process. Before we learn about conversion rate strategies, let's first glimpse at what CRO is and its importance in hotel conversion rates. 
What Is Conversion Rate Optimisation?
CRO (Conversion Rate Optimization) is a data-driven approach aiming to improve the percentage of people who convert or complete a desired action on your site. The most obvious examples are the conversion rates of your website's booking engine or the number of visitors who turn into paying customers. 
You can interpret CRO as the ultimate booking tool for hotels that hold the potential to convert visitors into customers. In short, an effective CRO can greatly impact your hotel's marketing efforts.
Now you're well aware of what conversion rate is, so let's learn how we can use CRO to increase our average conversion rates. 
I. Focus On The Hotel's Web Design
A well-designed and organized website can help you form a good impression on your potential customers. First impressions don't happen when guests arrive at your hotel. People looking to stay in your hotel will first check out your offers on the website.
If your website is unattractive, you risk driving your guests away. Thus you should check if your hotel website is: visually pleasing, conveys the right message, and is easy to use and navigate through. 
For instance, the website Julbie is the perfect example of a good web design that does all three things. It's visually pleasing: no unnecessary clutter. It conveys an appropriate message: the main USP mentions the offer. Lastly, it's easy to navigate with offers categorized so finding what you're looking for won't be a pain in the neck.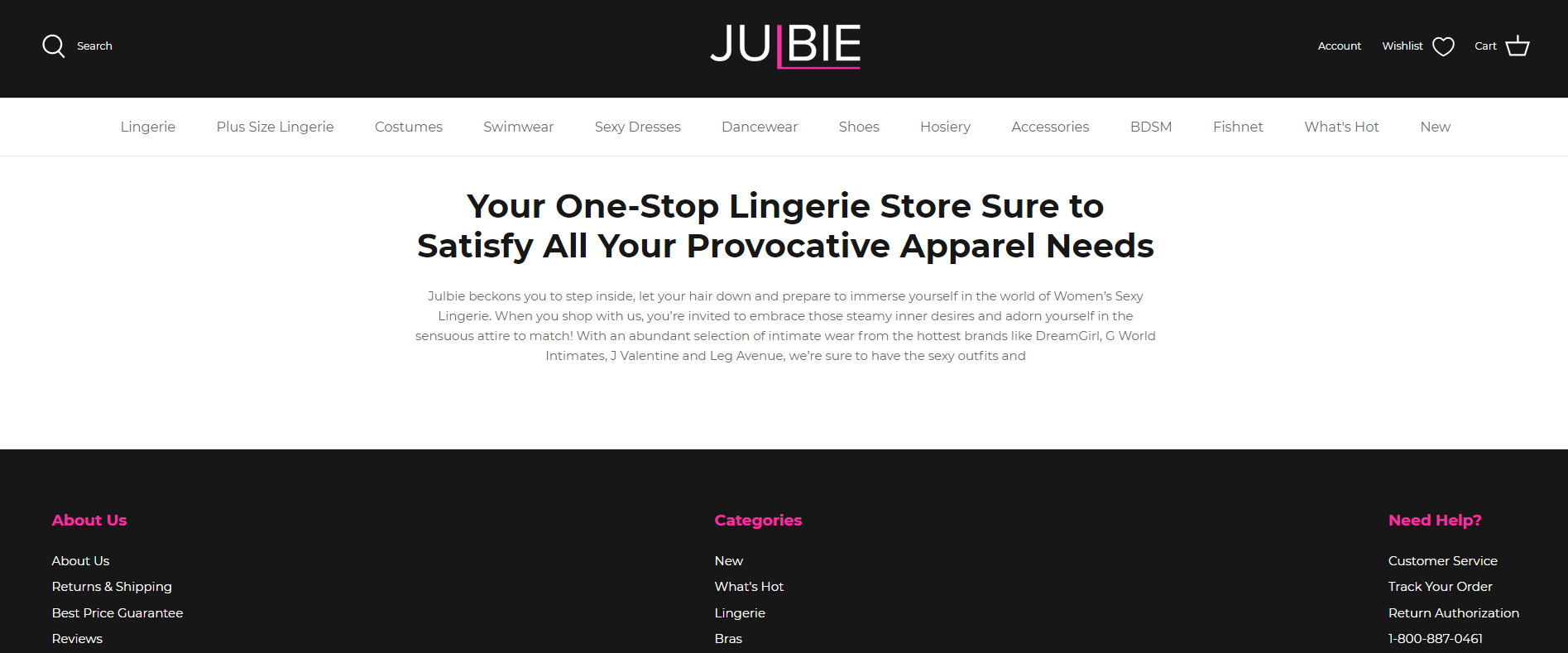 No matter what type of site you're building (i.e., a luxury hotel website, resort website, vocational rental website, etc.), some important design features your hotel website should include are: 
High-quality images:

Eye-catching images quickly grab attention, and the imagery can significantly influence customer behavior. Try including professional photos that highlight your property's best features. When selecting room types, potential guests should have access to a slideshow that showcases an overview of each room type as well as images from different angles. 
Videos:

Videos can greatly add to a website's overall aesthetic. Motion and animations are also guaranteed to keep a digital audience transfixed. Use videos with rich imagery and simple transitions to make a visual impact. Drone footage can also do a great job of showcasing all your property.
Reviews:

The air of transparency extends from how you showcase your property to what you reveal about the actual customer's experiences. Having reviews on your website is a surefire way to build rapport and trust with potential guests. 
II. Improve Usability And User Experience
A poor user experience will drive guests away, no matter how decorative your site is. That is why usability and user experience are important to deliver an engaging experience for your guests and potential bookings.
Improving your website's usability depends on whether it is available, clear, and relevant to users. In addition, usability makes it easier for visitors to find what they are looking for quickly. Therefore, ensure that your site is clear and easy to understand. 
Having adequate white spaces and proper paragraph formatting will make your site content more readable. An excellent example of it is this eCommerce face mask website with how it displayed its content. 

Aside from making it easier to navigate, Green Supply also considered the placement of design elements, like banners, images, and chat boxes, so that they won't distract users when navigating. 
Therefore it should be considered when designing any website, whether it's an eCommerce site or one that provides basic information: usability is an integral part of any website design. 
On the other hand, a great UX is focused more on providing positive experiences that keep users loyal to the product or brand. If there's a single industry where user experience matters more than anything else, it is the hospitality industry. 
Hospitality is about meeting and exceeding guests' expectations from the first touch point until the last. At least, that's what every hotel brand strives for in direct bookings. So as a hotel owner, you want to make sure that the UX of your website is as good as the guest experience in the hotel itself. 
For starters, you should focus on optimizing the booking flow for conversions. For instance, the booking window should always be in a visible spot and be clear enough for users to easily see. Take a look at how this hotel designed its website to increase its impact on conversions.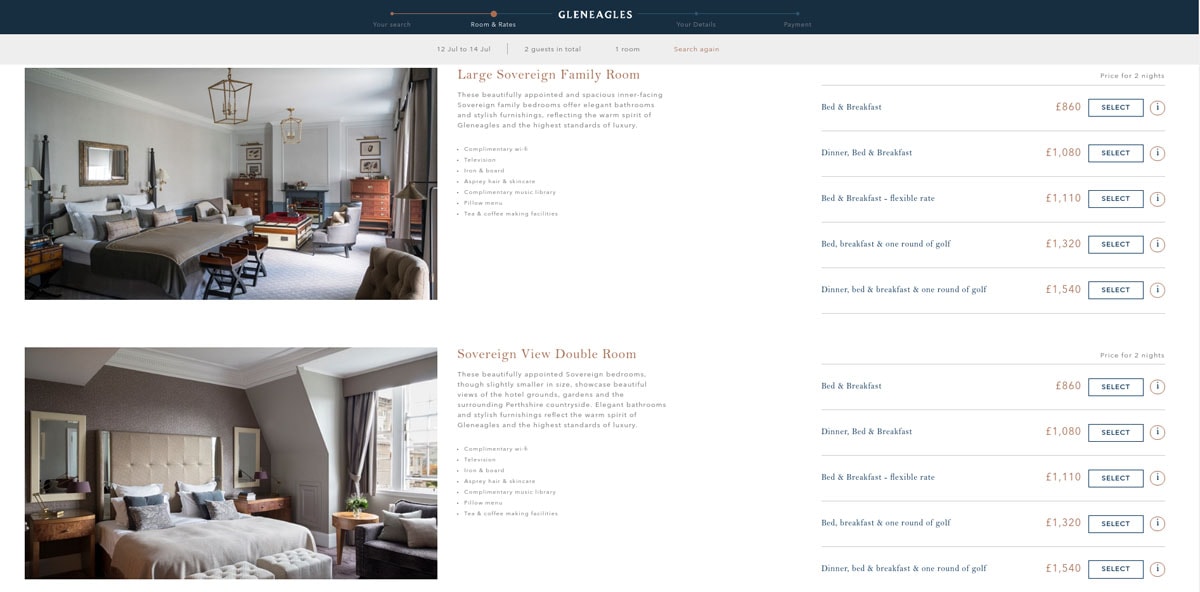 In addition, the website makes it easier for users to compare room types and rates to make a decision easily. By clearly articulating room types and providing enough visuals, this site helps them decide. Thus, a user's journey is made simple with higher online revenue. 
III. Integrate With the Booking Engine
What's the point of having a hotel website if you don't have a way to allow guests to book online? Integrating your website with online booking software is the easiest and most efficient way to add online booking capabilities.
Look at how Jumeirah Bali's website makes it look simple. By making the "Book Now" option visible to guests, they can easily locate it and start their booking process.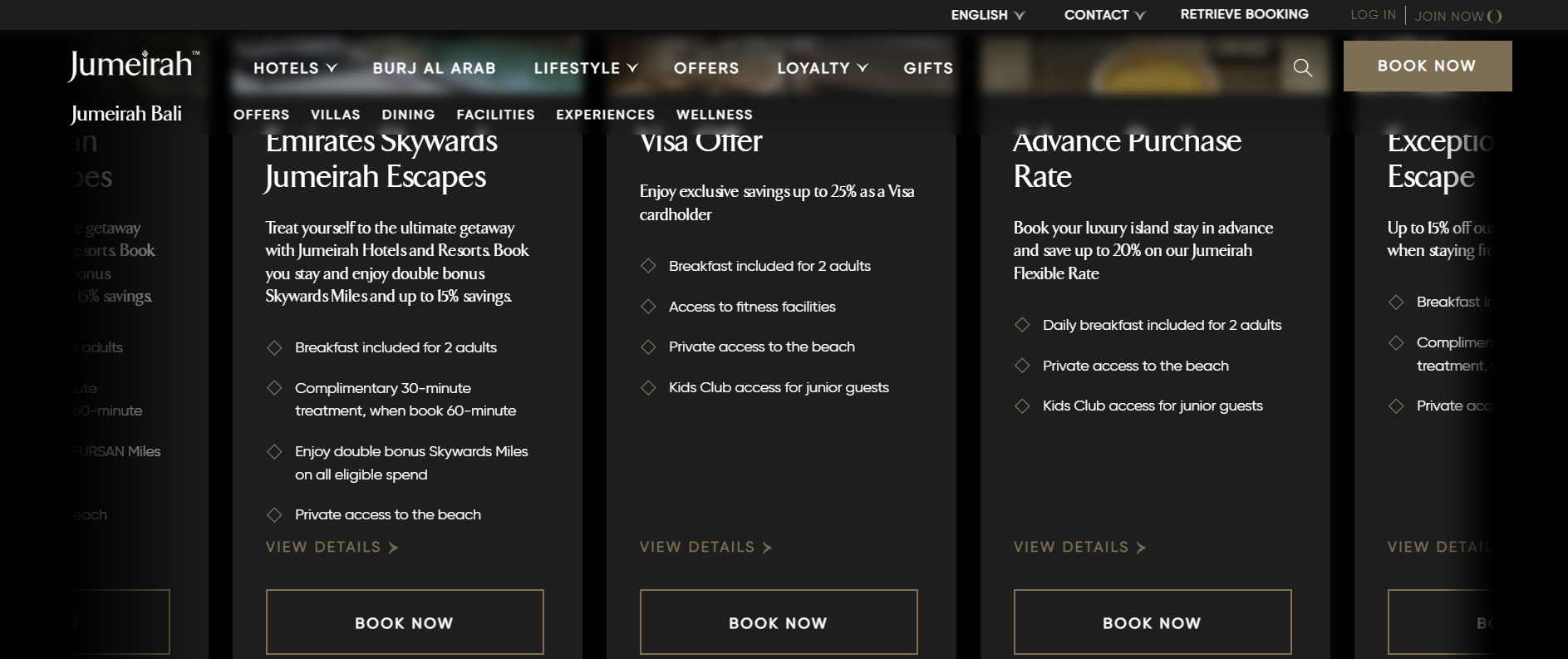 In addition, this hotel website allows customers to choose from a wide range of packages to their liking. Note how under each package, the "Book Now" option is available to make it easier for guests to make their booking instantly. 
The great thing is that you can use a range of booking widgets to take bookings for different locations and services. Then, simply display your booking widget where users can easily find it on a site page by adding a custom "Book Now" button. 
While you can always have a 'Book Now' label for your CTA, you can also do it like Everytalent  did where they made it more enticing and value-packed by noting its cost-free and using a "Book a Free Consultation" widget for their assessment services.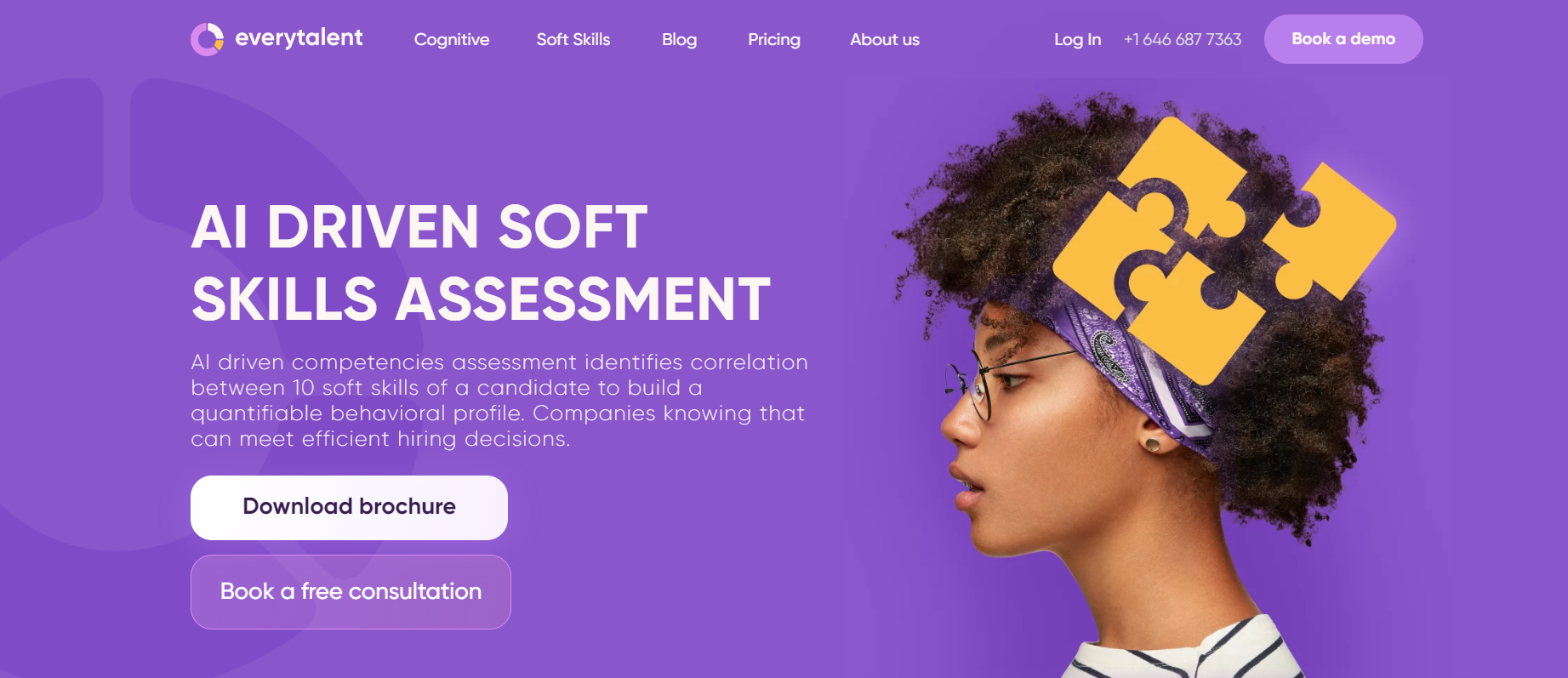 Booking software can take over much of the heavy lifting since your website becomes your 24/7 reservationist. This can reduce the number of over-the-phone bookings. Having a  booking engine makes it easier to manage all your bookings in one place.
You can streamline booking workflows and send automated guest posts ahead of their experience, among many other benefits. 
IV. Provide Content That Speaks To Your Audience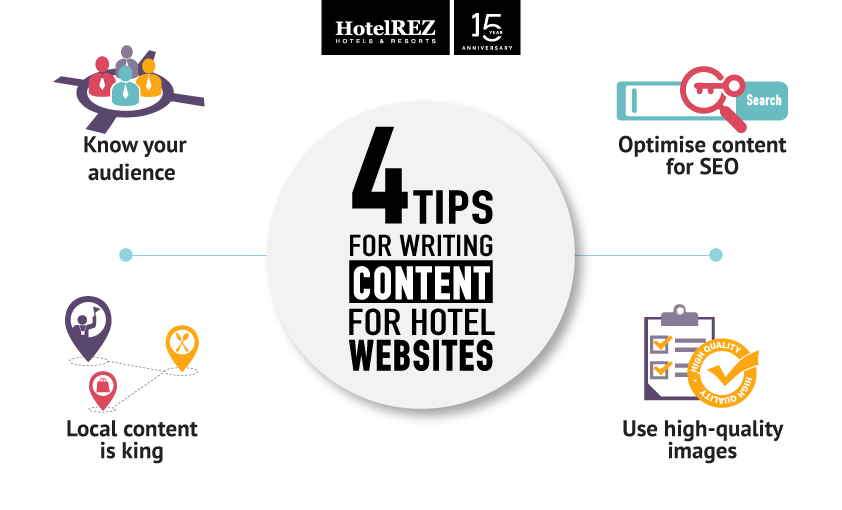 While all the other components of your website, including design and visual content, are important for driving conversions, effective content ultimately wins your customers over. Creating user-generated content that speaks directly to your target audience creates a favorable impression and emotional impact that inspires them to book on your site. 
Effective storytelling is a great way to evoke emotion through your hotel's website. After all, a good story conveys the promise of a good guest experience. For instance, many tourists want to get some much-needed rest, experience a new sport, or simply escape their daily activities. 
Use this fact to your advantage and post your hotel content in a way that taps into your audience's feelings. You can use your words to create images to help visitors visualize what it's like to stay at your hotel. When you use language that sparks your audience's imagination, you give your users another reason to want to book directly with you.
V. Optimize Page Loading Speed
How fast your site loads is instrumental to any guest visiting the site. If your page's load time is not up to the mark, it'll only lower your hotel's conversion rate.
Speed is integral to the user experience and greatly determines your search results ranking. Google's recent change in algorithm includes ranking only those pages that load faster. Hence, during your hotel website optimization, don't forget to miss out on this crucial factor.
VI. Use Chatbox
What if your guests have some queries? Users visiting your site for the first time might not find what they are looking for. Having a chat button on your site can allow them to get their questions answered instantly, saving you from losing them to a competitor. 
A chatbox is software developed to support conversations between businesses and customers. They are programmed to closely mimic human behavior and interact with visitors on the site. Its key task is to answer questions with instant messages. A proactive chatbox will greet your customers and guide them through the site, helping to create a lasting and memorable experience for your users. 
With a chat button installed on your site, you can pave the way to boost your hotel's conversion rate.
Conclusion 
The 6 hacks in this article can help you bring more traffic to your site and boost your conversions. While one strategy might work for some, don't be afraid to mix and match and see what works for you. 
An attractive and user-friendly website can set an edge over the competition, but to convert visitors into customers, get to them first and engage them enough to stay. The main goal is to make your customers happy with their booking experience. Remember that their visit to your website is the beginning of their holiday–so make it enjoyable, pleasant, and exciting. 
Now that you're equipped with all the handy hacks, you'll need all the tools to help you process those conversions quickly. You can easily streamline all your booking operations using an online booking system. For instance, CultBooking is an online booking system that provides advanced features to automate the booking process. Transform your average website conversion rate into the most profitable online sales channel here with us. 
Author Bio
Burkhard Berger is the founder of Novum™. He helps innovative B2B companies implement revenue-driven SEO strategies to scale their organic traffic to 1,000,000+ visitors per month. Curious about what your true traffic potential is?